Reviewed
The 2012 IFA Conference: What Was It and Why You Should Care
Everything will connected, including your home appliances.
There's a weird, unexpected, and super-convenient future headed your way. Picture this: as you're driving home from work (perhaps in a self-driving car, but that's a whole other story), you'll pull out your cell phone and make a quick check-in to your house. First, your fridge will send you a photo of the avocados so you can check if they're still fresh. If not, you can ask to fridge to add it to the shopping list that is out to Peapod each week.
Then you'll order the oven to preheat to 350 degrees for that casserole you plan on warming. As you walk into the house, perhaps you pass through the laundry room, where you'll toss those stinky gym shoes in the dryer for a quick disinfection. Don't worry about them over-cooking in there. The dryer will send you a text message when they're done.
That's what's coming down the road, if the ambitions of Samsung, Haier, LG, Panasonic and others can come to fruition. That's precisely what we saw them scrambling to create at this year's IFA conference in Berlin. These electronics companies have mastered your desktop, your cell phones, your entertainment systems—and you love them for it. They have incredible brand support and very large R&D budgets. Now they're coming for your kitchen—an area ripe for change, with tremendous revenues to be gained.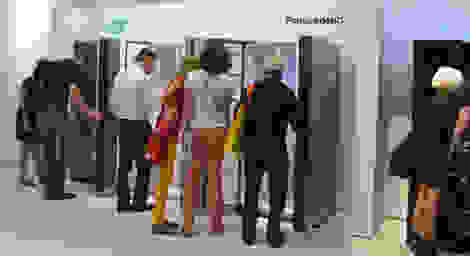 IFA is a sometimes annual, sometimes biannual technology show that's been around since 1924, making it far older than CES, though American audiences are probably more familiar with the latter. If you've seen the incessant television and internet coverage of CES, you'll probably have a good idea of what IFA looks like. Just add appliances. Lots of appliances. Really, really cool appliances.
By and large, the traditionally "hot categories" of technology seemed to all blur together, much as they did in January at (CES), the other yearly world-class industry event. TVs are getting a little bigger and a little sharper. Glasses-free 3D TVs are still here and still found wanting. Cell phones underwent some minor reshuffling. Tablets continue to clone like rabbits. "More is more" seems to be the order of the day, with only a few bright spots on the horizon.
The best booths, and those drawing significant crowds, were for appliances. I actually saw a class trip of middle school students walking in awe through the Electrolux booth. Perhaps there is some anomalous predilection for orderly kitchen design in the youth of Europe, but I think there's something else at play here. The appliance industry is undergoing a groundswell of change. People expect more from the products they buy. They want them to talk to each other. They want them to learn and adapt to their lifestyles. They want them to be suffused with that elusive high-tech quality known as "smart."
In the future, there will be no more dichotomy between white goods and brown goods. There will only be goods (and maybe a few greats). Don't know what I mean? What this video:
For this Jetsons household to materialize, a number of supporting technologies and businesses must be co-developed. The electronics companies can make a smart refrigerator, but they can't deliver you the food, and let's hope they're not growing the food either. Somewhere in the necessary chain of events, a farmer or a retailer might have to tag the food in order for the fridge to recognize it, and they need compelling incentive to do so. Likewise, for the oven to talk to the dishwasher to talk to the washing machine, some open standards need to be created. Products like Nest are inching us forward, but we're still a ways off. But from what we've seen, we're looking forward to it.