Sometimes a little silver cylinder is all you need to develop a fresh perspective on the simple things in life. The particular cylinder we're referring to is the first product released by Netatmo, a French company that started about a year and a half ago, and which was on display at the 2013 CES Unveiled exhibit in Las Vegas. This company has developed what it calls an urban weather station, which sounds much more high-tech than it really is. At its base level, this disarming little doodad is more or less a thermometer, and a very expensive one at that.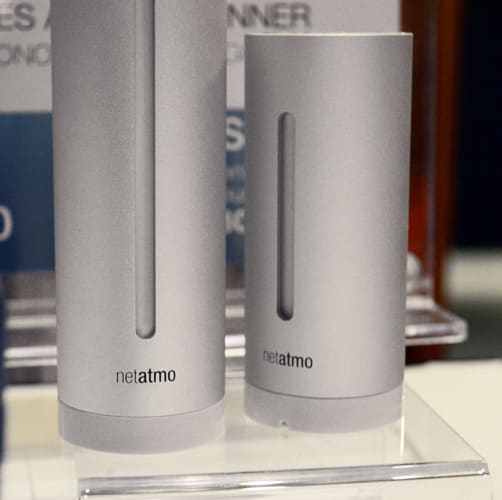 The small aluminum cylinder, which was released just a few months ago, is designed to work in conjunction with your iPhone or iPad (Android support is coming as of today, though the representative we spoke to said they're still working out some ratio kinks for tablet screens). It has no displays or monitors, so without your portable wireless device, it's more or less a doorstop...not that wireless connectivity is really an issue for many people these days. When you purchase the kit, you actually get two monitors: one for outdoor monitoring that runs on AAA batteries, and a slightly taller one for inside your home which can be plugged into a wall outlet. They both track air quality, temperature, and barometric pressure, but the indoor monitor also tracks noise pollution (what they call "acoustic comfort") and CO2 levels.
Now may be a good time to point out that the kit—the two monitors, a USB cable and adapter, a set of batteries, and access to the (free) app—costs a total of $179. Yep; it may be one of the most expensive thermometers to date. While some of the features seem a bit gimmicky (the noise pollution meter, for instance, seems like a good idea with some potential, but right now lacks any real value), others can actually result in some healthy lifestyle changes. You can use the downloadable app to track CO2 levels over time, and the app will actually alert you as to when the amount of CO2 in the room has become unhealthy. These aren't levels that will trigger a CO2 monitor and certainly aren't fatal, but knowing when to crack a window if friends are over is something that could lead to a gradual improvement in air quality within the home.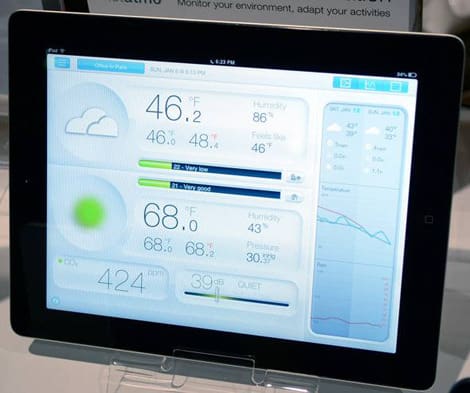 The idea of being able to determine the temperature at your precise location may seem superfluous given the number of free meteorological apps already available, but there is a definite point behind it. Have you ever been listening to the radio, or checking temperatures online, and found that they may differ by a few degrees from the readings on the thermostat in your car, for instance? Well, Netatmo's urban weather station tries to personalize your temperature readings by taking them right where you are. A two or three degree difference may not amount to much when choosing what coat to wear for the day, but weather enthusiasts will appreciate the level of accuracy with which they can track data that specifically relates to them. Netatmo has plans for an online data share which should launch in a few more months that will allow you to upload your weather station's records, theoretically allowing you to see exact temperatures at thousands of locations across the globe. Apparently, these devices have been sold in Europe, the United States and Canada, with plans to expand further; if this data share works, it could have a pretty major impact in how we get our weather reports.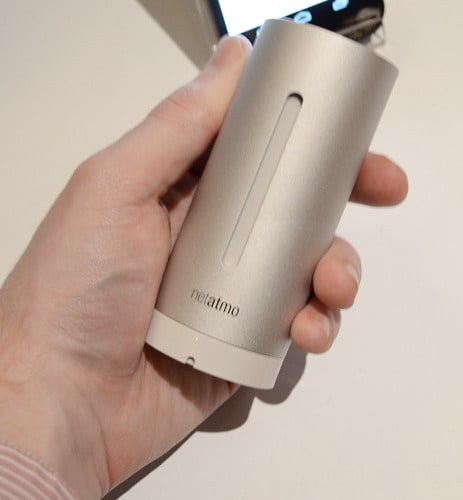 It's not perfect by any means. It hasn't got the ability to predict the weather so don't expect it to put your local meteorologist out of a job any time soon. Also, certain functions that may seem like no-brainers (pollen counts, anyone?) are missing, though with the promise of both a rain and wind sensor to be released some time next year, it's clear Netatmo is still working to enhance and improve its brain child. To date, the high price may drive away regular consumers, leaving the urban weather station to those who treat weather as a hobby, as well as those with a certain sense of paranoia about their general health. It's an interesting idea, though, and one that's definitely worth keeping an eye on.
Our editors review and recommend products to help you buy the stuff you need. If you make a purchase by clicking one of our links, we may earn a small share of the revenue. Our picks and opinions are independent from any business incentives.