If your main objective is keeping food cold, however, it will do the trick. Compared to other products—like the equally spacious Kenmore 16542, for instance—it's more consistent over time, which should help cut back on freezer burn. Plus, it's cheaper, with sale prices that dip below $480.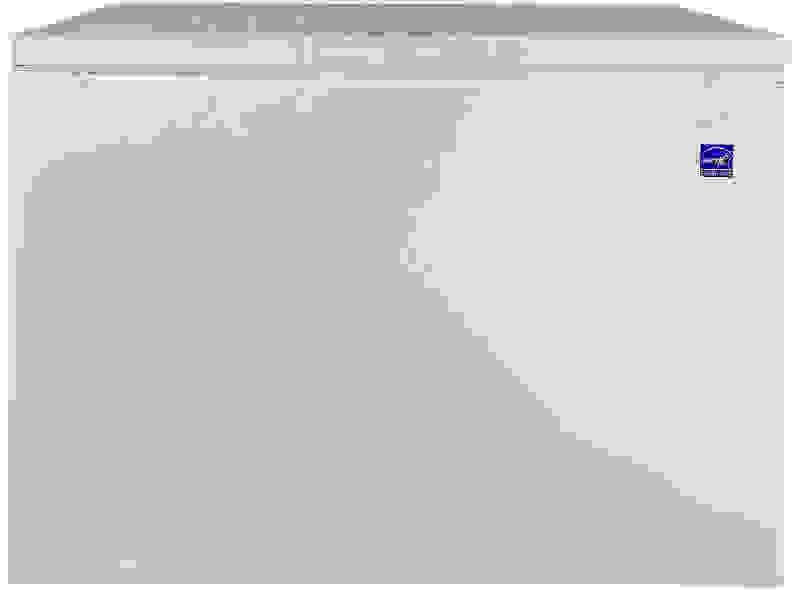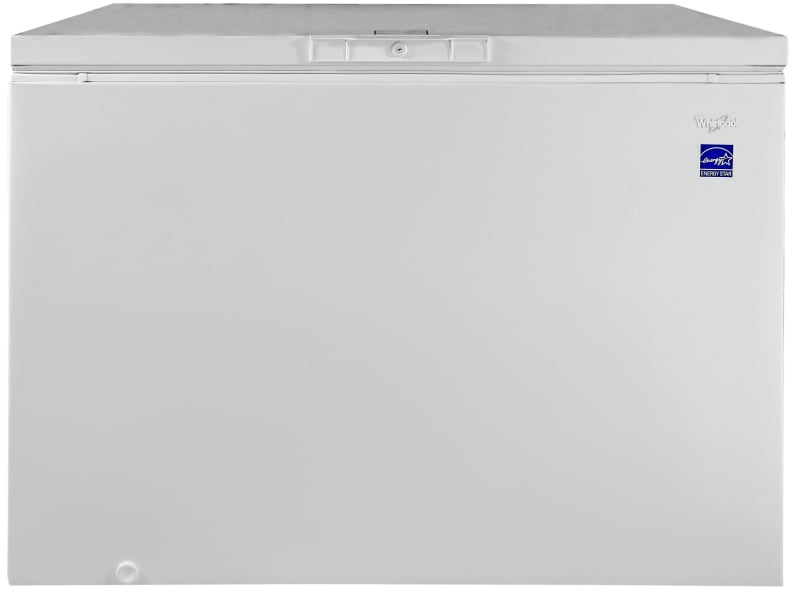 A freezer by any other name would look as bland.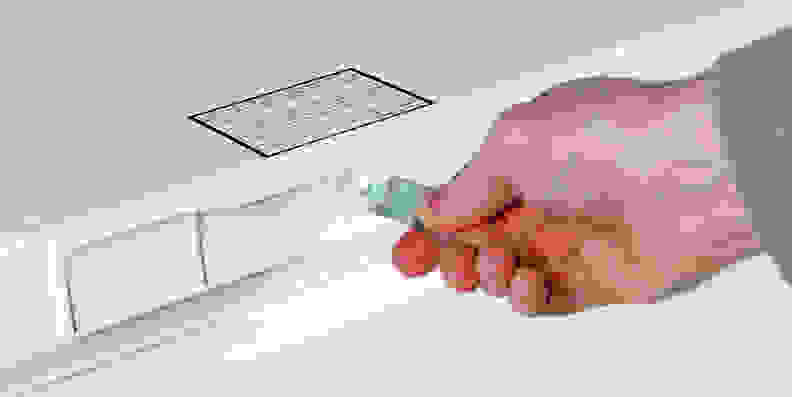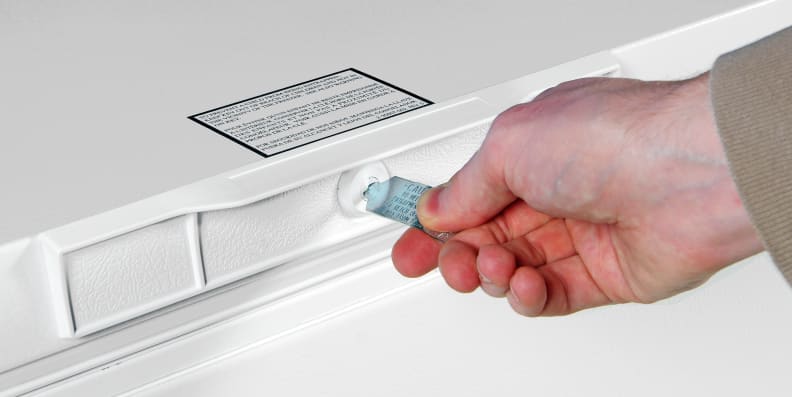 Other than the Whirlpool and Energy Star logos, there's really not much to say about the exterior of this white, 14.8-cubic-foot freezer. There's a small drain at the lower left front corner, and you'll have to pry it open for defrosting.
The inside is more of the same, with some vibrantly blue exceptions: This model comes with two sliding buckets that sit at the top of the freezer. They're easily removable, but as they're this model's only helpful tools for food organization, you'll probably want to use them unless you're just storing a few large items.
There's no internal light to speak of—not that most freezer lights provide much illumination anyway—but this Whirlpool does at least come with a door lock.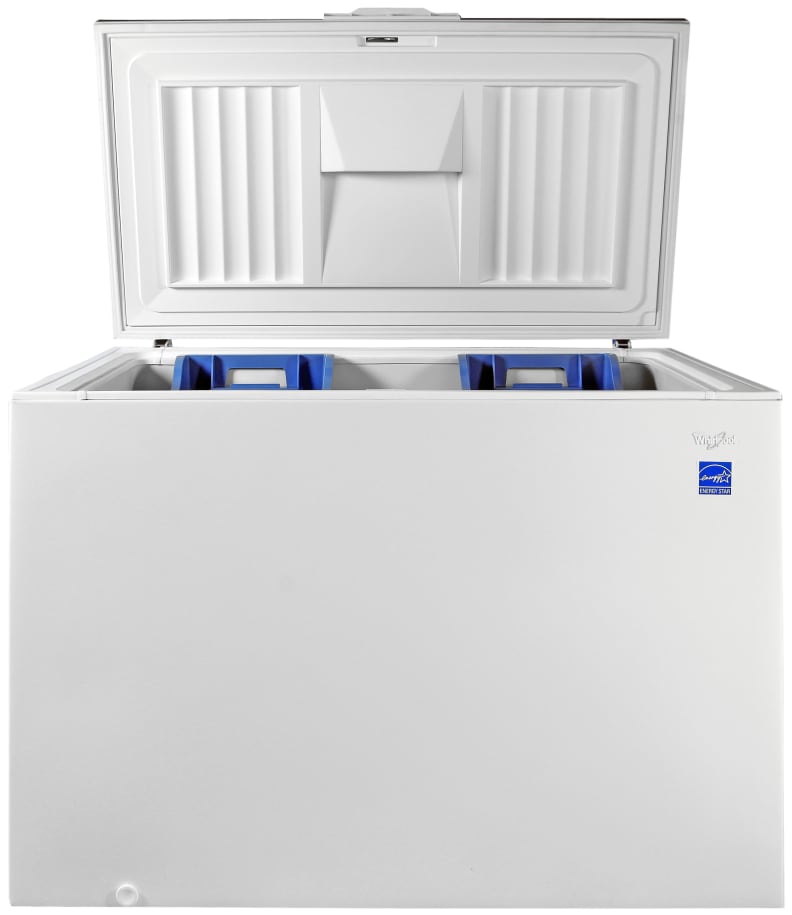 ×
Design
Cool and steady
Between any two points inside this freezer, we measured an average deviation in temperature of about ±1.3ºF, which is pretty standard. What wasn't standard was the deviation over time… or to be more accurate, the lack thereof. Temperatures only fluctuated about ±0.1ºF during the course of our 72-hour test, making this an incredibly consistent freezer.
Our biggest gripe with this Whirlpool has to do with temperature accuracy, and it's something you can easily fix. For our tests, we set the thermostat to the middle setting of 4. Average temperatures only got down to 3.1ºF—not cold enough. To correct this, simply make sure you turn down the control knob to a colder setting, say 5 or 6. If you really want to make sure, just turn it down all the way; there's no such thing as "over freezing."
Slow and steady… finishes the race, at least
We weren't blown away by the Whirlpool's freezing times. To get from room temperature to 32ºF took one hour and 42 minutes, somewhat slower than average. It took over a day and a half—about 45 hours—to get down to 0ºF. That's not great if you're freezing sensitive meats, but then, you weren't really going to put that filet Mignon in the freezer, were you?
Fortunately, this model does a great job retaining cold air. After 36 hours without power—and without opening the door, which you should never do in an outage if you want to make sure your food doesn't thaw—it had only warmed up to a brisk 20ºF.
Hands off!
This Whirlpool's controls are meant to be left alone. The dial uses a 0-7 scale, and is located at the bottom right corner. Instead of just rotating a knob with your hand, you'll have to insert something flat—a coin or screwdriver head, for instance—if you want to adjust the temperature.
It's a pain to turn the temperature up or down, but it does mean nobody will kick or nudge the controls by accident and spoil what's inside the freezer.
As for defrosting, don't forget: Your manual is your friend. Keep it handy for tips on how to properly defrost the freezer. A manual defrost means more work, but it also means there's no reason for the internal temperature to warm up to keep ice from forming. That results in a more even freeze over time.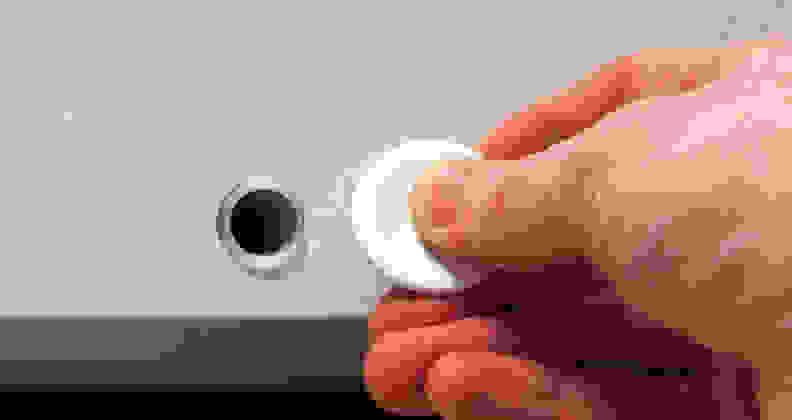 Gets cool, stays cool
This Whirlpool performs hits all the basic performance points: It cools room-temperature items at a moderate pace, stays cold even when you lose power, and remains fairly consistent from one corner to another.
What makes this chest freezer really impressive is its ability to cool evenly over the long term. Temperatures stayed close together throughout the course of our 72-hour stability test. There were a few small spikes here and there, which is to be expected in freezers of all kinds, but on the whole we observed little fluctuation.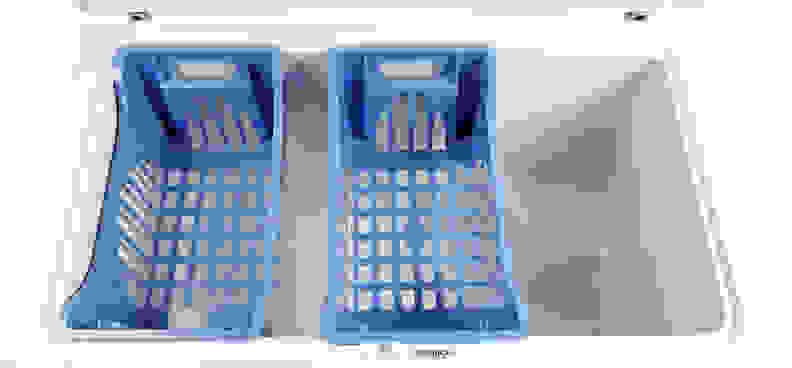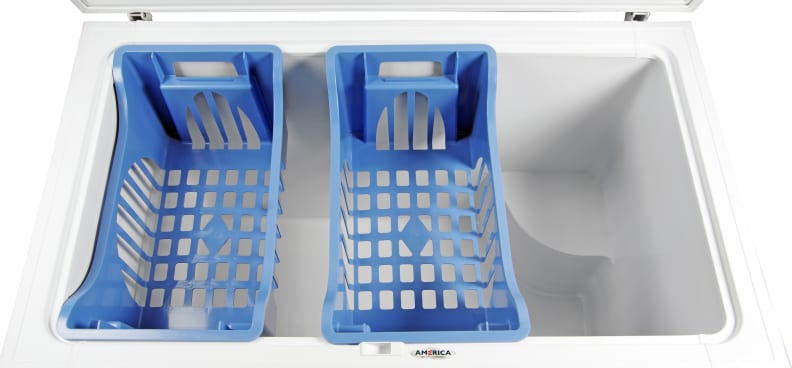 Still, you're going to want to turn the controls down lower than you might think. We had our model set to 4, and the average temperature only came to 3.1ºF—not cold enough for our tastes. Cranking the thermostat down to 6 or so should get you below 0ºF, while its naturally consistent performance should keep temperatures that low.
For in-depth performance information, please visit the Science Page.
A big, chilly box
Chest freezers aren't known for their accessibility, and this Whirlpool is no exception. It's essentially a big pit into which you can drop your food. For what it's worth, this model does come with two sliding buckets. They rest at the top of the freezer, and are great for storing soon-to-be-used items or smaller groceries that could slide down and get lost otherwise. All in all, we found that this chest freezer serves up 14.25 cubic feet of usable space—very close to the advertised amount of 14.8.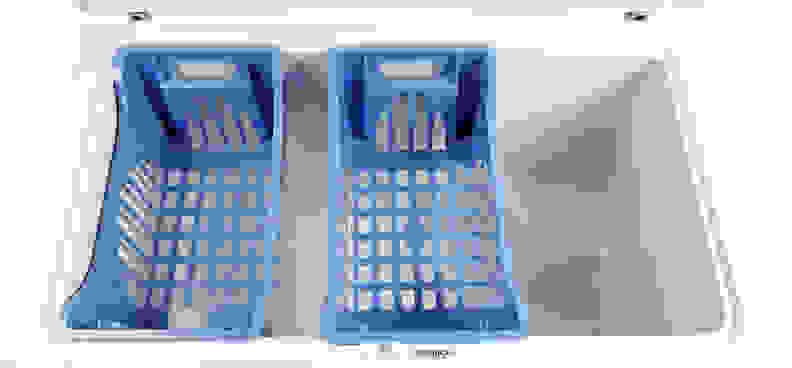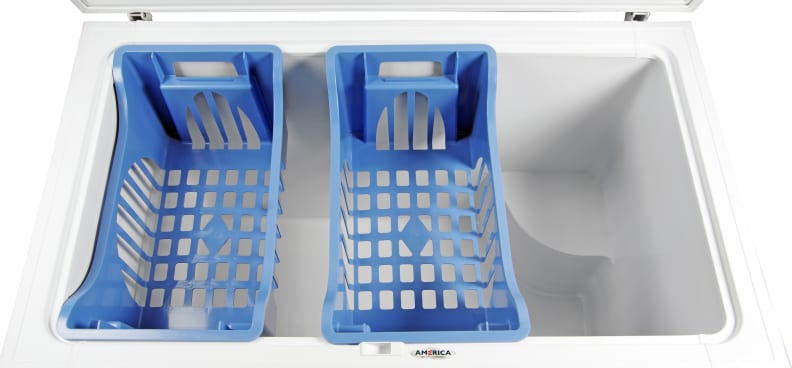 Fighting freezer burn on the cheap
Chest freezers are typically pretty basic. The Whirlpool EH151FXTQ is no exception, and it's essentially a big white box that gets cold. What's most impressive, however, is something you can't see: Steady temperatures that keep food evenly frozen over time. Those consistent temperatures help fight freezer burn, which is one of the biggest causes of frozen food waste.
This simple freezer's strong performance and low retail price of about $485 make it a great bargain for fans of bulk freezing.
Meet the tester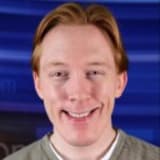 Matthew Zahnzinger
Logistics Manager & Staff Writer
@ReviewedHome
Matthew is a native of Brockton, MA and a graduate of Northeastern, where he earned a degree in English and Theatre. He has also studied at the Gaiety School of Acting in Dublin and spends most of his free time pursuing a performance career in the greater Boston area.
Checking our work.
Our team is here for one purpose: to help you buy the best stuff and love what you own. Our writers, editors, and lab technicians obsess over the products we cover to make sure you're confident and satisfied. Have a different opinion about something we recommend? Email us and we'll compare notes.
Shoot us an email