Audeze is aiming to bring somewhat-esoteric, premium audio tech a little bit more within reach of the average consumer. The Audeze Sine on-ear headphones (MSRP $449 or $499 with included Cipher Lightning cable) represents the company's first stab at a prosumer pair of cans. This is high-end hardware at a relatively low price.
But therein lies the problem: It's incredibly difficult to convince anyone that $450-$500 headphones are at all affordable, even if they do house state-of-the-art audio drivers that ordinarily cost much more (Audeze's own El-8 over-ears, for example, are $800). And although music sounds big, clear, and rich on the Sine, they're not as comfy as they could be and they struggle with isolation.
I've no doubt that there's a demographic for the Audeze Sine—a demographic that'll be thrilled to finally get their hands on the type of hardware Audeze is offering with the Sine. At the end of the day, however, they're still a bit too pricey to hit that sweet spot between "consumer" and "professional." They sound fantastic, but their hang-ups cut into their value.
A simple, elegant design
When you first pick up the Audeze Sine the first thing you'll probably notice is the lack of things to notice. None of the Sine's design elements are flashy; instead, the aesthetic is clean, simple, and functional. The classic look is the brainchild of Audeze and Designworks, a subsidiary of BMW.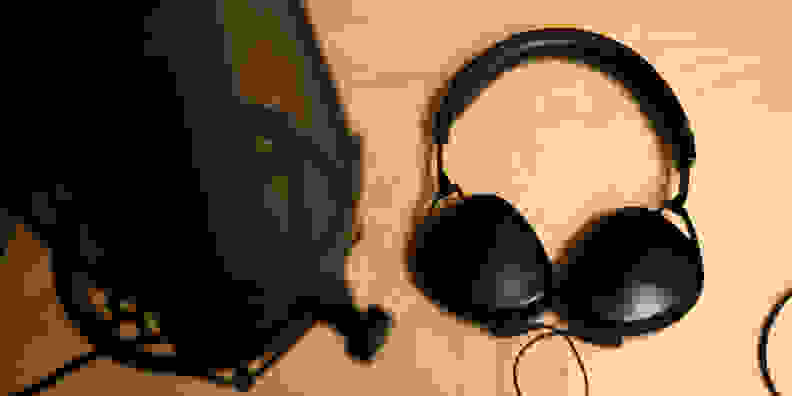 While I appreciate the minimalism, it's not a look that everyone will gravitate towards, especially if they see their headphones as an extension of their personal style. In short: Beats by Dre, these are not. The black, leather-clad cups bear no insignia, and were it not for the Sine namesake on the swiveling band above the right cup, these cans' lack of distinguishing features would be the only notable thing about them.
Beats by Dre, these are not.
But the Audeze Sine aren't just built for simplicity—these on-ears are tightly constructed and can likely be worn with confidence for years. The leather padding and aluminum frame conjure a real premium feel, and the Sine's flat, tangle-free cable is secure and easy to manage.
Well-rounded, distortion-free performance
The Audeze Sine use planar magnetic drivers rather than the typical dome- or cone-shaped drivers found in most headphones. Ostensibly, the thin profile of these drivers provides better frequency response and higher durability—or so I'm told.
Jargon aside, all I've got to go on are the test results and my own two ears. Fortunately, the Audeze Sine passed both our objective and subjective tests with very few pitfalls. Most impressive was the Sine's lack of distortion; these cans produce crisp, equally-emphasized sound across the board, and audiophiles will appreciate the fact that the Sine don't ascribe to the all-bass/all-the-time philosophy of their contemporaries. It's a robust sound profile where mids are allowed to shine without being drowned out by the low-end.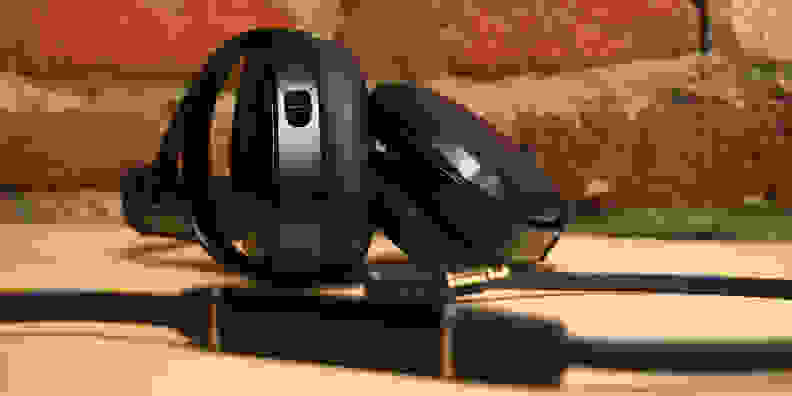 And although the Sine's tight seal struggle to keep noise out, it does a heck of a job keeping noise in, which means you'll really have to turn up the volume before you start nagging your coworkers or the people sitting near you on the bus.
The best thing I can say about listening to music with the Sine is just how big and spacious everything sounds on it. Because every aspect of the music is more-or-less equally emphasized, the Audeze Sine have the tendency to reveal minor details in music you may have otherwise missed.
If you're willing to spring for it, the Cipher Lightning cable turns your iPhone into a premium audio hub.
When Apple ditched the iPhone 7's headphone jack, most of the tech world turned its attention toward wireless audio, despite the Lightning port's continuing role when it comes to iPhone audio. Turns out there's a little more to the Lightning port than just a place to put a dongle.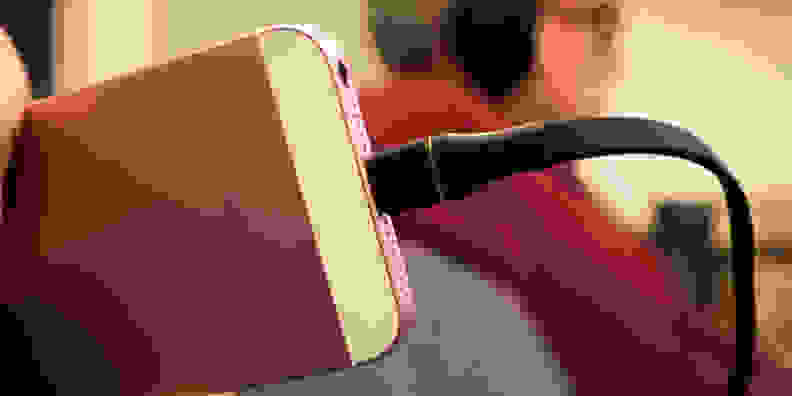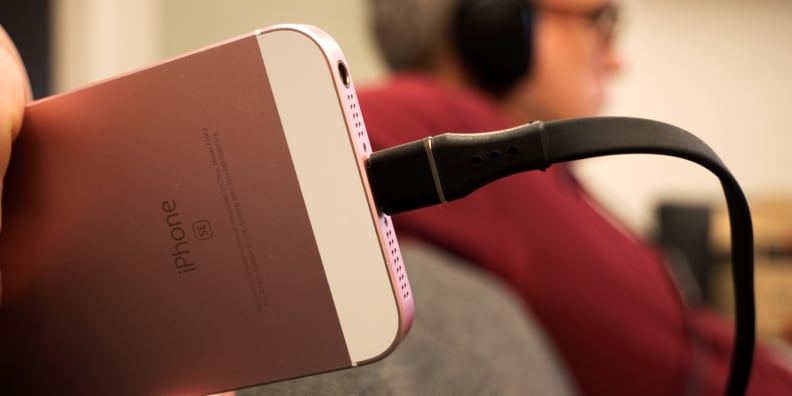 If you opt-in to receiving it, Audeze's $50 Cipher cable (which probably gets its name from how cool the word "cipher" sounds) is a Lightning cable that resamples music at 24-bit resolution and allows iPhone users to equalize audio in realtime via the Audeze iOS app. The cable's mic controller (that houses the Cipher cable's chipset) also supports Siri and voice calling. It's worth noting, however, that the standard detachable cable that ships with each pair of Audeze Sine do not include a microphone or playback controls.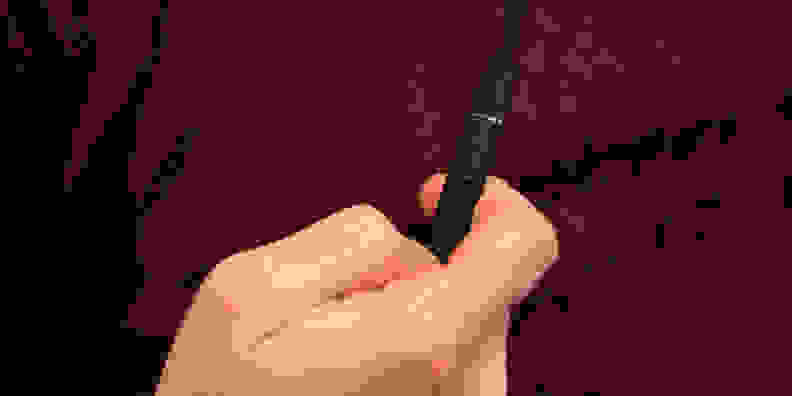 Not as comfortable as they could be
Despite the Sine's soft, leather-padded cups, I still struggled to wear them for hours at a time. The band, which is also outfitted with leather padding, doesn't cause the cups to clamp down on my ears as tightly as some of the other on-ear headphones I've worn recently (I'm lookin' at you, Beats Solos). Over time, however, there is enough pressure to make my ears ache.
I struggled to wear them for hours at a time.
To be fair, on-ear headphones tend to create more pressure than over-ears simply because the cups sit on top of your ears instead of hugging the area around them. Still, there's a certain expectation of long-term comfort when it comes to headphones of this caliber, and the Audeze fall a little short of that expectation.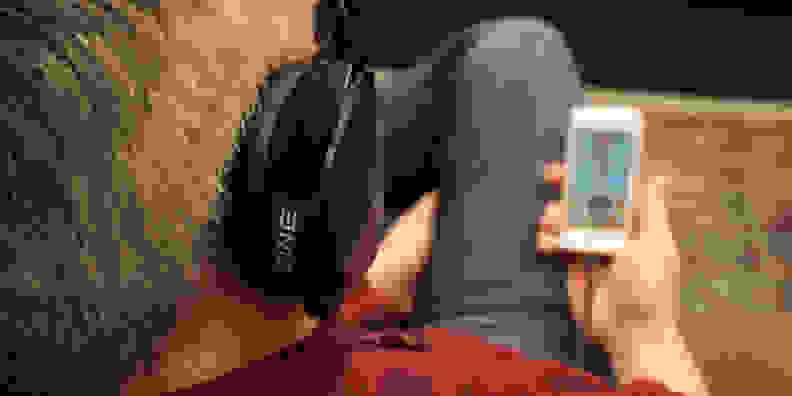 Despite successful leakage control, the Sine still struggle with isolation.
My biggest disappointment with the Sine came during my commute home from the office, when the steady rumble of a subway car and the murmur of the rush hour travelers drowned out the sultry tones of Griffin Newman and David Sims, host of the podcast Blank Check with Griffin & David. Despite Producer Ben's best efforts to keep the podcast audio crispy, the Audeze Sine were unable to compete with the sounds of the world around me.
The Audeze Sine were unable to compete with the sounds of the world around me.
Our lab tests confirmed my suspicion—the Sine struggle with isolation, particularly higher frequencies. This issue is pretty common (even among premium headphones aimed at audiophiles), but as someone who spends a good amount of time listening to podcasts and radio shows, it's a difficult problem to ignore.
They ain't cheap, that's for sure.
The Audeze Sine were designed by a team belonging to a luxury car company. The Audeze Sine also feature super high-end drivers that come at a cost. Despite the quality build and performance, you're still going to have to spend $400 to land a pair ($450 if you want a Lightning cable included in the bundle).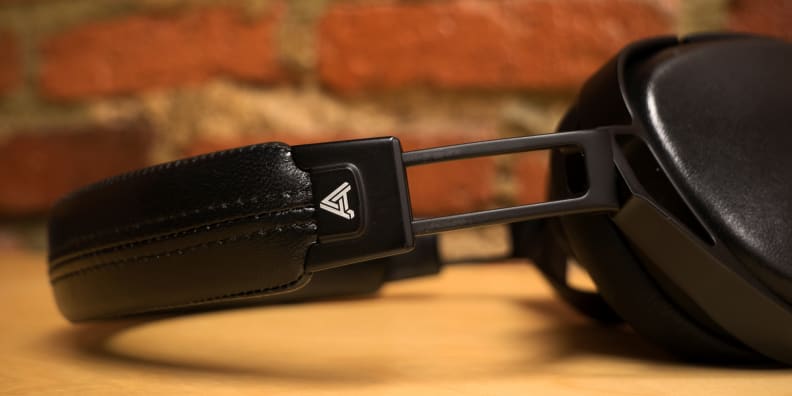 I imagine that for most people, something like the $350 Bose QC35s make more economic sense. Given the Sine's planar magnetic drivers and Audeze's history of appealing to the audiophile community, some might scoff at the notion that a pair of Bose QuietComforts are an overall better value. But if you consider the QC35s' more welcoming over-ear design, their noise-cancellation functionality, and the fact that they're wireless, they probably offer more value to a wider swath of people looking to spend hundreds of dollars on a pair of headphones.
Only if the price tag doesn't scare you
There's no denying that the Audeze Sine are a solid pair of cans. Their well-rounded performance is versatile enough for every genre of music, and on top of that, the bass levels are kept in check, which will surely please audiophiles and people that do a lot of studio work. The simple, minimal design is quite elegant, and their sturdy build truly feels like it'll keep them safe for several years.
But there's also no denying that the Audeze Sine are pricey—too pricey for most people.
But there's also no denying that the Audeze Sine are pricey—too pricey for most people. When it comes to headphones, once you get up to the ~$400 price range, performance and design shortcomings start to feel a lot more damning. The Sine aren't quite cushy enough to wear comfortably for extended periods of time, and they don't shield themselves from outside noise as well as they should.
Most of the cost can be attributed to the Sine's high-end planar magnetic drivers, and to be fair, they are some of the most affordable pair of headphones that use this technology. But unless you're the type to appreciate an esoteric feature like high-end drivers, your head might spin a little when you plunk down the cash for the Audeze Sine.
The Audeze Sine probably have the most value to people who own an iPhone 7 or an iPhone 7 Plus.
Are they good headphones? Sure. Are they good enough to cover the cost? That's debatable. But hey—maybe you've got an iPhone 7 or an iPhone 7 Plus and you're looking for a way to get some high-end audio into your ears by way of a Lightning cable. The Audeze Sine probably have the most value to people in this camp, since they're ostensibly solving their headphone jack problem with 24-bit, high-quality digital audio.
If you're still hesitant to drop five C-notes on a pair of cans but you still crave terrific audio, you'd be better-suited with a pair like the Audio-Technica ATH-MSR7s. They're over-ear cans with some of the best audio we've ever tested, and since they've been around the block for a couple years, they cost a couple hundred dollars less than the Sine.
The Audeze Sine on-ears are fantastic headphones; they're just not fantastic for everyone or everywhere.

Meet the tester
Michael Desjardin
Senior Staff Writer
@Reviewed
Michael Desjardin graduated from Emerson College after having studied media production and screenwriting. He specializes in tech for Reviewed, but also loves film criticism, weird ambient music, cooking, and food in general.
Checking our work.
Our team is here for one purpose: to help you buy the best stuff and love what you own. Our writers, editors, and lab technicians obsess over the products we cover to make sure you're confident and satisfied. Have a different opinion about something we recommend? Email us and we'll compare notes.
Shoot us an email