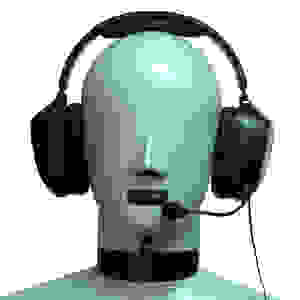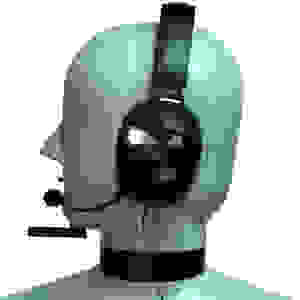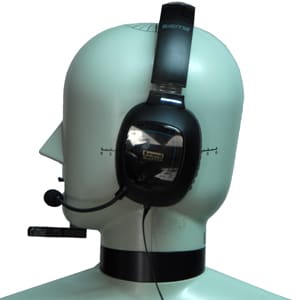 Here we see the speaker element, guarded by a thin mesh to keep assorted biomatter like earwax and sweat from gumming up the works.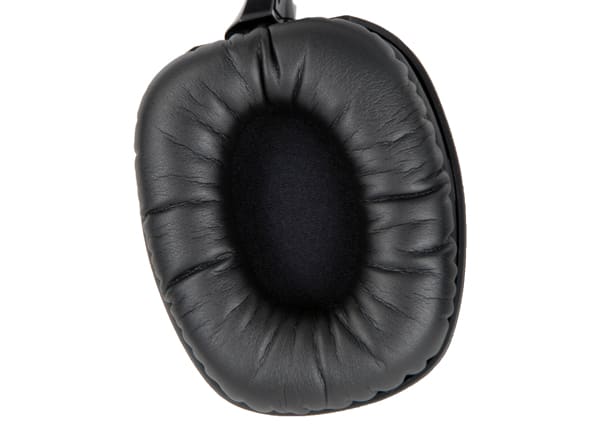 The back of the ear cups is set back behind a clear plastic window, which doesn't offer anything in terms of functionality, it does give the headset an interesting look.
With a core of metal wrapped with thick plastic, the well-padded band is unlikely to break or dig into your scalp.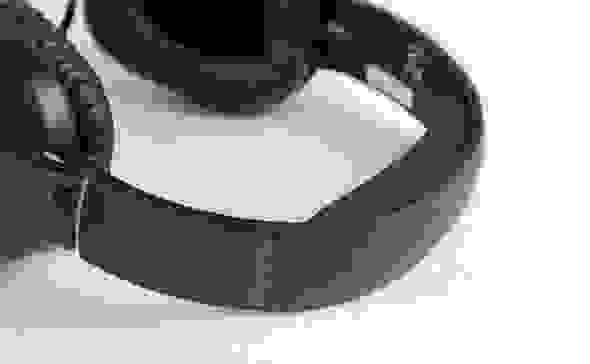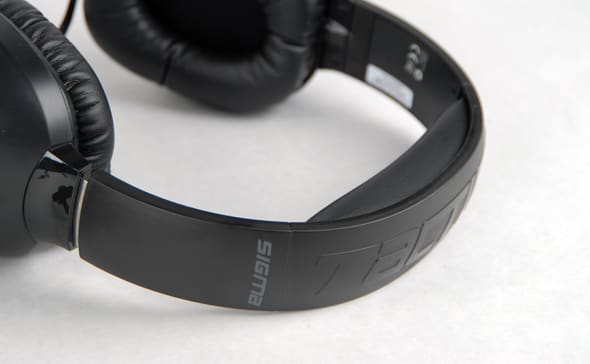 The 's 6.5 foot cable terminates in dual 3.5mm jacks, and hangs from the left ear cup of the s themselves, and is fairly robust.
The dual 3.5mm jacks are delineated by color, green for the headphones, pink for the microphone. If you wish to give the USB dongle a whirl, you can connect both plugs to it and take advantage of the feature.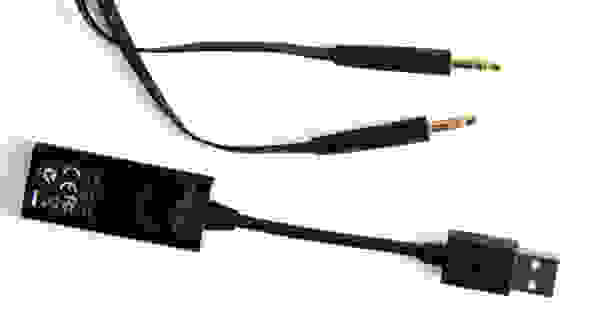 The cord guards of the are made of a rubbery material, and seem to be durable enough to withstand some abuse.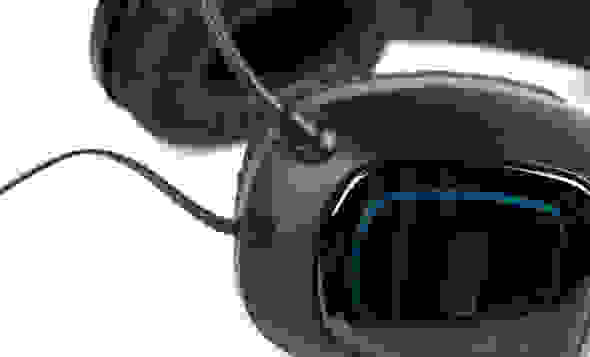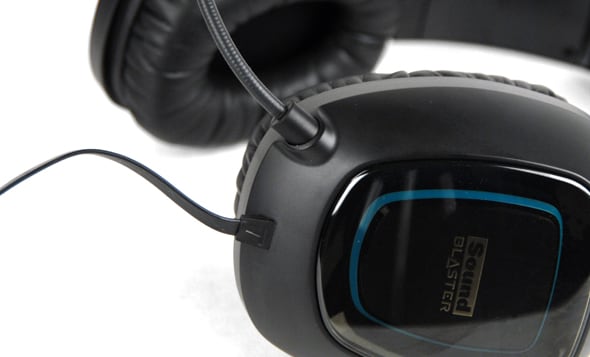 Plugged into the left ear cup is the microphone, which is not only able to be articulated to the user's preference, but it can also be removed should something break.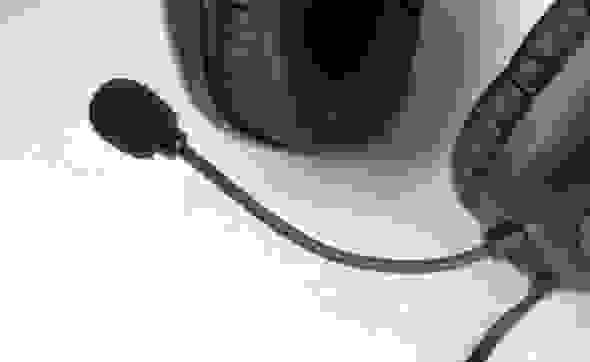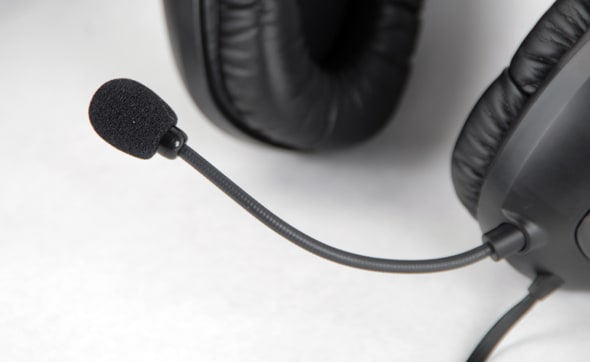 Along with your headset, the packaging for the includes a microphone, USB dongle, and some documentation.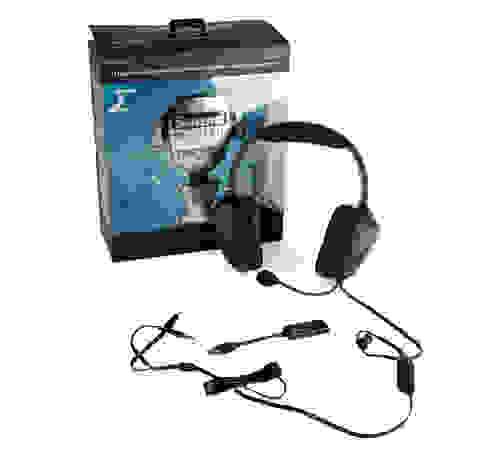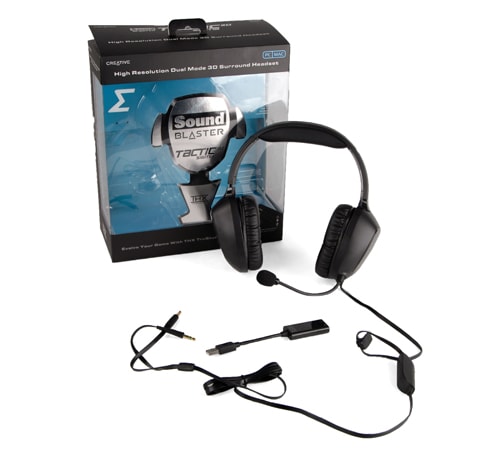 Because the are big and beefy, it's no surprise that they are similarly durable. We wouldn't recommend chucking these off your head in the middle of a gaming session, but the is about as durable as you could hope for at this price range, and the thick plastic should protect the inner components well from abuse.
Well, as you can plainly see, the isn't exactly the flashiest headset, despite what you might think by reading the name. It's not ugly per se, but it certainly isn't going to win any beauty pageants being this clunky and big.
It's been a while since we've seen a frequency response like this, but not to worry: while this isn't good for music, fans of FPS shooters and other games that have a lot of explosions, small arms fire, and other highish-pitched sound effects will notice that these often sibilant and deafeningly loud sounds are somewhat de-emphasized, which is a great thing for your hearing, not so good thing for in-game music.
Click here for more information on our frequency response test.
The doesn't seem to have much of an issue with distortion that will be audible at any frequency. You won't hear it.
Click here for more information on our frequency response test.
Well, it's not perfect, but it certainly could be worse: there are quite a few deviations from the ideal response in the tracking graph, but most of the shifts in channel preference are below the threshold of what is audible to humans outside of that major blemish near the 7kHz mark.
Click here for more information on our frequency response test.
As far as isolation goes, the s are somewhat on the low end of average, but about what you can expect from a gaming headset, as they've proven to isolate a little less sound than many of the closed-back cans we've seen. It'll block out a good amount of the mid-high end, but about nothing else. Still, it's not a huge worry if you game in an environment with a sound pressure level lower than 70dB.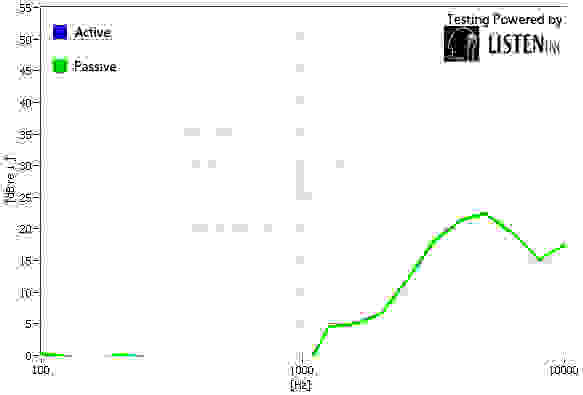 Click here for more information on our isolation test.
Because it's often difficult to get a good seal with the s because of the type of foam used and low relative clamping force, the headset leaks a fair bit of sound if your ears don't fit inside the pads. If you listen too loudly, you will annoy those around you.
Click here for more information on our leakage test.
The is capable of blasting sound out at 108.89dB before hitting the 3% distortion mark, but as always, we beg you not to listen this loudly for any amount of time because there exists the very real possibility that you will damage your hearing.
Click here for more on our maximum usable volume test
In the short term, the is fairly comfortable due to a very low clamping force on your head, which is good, because the ear cups won't fit everybody as well as they may want. Because of this low clamping force, which has its advantages, but has the added disadvantage of sliding around a bit if it doesn't fit your head well. If you can, please try these on ahead of time before plunking down the coin to avoid any issues in the future.
Over time, the fit doesn't really change all that much, and after 6 hours, no new impressions on fit were reported.
Aside from being able to remove your microphone, or use the included USB dongle adapter, there really isn't much at all you can do to customize your s.
The cable of the s is 6.5 feet long and terminates in dual 3.5mm plugs for the microphone and the headphone elements, which can be either plugged directly into your PC, or into a USB adapter dongle, and then into a USB port on your computer. The cable itself is punctuated by a remote with a volume knob and microphone mute switch. While this is a good thing to have on a headset, keep in mind that the added solder points add a likely point of failure (lead and tin are not exactly the strongest metals out there), so treat your cable with care.
Because this is a rather large over-ear headset and has no carrying case or any sort of folding options to shrink the profile of the unit itself, it isn't very portable, but considering the fact that this is a PC-only headset, they probably aren't going very far from the computer desk anyways.
Aside from wiping down the mesh cover to the speaker element, or being able to remove and replace the microphone, there isn't a whole lot you can do to maintain your headset.
Remote & Mic
The microphone of the isn't all that unique, but having the ability to articulate the mic to your mouth is a huge plus, as is the fact that it doesn't tend to pick up much background noise in-game. Very well done, Creative!
Volume Control
Here we see the remote with volume control, which allows you to bypass the computer's volume so you can adjust it in-game, which allows you to focus on your game.
Even from the very first glance, it's obvious that the Razer cans had a lot more focus on aesthetics than the Creatives do, but keep in mind that the s are a bit more durable than the Razers are.
The Carcharias' frequency response is better hands-down, unless you only use your headset for FPS games.
Neither unit has any issue with distortion, but the Carcharias technically has less.
Neither the Carcharias nor the have a great tracking response, but that of the Carcharias is less bad.
The s block out more sound, and therefore are the better isolators.
As with most comparisons, this one is largely subjective. Because everybody has a differently sized and shaped head, what is comfortable for one person may not be comfortable for another, which is why we usually recommend that prospective buyers head on down to your local brick and mortar store to give each a try before plunking down the money.
This one's tough. While the Carcharias certainly has the beat soundly on performance, the s offer better durability, and what isn't discussed here is that if you use the USB attachment, you can employ the equalizer software that Creative Audio uses, so you can alter what you hear to your liking. Still, the final decision comes down to what you want, so be sure to check both out if you can.
From a design standpoint, there are a few major points in which the Astro A40s are superior to the s. For starters, not only are they more attractive, but they are also designed with extreme compatibility across platforms, and can make use of a mixamp also marketed by Astro. On the other hand, the s are more durable than the A40s are, but only slightly.
While the frequency response of the A40s is somewhat better than that of the s, they do not suffer from the general de-emphasis of the high end that the s do.
Neither set of cans has much of an issue with distortion, but the s technically have less.
Neither headset impresses here, but the A40s have the better tracking response, as their shifts in channel preference are fewer and generally less dramatic.
The A40s block out a little bit more sound, but neither headset is a great isolator.
This one's tricky, as each headset will have varying levels of comfort for different people, so we advise you to try both on if you get the chance. Both headsets are a bit on the heavy side, and can sometimes slide around if you have a smaller head.
This really depends on what you're looking for in a headset, because while the s are Mac/PC-only, the A40s are pretty much compatible with anything that has a headphone/microphone jack, including XBox 360, PS3, and even tablets. If you're OK with grabbing a PC-only headset for just under half the price of the A40s, the s aren't a bad bet, but if you absolutely need a headset that will work with just about anything under the sun, the A40s are your headset.
Though both units are over-ear headsets, the way they handle features like their microphones and their major parts like bands and ear cups are very different. For example, while both can articulate their microphone booms, the Siberia V2s can stow their microphone inside their ear cup, and they also use a more robust casing for it.
While neither headset has what we'd term as a great frequency response, the Siberia V2s have the better response to equalize or use for RPGs. On the other hand, de-emphasis of the high end makes first person shooters a little less jarring to play. It's a matter of taste.
Neither has a huge distortion problem.
Neither set of cans has a great tracking response, but the Siberia V2s are slightly worse.
Neither headset is a great isolator, and they both attenuate about the same amount of sound.
This one's tricky, as each headset has its advantages. While the Siberia V2s are lighter and fit smaller heads, the s have less clamping force and can fit larger noggins. We advise that you try each on before you buy if you can.
This really depends on your tastes in headsets, really. If you like MMORPGs more than you like shooters, or if you have a smaller head, we'd say you should probably stick with the Siberia V2s. If you like FPS games or have a larger head, you're probably going to like the s more.
It's generally difficult to give a 100% accurate conclusion on a gaming headset because there are many things that would normally be termed "bad" for a set of headphones that may not necessarily be "bad" while playing a game. For example, a long cord and in-line accessories are often viewed as a portability or durability issue, but for a gaming headset, they're almost necessary.
So much as that is the case, the s do not score well in many areas, but they are perfectly fine for certain uses, like for FPS games. While they're not going to light the world on fire for you, they are perfectly serviceable if you just need an entry-level gaming headset for the Mac or PC.
That being said, if you are a fan of MMORPGs, or any game that is heavy on the music, this headset is probably not for you. Because it dampens the mid tones and high end, you're far less likely to hear what you want without having to crank the volume to a high degree. It's a preference thing.
If you've read the review and think that this is the headset for you, by all means pick up a set and get going on your quest to top the server leaderboards. While this isn't the best gaming headset we've reviewed, it does exactly what is asked of it, and for a price that won't empty your bank account.
Meet the tester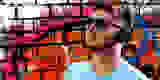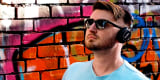 Chris Thomas
Staff Writer, Imaging
@cthomas8888
A seasoned writer and professional photographer, Chris reviews cameras, headphones, smartphones, laptops, and lenses. Educated in Political Science and Linguistics, Chris can often be found building a robot army, snowboarding, or getting ink.
Checking our work.
We use standardized and scientific testing methods to scrutinize every product and provide you with objectively accurate results. If you've found different results in your own research, email us and we'll compare notes. If it looks substantial, we'll gladly re-test a product to try and reproduce these results. After all, peer reviews are a critical part of any scientific process.
Shoot us an email