While the Mode EQs scored very well in our tests, they still have their fair share of problems. The construction isn't as solid as we'd like to see and the lack of a carrying case—or any accessories other than different tip sizes— makes it hard to gauge how long these snazzy in-ears will last. All in all, the pros outweigh the cons, and the look, performance, and EQ control justify the cost.
The Marshall Mode EQ in-ear headphones (MSRP: $99.00) are the most expensive in-ears offered by Marshall. For that price, you're getting a dedicated EQ switch, a stylish design—even if they aren't made from the best materials—and audio that is genuinely a pleasure to listen to.
The frequency response test roughly resembled an equal-loudness contour with a noticeable amount of boosted bass. There was also hardly any distortion, at least not enough to be heard by the majority of listeners, and they even provided a fair amount of isolation from the outside world.
These are heavy-hitters when it comes to in-ear headphones. I just hope you enjoy listening to warm, bass-heavy music—otherwise, these may not be the right fit for you.
The frequency response test forms a lot of our expectations on how well a particular pair of headphones performs. Using HATS (Head and Torso Simulator), we input a parent signal of 74dB and measure the response based on that number. Our results for the Mode EQ roughly resembled an equal-loudness contour, which means that the loudness of each frequency is equalized, so the entire spectrum is can be heard equally. That means that because the spectrum is equalized it results in a very specific type of audio response that may not appeal to everyone.

Sub-bass—the frequencies between 0 and 60Hz— stick fairly close to 90dB, the highest response we recorded across the spectrum. You'll also notice that there is a slight disparity here between the right and left channels, but it's not enough to impact your music. As the frequencies increase into the bass range—60–300Hz—the relative volume, measured in decibels, steadily drops from 90 closer to 77dB. This means that as we head from bass into the midrange frequencies—300–2kHz—the relative volume is about half of what we measured for sub-bass.
There are a couple spikes in relative volume—one in-between 1kHz and 2kHz and the other between 7kHz and 9kHz—that go from around 70 closer to 80dB. This shift in decibels raises the volume of these notes to twice as loud. This means that while your music will emphasize the heavier bass sounds, some of the higher notes won't be completely muffled or lost.
Luxury design with cheap materials
Beats headphones began a trend of producing headphones that focused on looks first and audio second. Since then, there's been a big industry push to out-style the competition without sacrificing audio quality. Marshall isn't any different and the Mode EQs are a prime example of designer in-ears that still sound great.
When you see them from afar, everything about these in-ears emphasizes its status as a luxury product. The gold and black color scheme—the only one available—is classy and complements the look well, especially on the simple logo design on each earbud. The in-line controller even has an included shirt clip that, when used, proudly displays Marshall's name in gold filigree.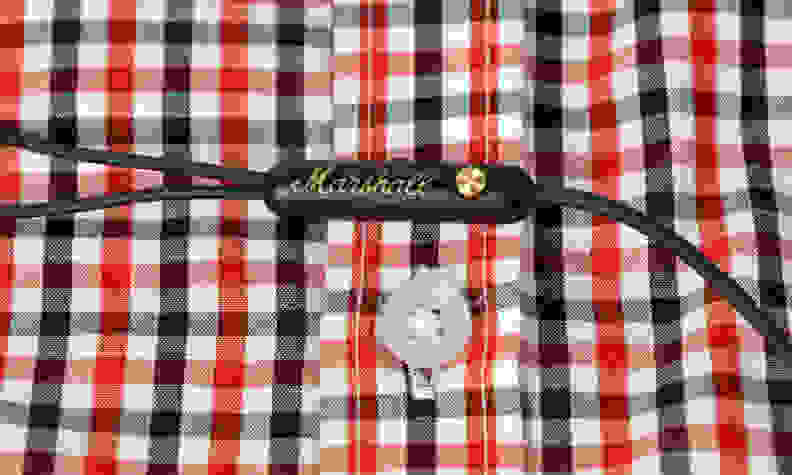 A portion of the price you're paying goes into this controller and its features. The side has an EQ switch that lets you toggle between two sound settings—one for bass and the other for brighter audio. Next to the Marshall logo, on the front of the controller, is a large, gold button that gives you all the standard functions: answering and hanging up phone calls, playing and pausing your music, and skipping your music forward and backward. The lack of volume control is strongly felt, and really should be considered a standard feature when there is an in-line controller.
When you get a closer look, you realize the premium cachet of the Mode EQs might only be skin deep. The plastic construction has a matte finish that doesn't seem ready to take the stress of repeated daily use and keep looking great. It's hard to judge how long these designer in-ears will ultimately last without a carrying case.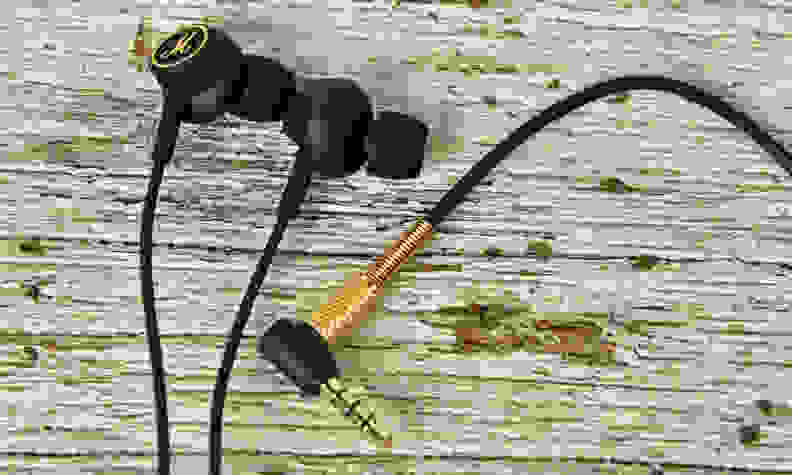 But, Marshall didn't completely forget about the need for some protection. There is a gold spring added to the connection point on the 3.5mm jack that should decrease the likelihood of the cable breaking. Unfortunately, it isn't also on each of the earbuds, which make them prime targets for any damage.
The only accessories inside the box are an assortment of silicon tips that range from small to extra-large. They're a little tricky to get on and off, but hopefully you won't have to switch between them very often after finding a comfortable fit. This does mean that while they may be difficult to replace, they're not going anywhere when you don't want them to.
A lot of bass with sound you can control
The Mode EQs aren't all about looking good. They scored very well in our audio lab and the performance is nothing to scoff at. Our tests revealed a boost in bass and some of the higher frequencies that result in a chart that isn't far off from an equal-loudness contour (ELC). An ELC is meant to equalize frequencies across the spectrum so the entire range—from sub-bass to the higher frequencies—can be heard equally as well by human ears.
Even if you go from listening to Yanni to Kenny G, the Mode EQs will have you covered.
There is also a dedicated switch on the in-line controller that toggles between two presets for EQ. The presets are meant to enhance different types of music—one for deep, heavy bass and the other for an emphasis on the brighter mids and highs. Even if you go from listening to Yanni to Kenny G, the Mode EQs will have you covered.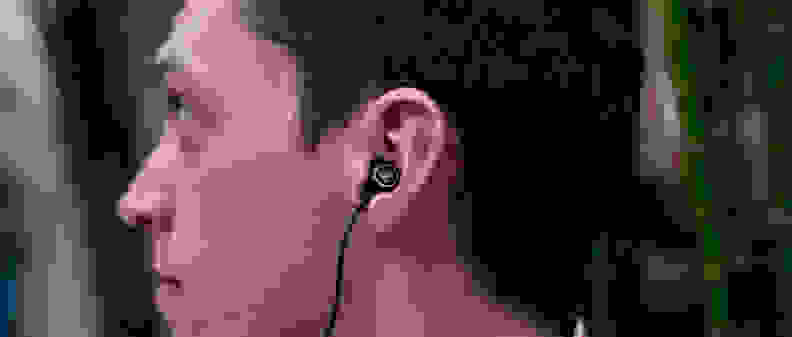 The silicon tips form a seal that locks in your music, while blocking outside sound from leaking in and disrupting your musical bliss. The Mode EQs aren't the best in-ears we've tested when it comes to isolation, but they drop the volume of ambient sounds to 75–50% lower than normal. It's a nice middle-ground, blocking a lot of unwanted noise without completely isolating you from your surroundings.
Distortion is the measure of fuzzy, crackling sounds that is introduced by the hardware. In our tests, we set the threshold of when distortion is audible to most people at 3%. If we measure anything higher than that, it's a pretty good indicator that you'll hear unwanted sounds.

The highest level of distortion we tested was 1.7%, and that was only in the left channel in the low sub-bass frequencies. There is no denying that this is an incredible result. Across the entire spectrum of audible sound—from sub-bass (20Hz) to the high frequencies (10kHz)—you can be confident that the Mode EQ in-ears will deliver sound that's clean and clear.
Looks and sounds great, but might not last very long
It's hard to argue with the Mode EQs one-two punch of great audio and good looks.
Instead of sacrificing audio quality to make a more attractive looking product, Marshall produced in-ears that look great and still deliver amazing audio. The plastic construction might raise some durability concerns, but it's hard to argue with the one-two punch of great audio and good looks.
Make no mistake though, these are not meant to replace studio-grade headphones. If most of your listening is done in a single space—at home or in the office—then you might want to consider larger, more comfortable over-ear headphones, like the Sony MDR-7506. They're a little bit more expensive than the Mode EQs but still sound great and can help you get through your work day.
If you're set on getting in-ears, we'd recommend the JBL Synchros S200i. They sound great and have a unique design and are our highest-rated in-ears. If you'd prefer a great listening experience for less money, you might want to consider the AKG K 323XS in-ear headphones. At $59.95, the AKGs block more sounds from the outside world and they do it while having a similar frequency response as the EQs, but with a greater boost in higher frequencies. Just don't expect the AKGs to turn any heads, as they don't look like anything special, apart from the variety of colors to choose from. Both the JBLs and the AKGs were featured in our 2014 Best of Year Awards.
Keep in mind, the Mode EQs are a great blend of form meets function. You'll get great audio with decent isolation and almost no perceptible distortion, all wrapped in a very stylish and portable package. You won't go wrong by choosing to bring these with you on your commute.
In-ear headphones have a leg up on their larger cousins when it comes to isolating you from the outside world. The silicon tip creates an effective seal that funnels music into your ears and blocks other sound. But, not every pair of in-ear headphones provide the same amount of isolation.
The Mode EQ in-ears lowers the relative volume of sub-bass and bass sounds (think engines of subways and planes) by about -5dB, which is about 3/4 it's normal volume. You'll still be able to hear the subway coming down the track, but it won't be as overpowering as it normally is.
Heading into the midrange frequencies—300Hz–2kHz—there is a sharp decline in relative volume. Most of the sounds you hear will be dropped somewhere between half to a quarter of its full volume. Except for the deeper sounds of commuting or construction, this is where the bulk of the sounds you'll encounter live, so expect a lot more isolation from the typical sounds of your day. While the sounds that are around 1kHz and higher (which you won't typically encounter a lot of) drop between 1/8 and 1/16 as loud as normal.

×
New Gallery
Meet the tester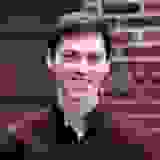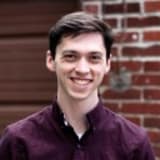 Nick Schmiedicker
Former Managing Editor
@@nschmiedicker
Coming from Buffalo, NY, Nick studied media production and arts journalism. When he's not writing about tech Nick can be found playing video games and keeping up on the latest in pop culture.
Checking our work.
We use standardized and scientific testing methods to scrutinize every product and provide you with objectively accurate results. If you've found different results in your own research, email us and we'll compare notes. If it looks substantial, we'll gladly re-test a product to try and reproduce these results. After all, peer reviews are a critical part of any scientific process.
Shoot us an email