We discovered a bass-heavy frequency response that nevertheless maintains good emphasis on mid- and high-frequency sounds, resulting in a solid consumer sound that's tailored specifically for mobile devices like phones and tablets. What's more, a good fit ensures that most outside ambient noise is reduced, while distortion-free playback means you'll hear nothing but crisp, clean sound.
The MEElectronics M9P 2nd Gen. in-ear headphones (MSRP $39.99, online as low as $19.72) are a newer, revised edition of the company's popular portable product, the M9P. They're cheap as chips and they sound great, making them one of the best values in headphones. What more do you need?
Featuring a flat, tangle-resistant cable and an in-line mic/remote, MEElectronics bills these in-ears as a convenient audio solution for mobile devices like tablets and phones. Thanks to multiple color options, the M9P in-ears aim to stand in as both fashion accessory and premium audio provider.
If you like huge bass emphasis, you can't go wrong with these. They're free of distortion, durable, portable, convenient, and provide a healthy soundscape that leans on the low end. If you're looking for something a little more prepossessing, albeit pricier, the AKG K323 XS may be a better choice.
A great combination of convenience and style
Unlike on-ear and over-ear headphones, in-ear headphones often champion innocuity, standing in as a fashionable accessory without dominating your dome. Thus the M9P's aesthetic highlights include the design of the cable and remote as much as the 'buds themselves.
Our test sample is the gunmetal color, but the M9P in-ears are also available in red, silver, and pearl varieties. Discreet silver bands and sturdy, reinforced flex points on the earbuds transition smoothly to a flat cable in the same color. The cable splits at an adjustable point that's emblazoned with "M9P," white lettering on firm black rubber. Likewise, the gold-plated jack is reinforced by semi-flexible rubber.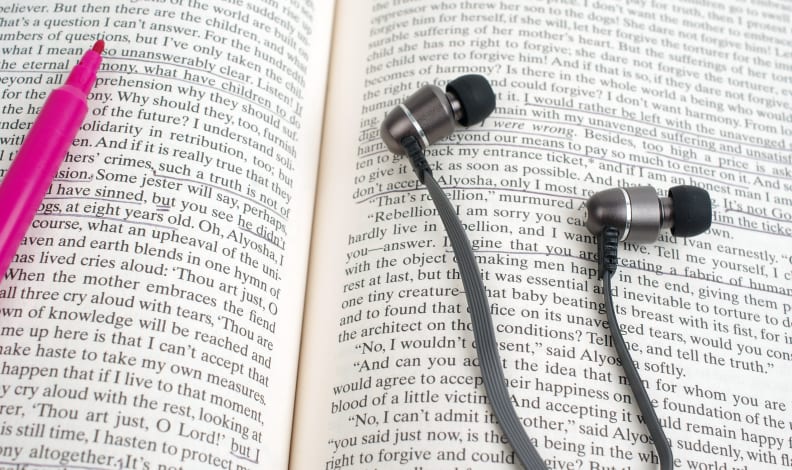 These in-ears are quite comfortable, even over longer periods of time. The angled tips and multiple sleeve sizes make it easy for most people to find a good fit. The hard plastic caps can irritate your outer ears if you push them in too far, and getting used to the way they sit can be annoying for a time. In the long term, however, the M9P in-ears are comfortable enough, even if they lack the ear-coddling plushiness of other models.
The M9P should work with all Android and iOS mobile devices, although full remote functionality may not account for all third-party apps.
There's plenty by way of utility elements, too. Listeners on the go will relish this product's single button in-line microphone/remote combo, which features a highly nuanced volume slider and a button to play/pause music playback or answer calls. The M9P should work with all Android and iOS mobile devices, although full remote functionality may not account for all third-party apps. A shirt clip, zip-up carry case, and five pairs of silicone tips in different sizes add further to the convenience factor.
Our frequency response test feeds a 78 dB frequency sweep through a set of headphones and records the volume return of each frequency.
The most notable thing about the M9P in-ears is how much emphasis they put on sub-bass and bass elements. Subtle sub-bass elements around 20 Hz are played back around 90-95 dB of volume, which slowly tapers down to midrange frequencies a little above 70 dB. This volume holds steady, and peaks again around 5kHz where many harmonic overtones live. The result is a very bass-heavy frequency response that nevertheless treats midrange and high frequencies with respectable emphasis.
This is a great result, but if you're looking for something closer to a flat, studio response curve, these aren't the headphones for you.

A bit bass heavy, but great overall
Once you find a good fit and get to listening, the first thing you'll notice is that the M9P in-ears tread quite heavily in bass territory. Whether it's a thundering timpani, an upright bass, or Skrillex with a case of butterfingers, sub-bass and bass sounds plow through the mix without fail. Unlike many other consumer-facing, bass heavy headphones, however, the M9P in-ears don't stop there.
A multi-faceted, sweeping soundscape that punches well above this product's price tag.
While treated with a bit more delicacy, middle, high-mid, and bright, treble frequencies are emphasized generously, too. The result is a multi-faceted, sweeping soundscape that punches well above this product's price tag. Just keep in mind—especially if you're looking for a flatter mix—that these in-ears give ample prevalence to bass frequencies compared to everything else.
Because they're of the in-ear variety, the M9P headphones have plenty of natural advantages in terms of keeping sound in and keeping noise out. Though they aren't specifically poised for noise canceling, a good fit will see everything from honking automobiles to ringing office phones dampened by at least 25% of the original volume, and more if you're actually listening to music.
A good fit will see everything from honking automobiles to ringing office phones dampened by at least 25% of the original volume.
The M9P in-ears also produce clean, distortion-free audio. Time in the lab revealed a healthy lack of distorted elements like clipped high notes and compressed bass tones. In fact, even the deepest bass elements were notably less distorted compared to most of the headphones we test, which is a very impressive result. This kind of distortion-free performance usually costs much more than MEElectronics is asking for.
Our distortion test measures the percentage of total harmonic distortion (THD), where a THD of 3% or less in bass, midrange, and high frequencies is ideal. The M9P in-ears performed with unparalleled excellence here, maintaining distortion below 3% not only from 60–10kHz, but even within the sub-bass range below 60 Hz which is typically much more prone to distorted sound.


An absolute steal at twice this price
The 2nd Generation M9P in-ears are simply a terrific value for consumers. Between the sturdy design, generous soundscape, and distortion-free playback, it's pretty hard to believe you can find these online for as little as $20.
If you're looking for something a little subtler, AKG has some $60 in-ears that offer a less bottom-heavy soundscape. If you're all about that bass, however, the 2nd Gen. M9P in-ears are an outstanding choice.
Our isolation test measures how well a set of headphones cancels ambient noise, whether it be through passive or active means. Because they're in-ears—they basically block your entire ear canal—the M9P are a great choice if you want to quiet the outside world. Most noises, from deep rumbling truck engines to wailing babies, are quieted by as much as 40 dB. Bass frequencies sound 25% quieter, midrange frequencies sound 50% quieter, and the highest pitches sound as much as 75% quieter—this is about as good as it gets without active canceling.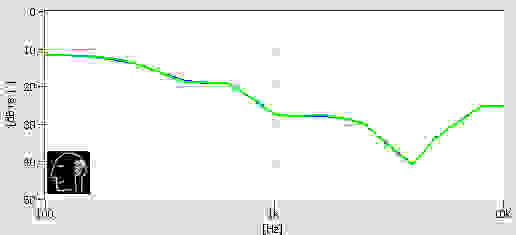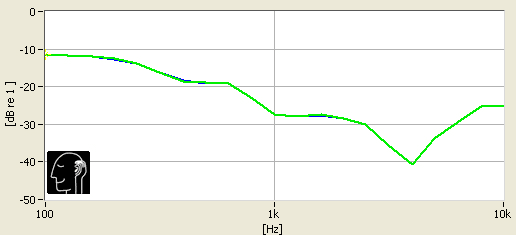 ×
New Gallery
Meet the tester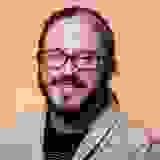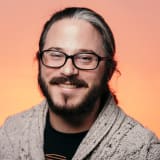 Lee Neikirk
Editor, Home Theater
@Koanshark
Lee has been Reviewed's point person for most television and home theater products since 2012. Lee received Level II certification in TV calibration from the Imaging Science Foundation in 2013. As Editor of the Home Theater vertical, Lee oversees reviews of TVs, monitors, soundbars, and Bluetooth speakers. He also reviews headphones, and has a background in music performance.
Checking our work.
Our team is here for one purpose: to help you buy the best stuff and love what you own. Our writers, editors, and lab technicians obsess over the products we cover to make sure you're confident and satisfied. Have a different opinion about something we recommend? Email us and we'll compare notes.
Shoot us an email