Overview
These headphones are woefully average, so while ordinary subscribers will likely have little to complain about, testing suggests the same will not go for the more learned listener. And that's not all, because even in areas of comfort, design, and features, the Downtowns continually leave more to be desired.
Comfort, Design, & Features
Purple haze
As with many on-ears, these headphones are not for tender-eared folk. The snug fit felt a bit like punishment after an hour, yet did nothing to deter the band's propensity to slip with a small movement of my head. It eases the pressure if you stress the metal band for a looser fit, and we do appreciate the foam lining on the headband—and the lightweight materials, as well.
These headphones are not for tender-eared folk.
As for style, the box for the purple Downtowns indicates an "urban culture" inspired design, but there's something sort of... Tinky Winky-ish about them, too. There's a bit of visual contrast, thanks to the attractive brushed metal band, but the overall scheme is so intensely purple that it borders on cartoonish. They do come in different colors, but the white ones look surgical and the brown ones don't make us forget the leather isn't real. For whatever reason, the faux leather is very chintzy to the touch and the stitching is unattractive, puckering at the seams.
We do like both the appearance and the functionality of the four-foot cord, though, which is flat instead of rounded; the result is a mostly tangle-free and attractive design, so while it may not be the most durable thing we've ever seen, we acknowledge its niceties. The cord also wears a remote control with microphone towards the top, which enables calls, pauses music, and skips songs. Controlling volume remotely is not an option, however, which is sorely missed, and many of the weak points have no special protective features. These are about as basic as you can get with a set of headphones.
Audio Quality
Do-rei-eek
If you send your Benjamin Franklin on his merry way, off to someone else's cash drawer, you deserve some solid returns. The Downtowns certainly don't look or feel like $100 dollar headphones, but what about sound?
The Downtowns perform fine until the lower half of the high frequency range.
You and Mr. Franklin can do better. In terms of measured data, testing produced some dreary results. The Downtowns perform just fine until the lower half of the high frequency range, which is underemphasized, meaning higher notes will be less audible than lower ones. Some listeners will feel tempted to turn their music up in order to hear harmonic overtones, and since prolonged loud-listening can cause permanent hearing loss, this flaw is somewhat concerning.
The crowds won't go wild for the tracking, either. Tracking is a measure of how well the left speaker and the right speaker match one another in volume, so that music isn't too loud on one side, and too quiet on the other. Though overall performance here was sufficient, some of the errors occurred at the most perceptible point of the scale—the low, bass-end—which will sound louder in the left ear.
Final Thoughts
Escape the CitiScape
The CitiScape Downtowns (MSRP $99.99) just don't dazzle. On the plus side, they feature a great no-tangle cord, a handy remote, and a statement look. However, they aren't quite comfortable enough, portable enough, or durable enough, and their audio is certainly nothing to go crazy for.
Casual listener or not, you can probably do better than this for the money. Even if you find them on sale (we did, for around $65), you may want to keep shopping around. Thanks to underemphasized high notes, questionable channel preference, and second-rate durability, the CitiScape Downtowns just aren't the talk of the town.
Overview
We don't treat audio as an opinion, and we're not here to discuss how we "feel" about a set of headphones. We make our numbers known. The time we spend in the lab and the data we collect are here for all to see, so that shoppers and enthusiasts can take a look at the results and decide what's best for them.
The Philips Downtowns produced some lackluster results during testing. They missed the mark on key areas of the frequency range, and they faltered with tracking, too. On the other hand, they do block out a notably high amount of high-frequency noise, and they avoid a high level of distortion.
Frequency Response
High notes are a low point.
The Downtowns get off to a fairly good start, with low and mid-range frequencies landing within an acceptable deviation of the parent signal. By 2kHz, your music's notes start dropping off in volume, resulting in bassy sound. The underemphasis very erratic, and can range from five and 10dB, which can get distracting because of how inconsistent it is, rather than how extreme it is.
This sort of error can lure listeners into turning up their music to hear those high notes, which then blasts that bass, along with your ears.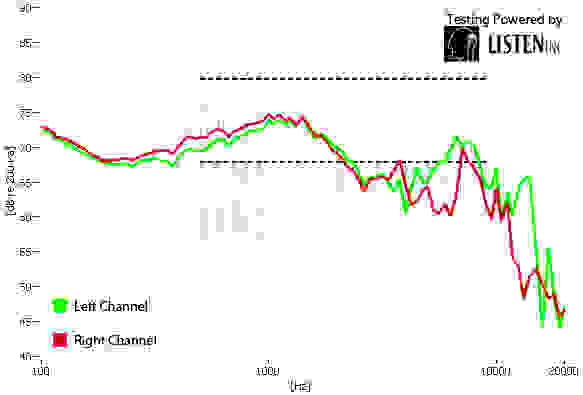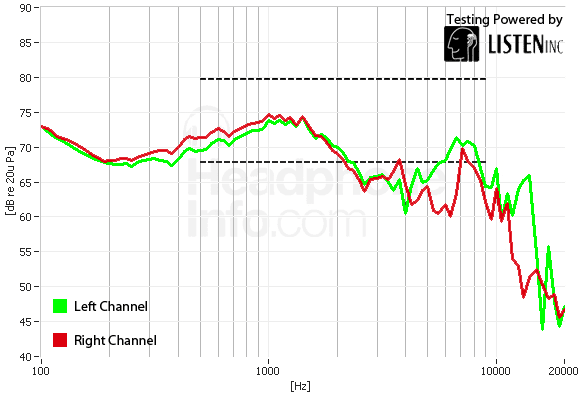 Tracking
Errors plague the bookends of the frequency range.
Unfortunately, one of the biggest tracking errors occurs in the most perceptible portion of the frequency range—the low end. Around 60Hz, the left channel leaps in loudness, while the right channel plummets. The middle of the scale errs on the side of the right channel, but within a 2dB range, so nothing to fret over.
High frequencies are wrought with tracking errors, though, with one error causing up to 10dB of volume prominence in the left channel around 7,000Hz, so high notes in this range will sound twice as loud in your left ear than in your right. So not only are high notes extremely underemphasized, they are also unbalanced between the left and right channels.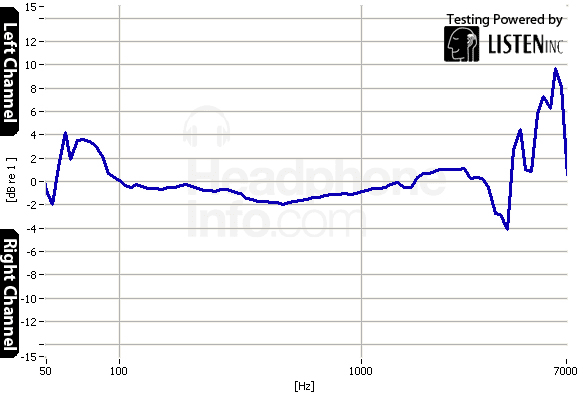 Other Tests
Browse the gallery to view results for distortion, noise canceling, and attenuation.
Meet the tester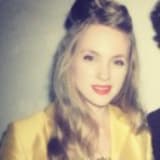 Virginia Barry
Former Managing Editor
@
Virginia is a former Managing Editor at Reviewed.com. She has a background in English and journalism. Away from the office, Virginia passes time with dusty books & house cats.
Checking our work.
Our team is here for one purpose: to help you buy the best stuff and love what you own. Our writers, editors, and lab technicians obsess over the products we cover to make sure you're confident and satisfied. Have a different opinion about something we recommend? Email us and we'll compare notes.
Shoot us an email