Introduction
Product Overview
Meet the Razer Carcharias, gaming headset extraordinaire.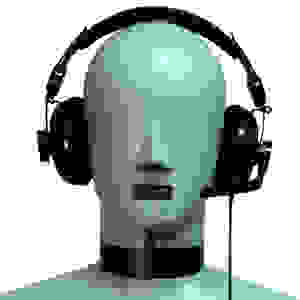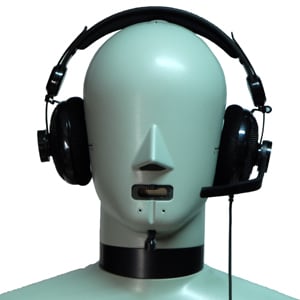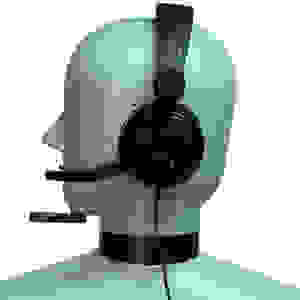 Speakers
Here we see the speaker element. While you can remove the ear pads, it is an incredible pain to put them back on. The speaker is guarded by a thin layer of lycra, which should keep out pretty much all moisture and bio-waste you could expel.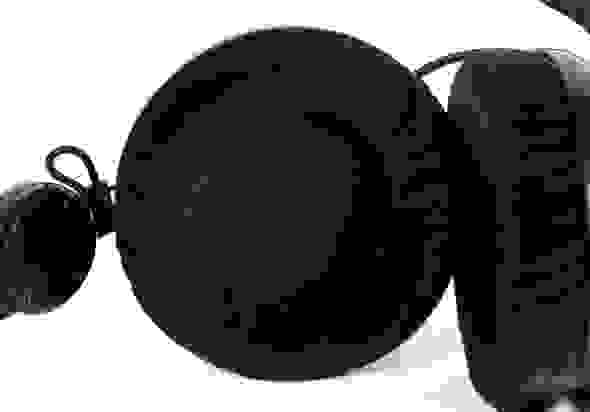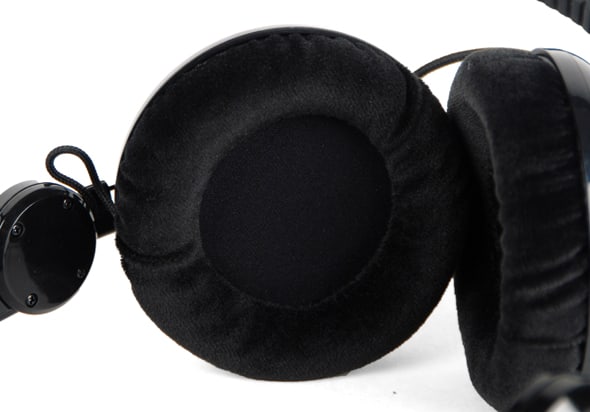 Back
The back of the is semi-open, allowing a decent soundstage, as well as improved driver movement. This is a big plus for accuracy of sound.
Band
For your comfort, Razer gave the a very soft foam padding on the underside of the band, which is alsovery easily adjustable along metal guides.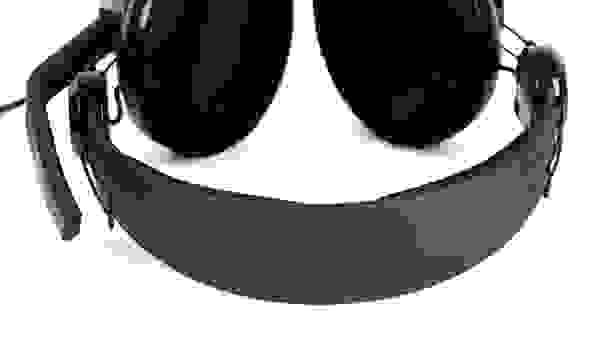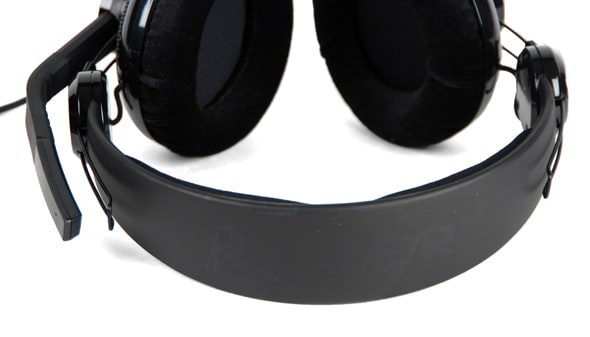 Cable
The 9.84 foot long cable of the is wrapped in a cloth weave, and capped off with a 3.5mm headphone and 3.5mm microphone jack. Also present on the cable is a remote that allows you to clip the cable to an article of clothing, turn the mic on or off, and adjust the volume of your headset.
As previously mentioned, the is capped off by two plugs, a 3.5mm headphone jack, and a 3.5mm microphone jack. Both are adequately durable.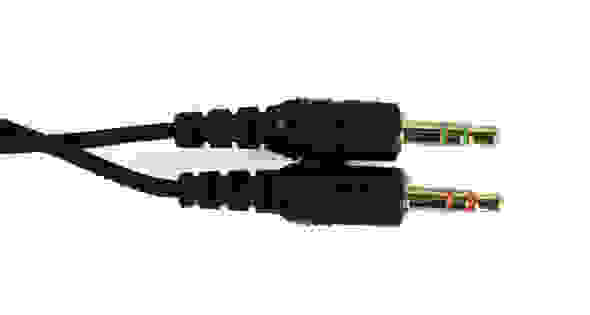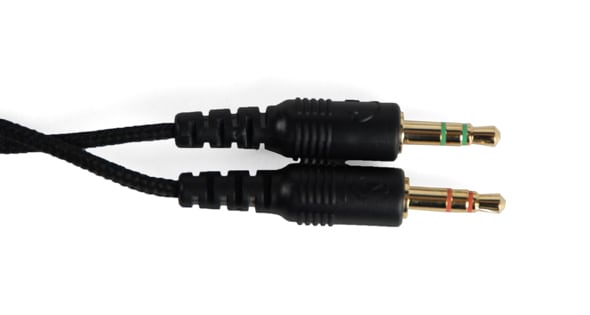 The cord guards on the are fairly robust, though they are rubber instead of metal. Flexibility is a good thing however, especially if you get animated during gaming sessions.
Additional Features
What's that big honking thing on the left ear cup? Why, that's the microphone boom, of course! It can swivel 270 degrees from its starting position against the band, which should make it easy to adjust to your liking.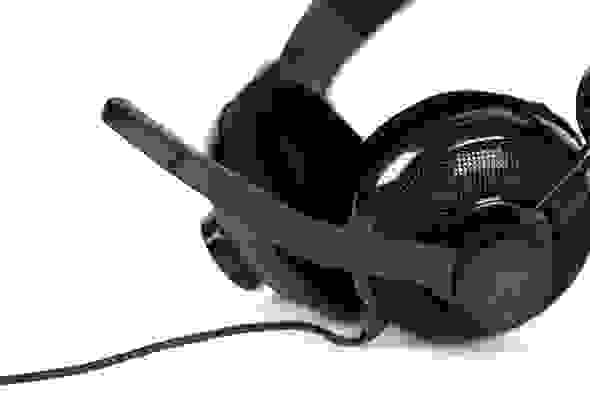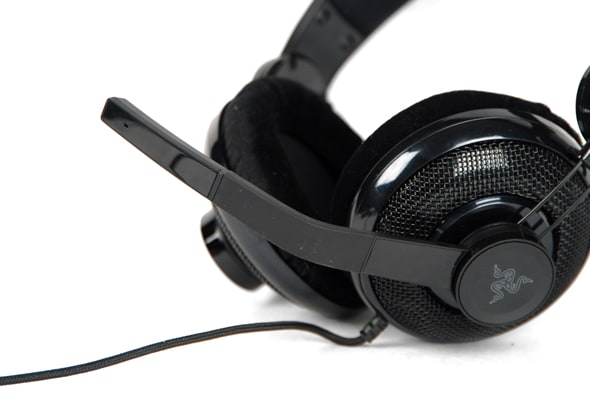 In the Box
Along with your brand new gaming headset, the packaging for the contains assorted documentation, and some decals.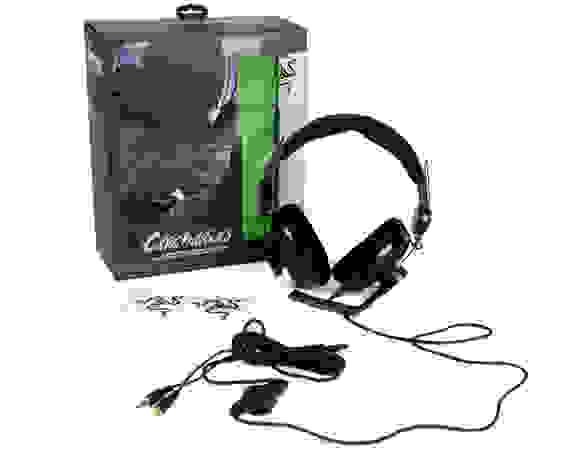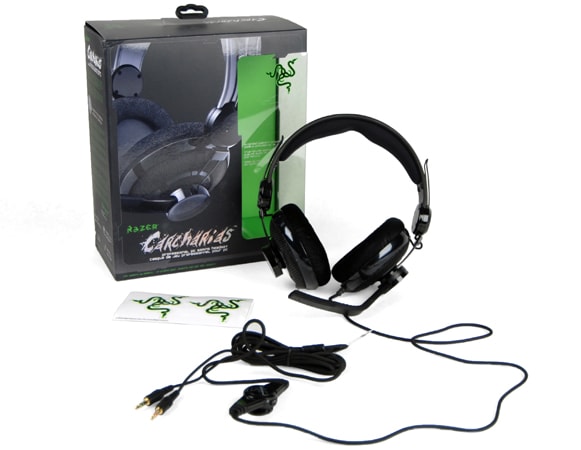 Durability
From the looks of it, this is a fairly durable set of cans that can take some abuse, but still be careful with them. After all, the band is made of plastic, and the open backs really aren't built to deal with moisture or foreign object damage.
Aesthetics
From a design standpoint, these are fairly attractive, as far as gaming headsets go. They're jet black with a no-nonsense design, and they don't scream for attention like some other headsets we've seen. If you're looking for a classic look, these should fit the bill quite nicely.
Frequency Response
As far as headsets go, this frequency response looks fairly impressive, given that some companies take liberties with which frequencies are emphasized. The s, on the other hand, have a mostly even frequency response, outside of a small range of emphasis at 2-3kHz. While this does mean that you'll probably have to EQ your output if you want to hear certain sounds louder than others, it also means that you won't have to worry about loud booms or other noises completely dominating your experience.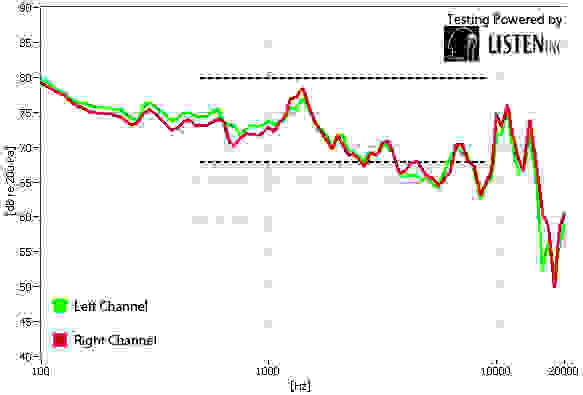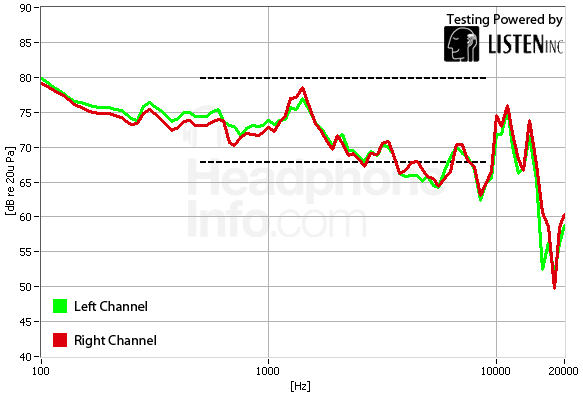 Click here for more information on our frequency response test.
Distortion
There was very little distortion here, and definitely not enough to disturb your experience.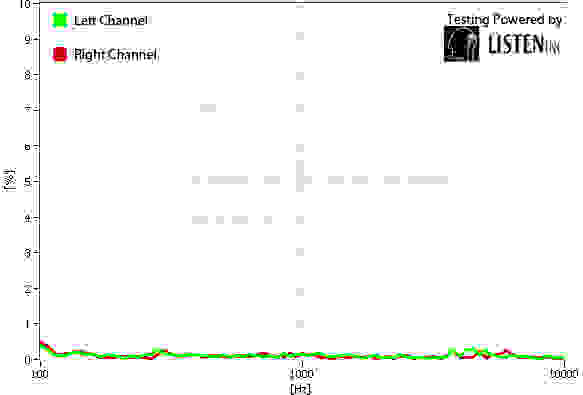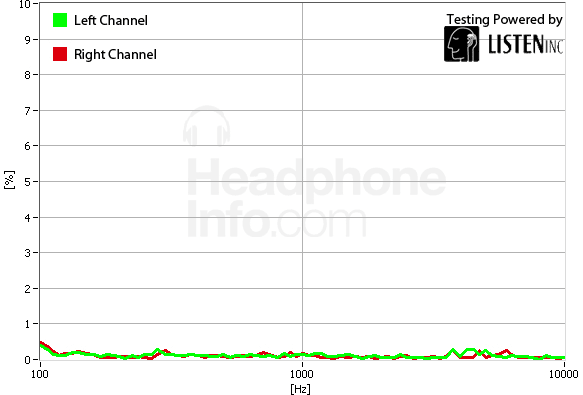 Click here for more information on our frequency response test.
Tracking
While the tracking line does seem a little erratic, the >2dB shifts in channel preference are really too small for the human ear to detect most of the time, unless you're listening intently to frequency sweeps at 120dB (editor's note: please don't do this).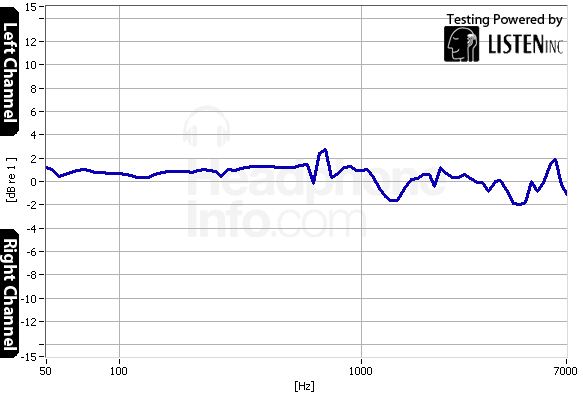 Click here for more information on our frequency response test.
Isolation
If there's one downside to open-backed cans, or even semi open-backed cans, it's the fact that they do not attenuate much sound at all. While there is a small range of high-end sound that the attenuates, you're not going to notice it.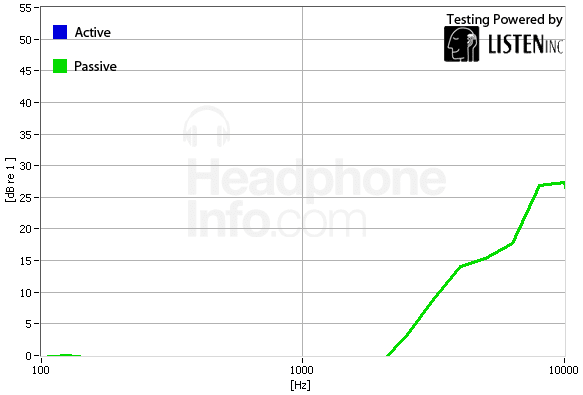 Click here for more information on our isolation test.
Leakage
Unsurprisingly, the s leak sound like a sieve. You will annoy those around you if the volume is too high.
Click here for more information on our leakage test.
Maximum Usable Volume
While we recorded a maximum usable volume of 113.11dB before the headphones hit the magic 3% total harmonic distortion (THD) level, we would like to remind you as always never to listen to your headphones this loudly. Seriously, it's a horrible idea.
Click here for more on our maximum usable volume test
Short-Term Use
While the s has a somewhat stiff foam padding, the headset itself is light enough to rest softly on your skull. There are no overheating issues of note, and the band does not dig into your scalp.
Extended Use
Over time, there are no additional issues reported by our intrepid team of testers, so expect a similar or identical fit.
Customizability
There's really nothing you can do to customize your , outside of repositioning the microphone boom. Really though, are you more worried about your equipment or your game?
Cable Connectivity
The 9.84 foot long cable of the is wrapped in a cloth weave, and capped off with a 3.5mm headphone and 3.5mm microphone jack. While in some situations this is a cumbersome length for a cable, if you're going to be sitting on the couch away from the TV, you're probably going to want a lot of wiggle room in terms of being able to keep your distance from the screen, especially if you have a couch that isn't the closest thing to the TV set.
Portability
Like most open-backed headphones, the is not a portable headset. With no carrying case, a very cumbersome cord, and open backs, these are not suited to be ported around often. You could probably get away with stuffing them in a very clean bag, but we'd suggest keeping these at home if you can.
Maintenance
There's really not a whole lot you can do to maintain your cans, but that's really not all that surprising. These are very affordable in comparison to other headsets, and you can end up paying a lot of money for the ability to swap out cables, or replacing other parts easily.
Other Features
Remote & Mic
The microphone boom is a single, solid piece of plastic, while not malleable, will get the job done with good results. It can swivel around about 270 degrees.
Volume Control
On the side of the remote exists a volume control, allowing you to adjust the in-game volume on the fly. It's not a super-advanced feature that will instantly make you a better gamer, but it is definitely nice to be able to bypass having to change settings in an option screen to adjust the volume.
Design
Despite the design differences of each headset, there really isn't a huge difference from a hardware standpoint, outside of the articulating microphone of the X12s, and the open backs of the s. If it wasn't obvious from the color scheme, the X12s are compatible with the XBox and PC.
Frequency Response
Both headsets have a fairly good frequency response, but the X12s have a control to boost the bass levels if you elect to do so. While that's not a knock against the , it's an option that could help you out in a firefight.
Distortion
Hands down the is the superior headset when it comes to distortion. While the X12s aren't as bad as iPod earbuds in this regard, they do provide an annoying level of distortion.
Tracking
Neither headset is perfect here, but thankfully, the shifts in channel preference aren't too noticeable.
Isolation
While neither headset is terribly good with isolation, by the very nature of the closed-back design, the X12s attenuate more sound.
Comfort
Both headsets are very comfortable, but you'll have to give them each a shot at a store or a friends' house if you can to see which one cradles your skull better than the other. You really can't go wrong with either headset here.
Verdict
For the extra cash, you're getting a headset that will give you a large bump in quality over the X12s, but keep in mind that the s are PC-only. If you're looking for an XBox headset, the X12s are designed for that purpose.
Design
While the fills a specialized role, and fills it well, the Astro A40s are great for anything: they are compatible with just about everything with a headphone jack, including gaming consoles and PC. On top of that, the design features like angled drivers and the solid band make the A40 an attractive choice.
Frequency Response
Well, this isn't what you'd expect for the difference in price. But hold on: gamers have different needs than audiophiles! For starters, see that de-emphasis in the upper mid tones? That's where many small arms fire frequencies live, so de-emphasizing these frequencies could give you an advantage should someone try to sneak up behind you in a firefight. You'll have to choose what type of frequency response you'd like, but a flatter response always gives you the option to EQ your sounds on the PC.
Distortion
Neither headset has much of an issue with distortion.
Tracking
Both headsets have a fairly good tracking response, though both have shifts in channel preference that could be minorly audible if you know what you're looking for. You will probably never hear this in-game, though.
Isolation
Neither set of cans is great for isolation, but the A40s are a bit better.
Comfort
This one really depends on several factors, mostly relating to the size and shape of your head. We recommend trying each on if you get the opportunity, but the A40s do have one extra feature (the angled drivers) that help them conform to your head better.
Verdict
This one's up to you, really. If you're a PC gamer that just needs a headset to do its job, then the is the 'set for you. If you want a headset that can do it all on any platform, the A40s are hard to pass up, but they have a huge pricetag ($199 for the headset, $250 for the headset plus mixamp for console gaming).
Conclusion
Overall, the is about everything you could ask a gaming headset to be, and it doesn't break the bank. While many companies offer ultra-premium headsets for upwards of $150, the holds its own at a price point that's far more affordable. With good audio quality, a decent microphone, and a comfortable fit, the has a lot to offer for $80.
While it's not perfect, the problems with the are really very minor, and some arise due to the nature of the use of gaming headphones. For example, they should not be able to give you a competitive advantage over other people by boosting the sound of certain frequencies to detect footsteps or the like. This can be accomplished with an EQ, however.
Overall, if you just want a gaming headset, and don't want to fuss with anything terribly complicated, the is probably the headset for you. It's comfortable, performs well, and can hang with the best of them. Be sure to weigh all your options before buying, but this is a great budget pickup.
Meet the tester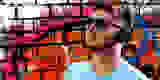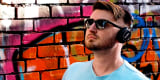 Chris Thomas
Staff Writer, Imaging
@cthomas8888
A seasoned writer and professional photographer, Chris reviews cameras, headphones, smartphones, laptops, and lenses. Educated in Political Science and Linguistics, Chris can often be found building a robot army, snowboarding, or getting ink.
Checking our work.
Our team is here for one purpose: to help you buy the best stuff and love what you own. Our writers, editors, and lab technicians obsess over the products we cover to make sure you're confident and satisfied. Have a different opinion about something we recommend? Email us and we'll compare notes.
Shoot us an email