In an interview with CEO Daniel Sennheiser, our SVP David Kender discusses major industry trends. Mr. Sennheiser admits that since businesses like Beats and Skullcandy have identified fashion-minded buyers, his company is also taking aim—with products like the Momentum.
We therefore nabbed a pair to find out whether the sound quality got the same royal treatment as the design.
The Outfit
A head-turner (and a hair-puller)
When it comes to fashion-forward design, the Momentum on-ears keep up with the best of them. The sophisticated intersection of industrial parts, varied colors, and fabric details has a distinctly grown-up appeal; the scheme is flashy without feeling tacky. Neatly stitched brown leather traces the brushed, stainless-steel band. Nothing is too shiny. Best of all, the Momentum comes in a large array of soft colors: ivory, pink, blue, brown, green, black, or red.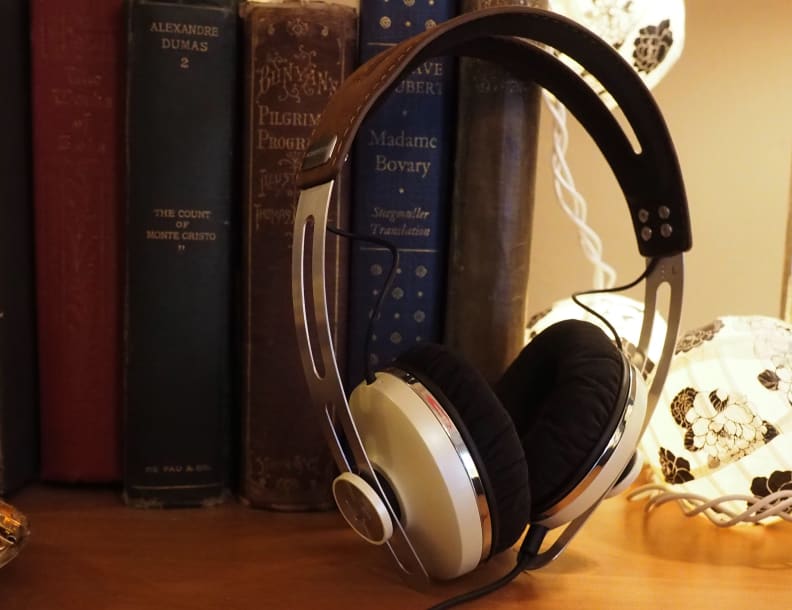 The comfort factor isn't as successful. If you have medium/long hair, it can get snagged in the sliding hinges where the ear cup meets the band. I ruefully rubber-banded my hair after a chunk got ripped out while removing the Momentums. Warm weather doesn't mesh well with these headphones, either, because the fabric ear cups feel a bit like ear muffs. As for strike three, the on-ear design applies constant pressure to the outer ear, which tends to cause aching. Thus, like most on-ears, these are not a great choice for extended listening, offering none of the plushness of over-ear alternatives.
On the bright side, the ear cups do pivot nicely up-and-down and side-to-side. The simple rubber cable resists tangles and includes a three-button, iPhone-compatible mic/remote. Except for volume, the controller works with Android devices, too. Happily, the cable is removable, and as a bonus, Sennheiser even includes a backup (albeit with no remote).
Last, the included hard case is a very safe place to store your Momentums, but it's larger than a lady's clutch—not convenient for travel. Luckily, Sennheiser also offers a soft case, for the sake of added portability.
The Audio
Not the audiophile's cup of tea. But not everyone likes tea.
Let's jump right in: If you're searching for a "clean," delicate sound profile, these Momemtums aren't the right pick for you. For the most part, these on-ears balance sound very nicely, but the soundscape is more robust than it is refined.
Low notes are the biggest showcase.
That said, the main thing you'll notice is that low notes are the biggest showcase—a surefire way to please casual, mainstream listeners. There is a nice sense of overall balance, but a drop in volume occurs in one key area—making high notes on guitars, pianos, and certain brass instruments less discernable. Happily, this drop only impacts a small portion of the upper midrange. Otherwise, sound is quite balanced, so that even with the rumbling bass, listeners can still hear lots of musical details throughout the more delicate portions of the scale.
Don't expect much in the way of isolation.
As to the rest of the performance aspects, audible distortion won't hamper you at all unless you're listening at overly loud levels (don't do that), and volume between left and right speakers is even for the most part, too. Don't expect much in the way of isolation, though: The Momentums block a fair measure of high-pitched noise, but low sounds like moving traffic or booming bass from your neighbor's tacky house party will disrupt you, no question.
Final Look
Test drive required
Sennheiser delivers a sound profile that a lot of folks are after with the Momentum on-ears: big bass, but supported by ample detail throughout the middle and high range. Even better, there's no audible distortion and the design delivers the look that so many shoppers are searching for these days.
Still, $199 isn't exactly chump change, and the Momentums just don't win on every front. The fabric speaker pads can really heat up, and they clamp onto your outer ears with a fair amount of pressure—which can cause discomfort, especially after a half hour of listening. Perhaps most importantly, the Momentums' audio performance is eclipsed by similarly priced products like the Beyerdynamic Custom One Pro, which you can find online for about $50 less.
Then again, if it's the marriage of trendy sound and head-turning design you're after, that's a rare specimen. Be sure to take these Sennheiser Momentum On-Ears for a spin, if that's the case. Maybe you'll hate the fit, maybe you'll like it—every noodle's different—but comfortable design's as important as audio quality, so test these out before throwing money down.
The Insides That Count
It's time to back our Front Page words with some Science Page numbers. Every set of headphones that comes our way faces the same calculating robot, the same software, and the same set of tests. The Sennheiser Momentum On-Ears fared pretty well, overall—there were only a few bumps in the road.
A drop in volume in the high midrange, poor isolation results, and a momentary tracking error were about the only things we found to complain about. Everything else was ship shape.
Frequency Response
Robust soundscape supported by ample middle & high details
Headphones tend to either produce a flat response, where every frequency receives similar emphasis for the purpose of studio mixing, or else they have a more dynamic response like that of an equal loudness contour (ELC). What in tarnation is an ELC? It's a method of balancing frequencies in such a way that each sounds equally loud to the human ear.
The Sennheiser Momentum On-Ears do just that—though not flawlessly, as the test results show.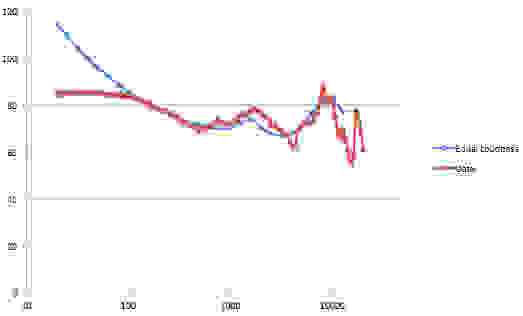 To discuss the frequency response in more detail, let's start with an overall assessment: In plain terms, bass is quite prominent throughout this soundscape, but middle and high notes such as those produced by trumpets, flutes, and violins break through, too.
A significant drop does occur right at 4kHz, though. Notes in that range fall to 60dB, while bass notes can be as high as 85dB—that's quite a difference in emphasis. In plain terms, that means that you'll find yourself turning up the volume in order to hear high overtones on guitars and pianos more clearly—not ideal.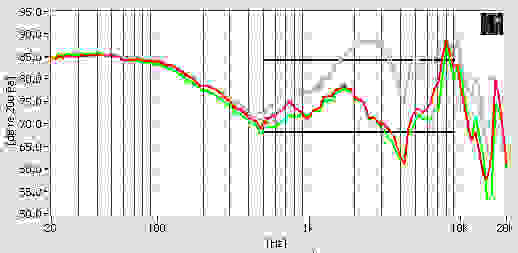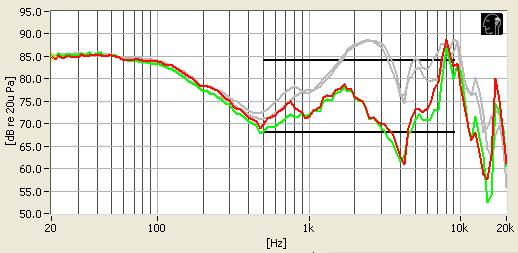 Distortion
Very positive results
Although distortion is present in the sub-bass range, it barely breaches 4%—and human ears aren't very sensitive to those low frequencies, so it doesn't matter a bit. Best of all, from 100dB and up, distortion measurements are incredibly low, never rising above 3% and mostly remaining below 1%. These are fantastic results, meaning music won't be bothered by unwanted added noise or snipped harmonics.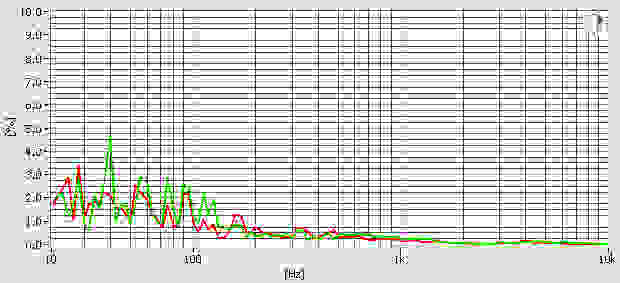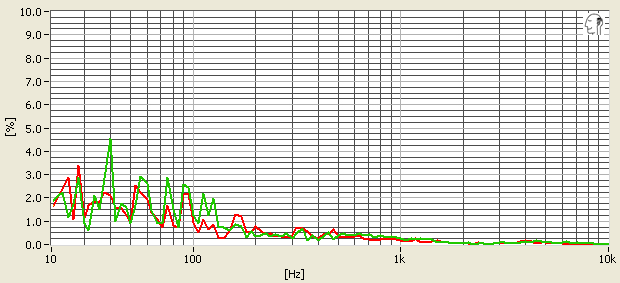 Be sure not to push volume over the 103dB mark, though, or total harmonic distortion will rise to more than 3%. If you're listening safely, this shouldn't be a problem.
Noise Isolation
No peace and quiet here
If you're looking for great noise isolators, the Momentums are the wrong choice. They do reduce high-pitched outside noises to more than 1/4, but middle and low-end sounds are all but unimpeded. That means that grumbling engines and other bassy noises will disturb you, with or without the Momentum On-Ears.
Other Tests...
Meet the tester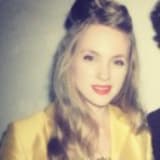 Virginia Barry
Former Managing Editor
@
Virginia is a former Managing Editor at Reviewed.com. She has a background in English and journalism. Away from the office, Virginia passes time with dusty books & house cats.
Checking our work.
Our team is here for one purpose: to help you buy the best stuff and love what you own. Our writers, editors, and lab technicians obsess over the products we cover to make sure you're confident and satisfied. Have a different opinion about something we recommend? Email us and we'll compare notes.
Shoot us an email