Overview
With all the pretty girls, shiny merchandise, and hip fonts, one may well wonder: Are my glitzy new Navigators (MSRP $99.95) The Emperor's New Clothes? Let's find out how deep this beauty runs.
Design & Features
Hello Kitty meets pirate, designs headphones
The Skullcandy Navigator comes in tortoise, white, and a slew of other shades, but we wound up with a pink set. It's a delightful combination, really—gloomy little skulls and hot-pink particulars. Here and there, the design feels a bit industrial; the ear cups sport clear covers, revealing a system of shining plates and screws underneath—the same concept that sold mountains of clear plastic phones in the 90s. Glossy black skeleton heads are stamped on both sides of the headband, and the inside of each ear cup sports this logo, as well. Even from a distance, these headphones make quite an impression.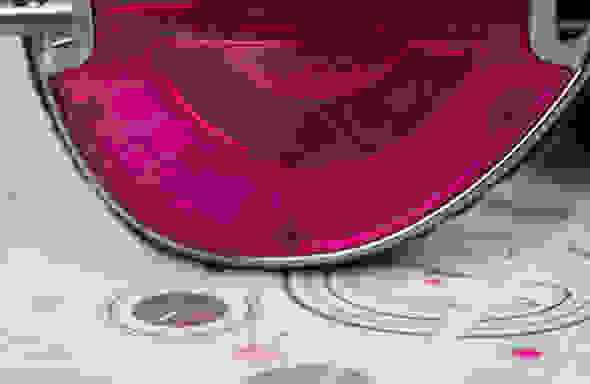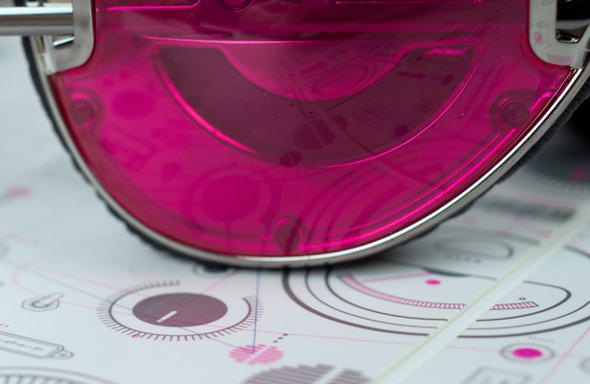 On-ear descendants of the more-expensive Aviators, the Navigators make for a similar—if smaller and less comfortable—alternative. Memory foam on the inside of each ear cup contributes to a more enjoyable fit, but customers with delicate ears should stay away: Like many on ears, extended use tends to cause aching.
Sensitive ears aside, the sunglasses-shaped Navigators are small and light enough to take on the go; just be sure to keep them inside of the soft case (included), because the plastic ear cups scratch up easily. By collapsing the cups into the band, the Navigators fit nicely into their pouch. As for the cord, it's detachable (and therefore replaceable), tangle resistant, and 4.4 feet long. Its flat shape minimizes knotted messes, and users can answer calls and control music with the included remote.
Audio Quality
Middle-of-the-road audio quality
Purists, avert your ears. Unfortunately, even though the Navigator maintains a decent frequency response across the board, the left and right channels just aren't balanced. So even though the headphones don't under- or over-exaggerate most notes, music will sound louder in one ear than in the other, at times. Specifically, upper notes of instruments like violens and flutes will sound half as loud in the right ear as in the left. Luckily, most notes go unaffected by this issue, so this imbalance does not constitute a make-or-break drawback for most buyers (though practiced ears will be unimpressed).
To make matters a bit worse, in the low portion of the frequency range, slight audible distortions harm the sound, so that music strays a bit from its original form. Not only this, but bass is actually underemphasized, which dubstep lovers are sure to hate. Rounding out the day in the lab, I noted efficient blocking of unwanted high frequency noises, but lower pitches were not so easily deterred. This means that low rumblings may disturb your music listening, but chattering passerby and high-pitched irritants are unlikely to interfere.
In Use
As comfortable as on ears could be
On ears are comfortable for only so long, but while it lasts, the Navigator feels mighty fine. Memory foam helps a bit, and the plush leather cups pamper your ears as best they can, but the constant pressure is a ticking time bomb for the tender eared.
If you have ears of steel, the Navigator should suit you just fine. The ear cups are nicely sized, falling flush with the side of the head, and they extend and retract on little metal limbs.
For listening on the go, you'll love how lightweight these are—just ~4.6 oz., and they curl up tight for easy transport. With your microphone and remote, you can take calls, skips songs, alter volume, and pause tunes while on the go. But remember—these cans aren't the best noise blockers, so avoid loud settings.
Conclusion
Not top-shelf sound, but not bottom-of-the-barrel either
The Skullcandy Navigator won't bathe your ears in melodious bliss, but for $99.95, you could do far worse. Relatively comfortable and visually striking, these headphones are likely to please low-maintenance buyers. The left and right speakers don't always strike an even balance, so that sound is louder in one ear than in the other, but these issues are not hugely distracting.
The Navigator will not satisfy ears in search of pure, studio-quality sound, and if comfort is your aim, go ahead and shell out another $50 for the big brother, the Aviator. However, if you want a lightweight set of portable on ears with looks to kill, the Navigator is a fair buy—especially on sale.
Return of the Data
Once again, it's time to reveal the numbers behind the front page facts. The Skullcandy Navigator didn't flunk any tests, but we can't say it passed with flying colors, either.
Frequency Response
P for passing, but no gold stars
Just like most consumer headphones, the Skullcandy Navigator roughly follows an equal-loudness contour, or one along which all frequencies are perceived as equally loud to the human ear. The Navigators do stray from said theoretical curve to a degree; bass notes in particular are underemphasized, for example.
The 2-6kHz range is a bit underemphasized too, meaning high notes will be a bit quieter than the rest. Specifically, this impacts upper notes on instruments like guitars, harps, and flutes (to name a few).
Distortion
Not a flawless performance, but no deal-breakers here either
Distortion is mostly found in the low end, which shouldn't cause too much trouble since our ears are less sensitive in this range. Practiced ears might hear the nearly 2% distortion levels around 100Hz, even though it's barely audible, but most listeners will probably never notice it.
Beyond 108.8 dB, you're hit with 3% distortion, but the cap for safe listening is about 100dB anyway. To avoid that unwanted distortion in your music, just keep your tunes below the 100dB mark. Or crank it—damage your hearing and suffer distortion (your funeral).
Noise Reduction
Noise blocking could be better
When it comes to blocking unwanted outside noise, these cans only do half the job. The Navigator obstructs a considerable amount of upper frequency sounds—as much as 25dB—so high-pitched pandemonium shouldn't pester your listening much. However, low rumbling sounds break in all too easily, with the Navigator failing to block even 10dB.
But in other news, you can listen to Katy Perry next to your judgmental coworker without fear of discovery; the Skullcandy Navigator does a standup job when it comes to leakage.
Other Tests
Looking further...
Meet the tester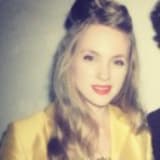 Virginia Barry
Former Managing Editor
@
Virginia is a former Managing Editor at Reviewed.com. She has a background in English and journalism. Away from the office, Virginia passes time with dusty books & house cats.
Checking our work.
Our team is here for one purpose: to help you buy the best stuff and love what you own. Our writers, editors, and lab technicians obsess over the products we cover to make sure you're confident and satisfied. Have a different opinion about something we recommend? Email us and we'll compare notes.
Shoot us an email