Headphones
Monster Rears its Pretty Head(phones)
Monster headphones really catch the eye, but what about the ear?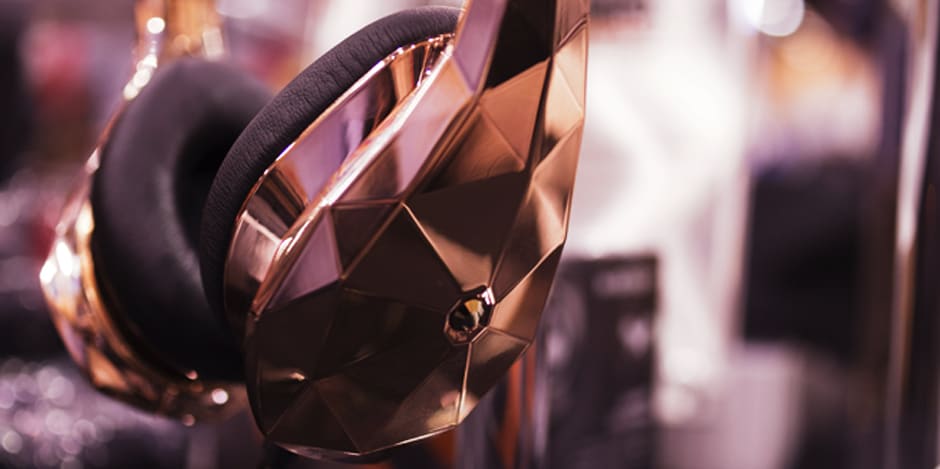 Credit:
Main Body
Last year, Monster Cable Products Inc. and Beats Electronics filed for divorce. Prior to the breakup, the couple made one very famous baby: Beats by Dr. Dre. Some say a game of headphone thrones led to the 2012 split, but the companies both claim the separation was amicable. Regardless, Monster Inc. still fancies famous friends; at CES, the company's table sparkled with illustrious labels, ranging from Nick Cannon, to Nokia, to Viacom, to EA Sports. The latter is Monster's latest partner-in-design, and a somewhat controversial one, too. Consumerist.com presented EA Sports with the "Golden Poo" award last year, a smelly, polled prize for "Worst Company in America." Golden Poo endowments aside, EA Sports and Monster will debut a brand new set of gaming headphones, the EA Sports MVP Carbons, some time next month. With an MSRP of $229, these cans will hit shelves with a thud. Reps told us to be on the lookout for several new features, such as an on-ear 30MM driver design, a professional grade microphone, High Definition Headphone Surround (HDHS) sound (powered by AstoundSound), and a mix amplifier and processor called Gamebox. Monster's High Definition Headphone Surround promises the immersive, realistic experience that traditionally requires multiple speakers and processors; Gamebox partners with popular gaming systems (Xbox 360, PS3, Wii, and PC) and comes specifically designed for the HDHS.
It's easy to get lost in little buzzword parades like this, but the point is that the MVP Carbons are a ground-up design, geared chiefly towards gamers. True, the very padded ear-cups felt great at the time, but beyond that, we'll reserve judgment until we get a pair into the lab. We will say this, though: the MVP Carbons need to do better than last year's Monster DNAs in order to make any kind of lasting market impression.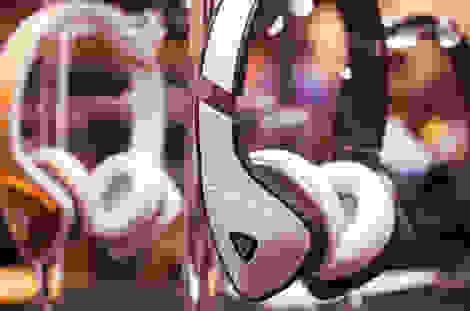 Otherwise, for what it's worth, Monster occupies the industry forefront in terms of fashion. Few other companies do things visually quite like this—and that includes Skullcandy. The MVP Carbons, which come in white or black, are comfortable, flexible, and collapsible, but they are also head-turners. The labels on the sides light up impressively, and the durable, attractive headband sports a sharp, checked design.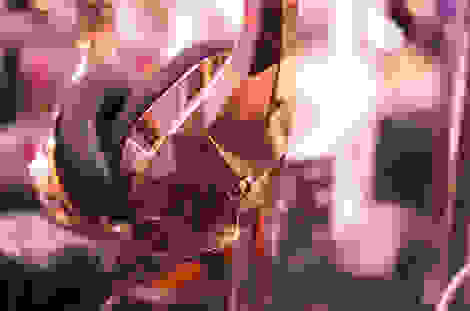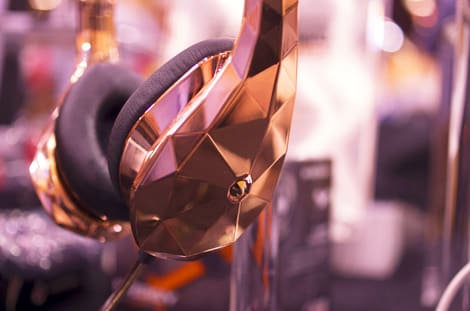 Another of Monster's lines, which the company melodramatically dubbed, "Diamond Tears," comes in several flashy varieties to suit even the glitziest tastes, such as crystal, iridescent black, and—come spring, according to one rep—a shiny new champagne. The earpieces mimic cut stones, with glassy surfaces that flaunt little light shows in every direction. Too flashy? Monster's wireless Nokia Purity Pros have impressive, seamless profiles. Too plain? A colorful array of DNAs sport unusual triangular earpieces that are sure to stand out from the crowd. The market will fear this Monster indeed, if the company's sound catches up to its singularly good looks.