Headphones
ShowStoppers: The True Procession of Novelties
ShowStoppers: Where gutters, 3D printers, and reading material can all come together.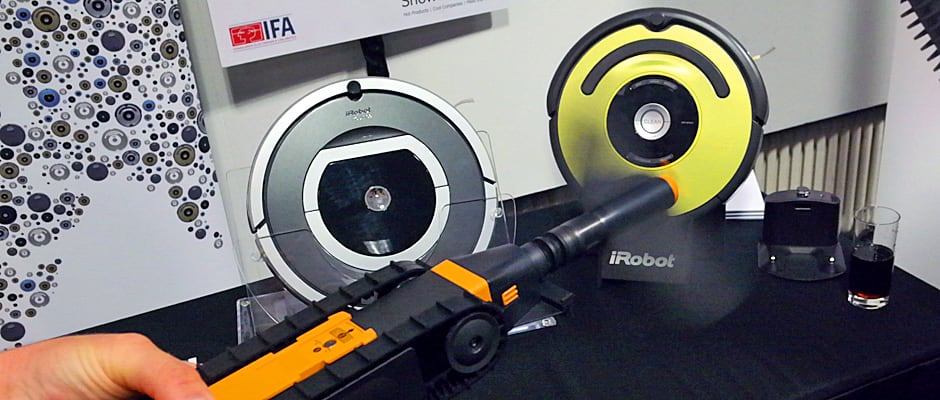 Credit:
As we've come to expect from our annual pilgrimage to IFA's ShowStoppers event, we found ourselves wandering through a wall of ambient noise, unknown products, and mediocre free food. ShowStoppers isn't about moderately drinkable complimentary wine, however; it's primarily about allowing up-and-comers the chance to show off their wares. Wading through the swaths of mediocre cell phone accessories, battery chargers, and sound systems, we did manage to find a small assortment of tech pieces that, if not show-stopping, were impressive and interesting enough to merit another look.
Gutter Robot
First up, we paid a visit to iRobot, a ShowStoppers regular, who had a few interesting gadgets on display. Perhaps most exciting—at least to those of us in New England where the seasonal changes can make for strenuous yard work—was a gutter cleaning robot called the Looj. You simply clip the Looj to your belt loop, climb up a ladder, place the Looj in your filthy gutter, and detach the dual-purpose handle and wireless remote.
The Looj isn't as intelligent as the company's traditional machines (it just moves forward and backward without any smart sensing or grid mapping), but it will help you clean your gutter without climbing around on your roof. Recently released in the American market, you can get yours for the fairly reasonable price of just $99.99—a deal compared to how much a gutter cleaning service would cost you in the long run.
Clean White
A somewhat more mainstream inclusion at ShowStoppers, Kindle made a surprise appearance with its brand new Kindle Paper White. It just launched—somewhat under the radar—a mere three days ago, and is available for pre-order at $119 according to Amazon's website. It sports a new display technology which makes for greater contrast, a faster processor for quicker page turns, and improved touch technology. Conditions weren't ideal to test these claims, but it did seem to be more responsive and very easy to read.
Big Draw
Probably the most charming member of the show (and one of the most popular) was the 3Doodler, a pen funded by a wildly successful Kickstarter campaign that allows you to draw in 3D. According to 3Doodler PR rep, Heather Delaney, the goal for the company's two founders began at $30,000. Surging past that for a total of $2.3 million raised, they've begun rolling out the first consumer-ready models to their earliest supporters just this month. The 3Doodler is lightweight, slim, and much quieter than the display models... or at least, Delaney assured us. The display models we used at ShowStoppers weren't the consumer-ready versions, instead sporting hand-cut gears that make for a noisier product.
3Doodler is hoping to be a big draw for artists, aspiring architects, and other 3D-minded consumers on a budget. The pens are capable of using both ABS and PLA plastic that you can buy in spools at a reasonable rate online. What's more, the pen is completely recyclable—not that you'll want to get rid of it once you give it a try. After just a couple of minutes playing around with the 3Doodler, we were hooked. It's available for pre-order to the general public for $99—not bad for a piece of cutting edge tech. With 30,000 units already claimed, though, you'll want to get in line now. While you're waiting for your unit to ship, you can check out the company's website here for more information.
Candy Crushers
Last on our tour of ShowStoppers was a visit to our old friends at Skullcandy. It's unsurprising that the bright, colorful Crusher headphones were out in full force at the company's ShowStoppers booth. We expect design-centric tech like this to do well in Europe, and the Crushers just debuted in Europe earlier this week. The Crushers seem to be attracting attention on both sides of the Atlantic, which goes to show that if something is colorful, durable, and delivers a good beat, it can thrive in the right market regardless of whether or not it's the best product around.