Headphones
Thanks, Apple—I haven't stopped hearing about true wireless headphones at CES 2017
Why is true wireless such a big thing now?
Credit: Getty Images
CES is a time for companies to show off the latest trends and how they've incorporated them into their 2017 lineups. Case in point, Amazon's Alexa has been picking up steam for a while now but has absolutely filled every nook, cranny, and gadget at the this year's show. And while it might be Alexa's time to shine, there's another trend muscling its way across the show. True wireless earbuds.
It seems like every company has a pair now, either out and in stores or shortly on their way. And it's all thanks to Apple and the ridiculous claim that the headphone jack is dead. Listen, Apple. I know you're looking to upset another market like you did with MP3 players and cell phones. I'm glad, really I am. I want you to innovate and not rest on your laurels. But, maybe you should've waited until it was a bit more ready?
True wireless headphones require manufacturers to take everything that makes a normal pair of wireless earbuds work, double it, and attempt to make it as small and designer-friendly as possible. That's going to cause some syncing issues, interference and distortion as the signal travels through your body, reduced battery, and a loss of quality overall. Is all of that really worth it to ditch a measly little wire that hangs behind your head most of the time anyway? Oh, and I'm going to just call it right now, you're going to lose at least one of them. Charging case or no, it's gonna happen.
Please, just save some money and get a normal pair of wireless earbuds.
Well, as much as I might think it's a bad idea, this lowly tech journalist doesn't have the power to divert the industry as a whole. My only hope is that you, reader, will listen to my warnings and hold off on spending your money on a pair of true wireless buds, at least for a little while. Give it a few more iterations and I guarantee I'll be singing the praises of true wireless. But, for now, save your money and grab a normal pair of wireless earbuds.
Still, my job is to inform and I'd be remiss if I didn't at least give you a look at what's here at the show. If you absolutely hate the idea of a thin wire connecting your wireless earbuds, here's a look at some of the true wireless earbuds that debuted at CES.
Earin M-2


Making waves at this year's CES is Earin with the announcement of their M-2 true wireless earbuds. Taking suggestions from consumers, Earin has modified the existing design of its M-1 earbuds and included new features—like touch controls. The earbuds themselves should last about three hours on a single charge, while the included charging/carrying case should be good for another 12.
There M-2s are projected to cost about $250 and are expected to launch in the first quarter of 2017.
FUSE Smart Modular Wireless Earbuds
Last year, I spent some time checking out the Helix Cuff headphones from Ashley Chloe, a wireless pair of headphones that could be stored in a fashionable bracelet. This year, Ashley Chloe brought FUSE, a pair of true wireless earbuds that innovate on the design of the Helix Cuff. With a focus on fashion, the FUSE can be stored in either a pendant or bracelet that has a minimalist design.
The FUSE will be available in Fall 2017 at $199 each or you can pre-order at the Ashley Chloe website.
Monster AirLink Elements and AirLink iSport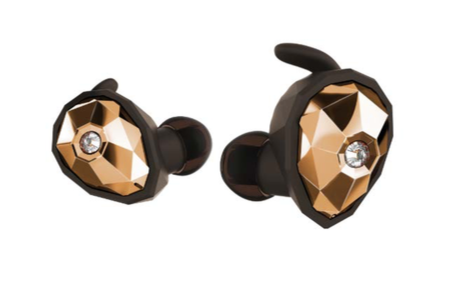 Inspired by diamonds, the true wireless Elements give off the vibe of someone attempting to smuggle the spoils of a jewel heist home in their ear. In fact, this design will extend to the velveteen charging/carrying case, which will be made to look like a jewelry box. I'm sure this is a style for someone out there, and if you're one of them you can look forward to owning a pair this April for $299.95.
Info on the true wireless iSport headphones is scarce other than Monster's dedication to updating their popular fitness earbuds to match the new trend. Expect more info, including a price and release date, later this year.
LG Tone Free Wireless
Following the rest of LG's Tone series, the true wireless version sports the ever-fashionable neckband that you may have seen around town. Except, for the true wireless earbuds the neckband doubles as a carrying case and charging port to keep the batteries topped off (there's also another, smaller charging case).
There isn't any release date or pricing info yet, though.
Reviewed.com