Headphones
The Turntable Revolution Is Upon Us
Technics, Sony, and Audio-Technica go retro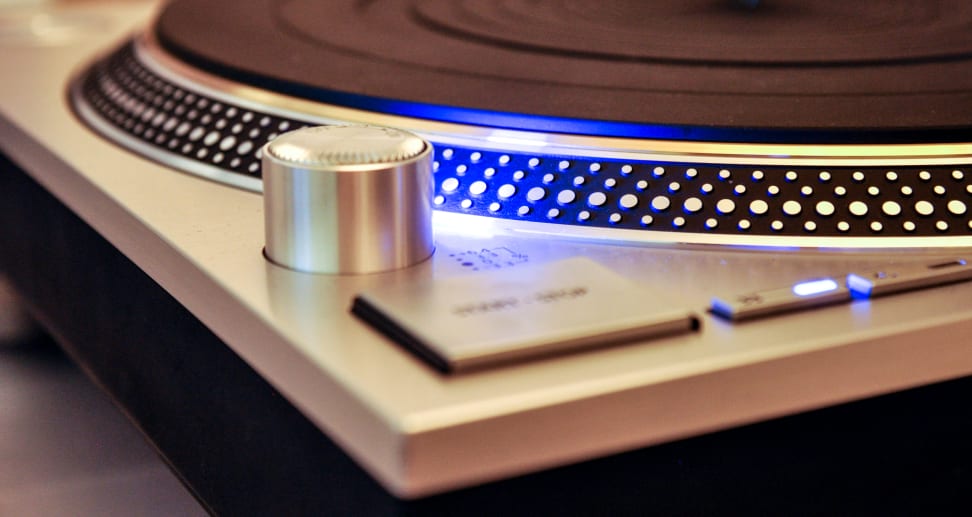 Credit: Reviewed.com / Dave Swanson
We went to CES expecting to ponder smart homes, ogle the biggest and brightest TVs, and get our hands on sleek new cameras—and we did. What we didn't quite anticipate at the 2016 trade show was a full-on embrace of a retrograde, once-upon-a-time technology. Yes, vinyl is back, and CES attendees didn't flinch when three companies opted to showcase their latest innovations in turntable tech.
Why vinyl still rocks
For some of us, analog vinyl records never left the building. While the introduction of digital CDs in the mid 1980s was a pivotal moment for the recording industry, eliminating the telltale crackle and pop of LPs, purists soon complained that the technology didn't adequately capture the "full" range of sound. Reason: In order to fit a standard-length album onto a CD, some audio frequencies must be reduced or eliminated in order to meet storage requirements.
Most of the missing information represents sounds beyond our usual auditory resolution ability, but some audible high and low frequencies are lost—highs and lows that help create a warmer, richer sonic experience. But those frequencies can be found on a well-pressed vinyl recording.
Missing audio data became increasingly apparent with the introduction of the MP3, an even more restrictive algorithm that quickly became the de facto compression technology for sharing music via Internet. With the hip-hop and drum-and-bass scene clinging to vinyl records as their preferred spin, and the underground and Punk crowd ignoring CDs entirely, a base of support for turntables was lying in wait.
By 2006, shipments of vinyl LPs had plummeted to a mere 858,000 in the U.S. (down from a high of 341 million in 1978, according to the RIAA). But luckily for vinyl fans, that was the worst of it. In 2015, nearly 12 million vinyl albums were sold, and the comeback of analog music was firmly established.
How long will this comeback last? No one can say for sure, but manufacturers are reassessing their lines of record players. Production never died out completely during vinyl's dark days, but most mass-market turntables produced have been low-end, without a lot of high fidelity in mind. But at CES, we looked at three new turntables models from three long-established companies in a wide range of pricing.
Each turntable showcased a different approach to bringing the retro device into today's market—which means they each cater to a distinct audience. Read on to see if one brings out the vinyl junkie in you.
Audio-Technica AT-LP60-BT Wireless Turntable
While many turntables produced in the last decade have had a USB output for creating a digital copy, Audio-Technica takes a different approach with this model. The AT-LP60-BT provides a signal for playback through compatible Bluetooth wireless speaker systems, headphones, and A/V receivers—anywhere in the house. In short, Audio-Technica has cut the cord, providing a simple streaming option—a boon for those of us who have minimal stereo equipment to begin with.
×
Audio-Technica AT LP60 BT turntable
The belt-driven AT-LP60-BT is fully automated. Just push play and the cast aluminum platter spins into action, with the tone arm landing on the first track, then returning to its home at the end of the last track (ideal for those of us prone to falling asleep to the ambient sounds of Brian Eno). If desired, a pickup arm and soft damping control allows you to drop the needle gently onto another track. The 33-1/3 and 45 RPM speed selector enables playback of most vinyl formats, including 7-inch singles.
The unit comes packaged with an Audio-Technica Dual Moving Magnet stereo cartridge with replaceable stylus. Audio-Technica says the Bluetooth signal can be paired with up to eight wireless devices (though not simultaneously), which makes the player ideal for multi-room setups. It also has a switchable phono preamp offering wired connectivity (it comes with standard RCA output cables). Unlike some turntables produced today, it does not have a USB connection.
The sleek design is available in fetching shades of black, white and navy blue and comes with a removable dustcover. However, the turntable felt lightweight and plasticky to the touch, giving us the impression that the AT-LP60-BT may not be one for the ages. But while this model simply isn't going to give you the sonic quality of higher-end turntables (especially via Bluetooth signal), budget and convenience factors are a solid lure.
The AT-LP60-BT Wireless Turntable is expected to be available by March 2016, at a MSRP of $179.95.
Sony PS-HX500 HRA Turntable
Sony never stopped making turntables, but their new model is a game-changer, going a step further than players with mere USB outputs. The PS-HX500 not only allows users to digitize their records, but to store them as fat, rich DSD (DSF) files, a hi-res, PC-friendly format that compares with Super Audio CDs.
×
Sony PSH X500 HRA Turntable
The turntable is equipped with an analog-to-digital converter that renders audio into Sony's proprietary DSD 2.8 MHz or 5.6 MHz (double DSD) files. PCM-recorded WAV files are also supported (up to 192 KHz). The audio feeds into your computer via USB cable, but the outputs include a switchable phono stage (you can use the internal phono preamp or switch the phono stage off to use an external).
The player comes with a user-friendly "Hi-Res Audio Recorder" app for PC or Mac so you can edit the raw files—deleting unwanted parts of the recording (i.e., the needle drop) and splitting tracks. For anyone who's transferred analog into digital files, you know how time-consuming this process can be. Sony's editing app looks to be relatively intuitive to use.
The belt-driven, aluminum die cast platter is topped with a 0.2-inch rubber mat that has a slight depression at the center where the record label lands—a Sony rep said this better stabilizes the record for playback. The plinth is acoustic-grade MBF and features rubber dampers to minimize vibration. Playback—at 33-1/3 or 45 RPM—is manual-only, so you'll need to be there to return the tone arm at the end of each side.
Sony's PS-HX500 HRA is expected to roll out early in the second quarter of 2016. The anticipated retail price is $599.99, and includes a moving magnet cartridge Sony sourced from a major third party supplier.
Technics Grand Class SL-1200G Turntable
Technics is perhaps the most storied name in turntables, responsible for developing the first direct-drive players back in the early 1970s. The reliability and longevity of the 1200 series has been well established among audiophiles, but Technics also developed a following with club DJs, who utilized the player's high torque and variable pitch control for mixing and beat-matching.
Technics ceased production of the 1200 series in 2010, presumably in anticipation of vinyl's demise. Collectors and savvy investors began to snap up the remaining 1200s, and they did so at a considerable premium. Fans lobbied Technics to bring back the turntable, starting a petition drive, and at CES the company announced the 1200 was coming back—newly updated and better than ever.
Technics will be releasing a new version of its direct-drive model. Make that two versions: Out this summer is a limited edition 50th Anniversary Grand Class SL-1200GAE, while the standard-issue Grand Class SL-1200G will be out in the fourth quarter of 2016. Although only the limited edition was on display at CES, the differences between the two versions appeared minimal.
×
Technics 1200 turntable
The Grand Class SL-1200G is not just a remake of the old 1200—Technics has instead performed a top-to-bottom overhaul. Technics says they started by redesigning the direct-drive motor and control circuitry, using a coreless direct-drive motor to eliminate cogging. Improved motor control technology is said to allow for ever better high-starting torque and speed stability.
The platter is now comprised of three layers: aluminum and brass diecast, plus a rubber layer to eliminate added resonance. Every platter is hand-balanced, with a sticker to that indicates the balancing has been achieved. Terminals were originally silver, but now they're brass-milled and gold-plated, minimizing sound degradation with a superior conductor.
The exterior design appears much as before, with a few notable tweaks. In addition to 33-1/3 and 45 RPM, the manually operated SL-1200G will be the rare turntable that offers 78 RPM playback. The adjustable pitch of older models was plus or minus 8 percent; a doubler now extends the range to 16 percent—something DJs will love. A new button resets the pitch adjuster to 0 (rather than requiring manual adjustment).
There are two upgrades to the SL-1200GAE limited edition: a polished, lightweight magnesium tone arm to provide a high damping effect (the standard tone arm is aluminum, like the older models), and iron footers embedded with a pool of silicone for minimizing vibration. The four footers weigh about a pound a piece, combining to make the overall weight of the SL-1200GAE 39.7 pounds—quite an increase over the earlier 24.4-pound models. Oh, and there's a serial number embedded in the SL-1200GAE, an edition limited to 1200 units.
But then there's the price. The Grand Class SL-1200GAE, which is expected to come out this summer, carries a $3,999.99 sticker. To our surprise, Technics told us the SL-1200G standard edition—available fourth quarter, 2016—will carry the same price tag. That's quite a markup when compared with the original 1200, which retailed for around $700 before Technics ceased production.
Conclusion
Although the plasticky look and feel of the the Audio-Technica AT-LP60-BT concerned us, it's a decent option for those who aren't seeking a superior audio signal—as well as for house-wide playback through compatible Bluetooth wireless speaker systems, headphones, and A/V receivers. By cutting the cord, Audio-Technica has created a great budget option for anyone seeking to resurrect a record collection gathering dust.
If you're looking to digitize your record collection—especially rare items that may never have been released digitally—Sony's PS-HX500 is the player to invest in. Keep in mind, the DSD 2.8 MHz file sizes will not be modest. At CES, a Sony technician ripped Diana Krall's "Wallflower" and the total file size for the 45 minute album was about 2 gigs (a 5.6 MHz file would be twice the size). The same LP in WAV format would eat up only about 100 MB of storage (which this player also allows for). But DSD is what dedicated audiophiles will want, and Sony's delivering.
Technics' new SL-1200G is not just for DJs. In fact, the state-of-the-art turntable seems just right for the audiophile market. We suspect it will be hard to top the upgraded 1200, as the original design has already proven its worth when it comes to durability and usability, and the redesign comes with some exciting improvements. But the large price tag will be a deal-breaker for some, and those who are looking for quality transfers of analog vinyl to digital files may opt for Sony's PS-HX500 instead.
And hey, let's not forget that Technics' beloved older units are still widely circulated on eBay and Craigslist. If these shiny new turntables aren't your jam, you can always scoop up something old-school.
Correction: An earlier edit of this article stated that Audio-Technica's AT-LP60-BT Bluetooth signal can be broadcast through eight wireless devices simultaneously. The text has been updated to reflect that the signal can be paired with only one device at a time.
Related video