Headphones
These Glitzy Headphones Are Jewelry for Your Ears
Maroo Audio brings the bling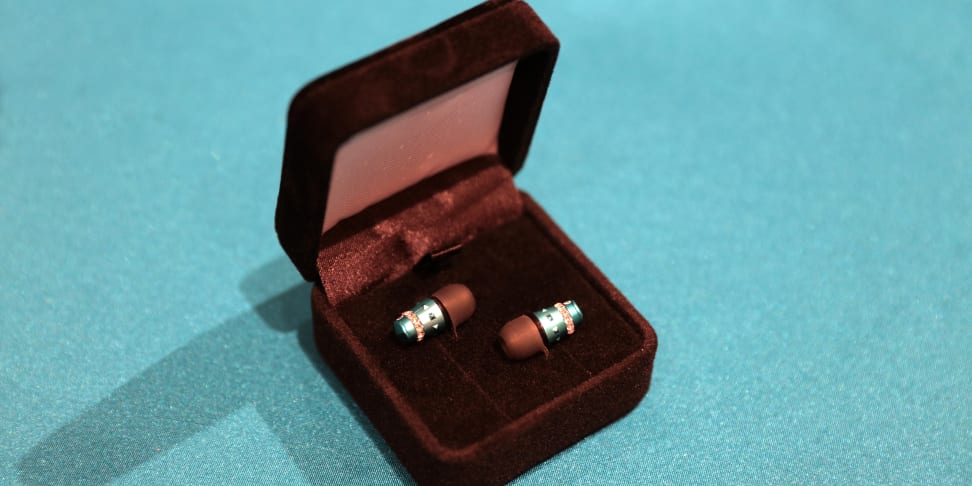 Credit: Reviewed.com / Kyle Looney
It won't come as a shock to anyone, but there was no shortage of headphones at CES this year. On-ears and in-ears, wired or wireless—the list is as varied as it is plentiful.
There were headphones you can't lose, headphones that let you equalize the ambient noises around you, and even headphones that can be stored in a fashionable bracelet.
But as far as fashion goes, few 'buds—or cans, for that matter—are as likely to turn heads as the new in-ear headphones from Maroo Audio.
The Gem Collection and the Ice Collection are two lines of earbuds designed from the ground up with women in mind. Not only are they smaller than your average in-ears in order to accommodate, well, smaller ears, but they're also outfitted to appear like jewelry.
A representative at Maroo Audio's booth told me that the crystals are of a name-brand that begins with the letter "S," but one that they can't specify for legal reasons.
We got our hands on a pair called "Tiffany," presumably for that unmistakable blue hue, but there are eight total variants available between the Ice and Gem Collections. Regardless, all retail for $79.95.
As far as we can tell, the difference between the Ice Collection and the Gem Collection is purely aesthetic. The Ice variants feature rows of crystals surrounding the outer body of the earbuds, whereas the Gem variants feature one big honkin' gem that sticks out of your ear for a style that we can only describe as "Queen Nefertiti rocking out to 'Trap Queen' on the way to Club Thebes."
But looks mean nothing if they don't sound good; we passed these in-ears around amongst our editorial team and the reactions were mostly positive. It certainly helps that Maroo includes five different tips (both single and double flange) to fit ears of all shapes and sizes.
Headphones that act as a fashion statement have been gaining popularity.
We won't know for sure how well these earbuds stack up until we get them back into our lab and put them through our testing process. For now, we'll simply admire their shiny appearance.
The concept of headphones that also act as a fashion statement has been gaining popularity as of late, but few take it as far as Maroo does with these bejeweled in-ears. However, a little sparkle shouldn't scare off any guys who like the look of these. Fellas, some in-ear ice might be just what you need to elevate your style.
Related Video