Headphones
Audio-Technica Releases Nine New Headphones at CES 2014
Headphone giant Audio-Technica brings the goods with new over-ears, gaming headsets, and more.
Credit:
Kicking off the International CES 2014 with a bang, Audio-Technica has taken the wraps off of a new line of gaming headsets, a new addition to its QuietPoint line of active noise-cancelers, five additions to its SonicFuel line, and a set of sport-oriented in-ears. Where last year the Japanese audio company was focused on the enthusiast crowd, this year Audio-Technica is courting more consumers with its new headphones.
Audio-Technica's announcements include open and closed back variants of its new gaming headsets (the ATH-ADG1, ATH-AG1). Five over-ear offerings from the SonicFuel take the stage for the first time, including the ATH-AX5iS, ATH-AX3iS, ATH-AX1iS, ATH-AX5, and ATH-AX3. The in-ear ATH-CKP200iS also made it's debut with several color options, and speaking of in-ears, the SonicFuel headphones ATH-CKX9iS, ATH-CKX9, ATH-CKX7iS, ATH-CKX7, ATH-CKX5iS and ATH-CKX5 are also shipping as of today.
Cans for gamers
ATH-ADG1 and ATH-AG1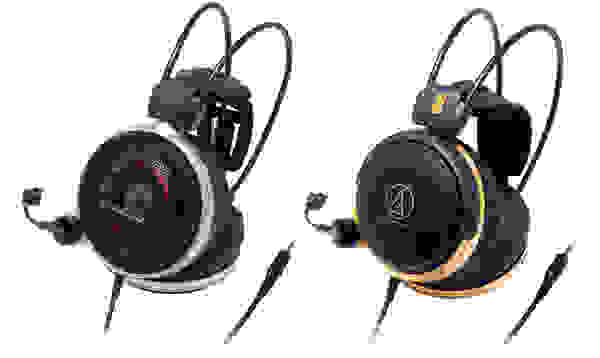 Courting gamers, Audio-Technica is swinging for the fences with high-quality components and features with two new gaming headsets. Both the open-backed ATH-ADG1 and the closed-back ATH-AG1 have Audio-Technica's proprietary 3D-wing band design, built-in microphones, and a detachable USB digital/analog converter to squeeze the most out of your games. No hard date for release has been set.
Gamers are a tough crowd to please as their demands on cans varies from game to game. To accommodate this, Audio-Technica has loaded the new gaming headsets with game-specific features to make the most out of their hardware.
New QuietPoint cans
ATH-ANC70
Designed for extended listening sessions, the memory foam-clad ATH-ANC70 headphones boasts up to 90% noise cancellation. Additionally, this pair comes decked out with the same smartphone-specific features to control track changing, in-call controls, and volume as the over-ear SonicFuel headphones. Should the AAA battery run out, the only thing that stops working is the noise-cancellation unit—not the headphones. The ATH-ANC70's also fold up for easy storage.
Sonicfuel line
A big, portable family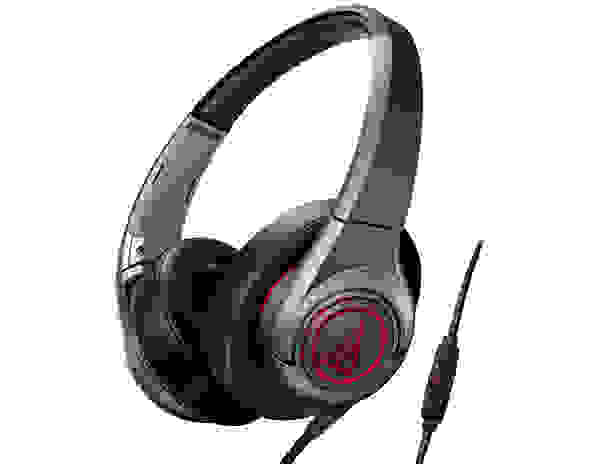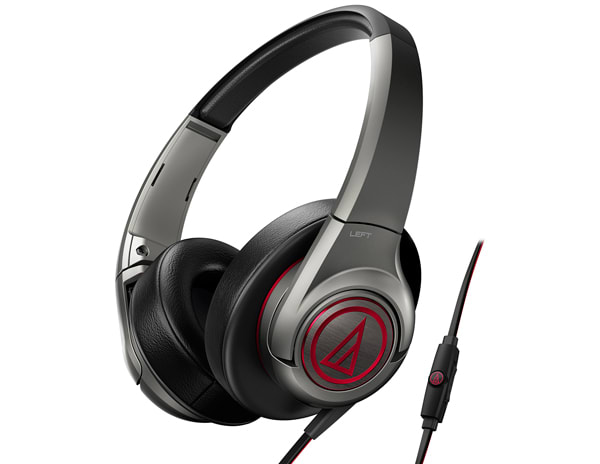 First for the over-ears: the ATH-AX5iS, ATH-AX3iS, ATH-AX1iS all come with a microphone standard in their design, as well as smartphone controls—the ATH-AX5, and ATH-AX3 come without. While only the ATH-AX5iS, ATH-AX3iS, ATH-AX5, and ATH-AX3 come with padded bands, the real star of the show is the ATH-AX5iS: With 40mm drivers and an aluminum housing, these cans look slick in both their black/blue and gunmetal/red color schemes.
For the in-ear fan, Audio-Technica is now shipping its in-ear segment of the SonicFuel line, the ATH-CKX9iS, ATH-CKX9, ATH-CKX7iS, ATH-CKX7, ATH-CKX5iS and ATH-CKX5. These have rather unique features, like 360˚ rotating tips, smartphone compatibility with call answering, and several bold colors. All headphones with the —iS designation have Audio-Technica's proprietary in-line remote. For more details, spy on the Audio-Technica website.
Prices:
ATH-AX5iS ($89.95), ATH-AX5 ($84.95)
ATH-AX3iS ($59.95), ATH-AX3 ($54.95)
ATH-AX1iS ($39.95)
Waterproof sport headset
ATH-CKP200iS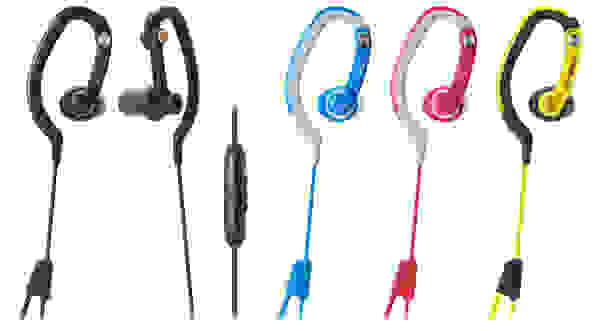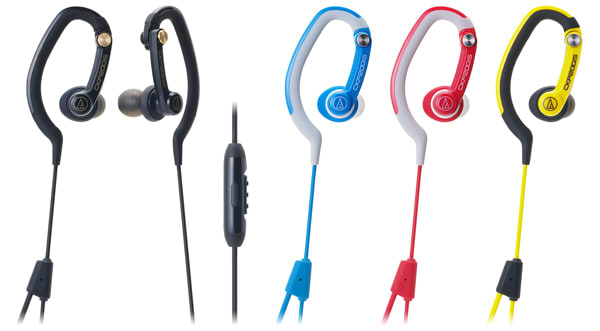 Rounding off this long list of releases is the ATH-CKP200iS: A value set of waterproof and sweat-proof in-ears with an over-the-ear ear hook design. Included with each set will be four sizes of silicone ear tips, and a 2-foot extension cable. The ATH-CKP200iS will retail for $44.95 at launch, available in black, red, yellow, and blue models.
Availability of all these headphones varies, but they should hit the shelves soon if they haven't already. The in-ear SonicFuels are currently shipping, while the over-ear models are set to hit stores in Spring 2014. Be sure to follow us at CES for more news as it breaks, or follow us on twitter to get the latest news as the International CES 2014 progresses!