Headphones
The Helix Cuff Hides Bluetooth Headphones in a Bracelet
Mixing form and function for a stylish listening experience
Credit:
Following a successful Kickstarter campaign in 2015, newcomer Ashley Chloe arrived at CES 2016 to show off an attractive bracelet that conceals a pair of smart wireless Bluetooth headphones. While they're not the first Bluetooth earbuds on the market, nor the first to focus on fashion, the Helix Cuffs break new ground by hiding function inside form.
The Helix Cuff is available in a few different colors—white, black, and orange—and has a loop design that's simple and fashion-forward. Powerful magnets on each loop are used to adjust the size of the bracelet, ensuring a quick, snug fit.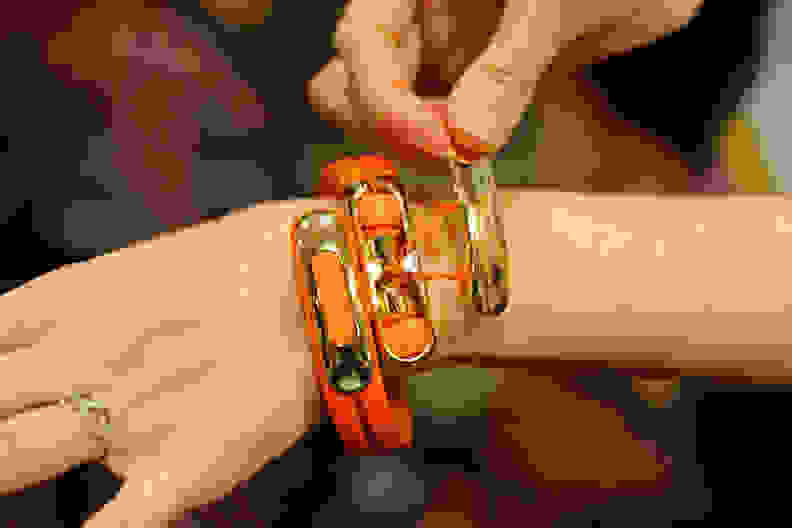 The headphones use Bluetooth 4.1 and smart multipoint connectivity to connect up to two devices at a time, and they can remember up to eight paired devices. Better, they'll automatically pair with the last connected device when it comes into range. The Bluetooth connection has a range of about 30 feet, and the headphones include controls to answer calls, play/pause music, adjust volume, and fast forward and rewind through a playlist.
The Cuffs also come packed with cVc technology for audio enhancement and noise reduction. Unfortunately, we were unable to try the Cuffs for ourselves, but then a noisy trade show floor isn't exactly the best place to judge a pair of earbuds. For a better understanding of how the Cuffs' sound quality stacks up to the competition, we'll have to wait to get a pair in for review.
If you're already sold, the Helix Cuffs are up for pre-order on the Ashley Chloe site, with a ship date set for March. The retail price is $199—or $299 for the gold edition—but a holiday special knocks $30 off a single Helix Cuff.
Related Video