Headphones
Is V-Moda About to Release New VAMP?
Rumors abound, but the answer lies in the east.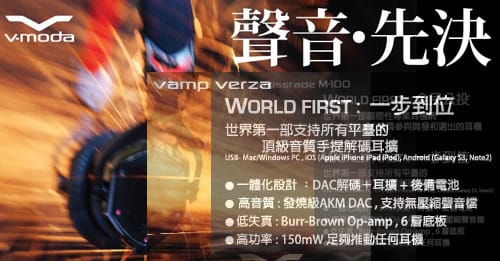 Credit:
If anything is to be said about V-Moda Headphone's CVO and founder Val Kolton, it's that he is very passionate about what he does. Over the last few months, Kolton has leaked details and teasers about the follow-up to the oft-talked about V-Moda VAMP, a DAC/Amplifier combination for the iPhone 4 and 4S that enables audiophiles to supply their high-powered headphones with enough juice to work virtually anywhere.
If forum postings from Val himself on the publicly-available Head-fi are to be believed, the new portable smartphone amp might even be available in a few days. So why the hype? After Apple changed the 30-pin connector on all of its devices to the (admittedly more convenient) Lightning dock connector, the original VAMP no longer worked with the latest Apple smartphone—and still did not work with any Android phone.
After some online digging, I was able to find that not only is development nearly finished on this unit, but it will also work with the Samsung Galaxy S3 and the newest Apple iPhone, too. This information has been kicking around for a while, exact specs have remained somewhat of a mystery, but a few pieces of the puzzle (including pictures) are available from Hong Kong news outlets and the V-Moda Hong Kong Facebook page: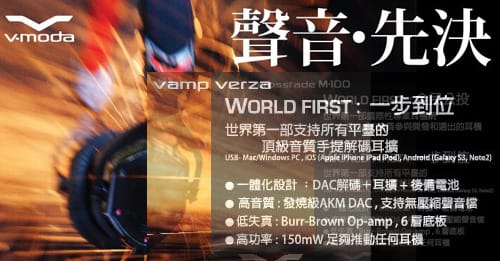 Specs we know:
—Japanese-made AKM AK4353 DAC Chip
—Burr-Brown op-amps (the promo image also mentions a 6-layer circuit board)

—150mW output per channel

—The unit will contain a battery, DAC chip, and amplifier

—Will work with Windows, Mac OSX, iOS, and Android operating systems

—Will be sold in Hong Kong for $4,980HKD, or ~$642.43USD
While no firm date has been set for launch, converting the alleged Hong Kong cost puts the price somewhere around the $640-650USD mark, which is not too far from the first VAMP's launch price. If the amp does indeed launch soon, it certainly has the hardware inside to juice a wide range of high-end headphones on the go, and should help those inclined to side-step the issues inherent to trying to use mis-matched equipment with a mobile device.