Health & Fitness
How to improve your golf game at home
You can still get better even when you can't get to the course.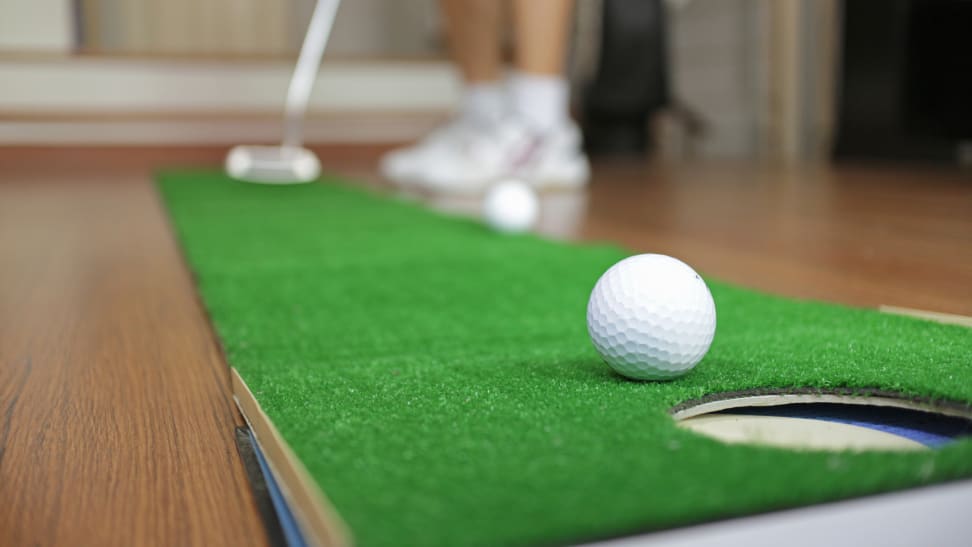 Credit: Getty Images / WichienTep
Golf is a great way to get exercise outside in the fresh air. However, it can be a pain to schedule a tee time, put together a foursome, and find a course that's not too expensive. And, unless you play regularly, your skills could be a little rusty on the course. So how do you get better at golf if you can't get away for hours at a time to practice? Here are a handful of ways to develop your skills at home, no greens fees required.
Improve your game with a chipping net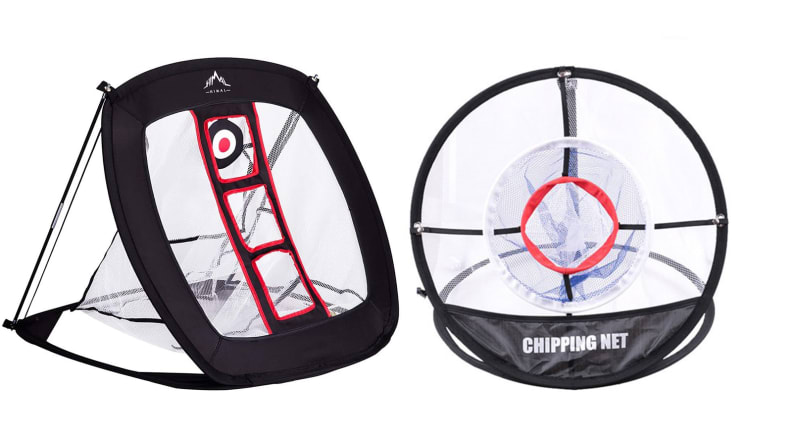 These inexpensive devices fold up nicely in a garage or the back of your car and you can pull them out even on cold days in the fall or winter. Old-school pros will tell you that when you are starting to take up golf, work from the green backwards. What they mean is, first focus on chipping and putting because that's where you will save strokes. These nets, along with a lob wedge or pitching wedge, can improve your score much faster than banging golf balls at the driving range. If you do make this purchase, try to avoid the ones with plastic or foam golf balls. They could throw off your feel of hitting a solid golf ball once you get back to the course.
Get the Himal Outdoors chipping net from Amazon for $19.99
Get the GuliriFei Practice Outdoor Training Net from Walmart for $18.59
Practice your drives with a hitting net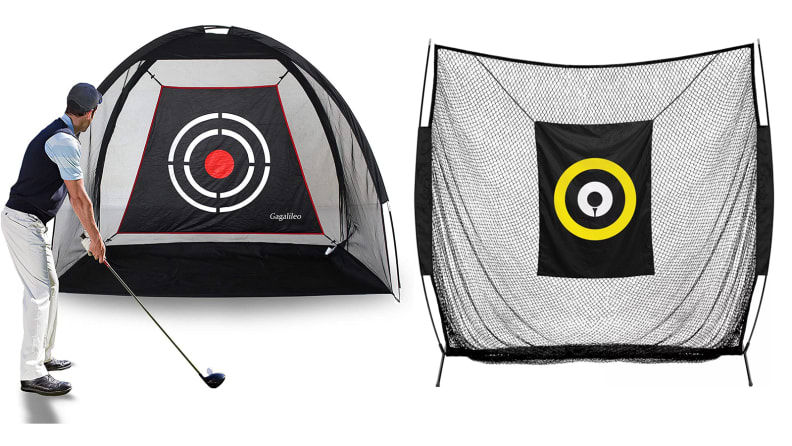 If you want to work on your full swing and don't have the time to get to the driving range, these can be extremely useful. Think of it like a boxer pounding a heavy bag in their basement. You can get some aggression out while still tweaking your technique. The ideal location to use hitting nets is outside where you can make contact with the ball off real grass, but they are also functional in garages and basements with some minor adaptations like a decent mat. The nets themselves can cost around $100, so if you use it often, the cost pays for itself as compared to five or six large buckets of balls at most driving ranges.
Get the Galileo backyard training net from Amazon for $76.99
Get the Izzo freefall hitting net from Dick's Sporting goods for $149.99
Pick up your golf balls easily with a shag bag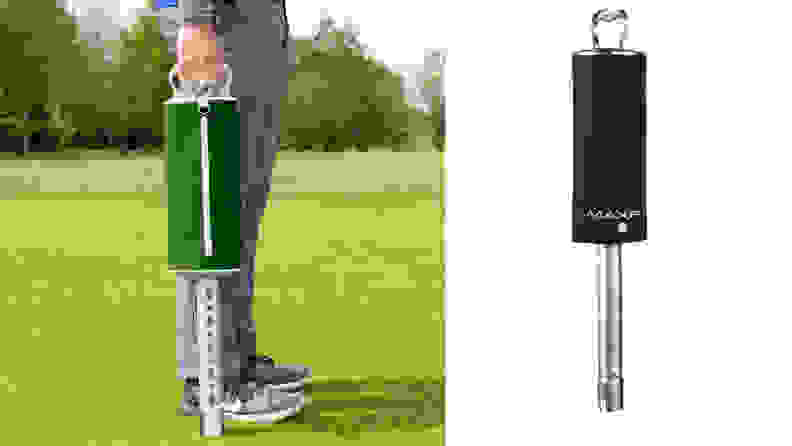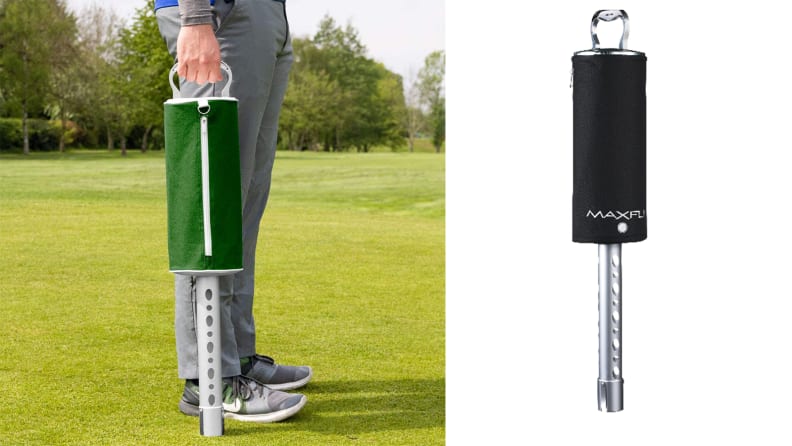 Whichever way you decide to practice, this product is always helpful. I prefer the plunger version where you push down on the ball and it sucks it up like a vacuum. Could you use a plastic bag from the grocery store? Sure, but it is significantly more work collecting all your wayward shots. Plus, it doubles as a holder for all the golf balls that are a bit too "experienced" to be in your regular golf bag. And if you don't have enough room to hit full shots in your yard—like most of us—you can try finding a park or a school ball field near you. Dump the balls in one spot and walk off the distance of the shot you want to practice and leave the shag bag there. That way when you are finished hitting, the bag is already there to pick up the balls. Beware, though, that some places, like schools, prohibit golfing on their grounds, so watch closely for any signs.
Get the FORB Golf Shag Bag from Amazon for $34.99
Get the Maxfli Deluxe Shag Bag from Dick's Sporting Goods for $49.99
Invest in a putting return machine for easy indoor practice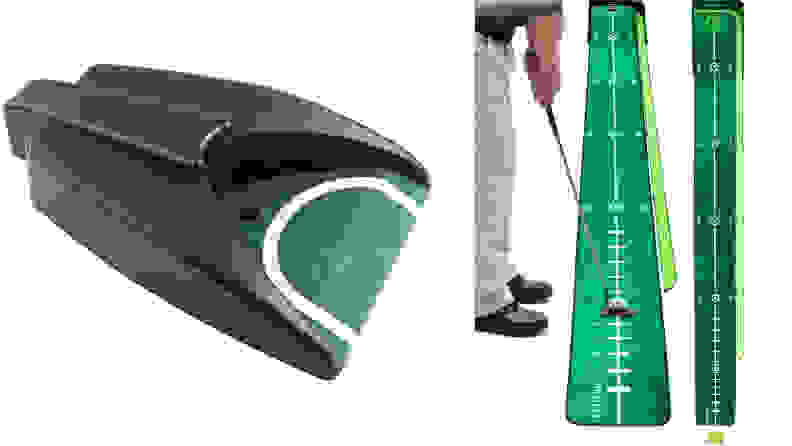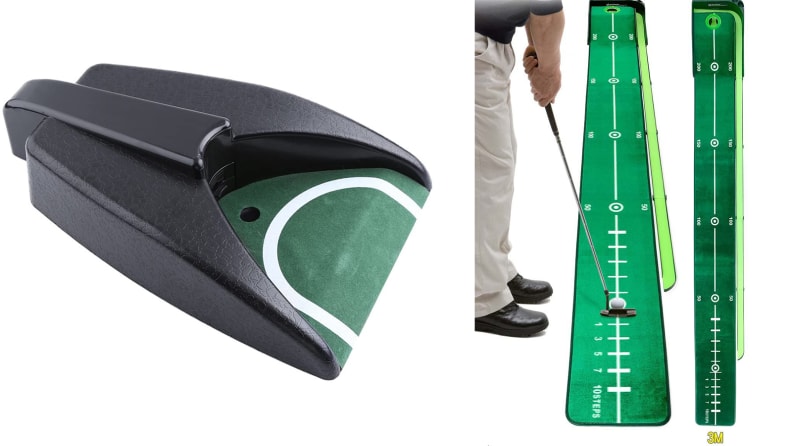 You might have seen one in a movie where an executive in a corner office has a putter and pulls it out during a meeting. Despite the cliché, they are actually very useful. Of course, you could just as easily use a red Solo cup and putt across the carpet in your living room, but the return machine ranges from the basic model that just launches the ball back at you, to the more nuanced (and expensive) versions that have trajectory lines to track the roll of your putts. You get what you pay for here and the more you dole out, the better you will be able to hone your putting stroke. The key here is that no matter what you choose, focus more on being able to repeat your putting stroke and less on whether you make the putt. No matter the quality of the mat, it will not be the same as being on a real putting surface.
Get the Yosoo golf automatic putting cup from Amazon for $24.55
Get the 4.25 Inches Infinity Putting Mat from Amazon for $124.95
Swing training aids can help keep your swing in great shape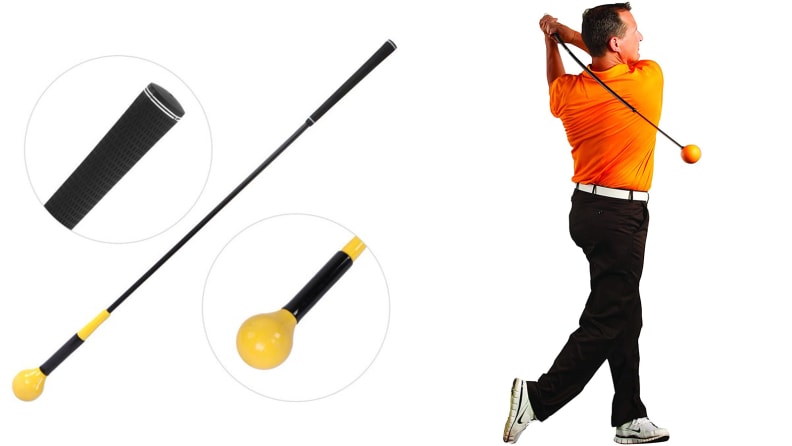 The key to every golf swing isn't beauty, it's consistency. That's where the Orange Whip, and similar tools, come into play. These products help golfers repeat the arc of their swing, as well as their tempo, over and over. You'll need a decent-sized room to make sure you don't knock over a lamp or take out the TV, but repeating the motion of your swing arc—especially during the winter months—will form muscle memory to help you regain your swing when you are eventually back on the course.
Get the Tebru golf training aid from Walmart for $47.79
Get the Orange Whip Full-Sized Golf Training Aid from Amazon for $109
Get creative with what you already have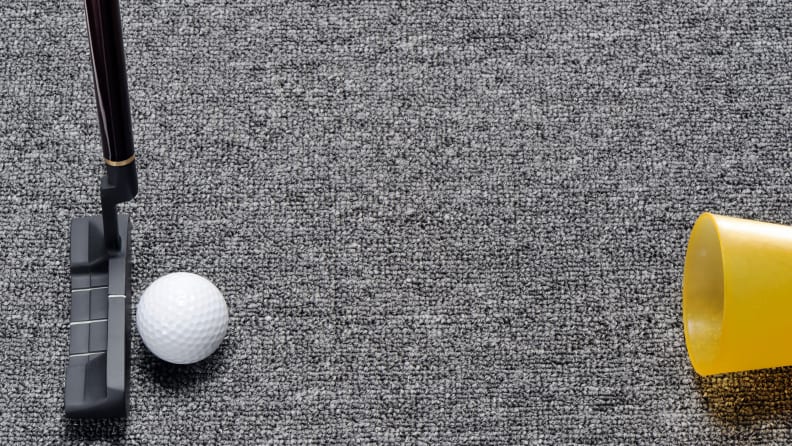 If you don't want to shell out money for any of these golf toys, just take what you have around the house and improvise. A few years ago, golf legend Arnold Palmer—then in his 70s—was at ESPN and showed us that chipping into a beer cup works just as well as a chipping net. Other people like to take a broomstick, dig a small hole in their backyard, and use that to chip at for target practice. Using durable landmarks as targets can also help. As a kid, friends and I would chip around the backyard and pick out something we had to hit. Usually it was a telephone pole or a thick tree, other times it was a car tire or something more expensive that needed to be replaced. Nowadays, my daughter and I take our wedges and chip into the trampoline in the backyard from the front yard. Since it has those big nets around the sides of it, that forces us to work on lofting the ball into the air and landing it inside the trampoline. It's effective chipping practice plus the added bonus of seeing golf balls bounce 10 feet in the air.
The product experts at Reviewed have all your shopping needs covered. Follow Reviewed on Facebook, Twitter, and Instagram for the latest deals, product reviews, and more.
Prices were accurate at the time this article was published but may change over time.