Health & Fitness
I tried the OYO personal gym—here's what to know about the mini cable machine
This resistance machine has been used by NASA, but I wanted to see if it would work for me.
Credit: OYO
For me, and I suspect many others, working out at a gym isn't an option right now. In my area, some gyms are open, but I'm still not comfortable breathing heavily and sweating profusely near a bunch of strangers who are doing the same during an ongoing global pandemic. This means I've let my motivation to work out dwindle over the past year, and I've definitely gained more weight than I feel comfortable gaining. These days, I've counted going up and down the stairs a few times as a workout.
I considered buying some dumbbells but they're hard to find. And because I live in a small-ish apartment that's mostly filled with my kids' toys, I don't have room for a treadmill or an exercise bike.
Perhaps because my mother was tired of hearing me gripe about my fitness woes, she sent me a gift: the OYO Personal Gym, a small-ish U-shaped contraption that fits in a tote bag or backpack and claims to have the ability to help work out the entire body. I was skeptical until I saw its 4.3-star rating on Amazon from more than 1,700 reviews—so clearly, lots of people like it. I decided to give it a try.
What is the OYO Personal Gym?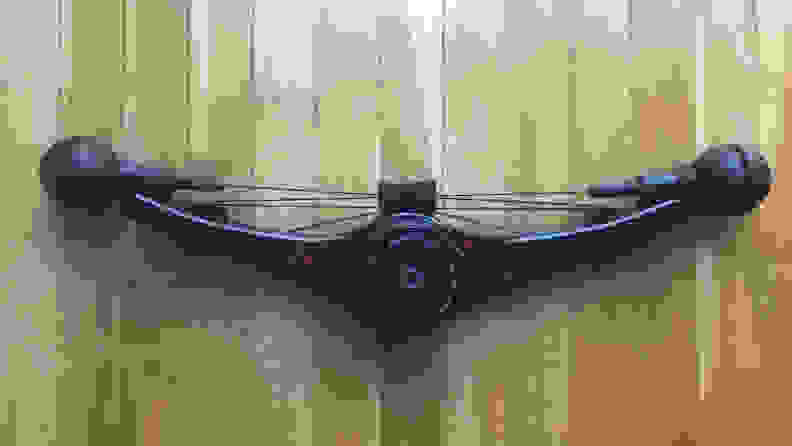 OYO stands for "On Your Own." (Simple, clever, fun to say; I like it.) To get a sense of what it looks like, imagine a boomerang that's about two feet long. Now add ball-shaped grips on either end, thin cables running from one end to the other that extend when pulling the OYO apart, and a sort of hinge in the middle, where you install a disk called a "FlexPack," that allows you to add or remove weighted resistance. It weighs two pounds but claims the ability to provide up to 25 pounds of resistance.
The Basic package is $124.95 with free shipping on the OYO website (it's currently sold out, but you can get it at Hammacher Schlemmer for the same price under the name "The NASA Compact Resistance Trainer"). You can also get the "Total Body Package" on OYO's site or Amazon for $149.95, which includes a door anchor and ankle attachments. The Basic Package targets the upper body and the Total Body Package adds lower body exercises. There's an Upgrade Kit for $29.95, which is useful if you purchased the Basic Package and want to add the door anchor and ankle attachments later.
The OYO gym's main selling points appear to be ease of use and eliminating bulky equipment like dumbbells. You can sneak in a workout whenever or wherever you want—at home, in your office, at the park. Right of the bat, I found value in that, as I could use the OYO in the two feet of space between my bed and my closet. Plus, I used to travel often, but hotel gyms were never my favorite and I can't put dumbbells in a carry-on. The OYO folds in half and takes up little room. Also cool: NASA has used OYO in space to help astronauts maintain muscle and bone mass. In space, free weights are weightless, but cable resistance still works for challenging muscles.
How do you set up the OYO?
Setup was so I easy I could do it on my own. The OYO basic package comes with three so-called FlexPacks—one 5-pound pack and two 10-pound packs. The packs, which are the size of a circular drink coaster, must be snapped in place in the center of the OYO. A 10-pound pack is the minimum and you can't use the OYO gym without it (I tried). You can add the additional 10-pound pack and/or the five, but everything begins with one 10-pound pack. Therefore, your available resistance for exercises ranges from 10 to 25 pounds. If you're stumped on setup, there's a video explainer.
How does the OYO work?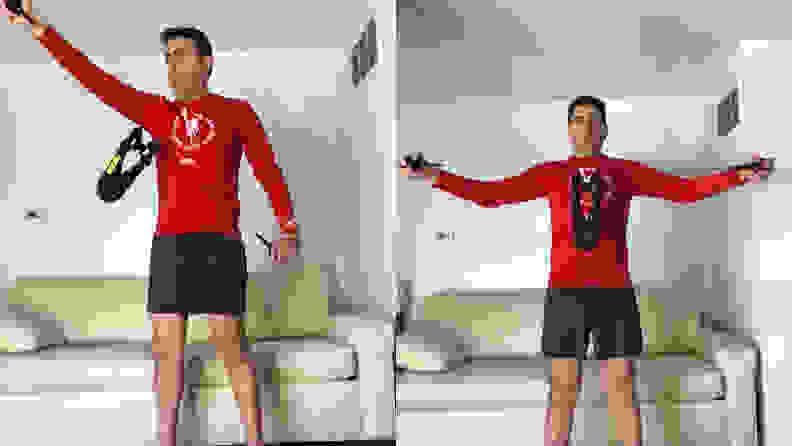 OYO was developed by architect-turned-inventor Paul Francis, who designed it to replace free weights and to allow constant resistance through one range of motion. He also says it "creates a balanced body by exercising both sides of a muscle group during one motion." This eliminates the need to perform a separate exercise to target an opposing muscle group, which is something you have to do when using free weights.
OYO claims that there are 197 exercises you can do with the Total Body device, such as chest flys, Romanian deadlifts, leg kickbacks, and tricep pushes. For example, to perform a chest fly, you take the ball grips in either hand and hold the OYO at arm's length. You then spread your arms apart and return your hands to the center while squeezing the OYO together to work out your chest. For a Romanian deadlift, you hold a ball grip between your feet (I suggest wearing shoes; I learned this the hard way) and hold the other ball grip in your hands. With the OYO fully extended, bend at the waist to perform the exercise.
All of these exercises are available to view on the OYO YouTube page. The OYO Personal Gym comes with a short booklet explaining how to set it up and directs you to its workout videos. There's a QR code on the OYO's box that takes you to a basic setup video, and QR codes on downloadable PDFs on the OYO Fitness website that feature entire workout plans and videos to go with them.
What I like about the OYO Gym
One of the best things about the OYO gym is how compact and lightweight it is—it's only two feet long, can be folded in half for transport, and weighs almost nothing. I got on the scale with the OYO gym and without it, and my scale couldn't tell the difference. Another benefit is its portability. When we're able to travel again, tossing the OYO in a carry-on bag would be a good away-from-home workout choice.
Even though it's light, some of its exercises feel really effective. For instance, the "low chest lateral raise" is pretty nifty. You hold both ends of the OYO in either hand at waist height and close the OYO by pushing the two ball ends together. Then, pull the OYO apart while keeping your arms straight and raise it to shoulder height. In addition to the resistance, you'll feel a pleasant stretch in your lats at the top and bottom of the exercise (at least I did).
If you're not sure where to begin with workouts, I recommend going to OYO's YouTube page and adding the "10 Week Challenge" to your favorites list, then doing the workouts as presented. I tried the first two weeks of the challenge and liked that those sessions are around 20 minutes long with no guesswork as to what comes next. If you don't have the leg attachments, don't worry—they're used infrequently.
I didn't break much of a sweat during any of my workouts using just the OYO. To get a more rounded experience and up my heart rate, I added some cardio. In the house, I incorporated jumping rope, which I love and always find challenging, or some jumping jacks or high knees. I found the OYO Basic Package a little too basic; advanced athletes may find it underwhelming. For beginners, it may be just right.
What I don't like about the OYO
Although the OYO is good at creating resistance that works out your muscles, it's difficult to control, at least at first. While doing bicep curls, I had to constantly be aware of the manner in which I was pulling back on the OYO's ball grips, otherwise its balance would shift and one end would launch away from my body when I pushed too hard on the other. You can control the balance by moving a couple fingers off the ball grips and onto the device's arms, but it took me several workouts to realize that.
When doing a shoulder press, both sides of the OYO should end up with the cables fully extended. That's great: It means you're using the OYO to its full potential. Not great: The middle of the OYO—with the FlexPacks in the center—swings around freely. Get a little overzealous in your workout, as I did, and the OYO may slap you in the face. To say it's unpleasant is an understatement.
The OYO Fitness website has a link to an OYO app, but it doesn't appear to exist anymore—the link never worked for me and I couldn't find it when I searched for it manually in the app store. For me, that's not a dealbreaker, because it was easy to follow along with OYO's available workouts on YouTube. However, if you like all your workout devices to be accompanied by an app of some kind, you may want to try something else. (The JaxJox adjustable kettlebell is a pretty good alternative.)
Finally, I have a pretty wide wingspan—I typically wear a length 36 sleeve, depending on the manufacturer. The OYO, when fully extended, doesn't let me open my shoulders and chest all the way. For someone built more like a T. Rex, that's probably fine. For the longer-limbed, it's a limitation when doing exercises that require full extension—these don't make up all of OYO's exercises, but it's a pretty sizable chunk of them.
Is the OYO worth it?
The average monthly gym membership is $58, give or take, depending on where you live in the country. The OYO Basic Package costs $124.95, or a little more than two months of membership. Throw in what usually comes with a gym; showers, a steam room, workout classes, community, and you'll have to decide whether the OYO offers more value to you the gym's perks (and which you'll realistically use more over time).
For now, I'll happily use the OYO to work out at home in order to stay safe and healthy. Though not all the exercises knock my socks off, following the OYO's 10-week plan takes the guesswork out of designing my own program. Your mileage may vary, but for me, the OYO is currently worth it, despite my complaints. But I imagine once I'm vaccinated, and life slowly starts to eke its way back to normal, the OYO will retire to the back of my closet.
The product experts at Reviewed have all your shopping needs covered. Follow Reviewed on Facebook, Twitter, and Instagram for the latest deals, product reviews, and more.
Prices were accurate at the time this article was published but may change over time.