Health & Fitness
Samsung's Vision of the Future (of Your Wrist)
"Check it on your wrist and grab your phone" is Samsung's core message for the Galaxy Gear.

Credit:
Tonight in Berlin, Samsung debuted the much-anticipated Galaxy Gear smart watch to a packed house at the Tempodrom. It's difficult to say if it met all the wild and sundry expectations of the internet, but by the end of the hour-long event, most of the crowd was won over by at least some of the features that Samsung mentioned.
The Galaxy Gear was not the sole focus of the evening's festivities. New Galaxy Note 3 and Galaxy Note 10.1 (2014 Edition) tablets graced the stage, and offered their own bevy of new features. Most eyes were on the watch, though, as it represents a sort of green pasture in which no company (particularly Apple) has managed to plant a flag so far.
Samsung's smartwatch is larger on your wrist than the images make it appear. In person, at least to me, it appeared beautiful when displayed on the stand, but clunky when I actually wore it. And that opens up a really good question: how small or large do you have to make a smart watch in order to achieve maximum functionality? Too big and it looks ridiculous. Too small and you either have to ditch certain functions or get really creative about how you interact with the device.
The Galaxy Gear is really one half of a pair—one cannot live by the watch alone.
Samsung was clearly aiming for a sweet spot in the middle, and by and large they seem to have nailed it—in terms of usability if not aesthetics. The most succinct explanation of how the Gear ought to be used came from Pranav Mistry, head of the Think Tank Team at Samsung: "Check it on your wrist and grab your phone."
What he meant is that the Galaxy Gear is really one half of a pair, with the other half being your phone or tablet. Right now, the Galaxy Note 3 is the only compatible phablet, but that's bound to change down the road. The watch alerts you to take action ("new email alert") or to perform limited tasks like taking photos, tiny video clips, or creating audio notes for yourself. True, Samsung showcased a host of other applications, but the idea of the Gear being a paired device was a unifying theme. One cannot live by the watch alone.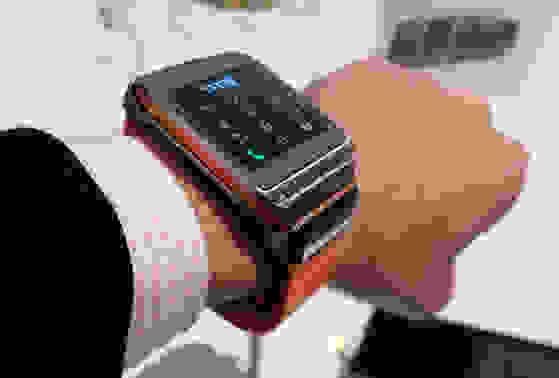 We're not going to go into a full spec list rundown, because that's not what makes the Galaxy Gear so interesting. (Read all specs here if you like.) The Gear is interesting because it represents a new horizon in the human/tech interface. Phones and tablets are boring now, because you can put them in your pocket or bag and forget about them. But your wrist is always there.
As mentioned, the Galaxy Gear was not the only product debuting at the Tempodrom tonight. The Galaxy Note 3 got equal, if not more, stage time, and introduced a slew of new features. Notably, integration with the S Pen stylus is a lot more advanced this time around. You can now perform some simple tasks much more quickly, along with a few cool new tricks that drew genuine applause from an otherwise jaded press corps.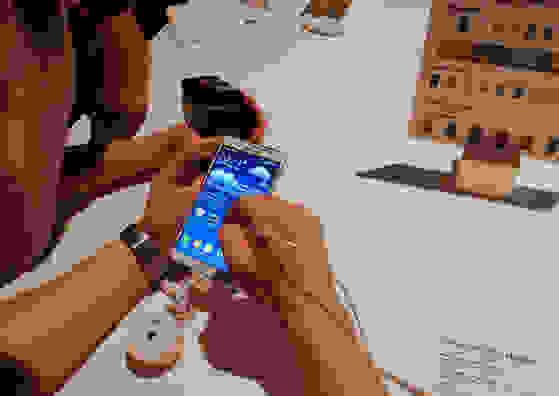 In particular, the ability to run two windows of the same application simultaneously got a big response. This means that you can have two chat windows open at the same time without constantly having to constantly switch back and forth between windows. Another crowd-pleaser was the ability to draw a rectangle with the pen is any app, and have that rectangle populate a smaller app inside of it.
Let's say you're writing an email and need to do a quick calculation. With the Note 3, you can simply draw a rectangle and fill it with the calculator, do your sums, and close the sub-window when you're done. And that's just one tiny stroke of brilliance amid a laundry list of impressive capabilities. You can get the press release and specs here for a full rundown.
Finally, Samsung announced the Galaxy Note 10.1 (2014 Edition). The awkwardly named tablet received the smallest spotlight, but still managed to impress by piggybacking on many of the Note 3's features. The press release and specs for this 10.1-inch tablet are here.
Amazingly, this massive event was not even the main Samsung press event at IFA 2013, since it focused solely on Samsung's mobile division. The Samsung Electronics press conference will be held on September 5th, and will surely usher in a whole new host of tech that you'll be able to read about right here.