Health & Fitness
This Cycling Jacket Is All Lit Up
Cycling safety gets an LED boost.
Credit:
From leisure riders to commuters, more people are cycling today than ever before. Biking in cities has particularly seen a boost—nationwide, the number of commuters who cycle to work has increased by 60 percent over the last decade, from 488,000 in 2000 to 786,000 in the 2008-12 period.
Those numbers may sound large, but cyclists still represent only about 1 percent of commuting traffic overall. And while there should be strength in numbers, many cities have found that the number of bike accidents has been rising more quickly than the number of riders. Clearly, cyclists are not as visible as they should be.
Enter Visijax, a manufacturer of wearable tech specifically designed for the bike-riding community. The jackets have been sold in the U.K. and Europe for two years. They debuted in the U.S. in December 2014 and were a hit at CES in Las Vegas, where they were one of thousands of products showcased.
The jackets are unique in that they're covered with 23 high-intensity LEDs—white on the front, red on the back—to maximize visibility in low-light or nighttime situations. They can be adjusted for a slow or fast blink, or they can be set to emit a steady light.
Even better: The jackets also sport turn indicators! Raise your arm to shoulder level to trigger yellow lights in the sleeve for the turn signal. The lights automatically stop blinking after the turn.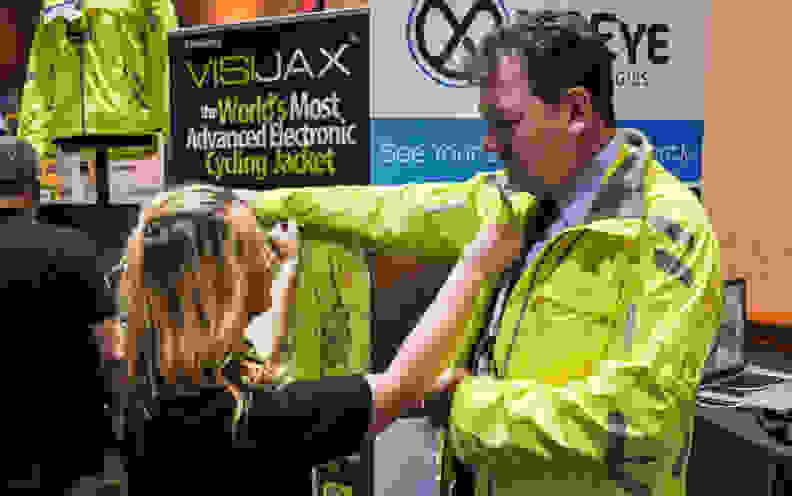 Available in high-visibility fluorescent yellow or black, they're made with DuPont Teflon coated fabric, which means the jackets are both breathable and waterproof (even the zippers). They're also washable—just detach the USB rechargeable Lithium-ion battery before throwing the jacket into the wash. The battery is good for up to 30 hours between charges.
London-based Visijax manufactures the jackets in Shanghai, China. The jackets retail for $160 and are available for purchase through Amazon.