Update: Based on feedback of the initial review, we've updated and expanded this roundup to include Casper and Purple bed pillows.
Have you gone pillow shopping lately? There are a LOT of options on the market: different shapes, sizes, and materials, all claiming to give you the best night's sleep. They can't all be right, so we put them to the test. From soft pillows to gel pillows, we gathered the most popular and highest-rated bedding pillows and tested them side-by-side over many naps and nights.
Our top pick is the Xtreme Comforts Shredded Memory Foam Pillow (available at Amazon), thanks to its adjustability and soft bamboo cover that keep things cool and comfortable all night long. We'd recommend pairing it with our best comforter and bed sheet.
It's worth pointing out that pillow preference is highly subjective, based on your body type, sleep habits, and a host of other factors. Whether you sleep on your side or with a body pillow, consider this our attempt at an objective analysis based on two specific bodies (mine and my fiancé's), a bunch of pillows, and a whole lot of Z's.
These are the best pillows we tested ranked, in order:
Xtreme Comforts Shredded Memory Foam Pillow
Sleep Restoration Gel Fiber Filled Pillow
Purple Pillow
Casper Pillow
Parachute Home Down Alternative Pillow
Coop Home Goods Premium Adjustable Loft Pillow
Nest Easy Breather Natural Latex Pillow
National Sleep Products Down-like Personal Choice Density Pillow
Malouf Z Zoned "Dough" Memory Foam Pillow
East Coast Bedding Luxury Goose Feather and Down Pillow
Advertisement - Continue Reading Below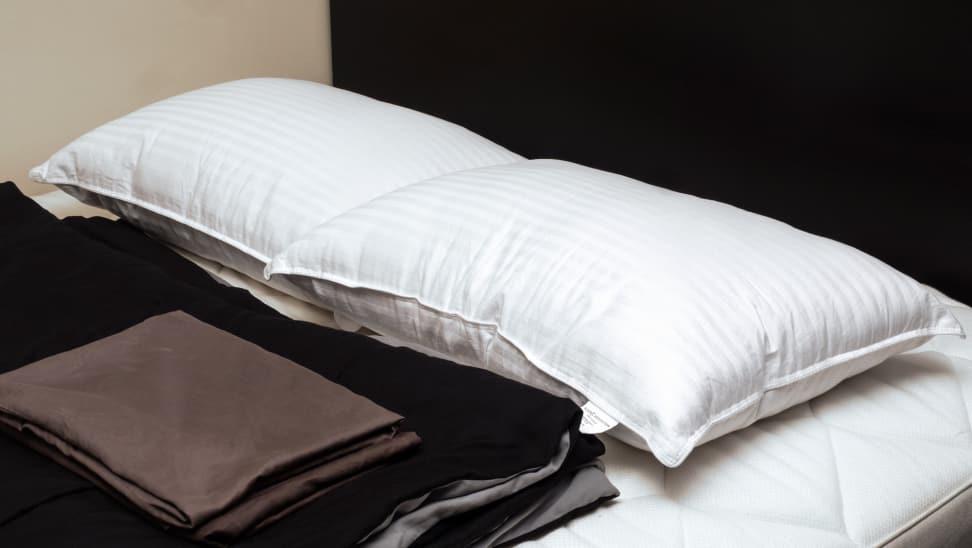 How We Tested
The Tester
Hi, I'm Diana Kelly. I've been a health journalist for over a decade and have likely written at least 50 articles about sleep and health, so I know the importance of getting quality sleep. I've worked both sides of the editorial divide, contributing to review sites and writing for the sleep companies themselves at various times.
So when my editor asked if I'd like to sleep, nap, and burrow into pillows for hours in the name of research, I was on board. I love sleep. When I have a great night's sleep, I feel like I can check off all of my work to-dos, exercise at my full potential, make healthy food choices, and act kinder and more patient to others. And when I don't sleep well, picture the opposite of all of that. I've even jokingly called myself a "napportunist" in the past—when an opportunity to nap arises, I try to take it. If that makes me sound lazy, so be it. I just got to call napping and going to bed "work" for two weeks and I'm pretty happy about it.
The Tests
After researching some of the top-rated and best-ranked pillows on the Internet, our team looked at the reviewed pillows on Sleepopolis.com and SleepLiketheDead.com. I slept on each pillow in our experiment (I'm 5'6") and gave them to my partner to sleep on (he's 6'3"). I also napped on each pillow, had pillow fights with my partner (I lost all of them), and folded them with a weight on top to see if they bounced back to their original shapes or need fluffing. Here are the top pillows, in order of their rank, and why they made the grade.
Update: In order to expand the line-up of pillows we tested, Dave Kender, editor at Reviewed, packed a monstrously large bag full of pillows and brought them home for him and his wife to evaluate. They "calibrated" themselves by first testing the two winners, then testing the Casper, Purple, and My Pillow.
What Kind of Fill Should I Get?
When it comes to picking a bed pillow, there's a lot to consider. Do you sleep on your stomach or your side? Is a foam pillow better than a down pillow? What's a good pillow for a king-sized bed? If you're feeling overwhelmed, don't worry, we're here to help.
It's important to figure out what kind of fill you want. A down pillow, for example, is really squishy, so it's a great cushion for your head. In addition to being fluffy, they're also hypo-allergenic. A foam pillow, on the other hand, is firmer and will keep its shape even when you shift in your sleep. If you want something in the middle (not too soft, not too firm), we'd recommend a pillow with a polyester fill.
Does Sleep Positions Matter?
When it comes to comfort, your go-to sleeping position matters quite a bit. Do you sleep on your stomach or side? Whether you count yourself amongst the legion of side sleepers or a snooze as a stomach sleeper, we'd recommend a thicker pillow that'll support and comfort your neck. If you tend to sleep on your back, you should go for a flat, thinner pillow. If you're not sure which pillow does what, most quality pillows will have information on how to use them and get the best support.
When Should I Replace my Pillow?
Pillows aren't designed to last forever. That's just the sad truth of it. But how do you know when it's time to replace it? If you fold your pillow in half and it doesn't spring back to its original shape, then it's time to toss it. You should also keep an eye out for sagging or lumps.
---
Other Pillows We Tested
More articles you might enjoy
Advertisement - Continue Reading Below