The Best Men's Disposable Razors of 2019
By Michael Desjardin, June 29, 2018, Updated March 25, 2019
Shaving your face can be a treacherous endeavor, particularly if you shave with relative frequency or you've been cursed with sensitive skin—like myself. But as taxing as shaving can be for your skin, it's even more taxing for your wallet. The costs of decent, disposable blades—as you surely know by now—add up quickly.
The solution, therefore, is to find a disposable razor that performs reliably for the most sensible price. Unfortunately, this is easier said than done.
Shaving is a very personal experience; what works for some is a nightmare waiting to happen for others. I've had people tell me they don't use shaving cream or oil when taking a blade to their face and neck, for instance, but if I were to attempt the same, my skin would absolutely revolt—it'd be nothing but razor burn for days.
If you take your shaving a bit more seriously, there's a good chance you've graduated from disposables and currently swear by safety razors. If this method works for you, it's probably best you stick with it, since safety razors are far more cost effective than disposable blades. Plus, why mess with a successful ritual?
But if you're still on board the disposable razor train and you're looking to buy better, maybe even cheaper blades, consider this round-up a jumping off point.
Of all the blades we tried, the Gillette Mach3 Turbo (available at Amazon for $8.97) proved to be the overall best when you factor in the cost per blade. It may not stand toe-to-toe with the 5-blade heavyweights that hang from the shelf above it, but the Mach 3 Turbo's three blades provide a close, comfortable shave with minimal irritation—all for significantly less than its closest competitors. In other words, it might not be the best at what it does, but given its price tag, the tradeoffs are minimal.
Updated March 25, 2019
Advertisement - Continue Reading Below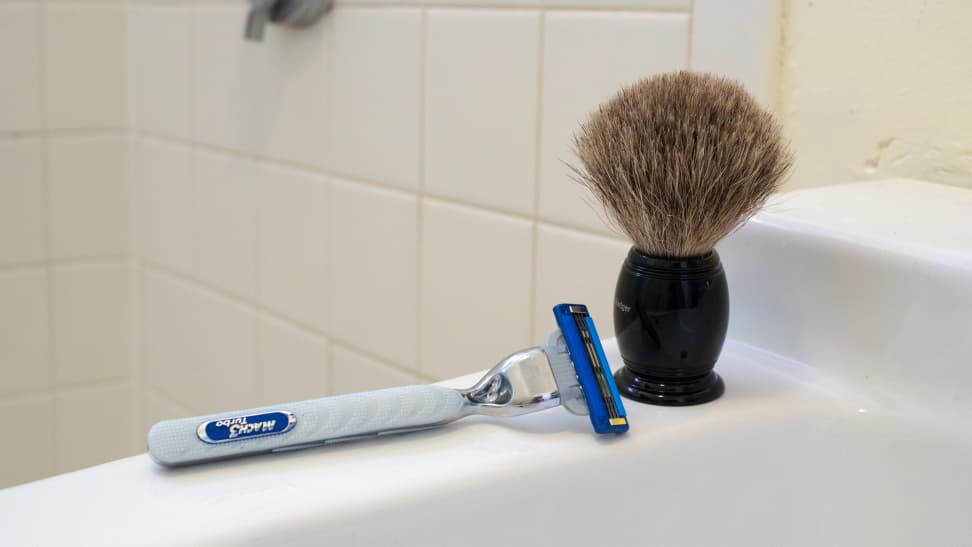 How We Tested
My name's Michael, and I'm a senior staff writer here at Reviewed. I'm also a shaver! Even though I shave my face on a regular basis, I still needed to borrow my coworkers' faces for this round-up. (I didn't, however, shave them personally.)
After spending some time with each blade, each tester (myself included) filled out a survey detailing the blade's performance in a number of areas, including the closeness of the shave, the blade's contouring ability, ease of use, blade handle ergonomics, and whether or not the blade was easy to clean.
The price of the blades was also factored into the overall evaluation, of course. Disposable blades are notoriously expensive—particularly those with sustained brand recognition. It's also important to note that we gravitated towards these popular brands purposefully, particularly disposables with multiple blades. The truth is, brands like Gillette and Schick are as prolific as they are in part because they've gotten very good at producing cheap, relatively sophisticated products designed to be replaced indefinitely. The multi-blade models, too, offer a demonstrably closer shave than lower-end, single-blade disposables, in our opinion.
If you prefer the ultra-cheap, no-fuss, single-blade experience, by all means, don't let us talk you out of it!
---
Other Disposable Blades We Tested
Advertisement - Continue Reading Below