Home & Garden
Polywood Lakeside Farmhouse Dining Set Review
This outdoor dining set is perfect for eating al fresco all year round
Credit: Reviewed / Polywood
Polywood Lakeside Dining Set

Pros

Durable

Easy to clean

Seats six
Outdoor dining is a privilege of warm weather and brings with it the relaxing sounds of nature, good conversation, and the ease of not needing to clean up your kitchen after a meal. For many, outdoor dining spaces become an extension of their indoor living space, but furnishing it with the right outdoor dining set can make the difference between an easy, enjoyable meal, or a frustrating hassle.
Seeking durable, stylish, and sustainable furniture, I decided to purchase the wildly popular Lakeside Farmhouse Dining Set for my own family. I'm already a big fan of Polywood's Adirondack chairs, so I knew I had to give the dining set a whirl.
I've been using the Polywood Lakeside Farmhouse Dining Set for several weeks now—here's what I think.
What is Polywood?
For over thirty years, Polywood has been making sustainable, durable, outdoor furniture in the U.S. by recycling materials like landfill and ocean plastic containers. Polywood furniture is crafted to withstand all four seasons plus extreme weather conditions such as blizzards, strong winds, hot sun, and even ocean salt spray.
About Polywood's Lakeside Farmhouse Dining Set
Designed with rustic charm and a classic touch, 7-piece Polywood's Lakeside Farmhouse Dining set for six is large enough for big families but fits comfortably within a variety of outdoor spaces. It comes with one 72-inch dining table, two Lakeside dining arm chairs, and four Lakeside dining side chairs.
Crafted from Polywood's exclusive lumber, the slatted design and farmhouse inspired legs set the stage for a cozy feeling even in the great outdoors. The set comes in several different colors and is made with marine-grade quality hardware in the U.S.
Sign up for our newsletter.
Get the best deals and the best advice dropped right in your inbox.
How to assemble the Polywood Lakeside Dining Set
From the minute the set was delivered, I began to panic. I figured that it would be delivered in large boxes, but seeing it in real life, wrapped to a wooden pallet, with stickers that said "heavy" plastered to the side, was a whole new reality.
However, I wish I had opened the boxes before my husband and I lugged them to the backyard and braced ourselves for hours of work, because half the reason the boxes were so large is that the chairs are already assembled with the exception of needing to add the arms onto the arm chairs. A pleasant surprise, from start to finish the entire assembly process only took my husband and I an hour-and-a-half; although full disclosure if we didn't have an extremely "helpful" 4-year-old, it likely would have gone even faster.
The directions were easy to read, the assembly didn't require too much effort or skill, and we were both still in a good mood when finished (Ikea furniture, I'm looking at you).
What we like
Durably made outdoor furniture that's kid-friendly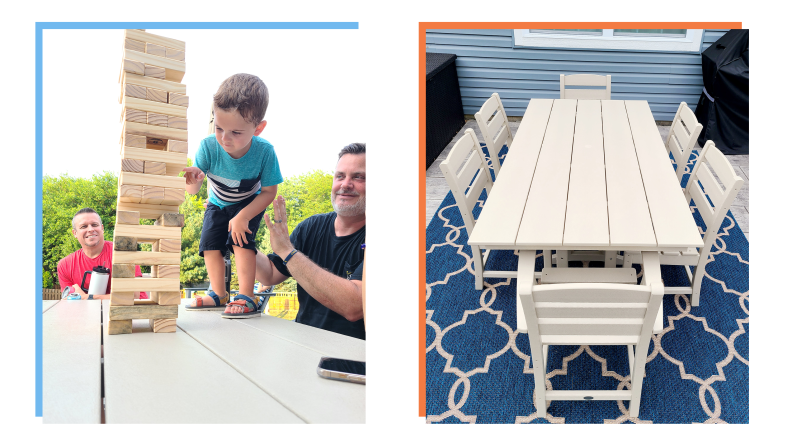 Durable is an understatement for this table, as this dining set feels almost indestructible. Surviving several nasty summer storms, a rowdy game of table Jenga (those oversized blocks are not light in weight and don't tend to fall gently), and daily use from our family of five, I can't find a scratch, ding, or dent on it.
My children have thrown toys at it, dumped sand on it, and routinely climbed all over it as if they forgot we had a swing set, and yet it still looks fresh out of the box.
Considering that it's made from the same Polywood lumber as my other Polywood furniture, I feel confident that it will also withstand the test of time and all four seasons, without even needing to deal with the hassle of a furniture cover.
It's easy to clean
From the chaos that my children reigned down upon it in the form of spilled snacks, melted popsicles, messy art projects, and muddy little handprints, plus the dust, dirt, and bird poop that come along with being outside, I was surprised and pleased with how easy the dining set was to clean.
Requiring just water or depending on the mess, a cloth and some soapy water, I found myself letting go of the anxiety that comes with watching kids or guests make a mess, and instead simply hosed the table and chairs off when needed.
What we don't like
The shipping took a while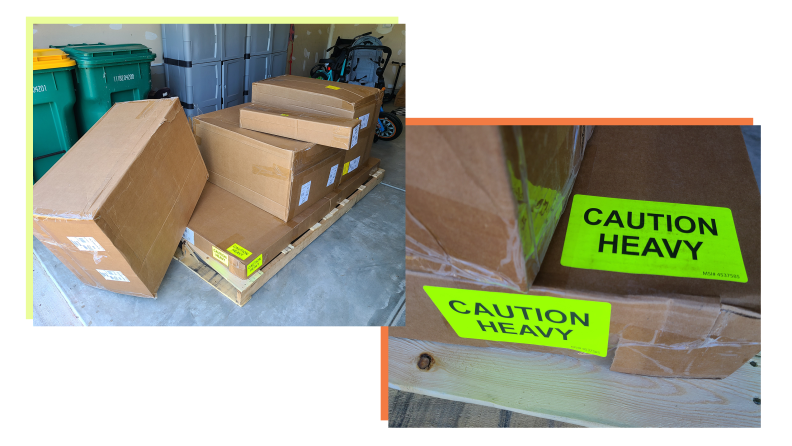 Because Polywood is built-to-order, when the summer months hit the shipping time for the Lakeside Farmhouse Dining Set can be several weeks long, which is a bummer when you're excited to furnish your outdoor space and have grown accustomed to an overnight Amazon delivery world. By planning ahead and ordering in the off season you may be able to avoid the wait, but if you plan to place an order in the summer, a bit of patience might be required.
It's heavy
A double-edged sword, I wouldn't call this a dislike, however I would give consideration to the fact that the set is extremely heavy. Part of the reason that I love Polywood furniture and the Lakeside Farmhouse Dining Set in particular, is the quality of their product, which in this case includes a heavy table. Because of my bad back, it was a struggle for my husband and I to move the tabletop from our driveway to our backyard.
If you have a mobility limitation, live alone, or any other factors that would inhibit you from moving a very heavy object, then you might want to consider Polywood's free white glove service available with the purchase of items from the Polywood Designer Series line, including the dining set. Polywood's white glove service includes delivery, assembly in the location of your choice, and removal of packaging.
Warranty
Backed by one of the most extensive warranties on the market, Polywood guarantees that for twenty years, your Lakeside Farmhouse Dining Set will not "splinter, crack, chip, peel, or rot, or suffer structural damage from insect infestation" when used in a residential setting (or three years for commercial use). Should any of the pieces in your dining set suffer from any of those issues, Polywood will repair or replace it for free.
Should you buy the Polywood Lakeside Farmhouse Dining Set?
Yes, this is a great outdoor dining set.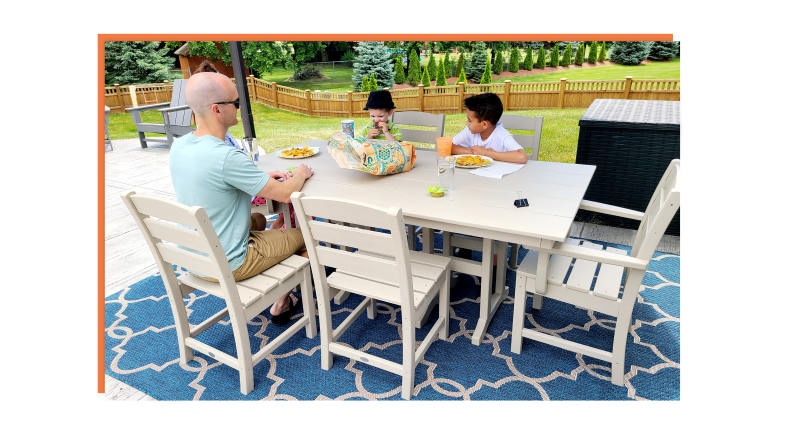 If you are seeking a high quality, durability backed by a warranty, and a sustainable product that is good for our earth, then the Polywood Lakeside Farmhouse Dining Set is made for you. Designed to withstand whatever your family or planet Earth throws at it (including my own), this set proved to live up to its promise and in turn, made life easier.
If you want instant satisfaction, then a Polywood table might not be for you due to a possibly lengthy ship time; order ahead and check out the "quick ship" options.
The product experts at Reviewed have all your shopping needs covered. Follow Reviewed on Facebook, Twitter, Instagram, TikTok, or Flipboard for the latest deals, product reviews, and more.
Prices were accurate at the time this article was published but may change over time.
Polywood Lakeside Dining Set

Pros

Durable

Easy to clean

Seats six