Home & Garden
10 affordable storage bins that will make your home look like Pottery Barn
No one will know it's NOT Pottery Barn!
Credit: MyGift / Home Depot
Ah, Pottery Barn. We love to linger over the pages of their catalogs, imagining those leather club chairs and embroidered throw pillows magically leaping into our living rooms. It's become a cultural phenomenon (we all remember the Apothecary Table incident from Friends, circa 2000) and a look many of us strive to emulate.
And then reality sets in. Yes, many of us have those furtive scores discovered on the Sale section of the website, but otherwise, there are plenty of dazzling furniture pieces that may require us to take out a second mortgage. Since that probably isn't the best life choice, how about cruising mainstream retailers for bargain Pottery Barn-esque finds instead?
Pottery Barn particularly excels at storage—the seagrass belly baskets and vintage-inspired wooden bowls are the opposite of the plastic bins that tend to be the not-as-pretty household standard. Yet, these chic storage solutions are just as practical as their plastic counterparts, standing at the ready to hold towels, blankets, wine glasses, mail, and whatever else you want to keep out of sight.
We combed through top retailers to find double-take, "Is that from Pottery Barn?" items that fit into more conservative budgets. Get ready to nab major PB style at majorly appealing prices.
1. A dough bowl with that Pottery Barn-meets-fixer-upper look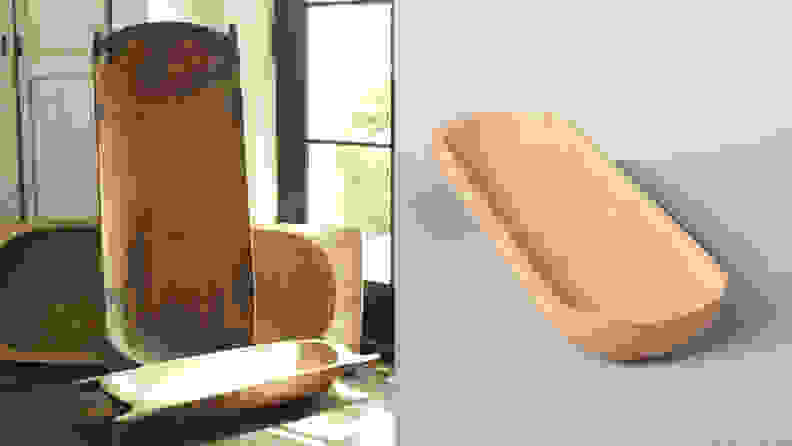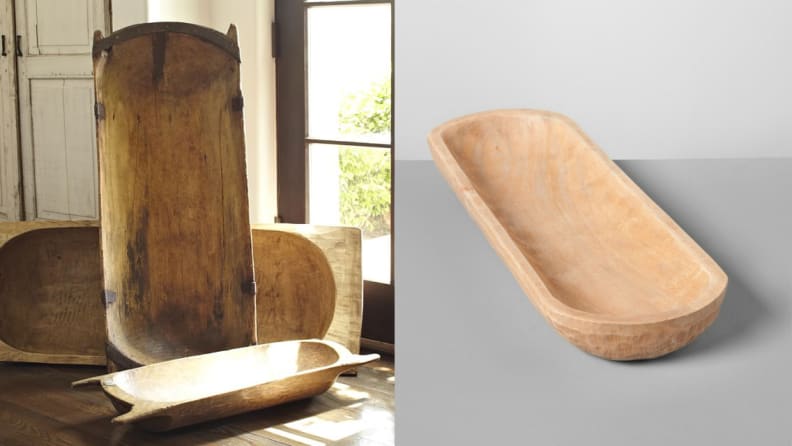 Dough bowls, once used for—you guessed it, dough—nowadays serve as spots to stash magazines, blankets, pillows, plants, knick knacks, and more. The Pottery Barn versions may be vintage ($199-$249), but this Hearth & Hand™ bowl from Target (designed by none other than Joanna Gaines) is available at a smidgen of the price and looks just as unique.
Get the Carved Wood Decorative Bowl - Hearth & Hand™ with Magnolia from Target for $24.99
2. A pair of seagrass baskets for a relaxed vibe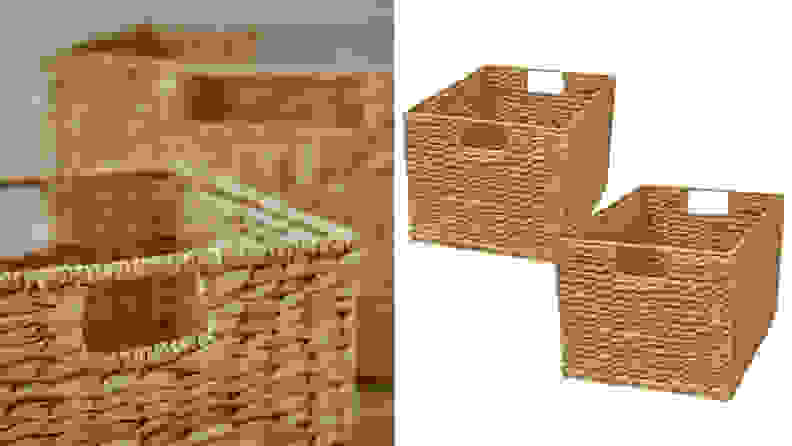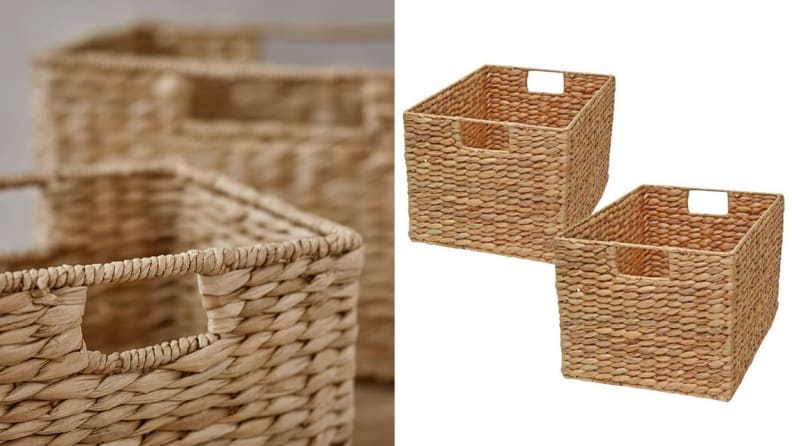 When Pottery Barn takes on beach decor, they do it flawlessly. They've been carrying these iconic seagrass baskets ($24.50-$39) for years, and now you can purchase eerily similar seagrass baskets from Amazon. You'll literally get two baskets for the price of one PB basket.
Get the Yankee Trader Hand-Woven Storage Baskets (Set of 2) on Amazon for $38
3. Fabric bins that fit with virtually any decor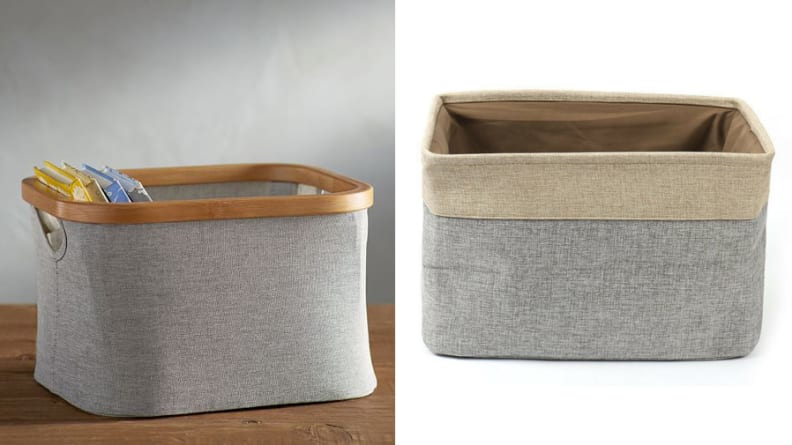 Collapsible fabric bins are a brilliant invention. If you don't need it, you can just fold it up and store it until you do. Pottery Barn's Camryn Small Basket ($19.50) has a bamboo edge to give it a sleek appearance, but sometimes, especially when you're putting away toys and toiletries, you need a durable material that can get a little dirty. This fabric storage basket with a comparable appearance will stand up to spills and you'll save a few bucks.
Get the Collapsible Fabric Storage Basket on Amazon for $13.56
4. A vintage-style wire basket ideal for small items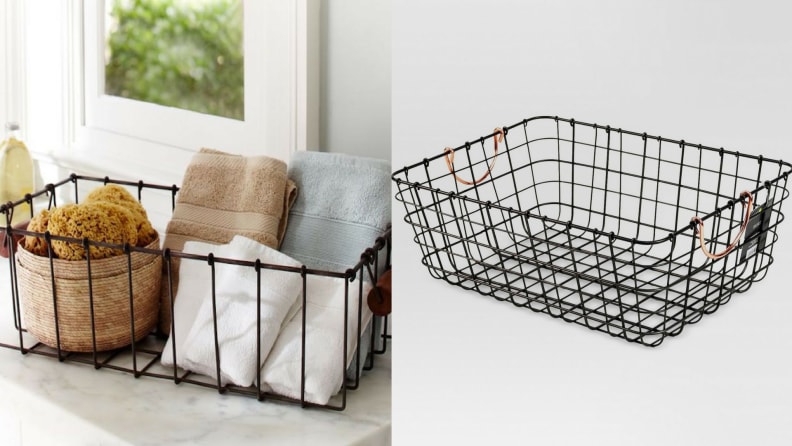 A wire basket is one of those items that looks like you found a hidden gem at a flea market and upcycled it. But in this case, you paid a little bit more for it at Target, but much less than you would have paid at PB. Pottery Barn's wire basket ($69) achieves that appearance of vintage-but-it's-not, and so does this significantly lower-priced version from Target.
Get the Antique Pewter Decorative Wire Basket from Target for $17.99
5. A ladder shelf for all your woven baskets
If you're searching for a useful shelf with a bit of visual interest, look no further than the ladder shelf. No, you're not supposed to climb on it, but it will be the perfect place for those seagrass baskets holding oh-so organized items. The Pottery Barn shelf comes with its own baskets ($279), but you can always use baskets you already have (or buy the ones we mentioned earlier) and purchase this Room Essentials™ ladder shelf from Target for a fourth the price.
Get the Trestle 5-Shelf Bookcase from Target for $69.99
6. A pair of galvanized storage bins for a farmhouse feel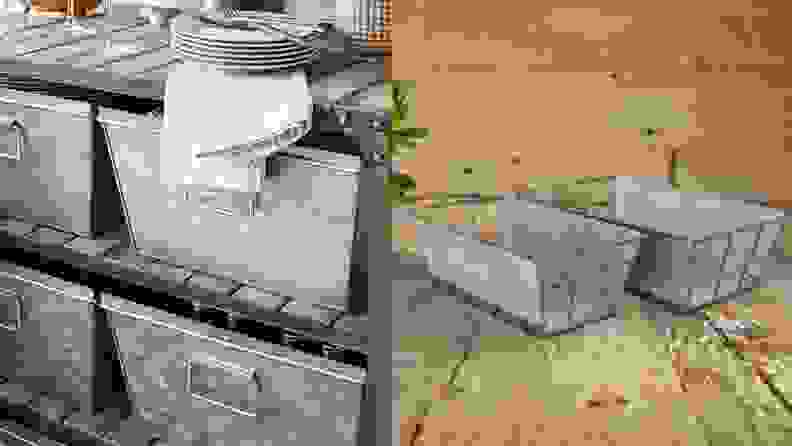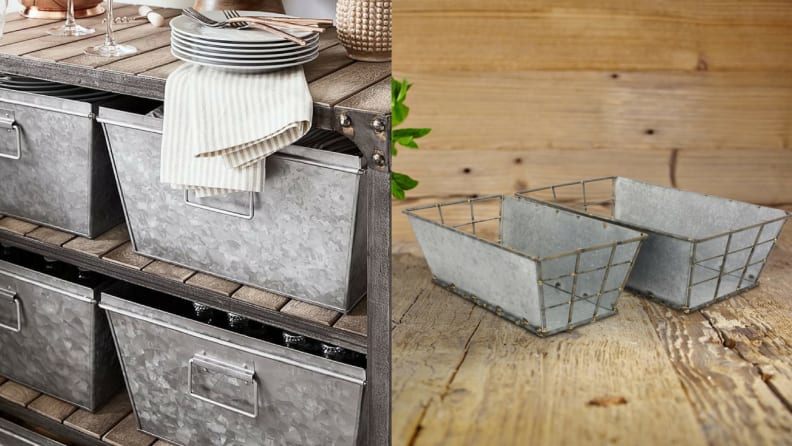 Who knew that galvanized metal, once a staple of factories and hardware stores, would one day become a trend? Pottery Barn knew, which is why they carry several items in this material. A single Galvanized Nesting Bin from Pottery Barn will run you $49.50, but you can get two galvanized baskets from Target for just $36 to achieve this look for less.
Get the Antique Galvanized Rectangle Metal Basket 2-Piece Set from Target for $35.99
7. A cute, stylish container to hold dog food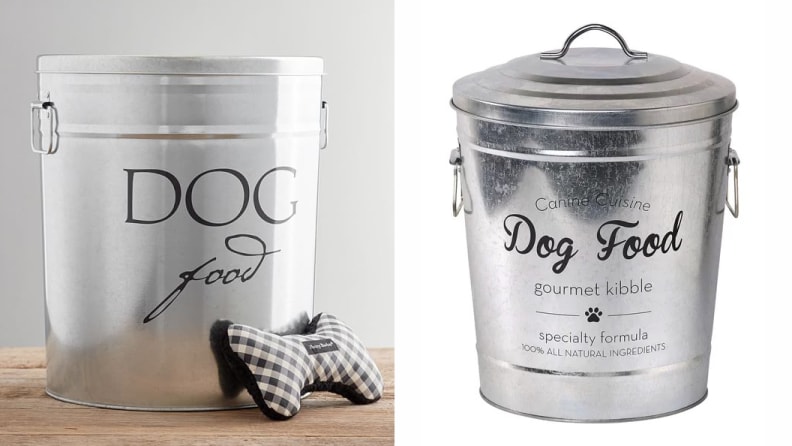 Throw away that crinkled-up dog food bag and store your pooch's kibble in something that's decor-friendly. The Pottery Barn Harry Barker Galvanized Storage Bin ($56-$66) is certainly charming, and you can find one that's equally delightful from Wayfair for half as much.
Get the Rocky Canine Cuisine Pet Treat Jar from Wayfair for $28.99
8. A rustic organizer to tidy up desk essentials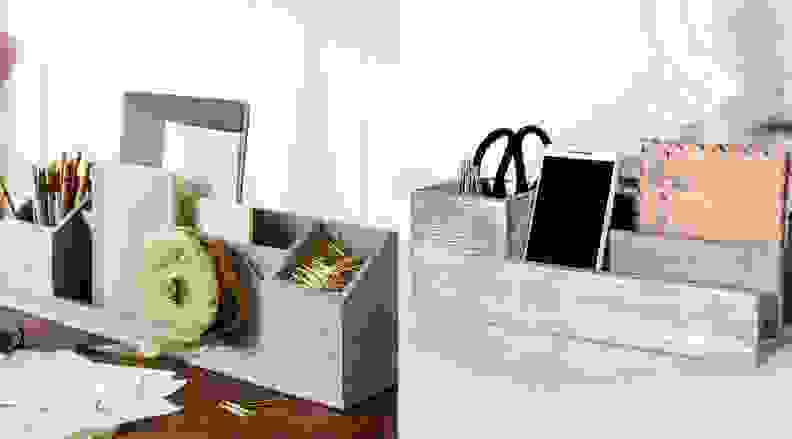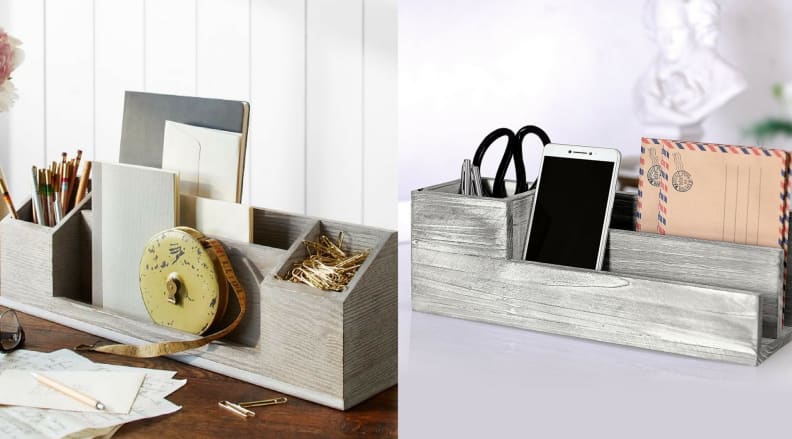 Desk organization can be a messy business. There always seems to be a mess of paper clips and random pieces of mail and pencils and push pins and who knows what else. Tame the clutter with this rustic, well-worn caddy for $23.99, a kindred spirit of the ($79) Pottery Barn version.
Get the Rustic Whitewashed Gray Wood Desktop Office Supplies Caddy on Amazon for $23.99
9. A silver cart for all your kitchen necessities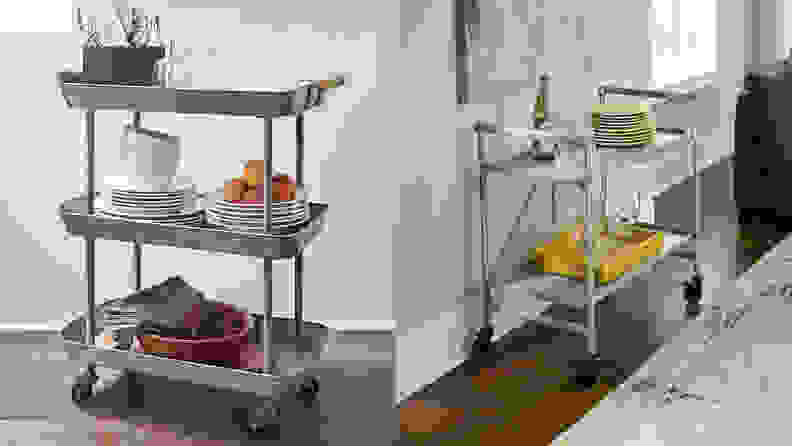 Whether you choose to use it as a traditional bar cart or a small-space storage solution for your kitchen, a cart can solve your organization woes. The galvanized storage cart from Pottery Barn ($99) is a covetable item, but you can get this still-stylish one from Home Depot for nearly half as much. Plus, it folds up for easy-peasy storage.
Get the Smartfold Silver Serving Cart from Home Depot for $52.16
10. An elegant glass jewelry box to show off your baubles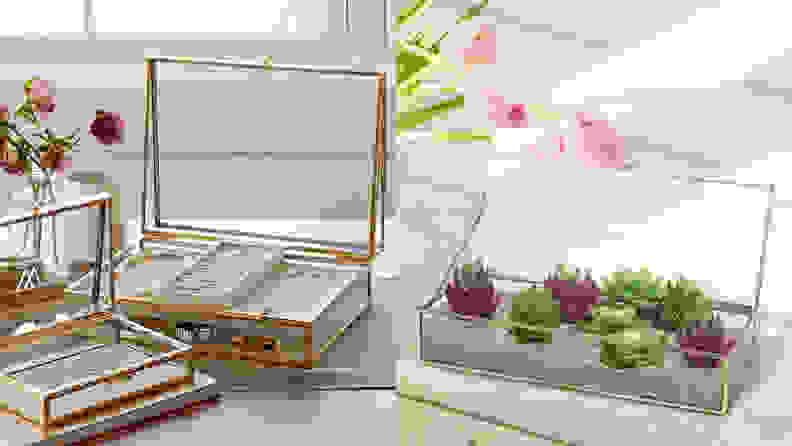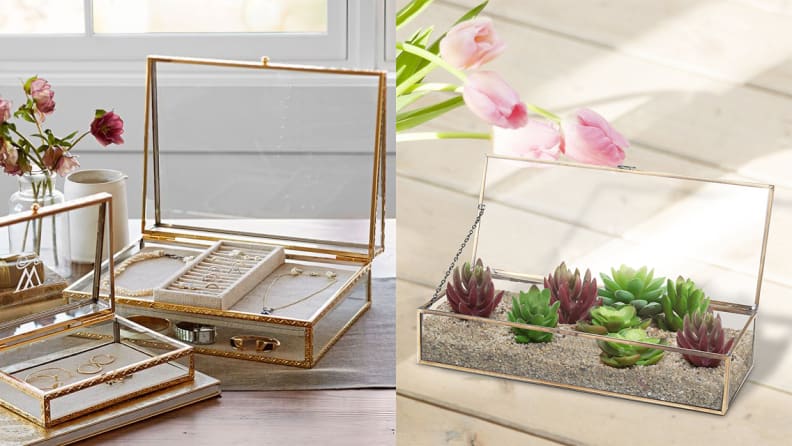 There's something so classy about how our grandmothers displayed their jewelry in beautiful glass jewelry boxes. You can mimic that same look with an Antique Gold Jewelry Box from Pottery Barn ($79-$129). Or you can get a gorgeous, on-budget glass jewelry box from Amazon that will leave you with enough left over to buy something to stash in your new box.
Get the Vintage Style Brass Metal & Clear Glass Jewelry Display Case on Amazon for $29.99
Prices are accurate at the time of publication, but may change over time.