Home & Garden
10 things you'll want from Ikea's new 2019 catalog
You'll be obsessed with these finds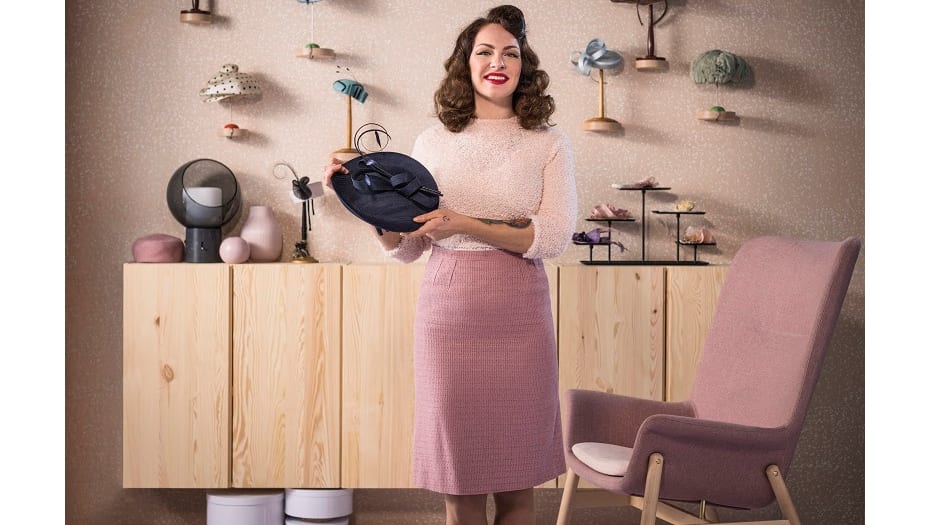 Credit:
The 2019 Ikea catalog has finally dropped, and the Swedish retailer has outdone itself for its 75th anniversary. Of course, the stores haven't been in America for that long, but the newest catalog reflects Ikea's reputation for affordability and creativity.
What's new? The seven homes Ikea designed to showcase their minimalist Scandinavian style. Even if you don't live like the people pictured in the catalog, it's easy to fall in love with the new merch. It's all about personalizing—and organizing—your space.
If you think of Ikea in its 90s incarnation—all that bland white and pale gray stuff—you will embrace this year's amazing color palette. Items in calm, dusty pinks, rich, dark blues, and occasional pops of neon all find a place in the new catalog. Ikea shows them on the products, yes, but on the walls of the rooms, too. Ikea has also taken a new look at a few of its classics, updating them for the ways we live now.
Here are 10 favorites from the 2019 catalog:
1. A yummy Vedbo armchair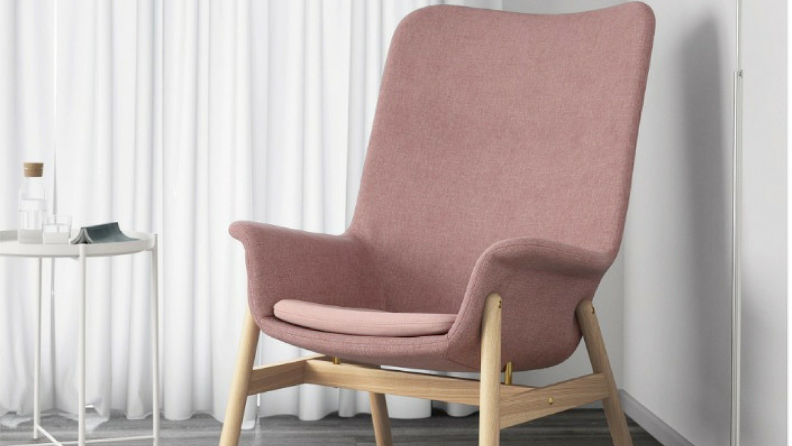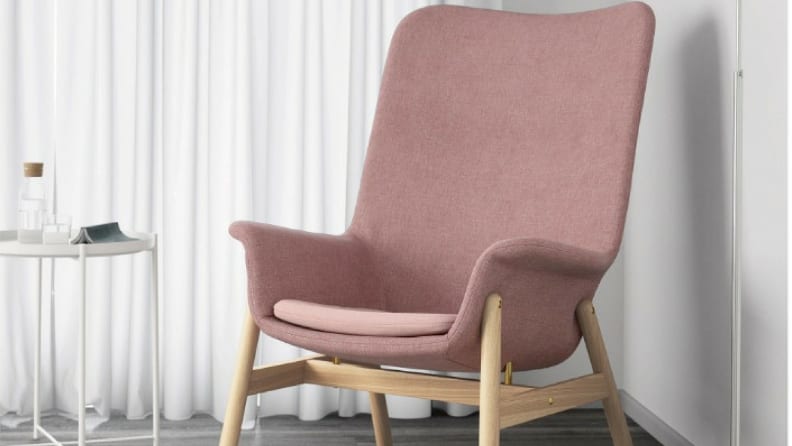 Nicely scaled and yummy in hue, this chair fits well in a bedroom or living space. We wouldn't mind an entire wardrobe in this color, which Ikea is calling light brown-pink.
Buy the Vedbo armchair for $299
2. The versatile Raskog cart
Yes, it works as a cute bar cart, but the Raskog utility cart is, at heart, a roomy catchall. If you use it for makeup and personal grooming products, you will think of it as an effortless bathroom expansion.
Get the Raskog cart for $29.99
3. A pair of pale pink Hannalill curtains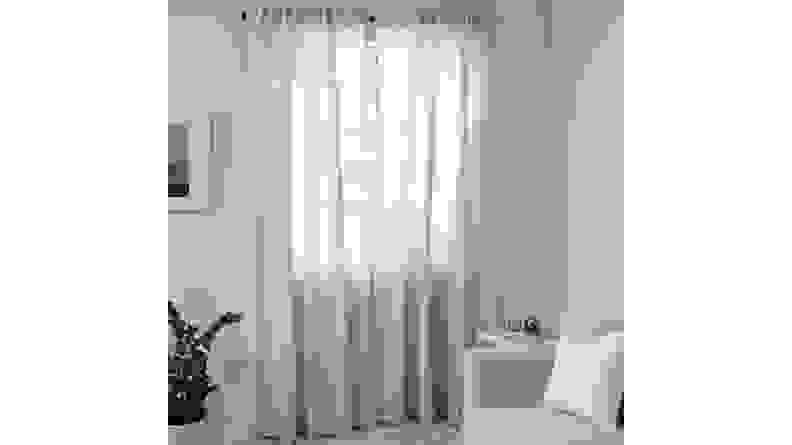 Maybe it's the warm neutral color that makes them so pretty, but Hannalill window treatments also add privacy and soften the look of any window. If you paint your walls the same color, you'll have captured Ikea's current aesthetic.
Get the Hanalill curtains for $24.99
4. The Bjorksnas 5-drawer chest with leather pulls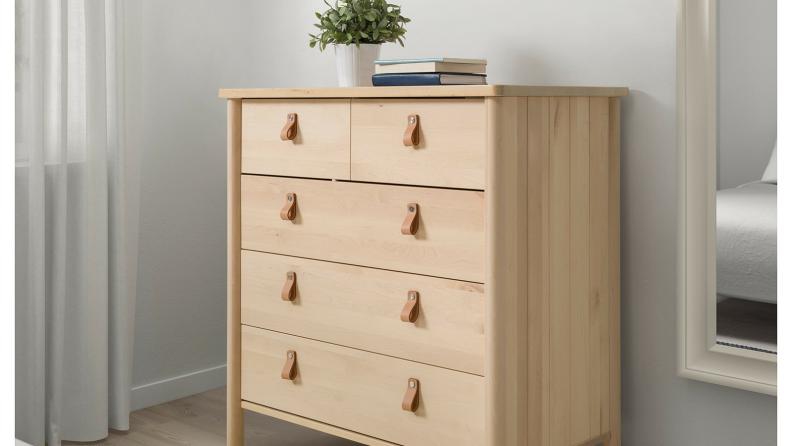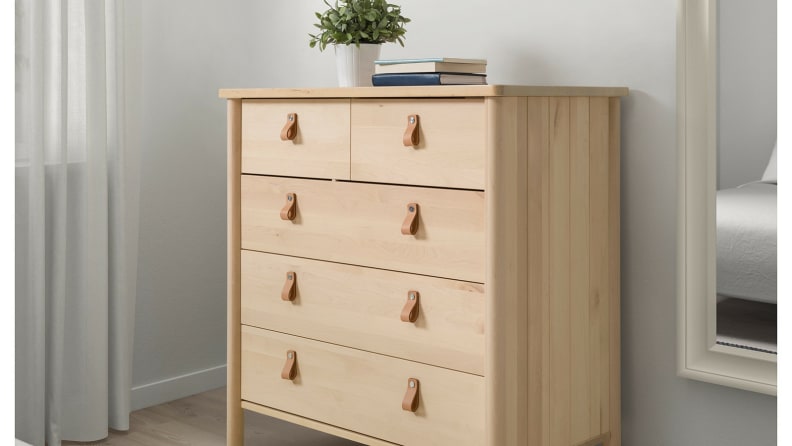 It's not a hack—this chest already comes complete with leather handles. So adorable, and so functional. Don't think you have to limit this piece to the bedroom, either. It's so nicely proportioned that we can see it having pride of place in your foyer, supporting a lamp. Fill the drawers with hats and gloves, and you'll be all set for next winter.
Get the Bjorksnas 5-drawer chest for $249
5. A floaty Tovsippa duvet cover and pillowcases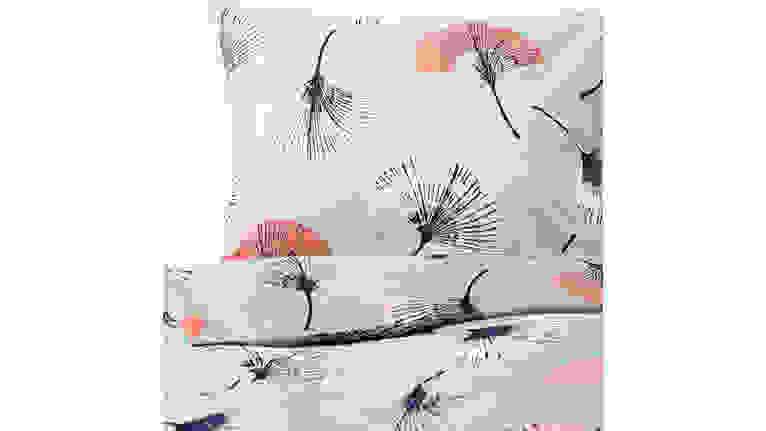 We are in love with Ikea's 2019 floral interpretations, and they're sprinkled throughout the new catalog on a variety of products. The Tovsippa bedding looks very fresh and floaty, especially on a mint green background.
Get the Tovsippa duvet cover and pillowcases in Full/Queen size for $29.99
6. The portable Burvik side table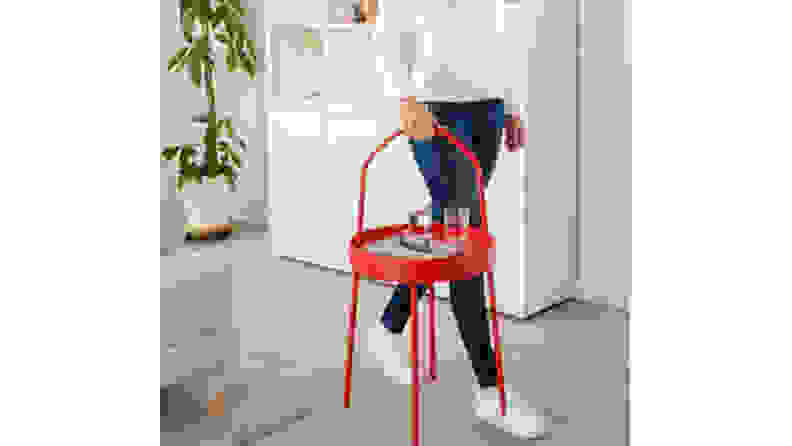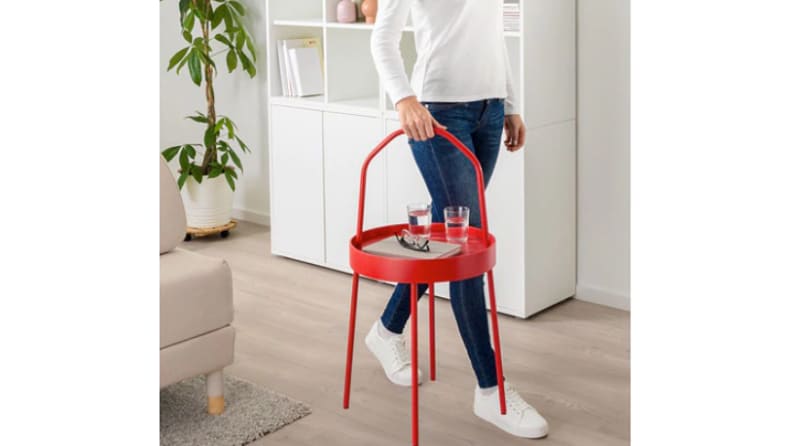 This useful little side table is the ultimate in conveniece—just pick up Burvik by the handle and move it wherever you need it.
Get the Burvik side table for $49.99
7. Colorful cushion covers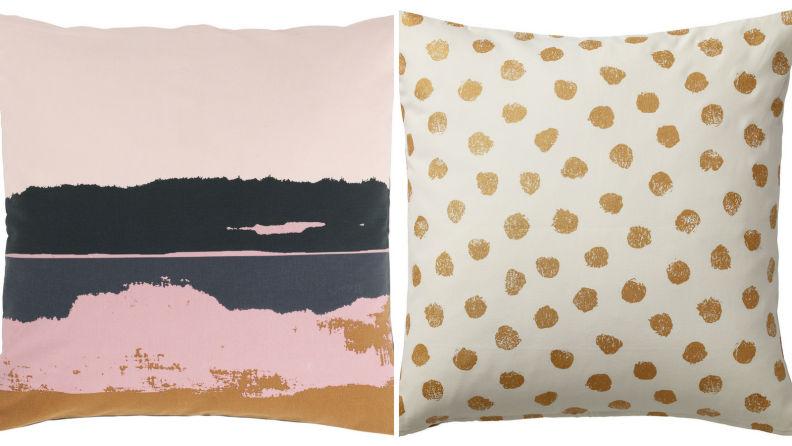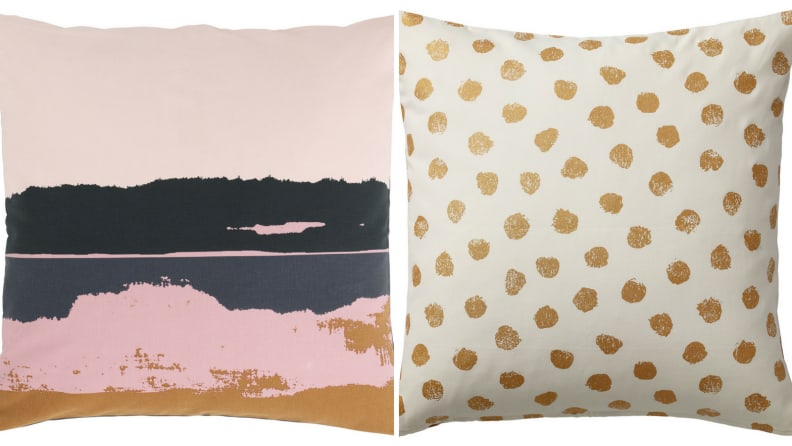 If you buy nothing else from the 2019 catalog, grab a few of these inexpensive little game changers. We promise that new cushion covers will update the look of your living room. The pink, gray, and gold Eldtorel and gold dotted Skaggort patterns caught our eyes right away.
8. Useful Svalnas wall-mounted storage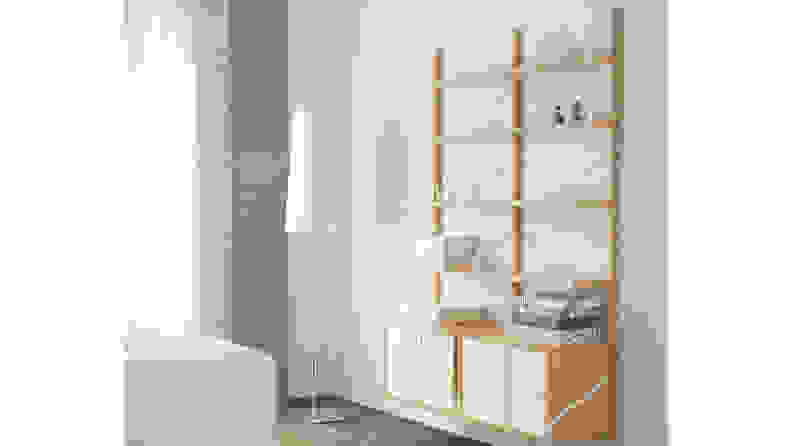 "I have too much storage," said nobody ever. If you're short on floor space, buy Svalnas shelves that hang on the wall, and all of a sudden, the room looks larger and better organized.
Get the Svalnas wall-mounted storage for $111
9. A new look for Poang chair cushions
The famous Poang chairs have been around for 40 years. We even have a few of them in the Reviewed office. But Ikea's most comfortable seats have never looked like this before. If you are one of the millions who have this chair, give it a new life with multicolored cushions.
Get the Poang chair accessories for $99
10. The shining gold Insjon kitchen faucet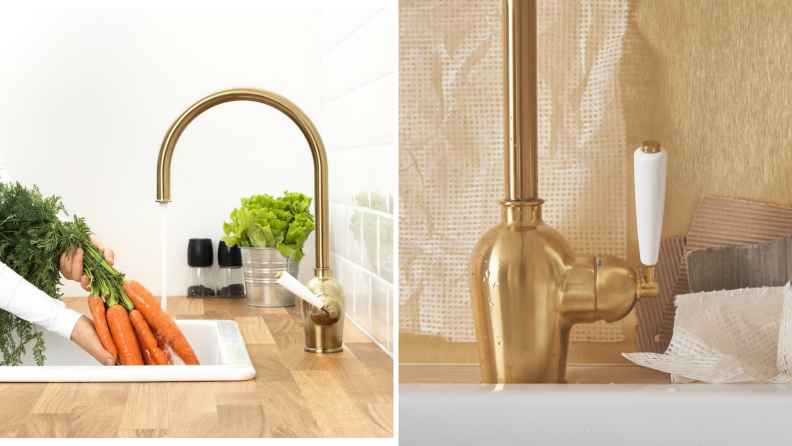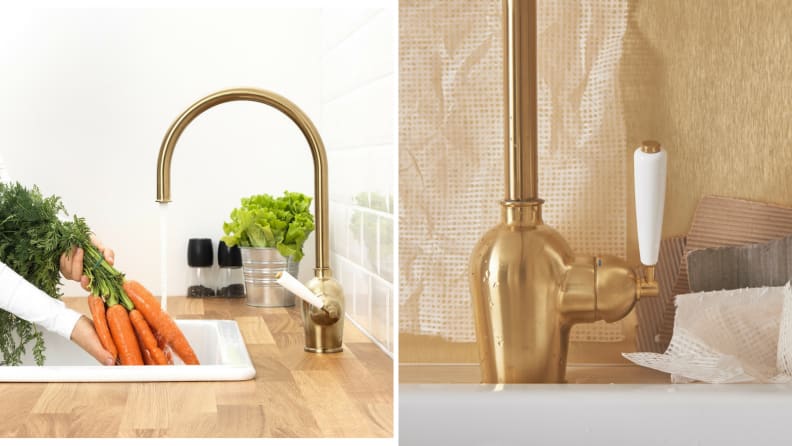 If you can't fund a major kitchen reno, just buy Ikea's golden gooseneck Insjon faucet. The contrasting white porcelain handle makes it look high end. You can fill a pasta pot from the tall spout, and take advantage of its height to rinse vegetables. The faucet is efficient, too, reducing flow without cutting off water pressure.
Get the Insjon kitchen faucet for $149
Products from the new catalog are showing up in Ikea stores, and will likely appear on Amazon. And, if you've always hesitated to buy from Ikea because you can't even imagine putting together furniture from flat packs, Ikea now offers assembly by their partner TaskRabbit. That may be the best update of all.