Home & Garden
10 things you can buy this October that will benefit breast cancer research
Join the fight this October for Breast Cancer Awareness Month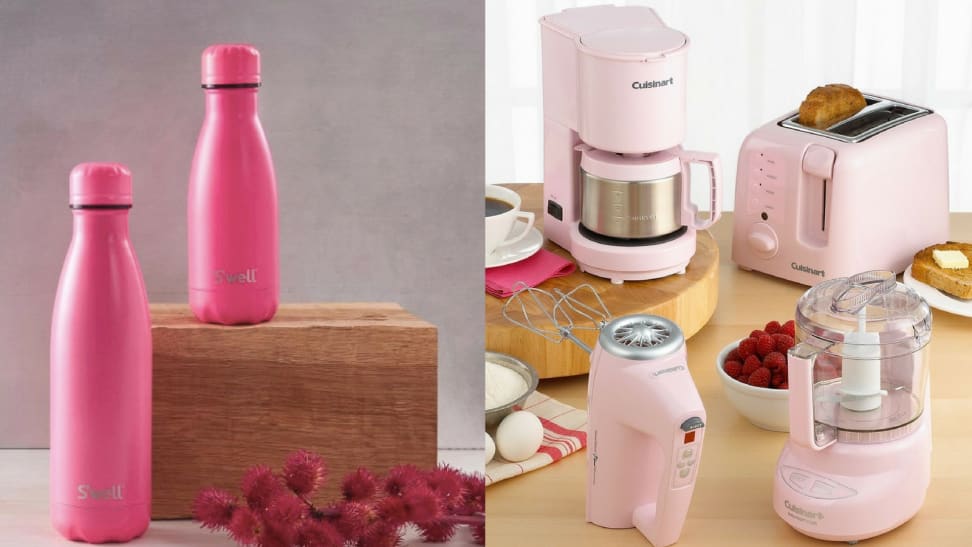 Credit: S'well / Cuisinart
In the United States, 1 in every 8 women will be diagnosed with breast cancer in her lifetime, reports breastcancer.org. The fight to end this horrible disease, which will newly affect an estimated 255,180 men and women this year, is far from over—but strides to raise awareness and funds for research and treatment are increasing.
October is a month in which Breast Cancer awareness and fundraising are at the forefront of the nation's attention. Many foundations, organizations, companies, and even sports teams will contribute to the national discussion and charity efforts this month. October's favorite color is pink, and it should be one of yours too—until a cure is found.
It can be easy to fall into the pinkwashing trap, and many are put off by the marketing tactics companies use in order to raise awareness. However, there are ways to make a positive contribution. To help, we rounded up some of the best pink products that benefit the Breast Cancer Research Foundation. As one of the top charity organizations, they spend 91 cents of every dollar on breast cancer research and prevention.
Here are 10 products recommended by our experts that help the fight against breast cancer—and look adorable, too.
Editor's Note: Reviewed.com does not earn any revenue from the links posted in this article.
1. This popular insulated water bottle you've definitely seen everywhere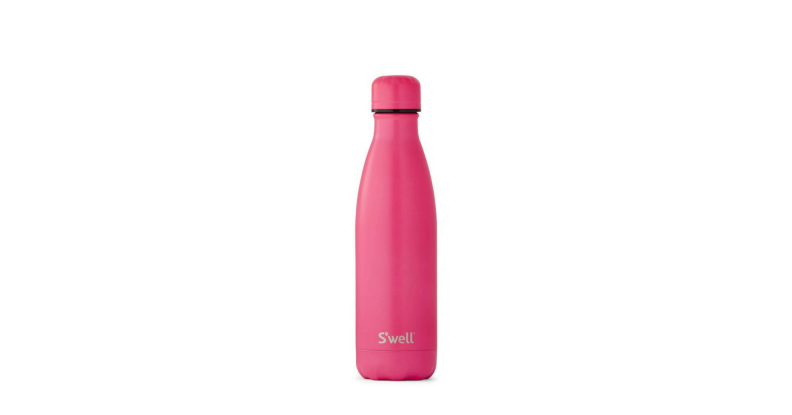 S'well water bottles are some of the most popular bottles you can buy—and if you are looking to jump on this trend, then now is definitely the time to do so. With each purchase of this Bikini Pink S'well water bottle, 20% will be donated to BCRF. There are different sizes available on the site's shop too, including a 9-ounce and a 25-ounce bottle in addition to this 17-ounce one.
Price: $35 on Amazon
Company: S'well
Donation: 20% of the purchase price
Buy this 'Bikini Pink' S'well 17 Ounce Water Bottle here
2. This power-pink drill
This lightweight, cordless power drill is perfect for tackling projects both large and small. When you purchase this drill, you also receive a 30 piece drill bit set, and according to Amazon reviews you receive a battery charger as well. The $2 donation per every purchase is certainly a perk as well.
Price: $55 on Amazon
Company: Apollo Tools
Donation: $2 per purchase
Buy the pink Apollo Tools Cordless Drill here
3. This top-rated handheld blender
Cuisinart donates a total of $32,500 to the Breast Cancer Research Foundation regardless of how many sales they make on their millennial-pink products. With a 4-star rating from over 5,000 Amazon reviews, this lovely-looking immersion blender will make a great addition to your kitchen appliance arsenal.
Price: $35 on Amazon
Company: Cuisinart
Donation: $32,500 annually, regardless of sales
Buy the pink Cuisinart Handheld Blender here
4. This comfortable top-rated travel pillow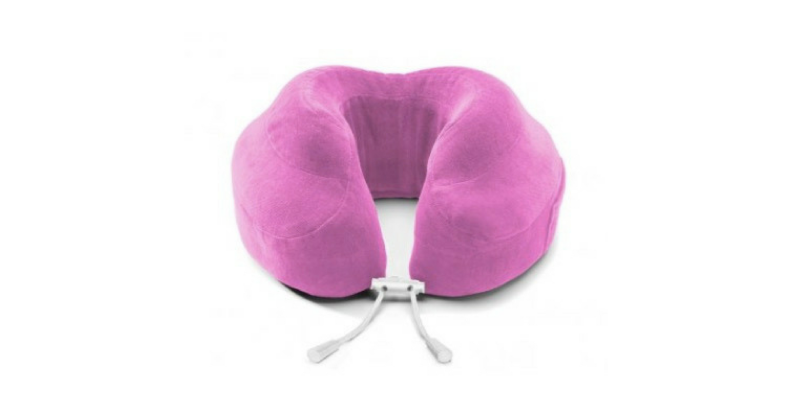 If you are anything like me, you find yourself shifting and twisting on long flights, desperate to find the comfort sweet spot. Resting your head can prove especially difficult, especially when you sit diagonally to stretch your legs. Instead of cramming your head between seats or the wall, wear this memory foam pillow around your neck—with a 4.5-star rating on Amazon with over 2,000 reviews, this pillow should definitely be your new travel buddy.
Price: $45 on Amazon
Company: Cabaeu
Donation: 5% of the purchase price
Buy this pink Cabaeu Travel Pillow here
5. This chic, compact blender
This powder pink blender perfectly matches its handheld counterpart (see #2) and works well in smaller kitchens with limited countertop space. Cuisinart's blender has a 4.3-star rating on Google with over 600 reviews—and according to multiple reviewers, it is perfect for making frozen margaritas. If you are looking for a basic blender in a fun color that doesn't have all the bells and whistles, Voila!
Price: $80 on Amazon
Company: Cuisinart
Donation: $32,500 annually, regardless of sales
Buy the pink Cuisinart Velocity Blender here
6. This tool kit that has everything you'll need
Apollo Tools is donating $0.50 of every purchase of this top-rated tool kit, which has garnered over 900 reviews on Amazon with a 4.5-star rating. This toolkit comes with a lifetime warranty, and includes all the pieces necessary for a robust, starter tool kit. One customer wrote, "Definitely a good value. The fact that a donation is made to breast cancer research was also a huge factor in my purchase decision." We would have to agree.
Price: $26 on Amazon
Company: Apollo Tools
Donation: $0.50 per purchase
Buy this pink 39-piece tool set here
7. This all-time favorite mini food processor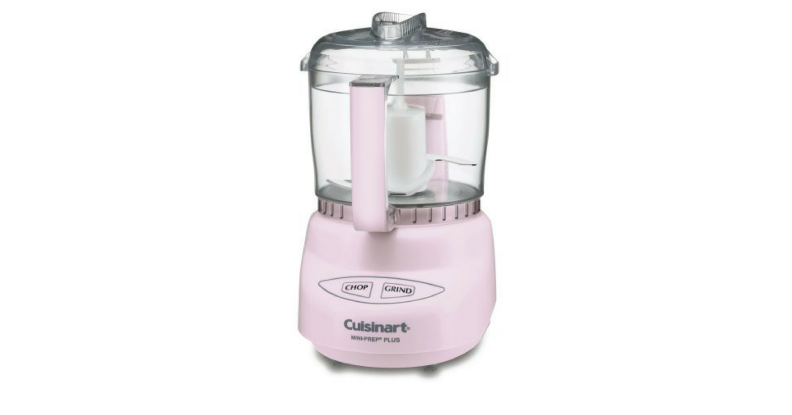 When recommending a food processor, I find that most swear by Cuisinart. This miniature food processor is the perfect size for an apartment kitchen, or for single-serve recipes—but that doesn't mean the motor isn't powerful! One of our editors has had this food processor for years, and refuses to give it up.
Price: $40 on Amazon
Company: Cuisinart
Donation: $32,500 annually, regardless of sales
Buy the pink Cuisinart 24 Ounce Food Processor here
8. This stainless-steel pressure cooker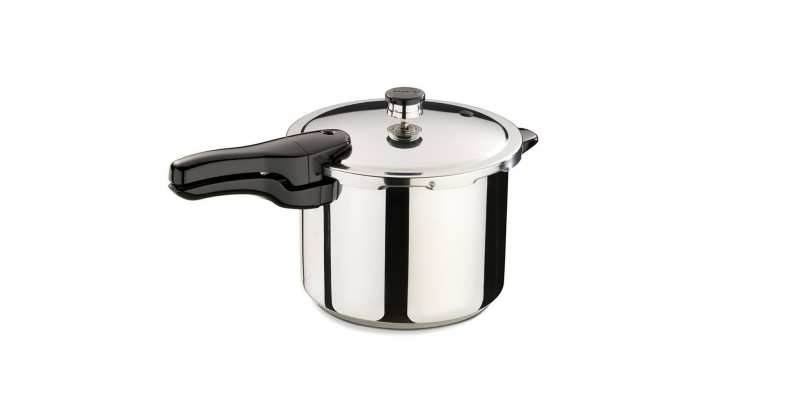 Presure cookers can help to speed up the cooking process of meats, and are perfect for making delicious soups, stews, and other fall meals. We've previously covered the pros and cons of owning a pressure cooker, and recommend this very one, which is top-rated on Amazon with over 3k reviews. No worries, unlike horror stories you've read on kitchen blogs, the top of this one will NOT rocket off.
Price: $45 on Amazon
Company: Presto
Donation: $5 per purchase
Buy this Presto 6-Quart Pressure Cooker here
9. This favorite hand mixer that is perfect for baking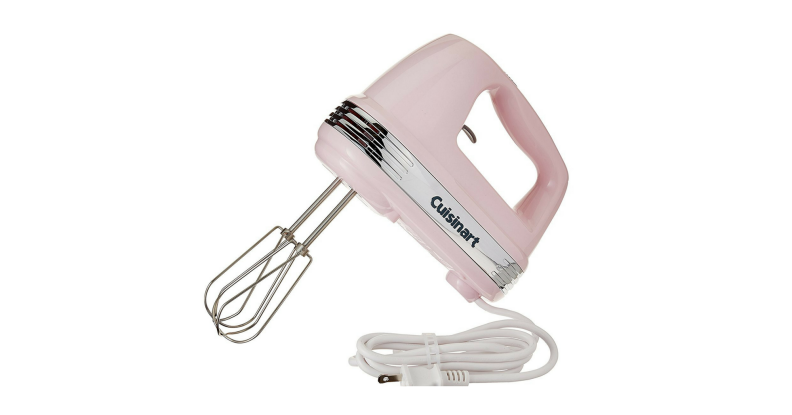 Cuisinart is a trusted brand when it comes to hand mixers, winning our Editor's Choice award for the best overall hand mixer in 2017. This model is a scaled back version of our award winner, and costs less too. Again, regardless of the amount of sales Cuisinart makes on their adorable pink appliances, the company will donate $32,500 to BCRF this year.
Price: $50 on Amazon
Company: Cuisinart
Donation: $32,500 annually, regardless of sales
Buy this pink Cuisinart 5-Speed Hand Mixer here
10. This top-rated flashlight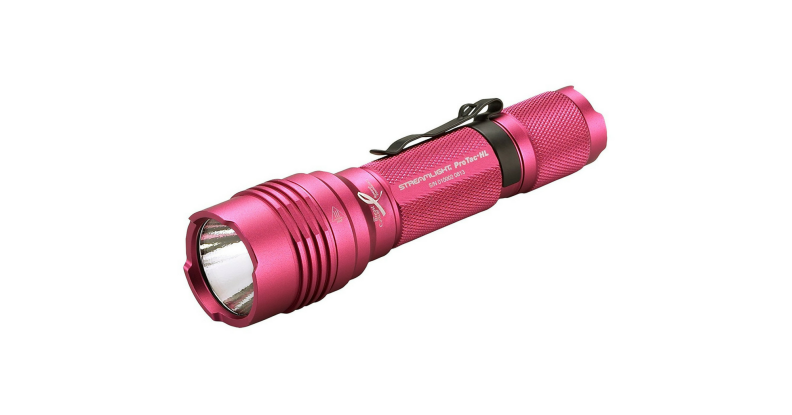 Although this flashlight may seem a bit on the pricey side, just know that aside from a share of the proceeds benefiting BCRF, this flashlight is one of the greatest emergency tools you will ever own. With a 50,000-hour lifetime, this flashlight lasts seemingly forever, and is trusted by everyone from security personnel to campers and hunters. With a 4.5-star rating and over 6,500 reviews on Amazon, you cannot go wrong with powerful flashlight.
Price: $75 on Amazon
Company: Streamlight
Donation: $3 per purchase
Buy the Streamlight ProTac HL Flashlight here
11. BONUS: This fabulous water bottle that's decked out in Swarovski crystals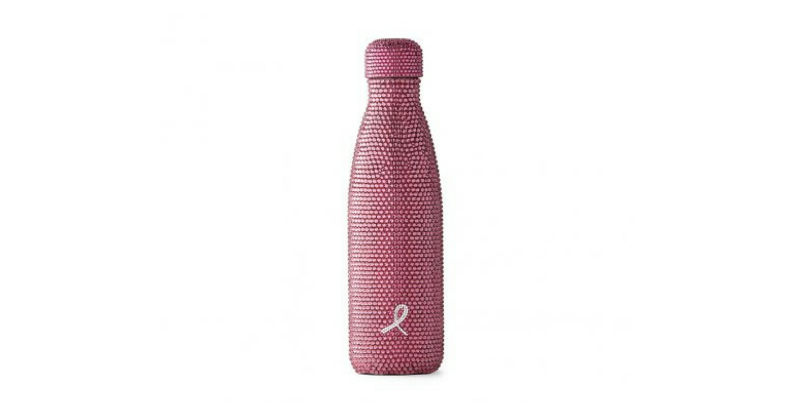 This water bottle is everything—especially since 100% of the proceeds will be donated to the Breast Cancer Research Foundation!
Price: $1500
Company: S'well and Swarovski
Donation: 100% of the net profits of this limited edition bottle
Find this Swarovski S'well Bottle here