Home & Garden
10 things you need to throw an awesome Olympics viewing party
The world's premier sports event deserves equally amazing festivities.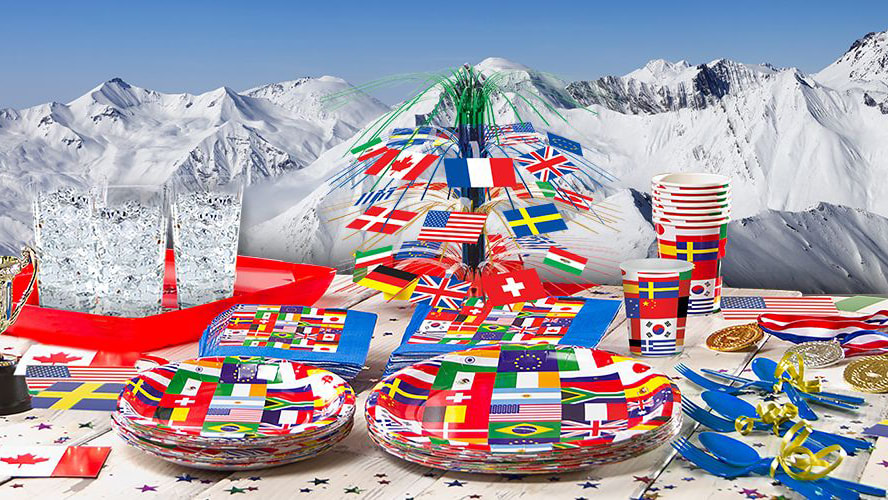 Credit: Party City
There are plenty of events in life that are worth throwing a party for, and the upcoming 2018 Winter Games in PyeongChang, South Korea, is no exception. Admit it—you've shed a tear (or two, or three) during the Opening Ceremony at past Olympics.
Even if you don't exactly qualify for the Olympics (at least until they have events in "Cupcake Decorating" or "Elliptical Training While Watching TV"), you can still revel in the pomp and circumstance of the event among your equally Olympics-obsessed friends. With the help of these top-rated and festive Olympic viewing party essentials, you'll at least medal in one thing—throwing a party everyone is guaranteed to love.
1. 2-dozen Olympic-style medals to give out as party favors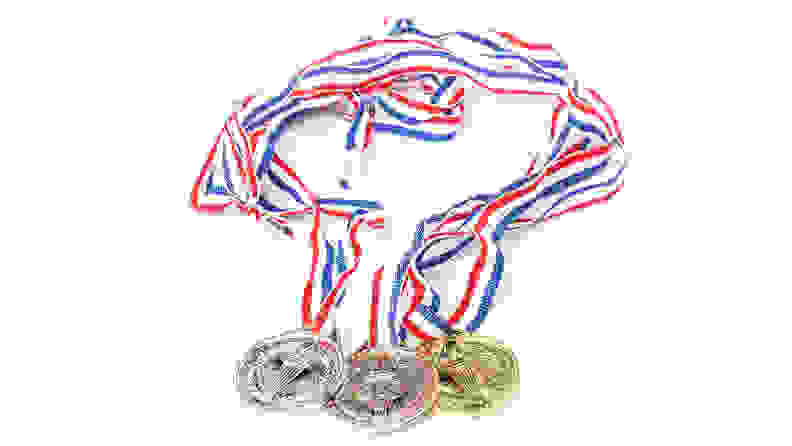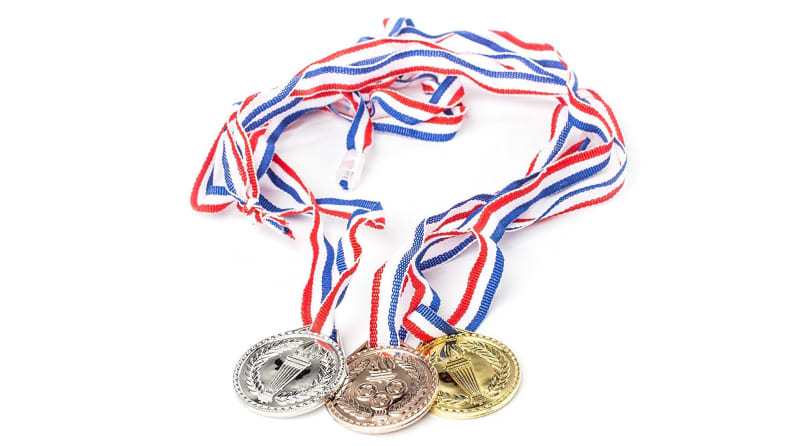 OK, so these medals aren't exactly the real thing, but at least these prizes won't be as heavy to wear around your neck. This set of two-dozen plastic medals offers gold, silver, and bronze options that you can award to your guests as they walk in the door. Or, if you really want to up the ante, you could hold scaled-down versions of Olympic events right in your living room. Couch snowboarding, anyone? These medals provide guaranteed bragging rights for the rest of the party. It's no wonder that they're an Amazon best-seller.
Get the Torch Award Medals (2 Dozen) on Amazon for $9.99
2. A set of three paper torches to light up your shindig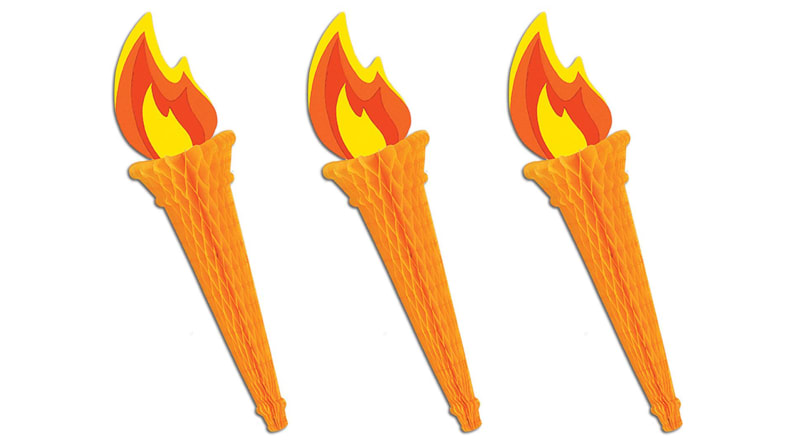 One of the most stirring moments of the Olympics is when they finally light the torch, which travels miles and miles via relay to reach its final destination. If you've never had the chance to hold that revered Olympic symbol, you can do the next best thing and put up paper torch decorations at your viewing party. These won't pose a fire hazard, plus, they'll add festive flair. Choose a set of three, or you can purchase a single torch, which might be just the thing your front door needs the night of your party.
Get the 3-Piece Tissue Torch on Amazon for $9.82
3. A spirited centerpiece that represents nations of the world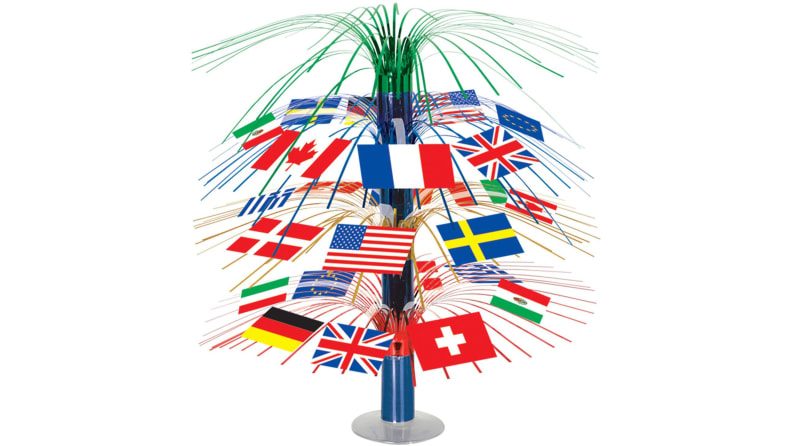 We have no doubt that at your viewing party there's an excellent chance you'll be chanting, "USA! USA!" But if you want to celebrate the fact that there are 91 other countries participating in the Olympics, this is the centerpiece for your soiree. Cascading like fireworks and spotlighting flags from Canada, France, Germany, and more, it'll be the finishing touch on your Olympics-themed party table.
Get the International Flag Cascade Centerpiece on Amazon for $7.65
4. A package of gold laurel wreaths to pay homage to the first Olympians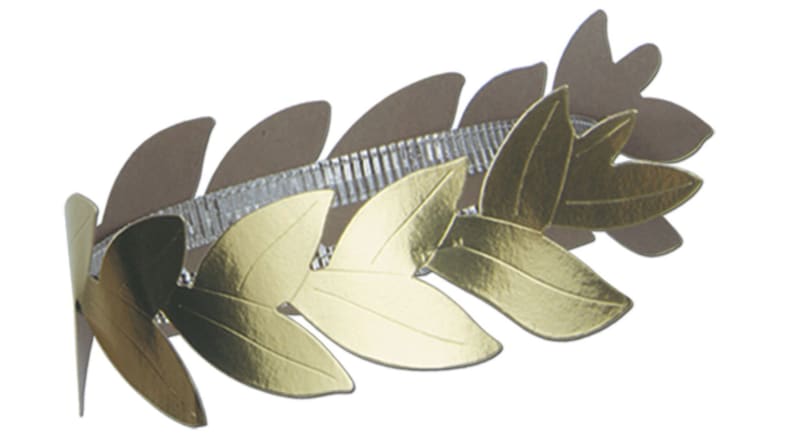 The very first Olympic Games were held in Ancient Greece in 776 B.C., with events like Running, Discus Throwing, and the Pentathlon. Not a lot has really changed since those first games—except for the fact that today's Olympians wear a lot more than a sheet to compete. And you can honor those first competitors by sporting these must-have accessories for your viewing party: golden laurel wreaths. These headbands come 36 to a pack, perfect if you're planning a big event.
Get a 36-pack of Roman Laurel Wreaths on Amazon for $63.98
5. A set of winter-themed props for your Olympic photo booth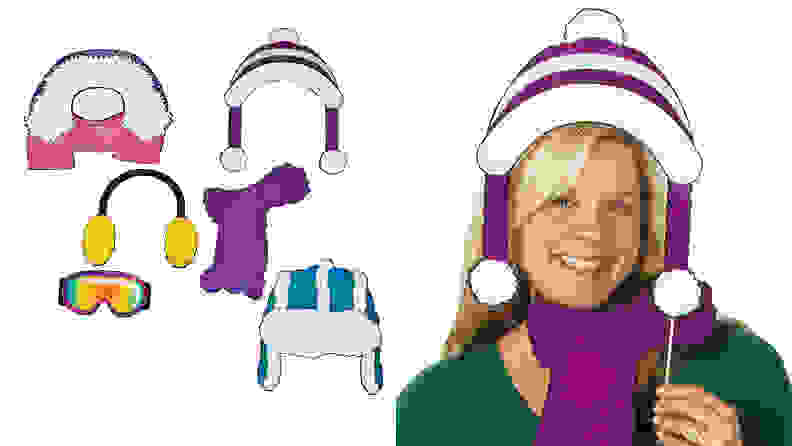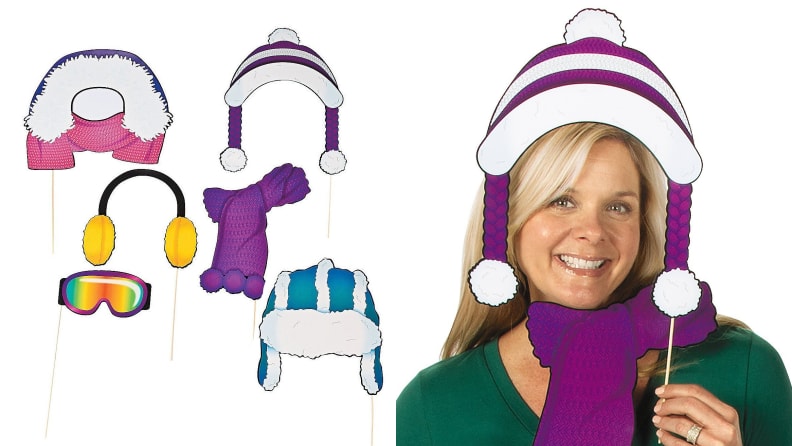 During commercial breaks, take some silly, Winter Games-themed photos with these sure-to-inspire-smiles stick props. Set up a backdrop and a tripod for your smartphone at your party and your guests can pretend they're whooshing down those runs with the likes of Lindsey Vonn and Shaun White. This set includes six pieces and features winter hats, a scarf, earmuffs, and even a pair of ski goggles.
Get the Winter Photo Booth Costume Stick Props on Amazon for $8.95
6. A set of international-themed paper plates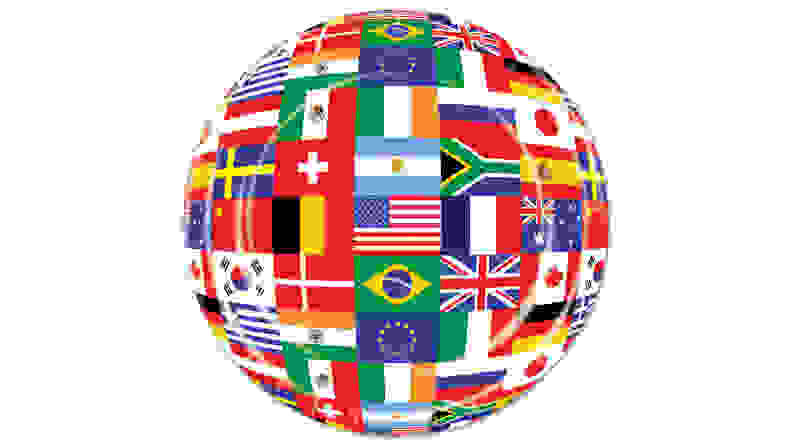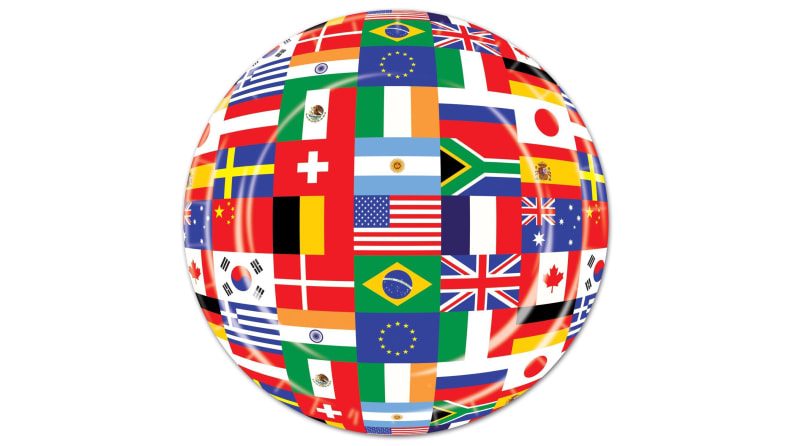 The Olympics is a truly remarkable event if you really think about it—dozens of countries coming together in the spirit of sports and competition. You can bring that international pride to your own viewing party through this set of eight paper plates showcasing flags from around the world.
Get the International Flag Plates (8/Pkg) on Amazon for $4.53
7. A set of plastic utensils to bring a touch of gold to your party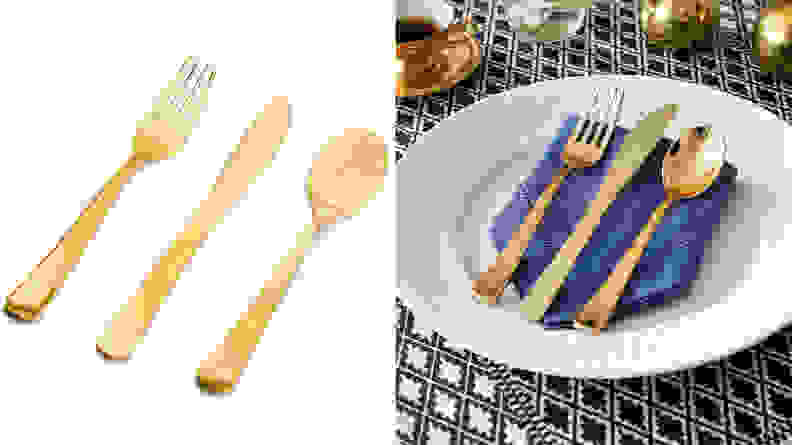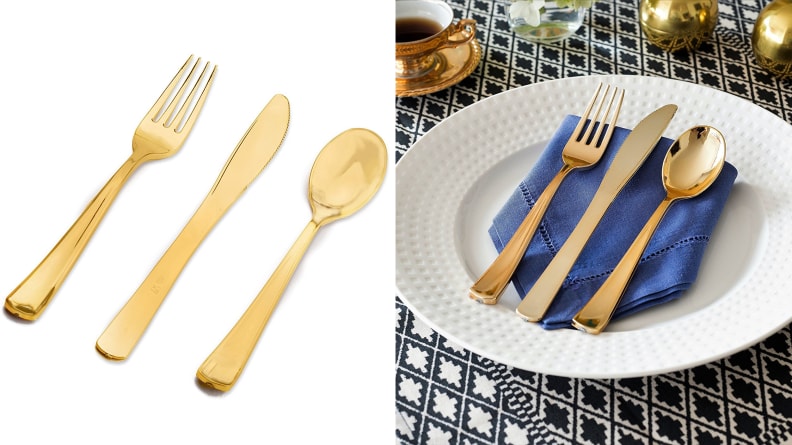 No Olympics gathering is complete without gold details here and there, and these shiny plastic utensils will certainly fit your theming. Instead of putting out the basic clear or white cutlery, this 180-count utensils set (60 forks, 60 knives, 60 spoons) will make your party shine even more.
Get the EVERPRIDE Gold Plastic Utensils Set (180-Count) on Amazon for $25.99
8. 50 American flag toothpicks to make your appetizers a little more patriotic
To proclaim your love for the team you'll be rooting for, look no further than these 50 American flag picks to place among appetizers, add stars-and-stripes to cupcakes, or drop our nation's symbol into your guests' cocktails. Let the flag proudly fly during your Olympics party.
Get the American Flag Picks, 50 Count on Amazon for $6.53
9. A red, white, and blue cornhole set to play a patriotic party game (it's indoor-friendly!)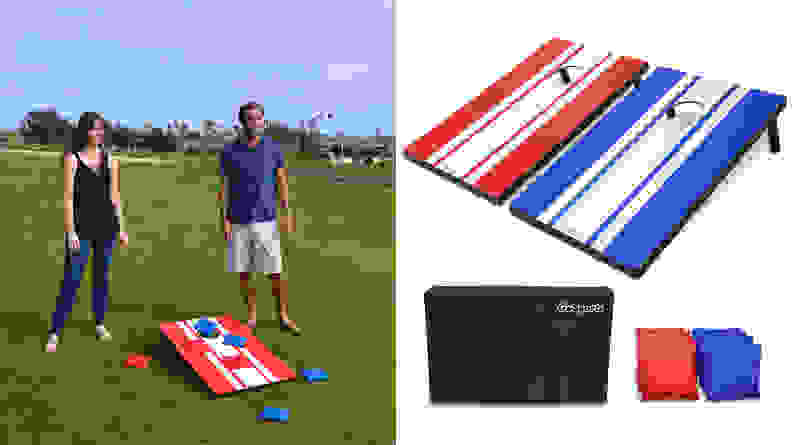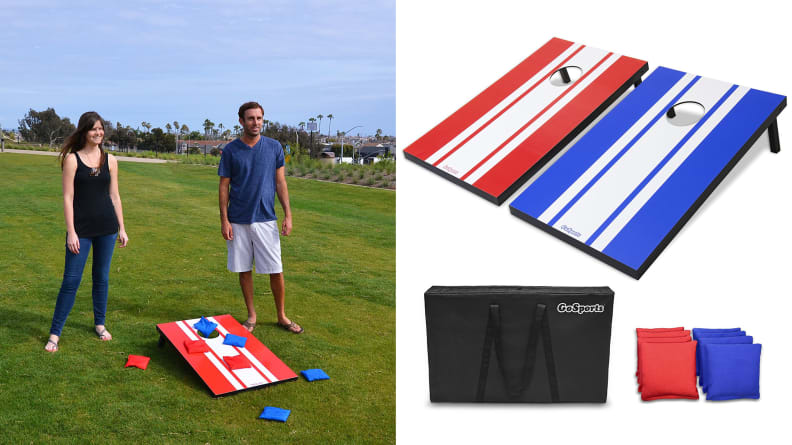 You can't have a party to celebrate the Olympic Games without playing some games of your own. You might not be breaking out your skis or curling brooms, but cornhole is a game that's definitely a little more living room or backyard-friendly. This patriotic set includes two boards, eight bean bags, and a carrying case.
Get the GoSports Classic Cornhole Set on Amazon for $59.99
10. A bright red mini fridge to keep drinks as cold as the slopes
Those Olympians will have plenty of ice to go around, but that might not be the case in your kitchen. Parties always require myriad cold beverages, and there's an excellent chance you could run out of fridge, freezer, and cooler space. That's where this Igloo 3.2 cubic-foot mini fridge comes in, emblazoned in bright red to match the USA theme of your Olympics party. It was also the Best Value Pick in our list of Best Beer Fridges of 2018.
If your version of commemorating the Olympics involves ice-cold wine coolers shared among friends, this little fridge is a party non-negotiable. It's time to settle in, grab your best pals, and let the games begin.
Get the IGLOO Mini Refrigerator, 3.2 Cu Ft Fridge, Red on Amazon for $132
Prices are accurate at the time of publication, but may change over time.