Home & Garden
11 easy ways to remodel your kitchen without ticking off your landlord
Even if you rent, you can still create your dream kitchen.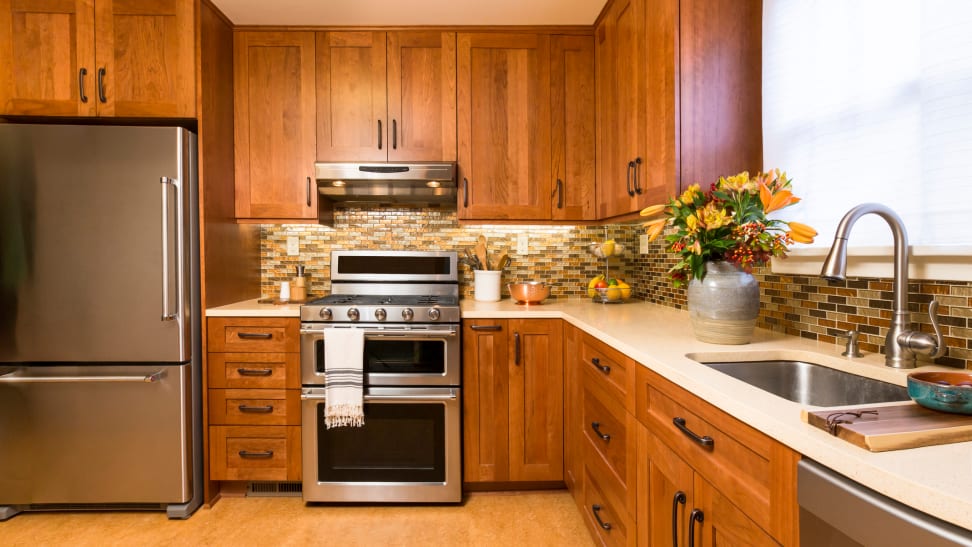 Credit: solarisimages / Getty Images
There are plenty of perks to renting a home—no homeowners taxes, (mostly) no responsibility for repairing/replacing things when they break, flexibility to pick up and go wherever the wind takes you.
But there are downsides too. your landlord, realtors and apartment hunters can drop by with no more than a day's notice, you can get stuck with disrespectful neighbors who use a security deposit as an excuse to act like animals. You also generally can't choose your own appliances, paint your walls, replace that gross bathtub, or make any other permanent changes to your living space. Those restrictions can really put a damper on things when you're trying to make your place feel like your home.
The kitchen is one of those rooms that should really feel like yours. It's where people tend to congregate and where you'll spend a lot of your time at home. And there are lots of ways to transform it into a room you'll be proud of without breaking your lease. Starting with small, easy upgrades, we've assembled 11 ways to make your rented apartment feel like your home and won't break your lease.**
1. Replace all your boring handles with fun ones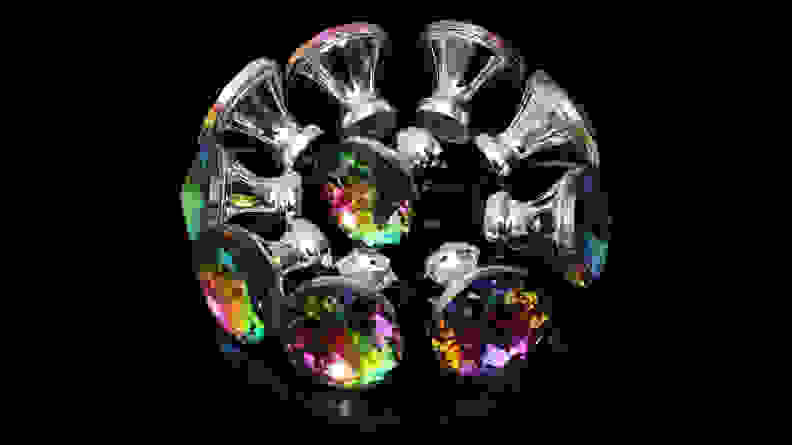 Pick handles and drawer pulls that suit your tastes, whether you prefer something sleek and modern, retro funky, or eclectic. You can find them for reasonable prices from virtually anywhere. Ebay has great collections of super cheap knobs in all sorts of styles, like this fun set of 10 rainbow-colored crystal knobs. Home Depot, Walmart, Amazon, Wayfair, and other online retailers have plenty of options too if you want something more traditional.
Fun tip: Using different knobs (or different colors) for every cabinet and drawer can help newcomers navigate your kitchen with ease. "Where do the forks go? Drawer with the crystal knob. Cups? Try the cabinet with the red handle."
Buy now: Colorful Gem Drawer Knobs, Set of 10 ($8.64 from eBay)
2. Fake a high-end counter top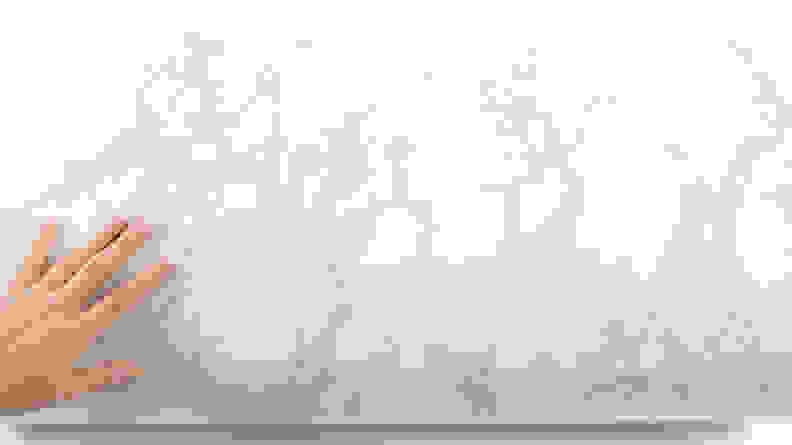 Nothing is worse that an old laminate kitchen counter riddled with stains, scratches, dents, and other signs of wear. And if, even after scrubbing it clean with a Magic Sponge Eraser doesn't satisfy you, you've got one more option: cover it up!
Peel-and-stick laminate comes in all sorts of different styles, from classics like marble and granite to wood, tile, and more. The best part is it's super easy to remove when it's time to move out.
Buy now: 2'x6.5' granite self-adhesive vinyl ($19.45 on Amazon)
3. Brighten up your drawers and shelves
The insides of drawers and shelves in your cabinets always have weird mystery stains or gross gunk stuck in the most conspicuous spaces. Give them a good scrub to get them as un-gross as possible, and then stick some contact paper in there. Every time you open the drawer or cabinet you'll be glad you did this.
Buy now: SimpleLife4U Vintage Red Peony Removable Drawer Liner, 17"x118" ($14.95 on Amazon)
4. Create more counter (and storage) space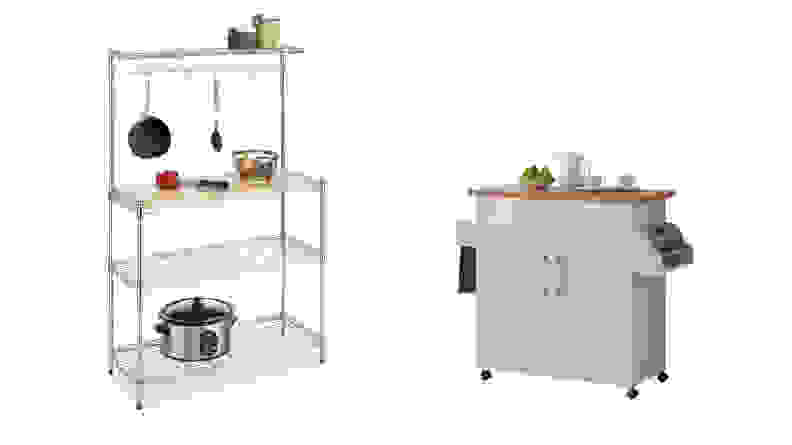 If you're in need of more storage or countertop space, and have room for some extra furniture, a shelving unit or kitchen island could be the way to go. Not only will you have more space for dinner prep, but you can bump up your storage capabilities and better organize your kitchen.
Buy now: Whitmor Supreme Baker's Rack ($75 at Amazon)
Buy now: Terrell Kitchen Island ($88 at Wayfair, down from $199)
5. Light up your home life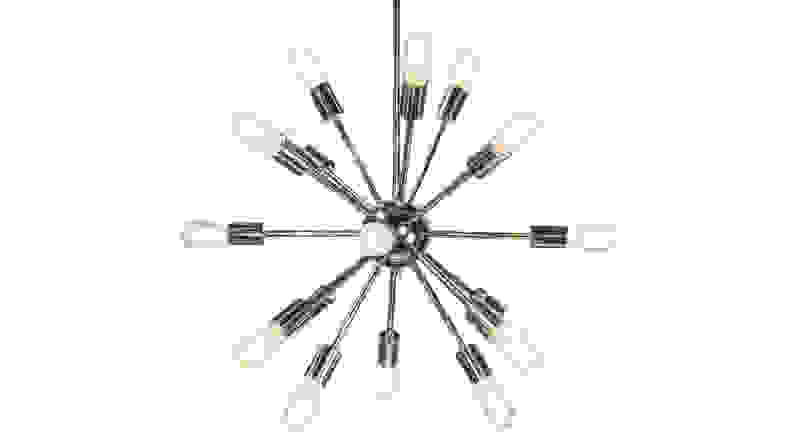 Swapping out the fixture covering your overhead light can completely change the whole feel of a room, and Home Depot pretty much always has sales up to 40% off their ceiling light options. You'll likely need access to your fuse box and electrical skills (or a hired electrician), so make sure to clear this change with the landlord. As long as you promise to swap it back when you leave, this shouldn't be a big deal—especially if you're paying a professional who won't screw things up.
Buy now: Sputnik 18-Light Polished Nickel Chandelier ($189 on Home Depot)
6. Go with another bright idea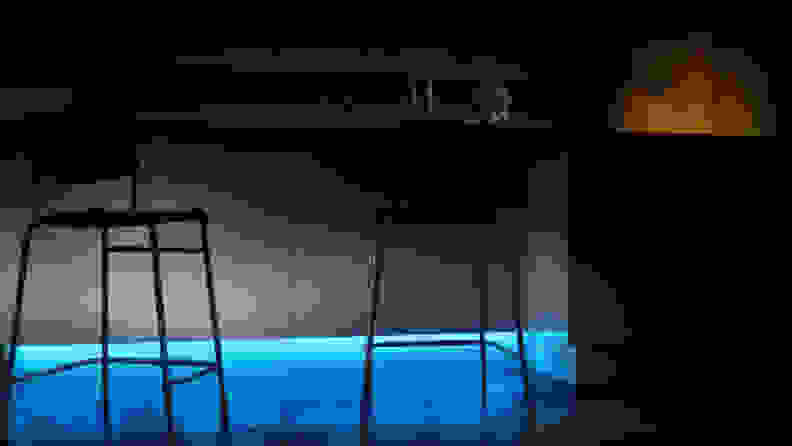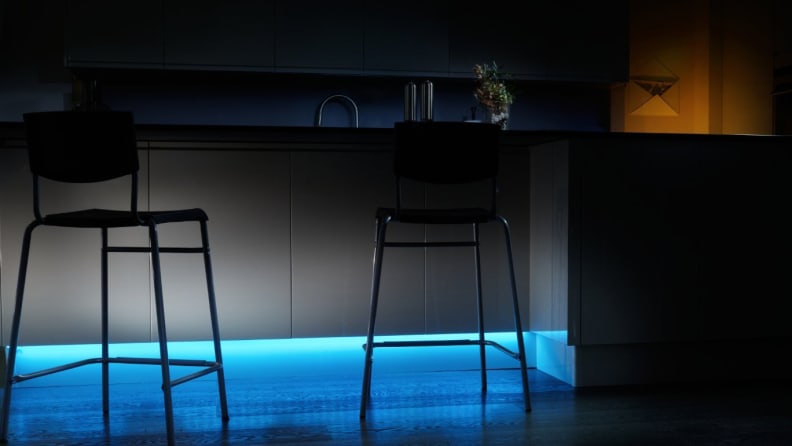 Strip lights! These can modernize any kitchen. Running them along the underside of cabinets (high or low) or under a countertop lip can add an unforgettable touch of ambiance. You can't go wrong with a classic white light.
But if you want to add more color, a smart light strip like this lets you choose from millions of hues, and you can control it with your phone or smart home assistant. This Hue light strip works with Alexa, AppleKit, and Google Home—and it's an older version so it's $40 cheaper than the current one but works just as well.
Buy now: Philips Hue Light Strip, 6.5-foot ($50 on Amazon)
7. Make a statement wall
Your landlord might be OK with you painting your walls, but odds are you'll have to repaint them to the original color when you move out. If you want something a bit easier to undo, try removable wallpaper. There are peel-and-stick options, but regular wallpaper is much more affordable ($0.30-$2 per square foot vs. $6+) and arguably easier to install. Just line the back with some double-sided tape and stick it in place. You could also get accent wallpaper to add some personality to your backsplash.
Buy now: Wayfair Retro Leaves Wallpaper ($1.41/sq. Ft. at Wayfair)
8. Add a pop of color behind your counter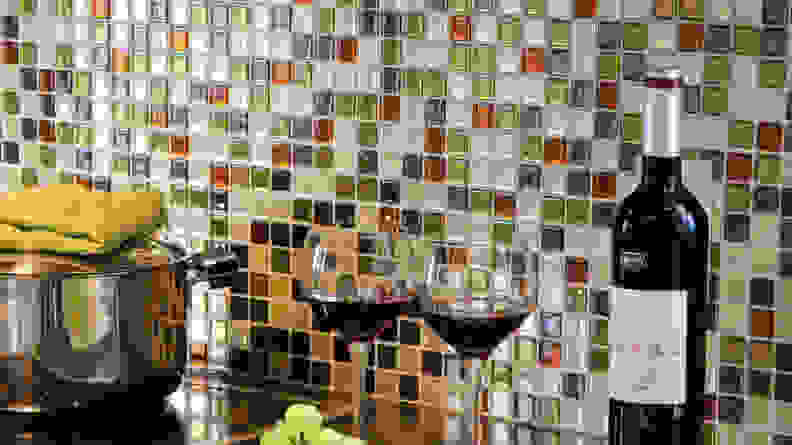 Tile backsplashes tie a kitchen together, but there's no way you're going to grout and tile your rented kitchen. Not only is it way too much work and money, but your landlord will most likely veto that idea without a second thought. So instead, get some press-on faux tile sheets that make it look like you spent hours arranging individual tiles. And they're easy to peel off and remove without damaging the existing wall (as with anything adhesive, you might need to touch up the paint).
Buy now: Smart Tiles Idaho Mosaic Backsplash Tile ($3.99 for one 10"x10" square from Home Depot)
9. Dress up your windows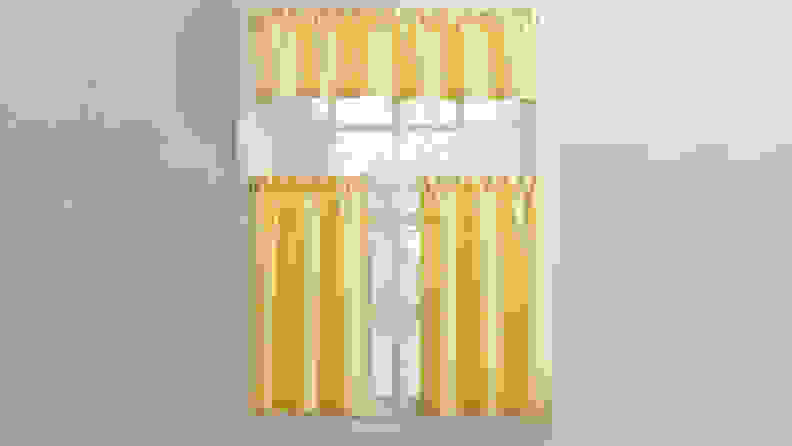 If you have kitchen windows, and I hope you do, the right curtains can solidify your style. Whether blinds or cloth curtains fit your style, they can enhance your aesthetic while providing privacy. Cafe-style curtains are a classic for kitchen windows, but bamboo blinds or shutter could add an interesting style too.
Buy now: No. 918 Martine Microfiber 3-Piece Kitchen Curtain Valance and Tiers Set ($12.34 at Target)
10. Disguise your kitchen floor with functional accents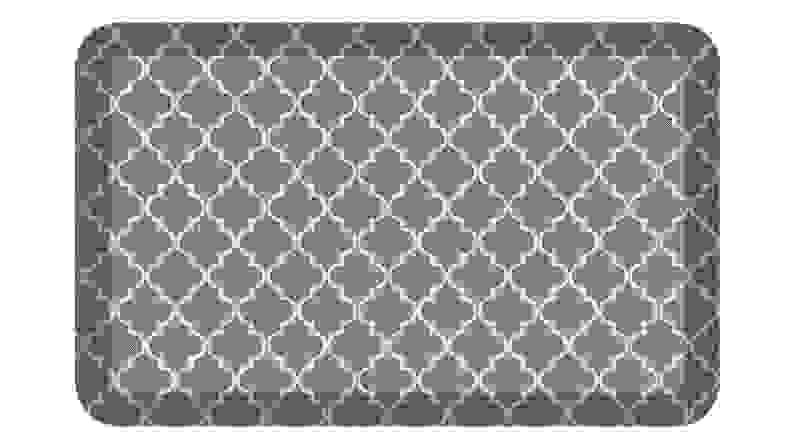 If your apartment is anything like mine, your kitchen floor is plain, stained, or otherwise unpleasant to look at. The easiest way to diminish its impact on your overall look is by covering it up. And the cheapest (and fastest) way to do that is with a kitchen floor mat. Not only can you find them in stylish prints (or universal basics), but they provide comfort when you're standing over a hot stove for long periods of time. The GelPro mat comes highly recommended by The Kitchn, and they have a wide variety of color and patterns to choose from.
Buy now: GelPro Kitchen Mat ($40+ at Amazon)
11. Go all-out and cover the whole floor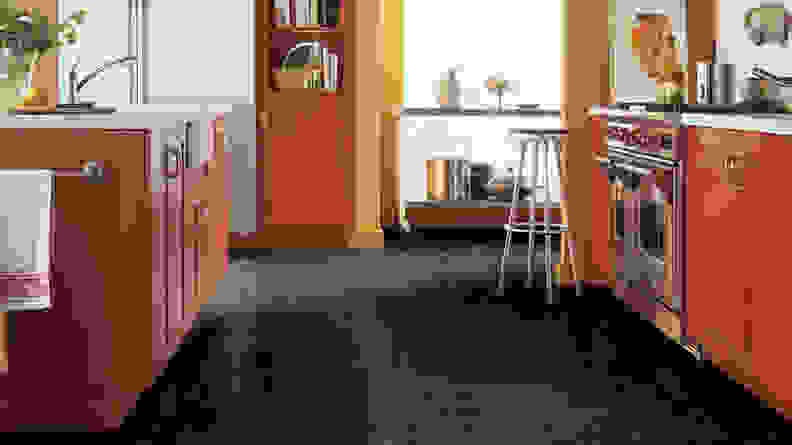 If you're planning to stay in your apartment for more than a year or two, and you're willing to make a bigger investment in the aesthetic, consider a full floor 'remodel' with something you can simply overlay on the existing floor.
Vinyl peel-and-stick tiles are your best bet. They're affordable (typically under $1 per square-foot), they're easy to install, and just as easy to remove. You might need to scrape up some adhesive at the end of it, but just get some Goo-Gone ($7.17) and you'll be fine.
Buy now: Black Marble 12"x12" Peel-and-Stick Vinyl Tiles ($1/sq. ft. at Home Depot)
**Make sure to check in with your landlord before you do anything major to your home. Changing drawer knobs isn't a big deal, but switching out the lights or putting in temporary flooring might not be OK. Whatever changes you make, get their approval in writing before you get started, and outline whether or not you'll need to reverse your work when you move out. The landlord might even love your upgrades and want to keep them! Hang on to anything you remove so you won't have to scramble when it comes time to put things back the way you found them.