Home & Garden
12 gifts under $10 that are perfect for pet owners
Finding the purr-fect gift shouldn't be ruff.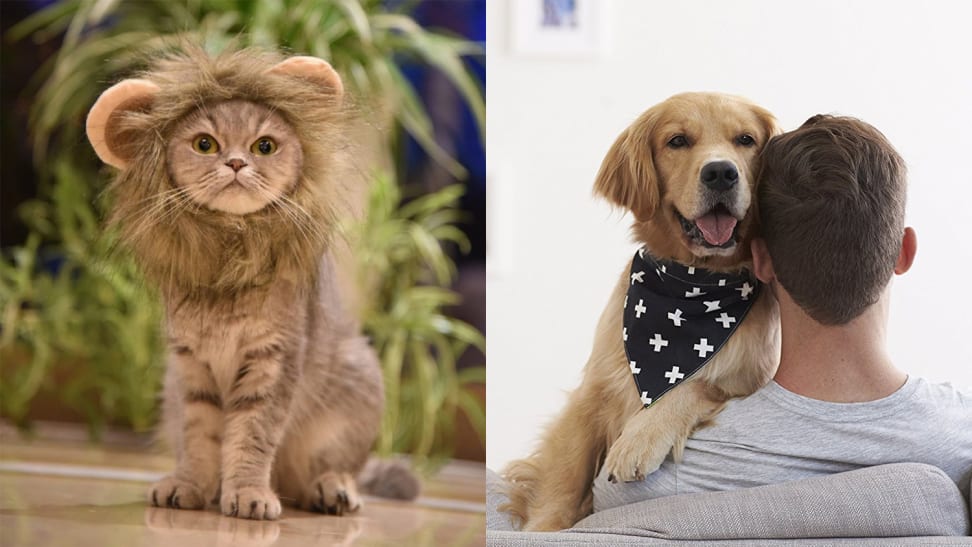 Credit:
The holidays are a time to be reminded of our loved ones, our family members, and the ones who take up those special spots in our hearts. If you're anything like me, that includes at least a couple of four-legged friends.
For all those people out there who are equally attached to their dogs and cats, there are those ultimate, oh-my-gosh-I'm-freaking-out gifts that proclaim an undying love of their pets to the world. Or they'll be ecstatic if you give them toys or accessories especially for their four-legged BFFs. Either way, when you give a present like this to a dog or cat lover, you're sure to feel like the best gift-giver of all time, especially if you can find something awesome without spending a ton of money.
So, whether your loved ones want to show off how much they adore their pets or feel a happiness boost when they see their furry companions play with new toys, a pet-themed gift is always a purrfect idea.
Read on for tail-wagging gift ideas under $10.
1. A lion's mane to make any cat look fur-oscious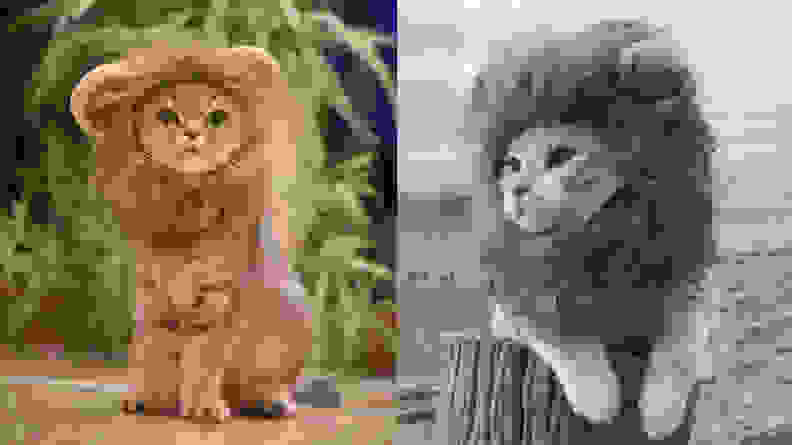 Anyone with a cat or a small dog is sure to love this majestic lion's mane. I mean, have you ever seen anything cuter? Seriously, ponder this for a second. If you think it's cute, just imagine what your gift recipient is going to think. He's going to think it's the best gift ever, and you only paid $9.99 for all that endless entertianment. Now that's something to roar about.
Get the MEWTOGO Lion Mane Wig on Amazon for $9.99
2. A donut squeaky toy that's sprinkled with cuteness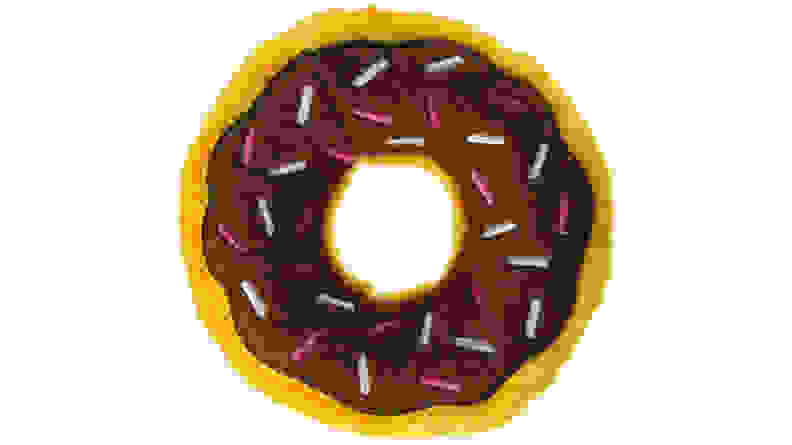 The reviewers just love this doughnut squeaky toy from ZippyPaws, calling it a "winner," "indestructible," and even "whimsical." My corgi was recently gifted this toy and she's rarely without it. And bonus—it looks like she's eating a giant donut, which is hilarious. Plus, the no-stuffing design is perfect for pets with a penchant for leaving hints of their destroyed toys in their wake.
Get the ZippyPaws Donutz Squeaky Plush No-Stuffing Dog Toy on Amazon Starting at $5.69
3. A kitty kitchen timer that makes cooking a lot more fun
Cooking can be sort of un-fun to dog and cat people. Just think—instead of cooking, you could be in a blanket burrito with your #1 snuggle buddy. You can help make the daily task much more enjoyable for your gift recipient with this charming, wide-eyed cat timer.
Get the Kikkerland Cat Kitchen Timer on Amazon for $4.99
4. A how-to doodling book to make canine masterpieces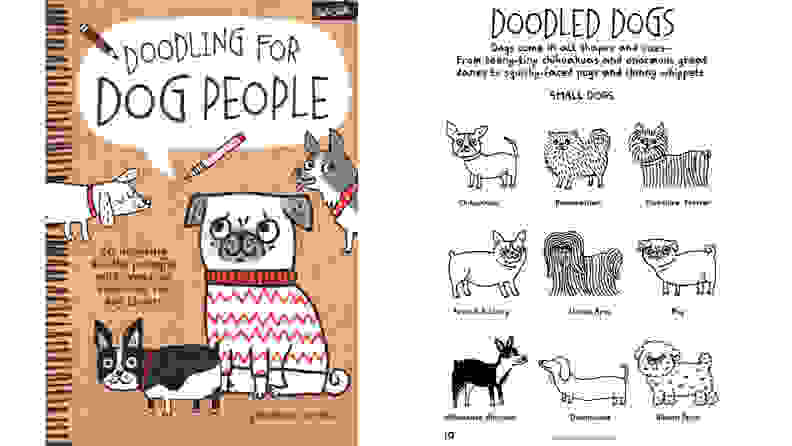 Illustrator Gemma Correll is famous for her aww-inspiring doodles of animals, and now your gift recipient can copy her style. She teaches the how-to's of mastering doodles of beloved breeds, and includes some creative exercises tailor-made to dog lovers with a creative side.
Get the 'Doodling for Dog People' Activity Book on Amazon for $9.32
5. A pair of socks featuring little dog faces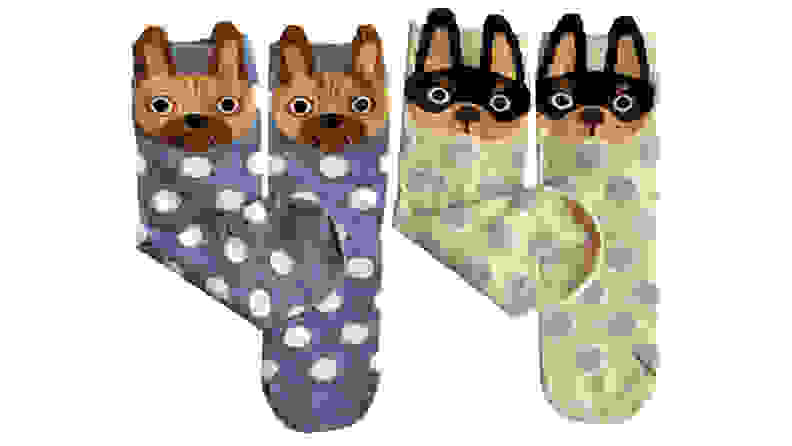 Every dog or cat lover should own a pair of socks with their pet's face on them. It's pretty much a requirement, and yes, I currently own three pairs of corgi socks. To make sure your friend or family member is abiding by this rule, it would be a good idea to gift them these two pairs of dog socks, complete with adorably grumpy puppy faces.
Get the ArtFashion Dog Socks on Amazon for $6.99
6. A mini clapperboard to set the scene for all those cat videos
Making cat videos is serious business. There's so much to think about, from proper lighting to suitable toy choices, and of course, your cat must be beautifully groomed. But to ensure that the video will be a hit Instagram post, this is a must-have piece—a mini clapperboard to create a realistic movie set. This gift is guaranteed to be met with a chuckle, and it'll surely get a lot of use.
Get the Accoutrements Cat Video Clapperboard on Amazon for $4.99
7. A dog bandana that's just plain stylish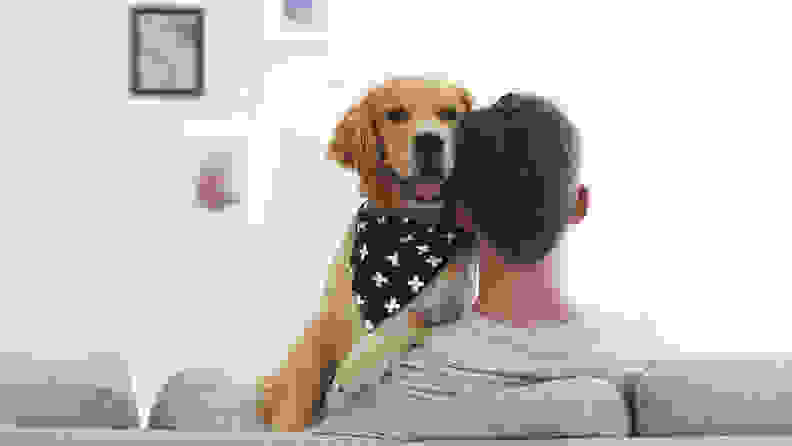 Dog owners typically have a wide-ranging bandana wardrobe for their four-legged companions for each possible situation: Christmas, Halloween, afternoons at the dog park, and of course, fancy occasions. Help your gift recipient add to that wardrobe with an inexpensive, yet on-trend, bandana featuring a chic graphic print.
Get the Territory Pet Bandanna on Amazon for $4.23
8. A t-shirt that tells it like it is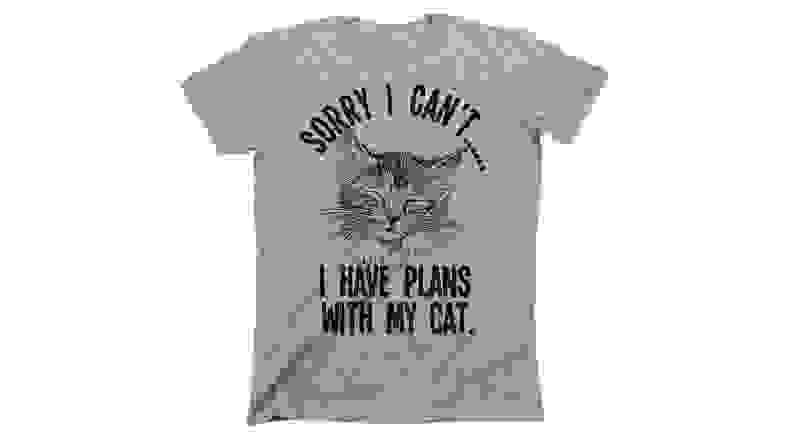 If your pal or family member would rather cozy up with their kitty than make "outside-the-house, you're-not-my-cat" plans, this is the t-shirt to get for him or her. It's silly, and it has a picture of a sleeping kitty on it, so, win-win.
Get the Buzz Shirts Sorry I Can't...I Have Plans With My Cat Men's & Ladies Unisex Fit T-Shirt on Amazon starting at $5.33
9. A dog shaming calendar to inspire daily giggles
Dog shaming has become an internet sensation. Seriously, google "dog shaming" and prepare to settle in for the rest of the day. Owners post pictures of their dogs with signs that reveal something naughty they've done, and typically the dogs don't look one bit ashamed. Your gift recipient is guaranteed a daily laugh with this 2018 calendar.
Get the Dog Shaming 2018 Day-to-Day Calendar on Amazon for $9.67
10. A set of molds to make tasty treats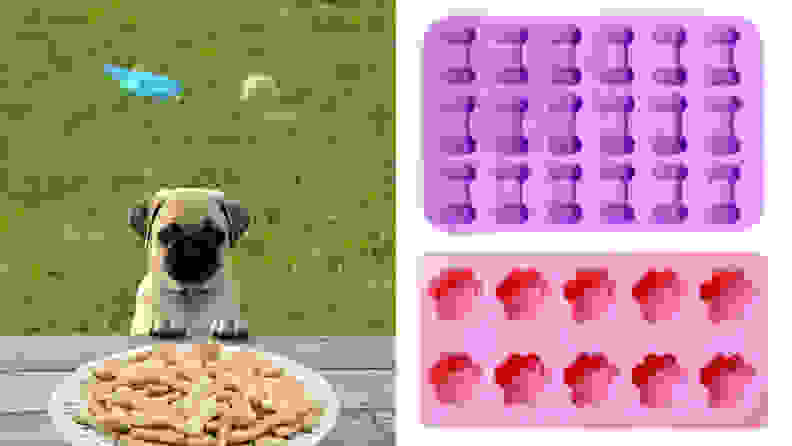 Any dog or cat lover has at least tried to make homemade treats for their pet. This set of two food-safe molds can make the process even more fun, allowing them to bake their pet treats in the shape of bones and paw prints. This gift is perfect for anyone who is always searching for new treat recipes on Pinterest, or loves making pet-themed snacks for themselves.
Get the IHUIXINHE Dog Treat and Paw Silicone Mold Set on Amazon for $9.99
11. A throw pillow cover that says it all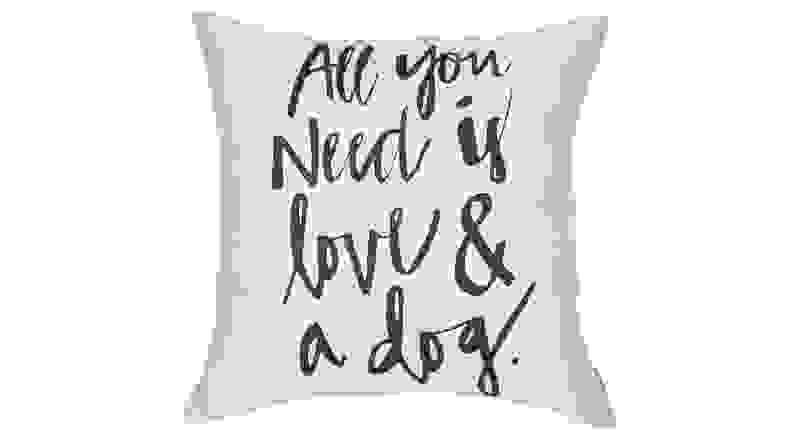 I think most of us can agree that dogs are pure love. To your dog-obsessed friend or family member, "all you need is love and a dog" might be a personal mantra. This throw pillow cover is both endearing and reasonably-priced—just slip in a pillow insert and gift away.
Get the Fjfz All You Need is Love and a Dog Throw Pillow Cover on Amazon for $8.89
Get a hypoallergenic pillow insert to go with it for $7.99
12. A necklace and collar set for best friends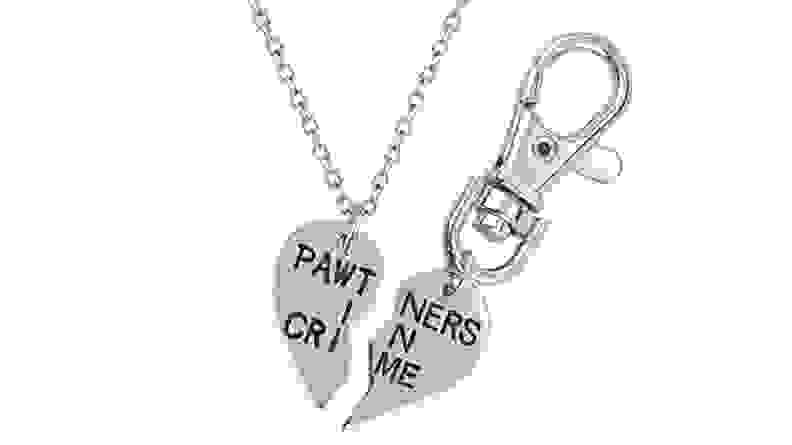 The adorableness level of this gift is off the charts. Why yes, it is a matching necklace and keychain set to be worn by a person and their dog or cat. And yes, it does feature a pun that says, "Pawtners in Crime." When your gift recipient opens this, there's an excellent chance that her head will explode.
Get the Lux Accessories Pawtners in Crime Necklace and Dog Tag Set on Amazon for $9.95
Prices are accurate at the time of publication, but may change over time.