Every dog owner knows how easy it is to spend an entire paycheck on their beloved pup—I mean, there is a whole Instagram dedicated to spoiled dogs. I know that if my dog could speak, he would just demand a bunch of stuff, and he would never shut up about food. Then again, that is pretty much what I do.
When scouting for the safest, most reliable, toxin-free items to buy for our dogs, I always refer to testimonials given by other owners. For this reason, I compiled a list of the most popular products you can find on Amazon that your dog would order himself if he had thumbs. There is something on this list for everyone, from the teacup Yorkie to the bull mastiff. Not all dogs are created equal, and we are so thankful for that.
1. This hilarious umbrella to keep them dry and fabulous in the rain
Stars: 3.5/5
Reviews: 290+
Best Seller sticker
I included this product, despite having a lower rating than the others on this list, because it is simply too funny to exclude. It is marked as a #1 Bestseller, but I would be aware that buying this for a larger dog may not yield desired results.
Buy now: Pet umbrella, $14.99 on Amazon
2. These collapsible dog bowls so they can eat or drink on the go
Stars: 4/5
Reviews: 770+
This is a great tool to pack and use when traveling with your floof for instant snacking or water breaks.
Buy now: Silicone travel bowl, $8.99 on Amazon
3. These best-selling grooming gloves so they can score extra pets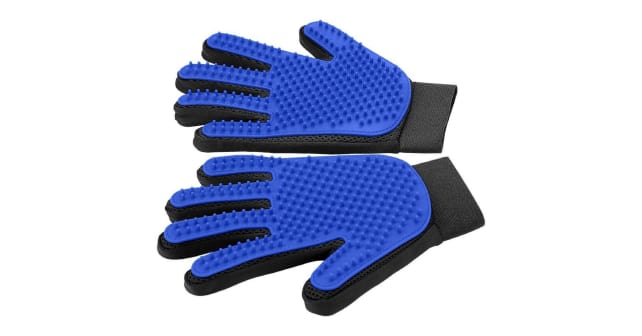 Stars: 4.5/5
Reviews: 580+
Best Seller sticker
Your pup will love all of the new pets. You will love your clean couch. It is a win-win.
Buy now: Pet grooming glove, $10.89 on Amazon
4. This thunder-shirt so they can relax during thunderstorms and fireworks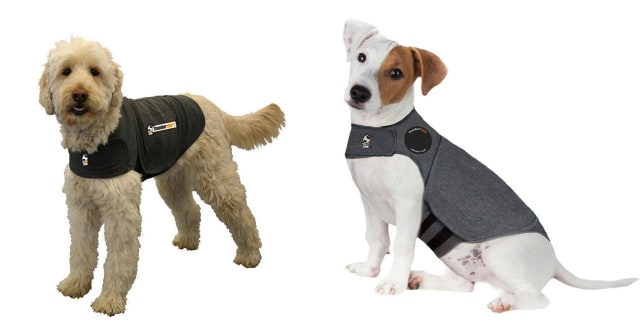 Stars: 4/5
Reviews: 6k+
My silky terrier, Buddy, depends pretty heavily on his thundershirt. Tipping the scales at just over 16 pounds, he is quite fearless when it comes to everything but thunderstorms. We swaddle him in this shirt about an hour before a storm rolls in, and we notice it helps to calm his anxiety and mitigate shaking tremendously.
Buy now: ThunderShirt Classic, $19.40-$39.99 on Amazon
5. This sunshine colored parka to protect them from the rain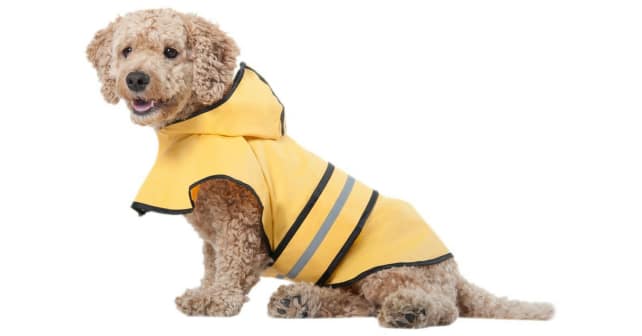 Stars: 4/5
Reviews: 850+
Rain coats on dogs? We are trying our best not to ugly cry.
Buy now: Yellow raincoat, $10.05 on Amazon
6. This favorite paw wax to heal and moisturize their chapped paw pads
Stars: 4.5/5
Reviews: 3k+
Hot pavement or icy sidewalks can really harm your pup's paw pads. This balm is a favorite for good reason, as it moisturizes and heals cracked pads.
Buy now: Musher's Secret paw wax, $12.25 for 60 grams on Amazon
7. This puffer vest so they can make snow angels in the winter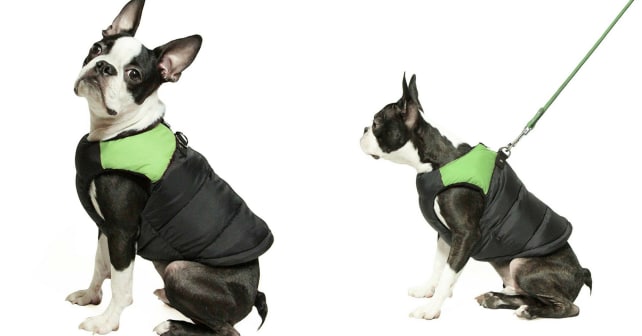 Stars: 4.5/5
Reviews: 640+
Some doggos, like those with short hair, may need a bit more insulation in the colder months, especially if they are outside but not necessarily running around. Buddy, my furry baby, rocks a coat in the winter, and he is quite the fan.
Buy now: Padded weather vest, $23.21-$30.00 on Amazon
8. This hiking pack so you can go on more adventures together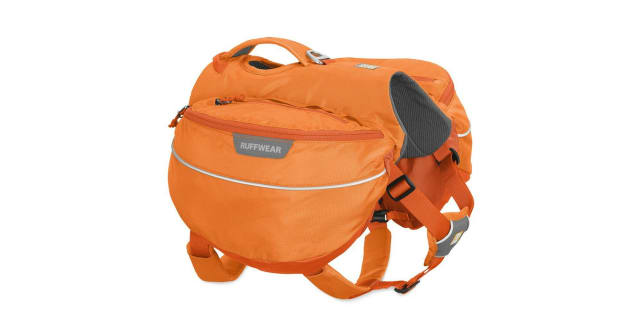 Stars: 4.5/5
Reviews: 290
Hendrix the 6 year old Rottweiler/Shepherd mix writes, "It took me about 5 minutes to get used to the pack when my mom had me practice carrying weight around the neighborhood before the trip. Now, I can't wait to carry my load and I love the feeling of being on a mission and contributing to the pack." I trust Hendrix's review.
Buy now: Hiking pack, $59.59-$79.95 on Amazon
9. This backseat hammock so they can chill in the backseat without falling behind a seat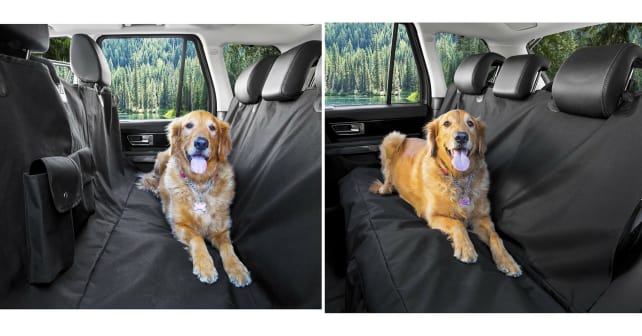 Stars: 4.5/5
Reviews: 3.4k+
Best Seller sticker
One time on a short trip with my sister and her two beautiful Coton de Tulear pups in the back seat, one of them decided he wanted to leap onto the center console, when instead he tumbled onto the floor. To avoid any further blunders, she got them this hammock, which doubles as a seat cover as well.
Buy now: Waterproof seat cover & hammock, $19.99-$29.99 on Amazon
10. This trusty leash that lets them run ahead or stay close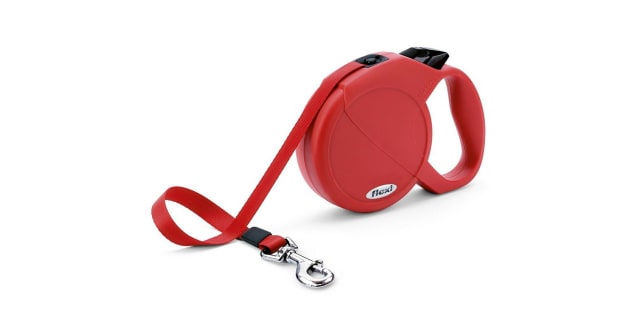 Stars: 4.5/5
Reviews: 1.1k+
One of our editors suggested this leash, saying his family has used one through 2 bull mastiffs over a 10 year span. I don't think I've even owned anything that has lasted as long.
Buy now: Retractable dog leash, $25.00-$68.03 on Amazon
11. These waterproof dog shoes to protect their paws from the elements and to make you laugh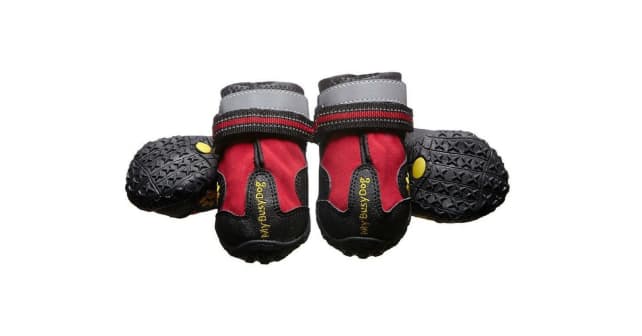 Stars: 4.5/5
Reviews: 940+
If your dog will tolerate these shoes, they can be a real blessing. If you have a long-haired pup, these shoes will save their paws from those dreaded snowballs that cling to their fur. If they can't tolerate these shoes, well—you'll still get just about the funniest show of your life.
Buy now: Waterproof dog shoes, $35.99 on Amazon
12. This favorite harness to make walks more comfortable
Stars: 4.5/5
Reviews: 3.1k+
You can't have a dog and not own a harness. With over 3,000 reviews, an A rating from FakeSpot, and a 4.5 star rating, this harness is most likely the one for your doggo.
Buy now: Padded harness, $39.95 on Amazon
Our editors review and recommend products to help you buy the stuff you need. If you make a purchase by clicking one of our links, we may earn a small share of the revenue. Our picks and opinions are independent from any business incentives.