Home & Garden
13 books that make perfect gifts for everyone on your list
Great books for every kind of reader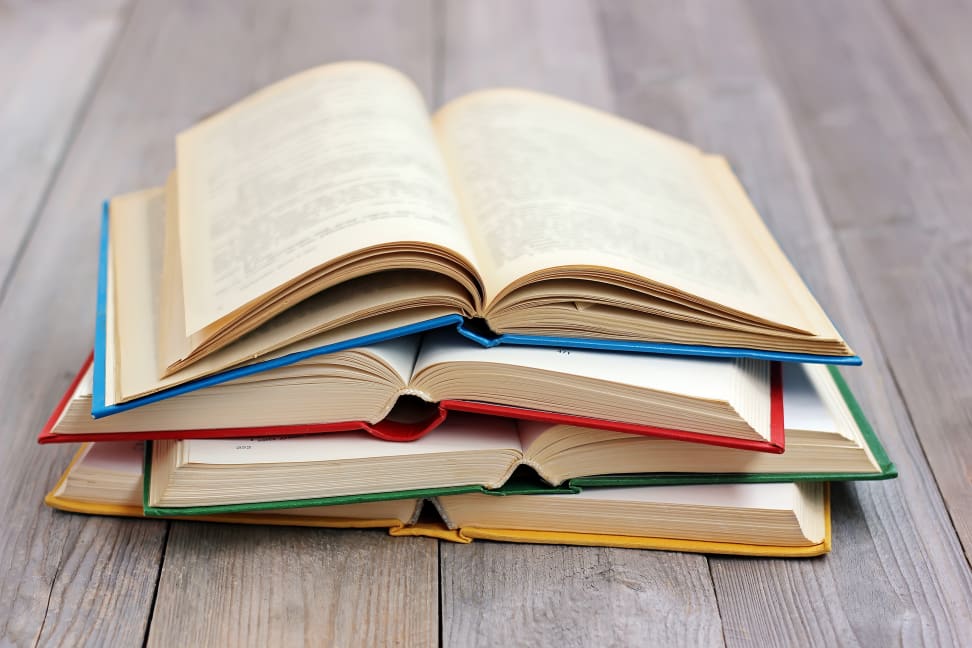 Credit: Getty Images / Maska red
There are few better gifts than a really, really good book. A new tablet is nice, a pair of warm socks is extremely appreciated, but a great book is something a reader will love for the rest of their life. Trust me—I have a massive bookshelf stuffed with well-loved tomes to prove it.
Of course, the key to successful book gifting is that the book must not only be a good book, but the right book for the person who will be receiving it. It must also be new or obscure enough that the gift recipient hasn't read it yet. Talk about a balancing act!
Thats why I've compiled a list of 13 books that will appeal to a variety of readers. I've combed the dustiest corners of my bookshelf (just kidding, I would never let my books get dusty) and quizzed my coworkers to find compelling novels, poetry collections, and picture books that your loved ones will want to keep forever.
Happy gifting, and happy reading!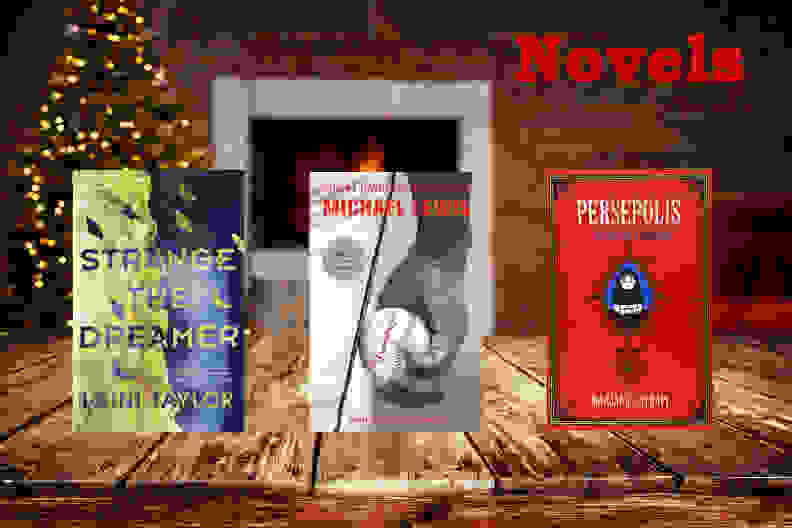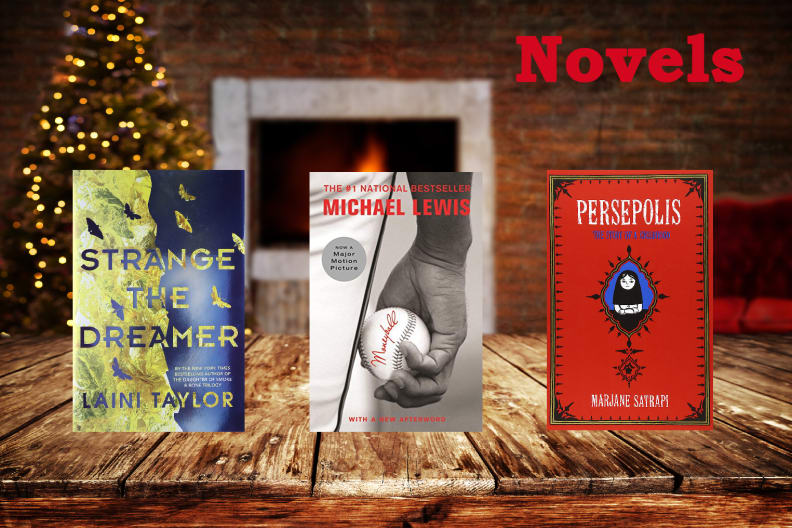 1. For the fantasy-lover: Strange the Dreamer by Laini Taylor
I read a lot of fantasy, and there have been many weeks where I've spent just as much time in other worlds as I have in my own. Lazlo Strange, the title character of Strange the Dreamer, could relate. Lazlo is many things, but his main qualities are his obsessions—in particular, his obsession with the mythical desert city of Weep and his (related) obsession with the library, where he spends his days looking for the lost city in the pages of every tome.
That's why anyone who loves fantasy will love this book—because Lazlo is one of us. Dreamers all.
This book is about Lazlo's search for Weep, a search that eventually takes him far beyond the library's walls, but it's also about mythologies and gods and ghosts, and a mysterious blue-skinned girl who walks through the dreams of others. Popular enough that your gift recipient might say, "Oh I've been meaning to read that!" but not so popular that they've definitely already read it.
Get Strange the Dreamer (hardcover) for $10.53 on Amazon
2. For the sports fan: Moneyball: The Art of Winning an Unfair Game by Michael Lewis
Moneyball is a great pick for those who like baseball, smart business, underdogs, and just exceptionally good stories. Author Michael Lewis tells the tale of the Oakland Athletics, an underfunded baseball team that embraced a new strategy and a group of misfits to become one of the best teams in Major League Baseball. My sports enthusiast colleague says this is one of the best sports books he's read—and it seems that many reviewers agree with him.
Get Moneyball (paperback) for $9.44 on Amazon
3. For the visual reader: Persepolis: The Story of a Childhood by Marjane Satrapi
Persepolis is one of those books that's hard not to love. Even I, a person who does not really "do" graphic novels, will tell you I adore this one.
Through minimalist black-and-white illustrations paired with text, author Marjane Satrapi recounts her life as a child growing up in Iran during the Islamic Revolution. Sometimes funny, sometimes bleak (but always compelling), this book is ultimately powerful, haunting, and beautiful. I learned a lot about Iran, but it's a compelling story just as much as an opportunity to learn. Everyone should read it.
Get Persepolis (paperback) for $11.15 on Amazon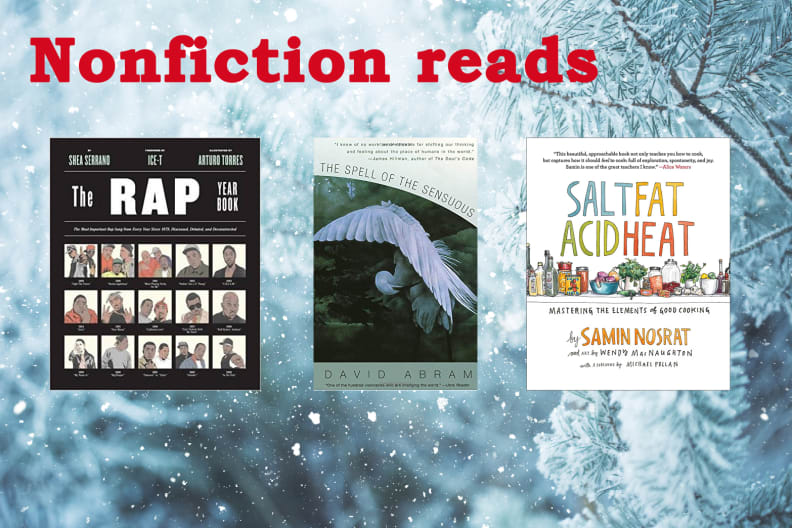 4. For the music-obsessed: The Rap Year Book: The Most Important Rap Song From Every Year Since 1979, Discussed, Debated, and Deconstructed by Shea Serrano, illustrated by Arturo Torres
Rap fans will enjoy this fun and engaging deep-dive into the evolution of the genre, as told by smart and hilarious analyses of the most important rap song of each year since 1979. Complete with infographics, lyric maps, illustrations, and essays, this book is downright approachable, even for those who are less enthused about hip hop.
Get The Rap Year Book (paperback) for $12.88 on Amazon
5. For the nature lover: The Spell of the Sensuous: Perception and Language in a More-Than-Human World by David Abram
Before modern Western society, the natural world was more than just a setting—it was a living, breathing community that included humans, winds, animals, and even mountains. What did these interactive relationships with the natural world look like, what prevents us from having them now, how did this happen, and what are we missing out on as a result? Is there a way to get them back?
Ecologist/philosopher David Abram addresses these questions, while at the same time taking readers through fascinating examples of natural connection and loss in Australian aboriginal culture, Jewish mysticism, and more.
It's not the easiest of reads, but it's beautifully written and so chock full of fascinating tidbits and stories that my own copy is highlighted practically to death—that's how many passages I just had to make sure I remembered.
Get The Spell of the Sensuous (paperback) for $13.68 on Amazon
6. For the cook: Salt, Fat, Acid, Heat: Mastering the Elements of Good Cooking by Samin Nosrat
This is the cookbook that I want for the holidays, to be honest. Those who would rather understand what makes food taste good than religiously follow a recipe will love writer and chef Samin Nosrat's instructional approach to cooking. There are recipes in the book, of course—100 recipes, to be exact—but the focus is on how to utilize four essential elements of cooking: salt, fat, acid, and heat. The writing is fun and warm, the illustrations charming, and it's the kind of cookbook that will actually help you become a better cook. I'll be awaiting my copy.
Get Salt, Fat, Acid, Heat (hardcover) for $20.09 on Amazon
7. For young children and their parents: Goodnight Stories for Rebel Girls 2: 100 Tales of Extraordinary Women by Elena Favilli and Francesca Cavallo
This gorgeous book is full of tales of real, powerful women written in the style of fairy tales, which are paired with illustrations by 60 female artists from around the world. It's beautiful and if I'm being really honest, I am an adult who wants this book for myself.
A colleague of mine told me he bought a few copies of the book's first edition to give as gifts. "The first one is about Ada Lovelace so I was pretty much sold after that," he said. In any case, if you want the child on your list to learn about how amazing women can be, make sure they own a copy of this book to request at bedtime.
Get Goodnight Stories for Rebel Girls 2 (hardcover) for $35 on Amazon
8. For young readers: My Side of the Mountain by Jean Craighead George
It's tough to explain what makes My Side of the Mountain such a special book, but please trust me when I say that it's absolutely one of the most formative books of my childhood.
The story follows young Sam Gribley, who runs away from the apartment where he lives with his family and makes his way to the Catskill Mountains in upstate New York. There he lives off the land, building shelters, gathering food, befriending animals, and observing the natural world around him.
Sam has his triumphs and failures, but unlike other wilderness survival books, My Side of the Mountain is gentle in its storytelling—Sam is rarely desperate, but instead works hard, solves problems, and wonders at the beauty and complexity of the ecosystem he's become a part of. If this book doesn't make young readers want to explore the great outdoors, I don't know what will.
Get My Side of the Mountain (paperback) for $6.39 on Amazon
9. For the teenage misfit: 5 Novels by Daniel Pinkwater
One of my all-time favorites was given to me as a gift when I was a young teen. Comprised of five very short novels—_Alan Mendelsohn the Boy from Mars_, Slaves of Spiegel, The Last Guru, Young Adult Novel, and The Snarkout Boys and the Avocado of Death—_5 Novels_ is utterly weird, subversive, and engrossing. Travel to a fast food competition run by space pirates, check out another plane of existence, and catch a double feature at the Snark Theater, where late night movie-going leads to a hidden world of intelligent avocados, singing chickens, and the world's greatest detective. Each story gives a glimpse into an outrageous reality lurking beneath everyday monotony—a reality to which only misfits possess the key.
Get 5 Novels (paperback) for $15.91 on Amazon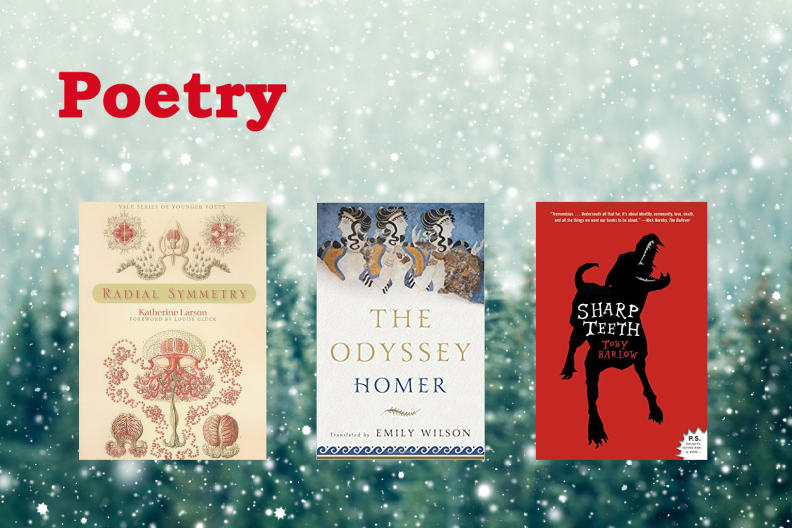 10. For the poetry buff: Radial Symmetry by Katherine Larson
I could try to say a lot of clever things about this collection of poems, but instead I'd rather just say this: It's beautiful. The cover illustration is beautiful. The language is beautiful, and so is the imagery, and so are the things it makes me feel. Katherine Larson has a knack for graceful description, and for pulling fundamental emotions from observations about nature and science and the way that love shakes us from common sense.
The first time I read this book, I couldn't bear to put it back on the shelf when I was done. I carried it in my bag for weeks, pulling it out here and there to read a poem on the train or smooth any pages accidentally bent as a result of my adoration. If you need to buy a gift for a poetry lover, this book is a good bet—not so popular that they've definitely read it, but not inaccessibly complex.
Get Radial Symmetry (paperback) for $15.48 on Amazon
11. For the classics enthusiast: The Odyssey by Homer, translated by Emily Wilson
Many have read Homer's epic poem about Odysseus, Penelope, gray-eyed Athena and the rest of the gang, but Emily Wilson's new translation offers a completely new way of looking at the ancient story. She's the first woman to translate The Odyssey into English, and her approach comes across as fresh, modern, and direct. It's a translation, yes, but one that looks past older and sometimes-misogynistic interpretations to tell the truth.
If you love someone who loves the classics, or stories that involve sea voyages, monsters, gods, and adventures, nab 'em a copy of this book—it's just expensive enough in print form that they might not be willing to splurge on it themselves, plus it's physically beautiful. And as a person who likes, but doesn't love, The Odyssey, I can tell you that Wilson's translation moved me from the very first line.
Get The Odyssey (hardcover) for $25.44 on Amazon
12. For the unconventional: Sharp Teeth by Toby Barlow
Sharp Teeth is a worthwhile oddity—a gritty horror thriller that follows warring packs of werewolves living in modern-day LA. Oh, and did I mention it's written in epic verse?
With werewolf hit men, mysterious murders, and ill-advised love between dogcatcher and lycanthrope, this book is for anyone who has even a passing affection for urban fantasy, epic poetry, or just something a little different. No matter who you're shopping for, I can almost guarantee they haven't read this book—but they might like to!
Get Sharp Teeth (paperback) for $12.65 on Amazon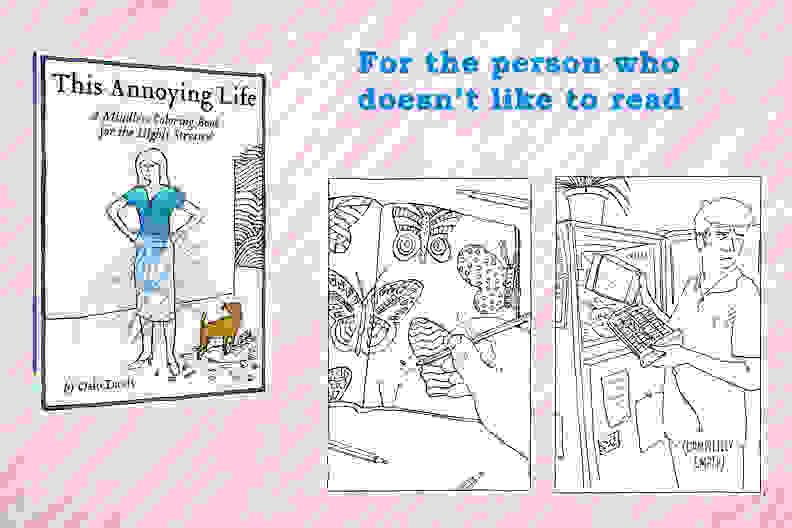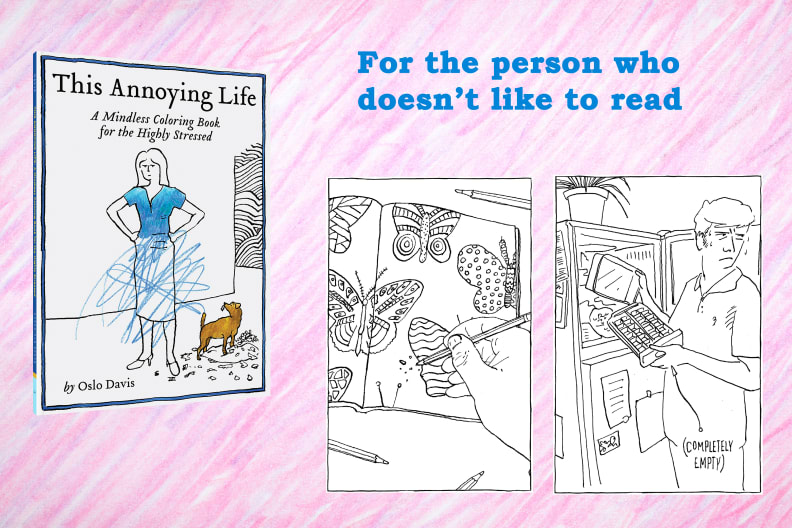 13. For the person who doesn't like to read: This Annoying Life: A Mindless Coloring Book for the Highly Stressed by Oslo Davis
My brother bought me this book for my birthday and we spent the next few minutes flipping through it cackling. You'll find a slew of completely obnoxious situations illustrated in this book, from encountering an empty ice tray in the freezer to wearing squeaky shoes to dropping context lenses on the floor. Give this book to the loved one who would benefit from some calming time spent coloring in images of life's annoyances while feeling glad that at least they didn't knock down every bike on a bike rack today.
Get This Annoying Life: A Mindless Coloring Book for the Highly Stressed (paperback) for $10.65 on Amazon
For more book ideas, check out USA TODAY's list of the week's best-selling books.
Prices are accurate at the time of publication, but may change over time.