Home & Garden
15 at-home fitness products with a cult following on Amazon—and why they're worth it
All of these items have a whopping 1,000 reviews or more.
Credit: Amazon / Exerpeutic
We've all had those days. The ones with too much on our plates and too little sleep. When the very last thing on our minds is going to the gym and the idea of packing a bag. When the idea of packing a bag and driving to the gym just doesn't sound appealing, and then after that, you still have to work out. And if it's snowing or raining or windy or 5 degrees too hot or cold, that's even more of a reason to stay home.
Whether you despise gyms or just don't want to get locked into a membership, it's helpful to have a few options at home that you can count on, ones that can even be used while binge-watching your favorite series on Netflix.
Whatever your reason, you can set up your very own, reasonably priced gym at home (or at least stock up on a few workout goodies to keep in your living room) with the help of some highly rated items found on Amazon. Look no further than the thousands of positive reviews written about these 15 fitness products, and pick up one or two that best fit your active lifestyle.
1. A small but mighty elliptical trainer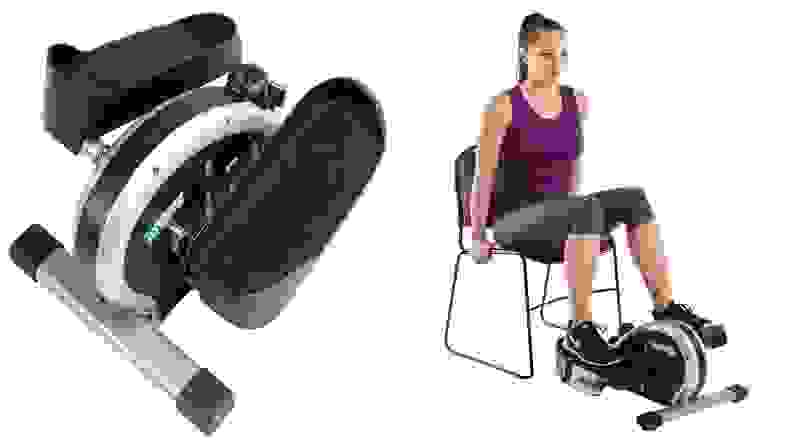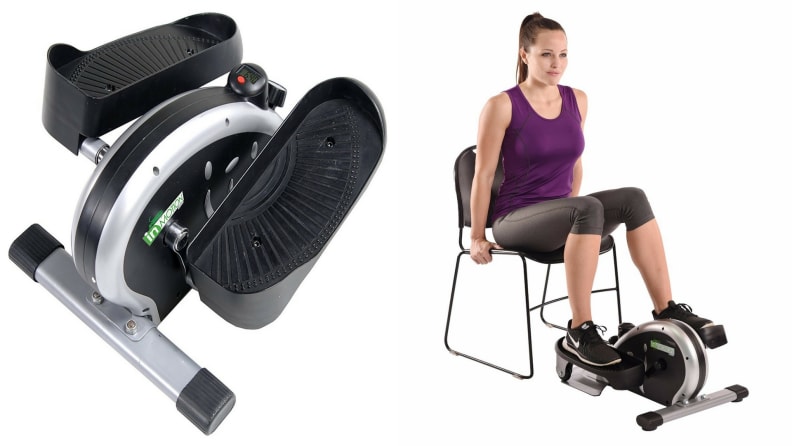 Reviews: 3,565
Rating: 4.0
If you enjoy the elliptical machines at the gym, this little trainer is a great substitute when you're home. It can be used sitting or standing, and you can control the resistance to toughen things up, all while an electronic fitness monitor tracks your workout.
Our favorite review: "I was a little unsure of spending the money on this, but after having it most of the week, I love it. I didn't think using it sitting down would really do anything, but I can feel it when I do. Using it standing up is even better. I can feel it in my legs, abs, and can work up a pretty decent sweat and elevated heart rate. It is quiet and not distracting while working or watching TV and is definitely a good alternative to not being able to go for walks and runs outdoors in Northern Michigan winters." – Rachel S. Reid
Get the Stamina In-Motion Elliptical Trainer on Amazon for $89.99
2. An extremely thick and sturdy foam exercise mat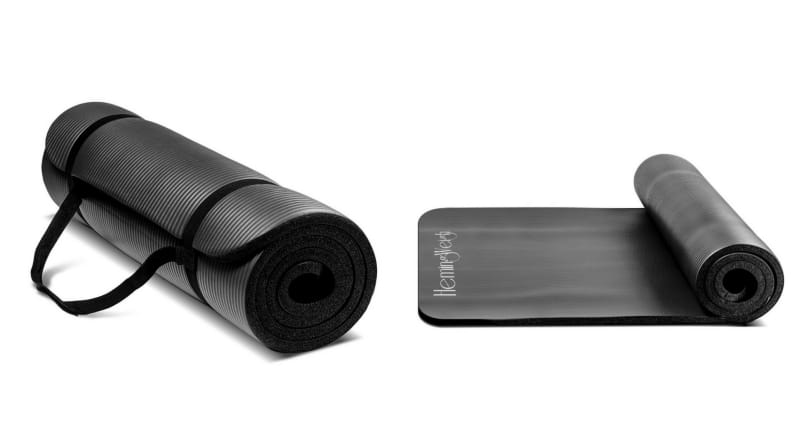 Reviews: 1,663
Rating: 4.5
When you're doing yoga or boot camp moves at home, it can be frustrating and potentially unsafe to work out on a mat that slips around, especially on hardwood floors. The thick padding of this mat will keep you in place and it comes with straps so you can roll it up and go, for when you decide to take your workout on the road,
Our favorite review: "Perfect yoga mat! This is thicker than your average yoga mat from the local sports goods store, so it definitely gets the job done! The straps are an added bonus to make getting from one place to another easy. I personally use this at home to work out on and take the occasional yoga class with my wife, and she is jealous of my mat! Definitely recommended product. It beats the other mats we have for sure." – Thuan Diep
Get the HemingWeigh Extra Thick Foam Exercise Mat on Amazon for $24.99
3. Take everyone's favorite cardio class in your living room
Reviews: 1,284
Rating: 4.1
Taking a Zumba class at the gym is a ton of fun, so why not rock those same moves at home? This complete set comes with five DVDs, a set of Zumba Toning Sticks, and a program guide, so you can dance in the comfort of your living room.
Our favorite review: "My wife and I purchased this DVD set and really appreciate the fact that you can see both front and back view of the dance trainers, enabling us to better mimic each move or step. This series gives thorough and easy to follow step-by-step instructions on how to do each dance. A great way to burn calories and have fun doing it!" – Matt O
Get the Zumba Fitness Exhilarate Body Shaping System DVD on Amazon for $34.90
4. Foam interlocking tiles so you can create your own gym floor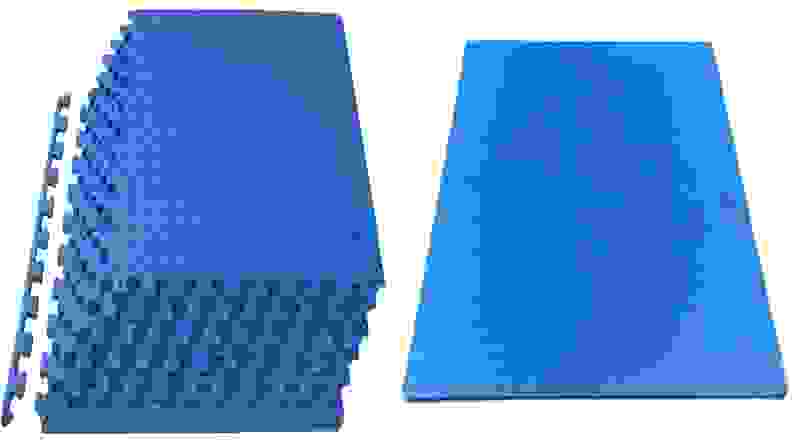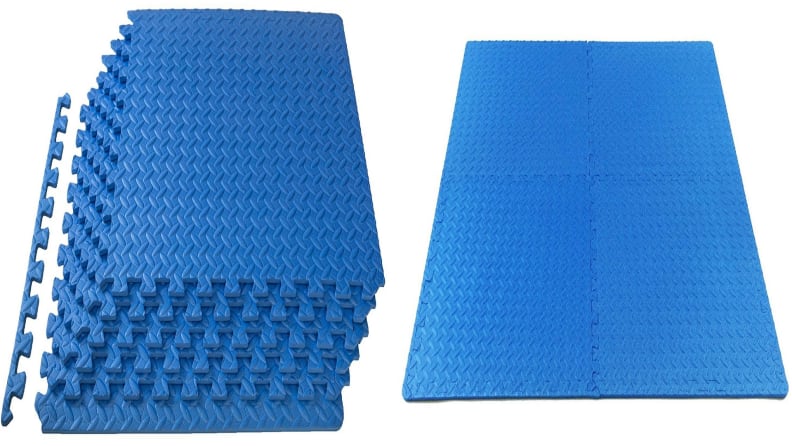 Reviews: 2,500
Rating: 4.3
To take your home gym to another level, you should skip the yoga mat and put down these puzzle-piece foam tiles to create cushioned flooring. They're ideal for floor workouts and to absorb the impact of cardio routines. These tiles, available in three colors, can cover up to 24 square feet.
Our favorite review: "Totally satisfied with this product. Put together a total body workout gym after I set up the mats. They are clean tiles, have no smell,
well-made, and easy to clip together for a secure flooring for the gym to go on top. Just the right thickness. I would buy again and highly recommend them. A great investment for a complete gym set-up." – Peter DP
Get the ProSource Puzzle Exercise Mat on Amazon for $20.99
5. A piece of equipment that brings the whole gym to you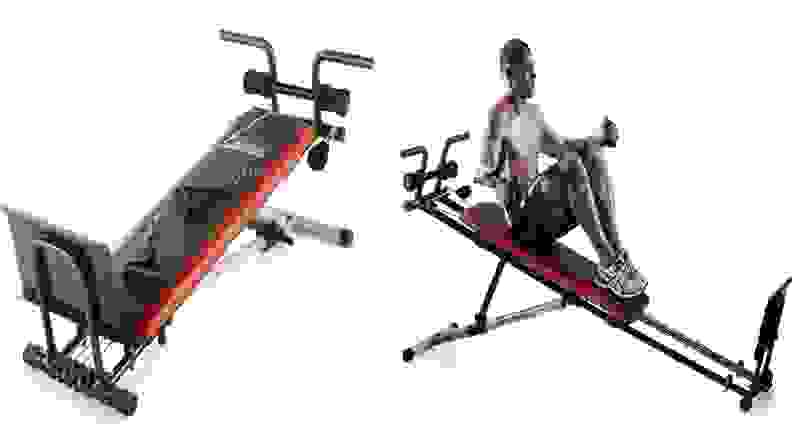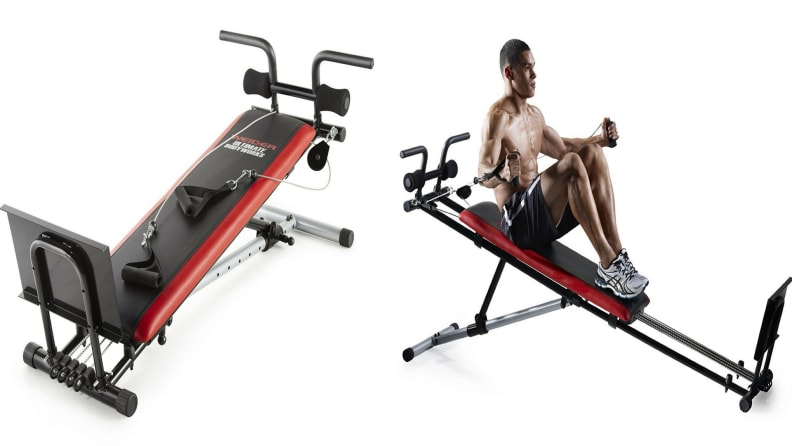 Reviews: 1,128
Rating: 4.4
Doing circuit training at the gym and moving from machine to machine is undoubtedly an excellent workout. But it turns out that you can achieve those same results at home with only one machine. With cables, pulleys, and bands that can be adjusted for each exercise as well as a chart that includes over 100 moves, you won't miss the gym one bit.
Our favorite review: "I love this machine. I didn't have time to go to the gym anymore due to my busy schedule. However, with this product, I can get a good workout in and a nice sweat. My teenager even uses it. And I like the fact that it uses your body weight as resistance. You will need quite a bit of space to set it up and be able to move freely, but it is well worth it and priced right." – Kstem
Get the Weider Ultimate Body Works on Amazon for $116.66
6. An exercise ball that also works nicely as a desk chair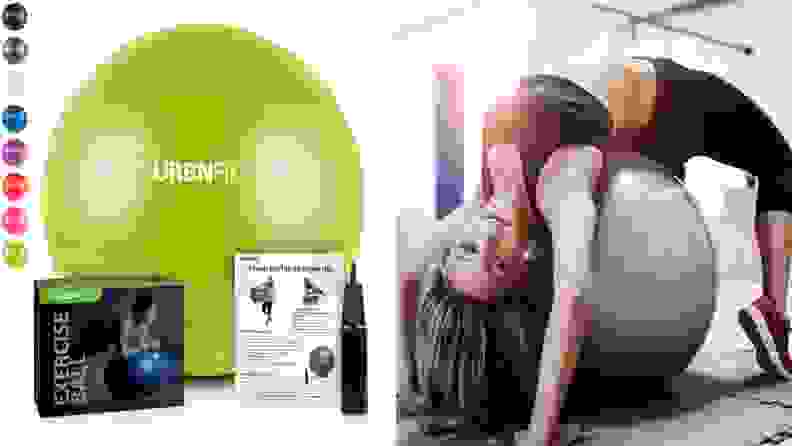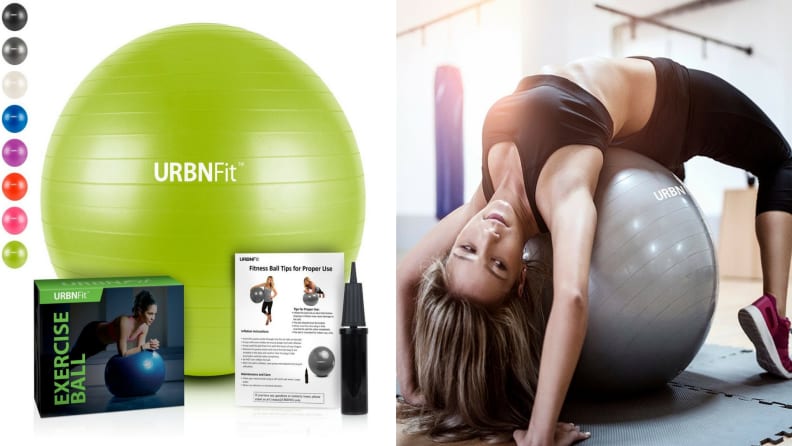 Reviews: 1,857
Rating: 4.2
An exercise ball looks like a modest piece of equipment, but really, it offers a near-dizzying array of options for your workout. You can hold planks, perfect your yoga moves, and use the ball as your desk chair to further work your abs.
Our favorite review: "We are a competitive swim team and use these balls as part of our core exercises for dry land training. We ordered different weights so they work for all our kids. These balls are a welcome addition to our training program. URBNfit delivered ahead of schedule. They were as promised. Thanks everyone. High fives around." – Grandma
Get the Exercise Ball for Fitness, Stability, Balance & Yoga on Amazon Starting at $11.99
7. A bench so you can achieve full-body workouts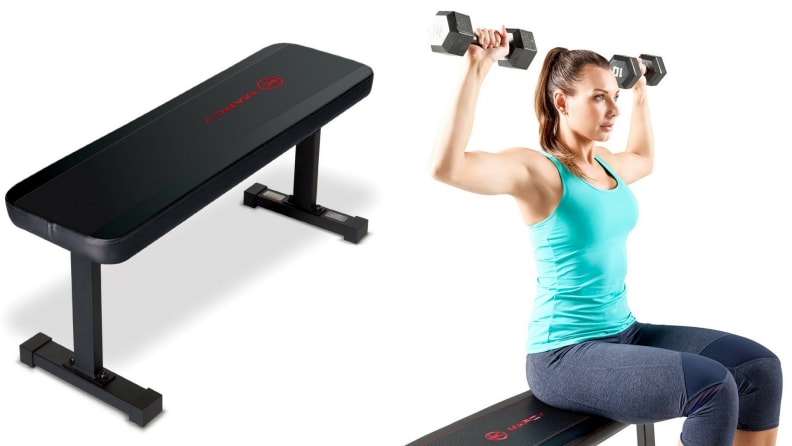 Reviews: 1,268
Rating: 4.4
A weight room isn't complete without a bench, and neither is your home gym. For a thorough weight workout, include this bench and complete your ab exercises, tricep kickbacks, and chest flies like a rock star.
Our favorite review: "A bench's job is simple: to hold you while you exercise. However, not all benches do a good job at that. This bench has a solid feel to it and does not wobble while in use. The padding is very comfortable as well. It is fairly light without feeling too light and is well-designed. I am glad I purchased it, and would recommend it to anybody in the market for a new exercise bench." – Bryan
Get the Marcy Utility Flat Bench on Amazon for $59.99
8. A set of colorful, basic dumbbells to dial up the intensity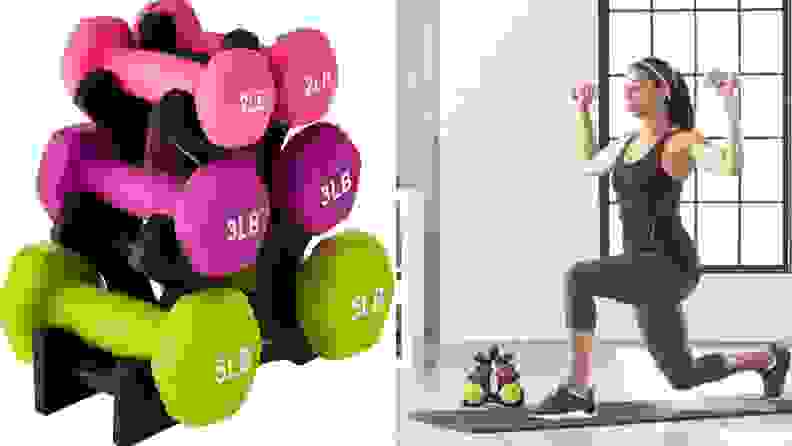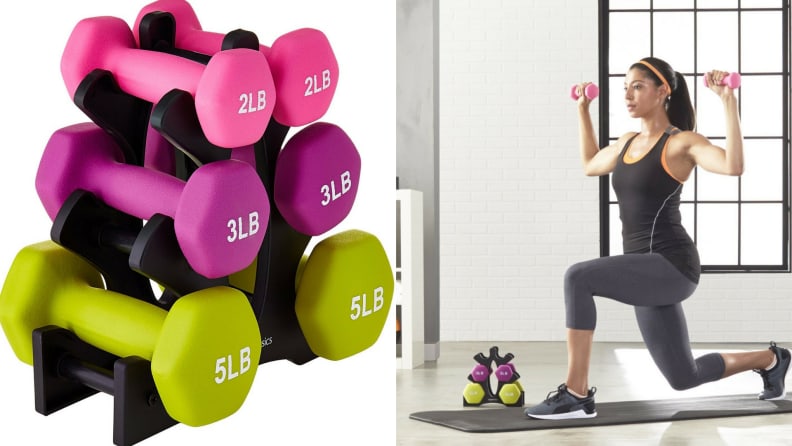 Reviews: 1,527
Rating: 4.5
Many reviewers mentioned that when they put this AmazonBasics 20-pound weight set in their living rooms, they found they often used their hand weights while watching TV, which proves that yes, you can indeed work out while sitting on the couch. Covered in colorful neoprene, they're easy to hold, too.
Our favorite review: "This set of weights has been an amazing addition to my workout routine! The weights themselves are very well made, easy to grip, and seem durable. The stand that holds them does exactly what it's supposed to, and the set is very colorful and appealing to the eye. A great value all around!" – Amazon Customer
Get the AmazonBasics Neoprene Dumbbells on Amazon for $27.49
9. A cardio machine that glides and moves with ease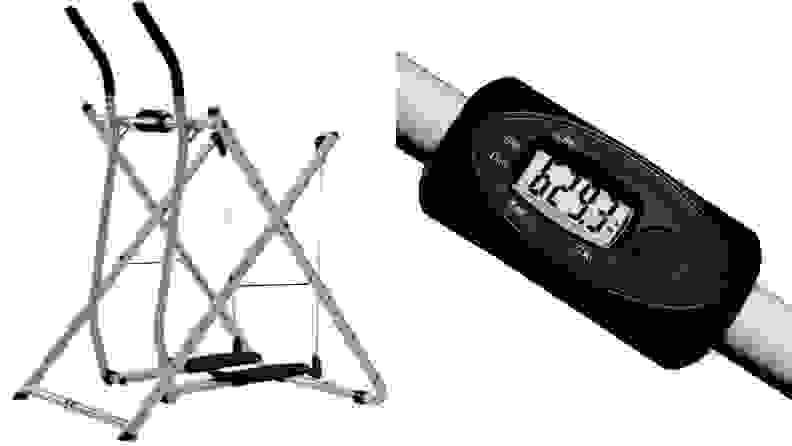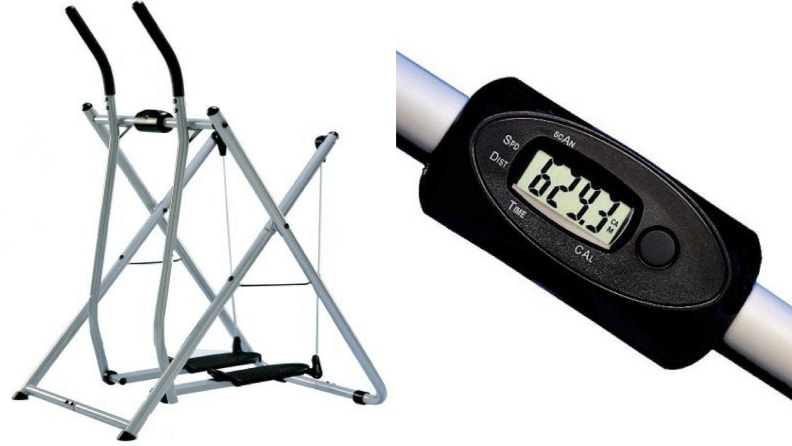 Reviews: 1,610
Rating: 4.1
When you work out, you should strive to strike a balance between effort and comfort. This Gazelle machine does exactly that with a smooth range of motion that translates into an effective cardio workout.
Our favorite review: "Both my husband and I love this Gazelle Edge! It was easy to put together. We are in our early 60's and this is the low-impact machine we were looking for. We have it in a spare bedroom and have had to move it several times for company. It folds up easy. I've moved it by myself twice in a pinch and it was a bit heavy for me. Overall, we are very pleased with our purchase." – Teresa
Get the Gazelle Edge on Amazon for $129.99
10. A recumbent bike perfect for Netflix and sweat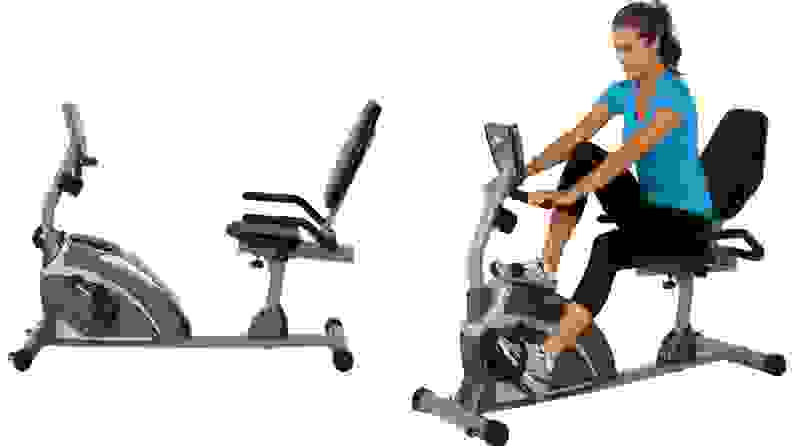 Reviews: 2,344
Rating: 4.2
Reviewers who purchased this recumbent bike say that this is the best one they've ever bought. Ranging from die-hard road bike enthusiasts to those recovering from surgery, people had glowing things to say about the tension control system for a customized workout and the LCD display for visual progress.
Our favorite review: "This is perhaps one of the best products I have ever purchased from Amazon. It is now August 2017 and I can't say enough good words about this product. In my opinion, it has earned a 5-star rating for its flawless operation and is a joy to use. I hired a bike assembler through Amazon who answered all of my questions and ensured that I was comfortable with the bike's operation after he completed the assembly. Overall, a very satisfying experience." – DonB
Get the Exerpeutic 900XL Extended Capacity Recumbent Bike on Amazon for $169
11. A set of dumbbells that are completely adjustable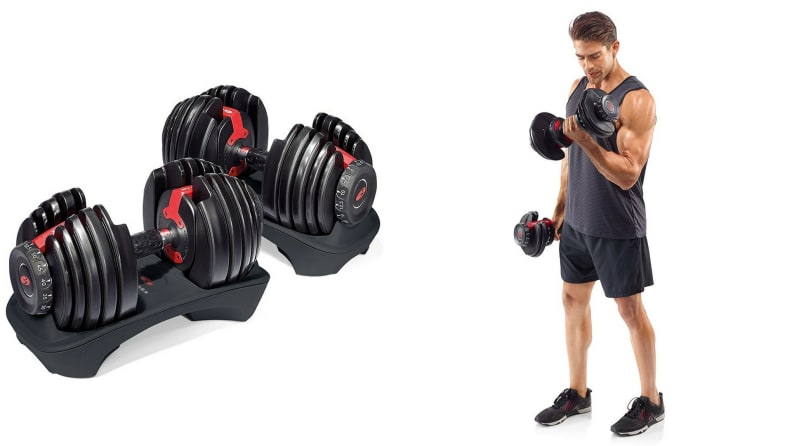 Reviews: 4,095
Rating: 4.7
Bowflex is the creator of one of the top-rated sets of dumbbells on Amazon. Each dumbbell adjusts from five to 52.5 pounds using a handy dial system, so you can choose your weight based upon your level of strength and workout needs without a bulky dumbbell set.
Our favorite review: "Legit one of the best purchases I have ever made. 1) They save space, 2) I've never needed weight outside the range, 3) They look great, 4) They're easy to move, as someone who moves often. If you have a small amount of apartment space and are looking for a variable weight set that is fast and can do probably everything you need, grab these babies." – Vahn Awakens The Genesis Tree
Get the Bowflex SelectTech 552 Adjustable Dumbbells on Amazon for $299
12. A rowing machine that can be stored easily between workouts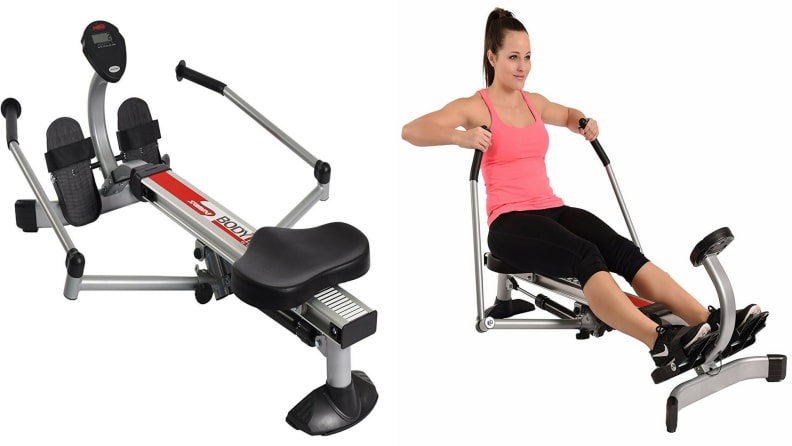 Reviews: 2,318
Rating: 4.0
If you love a rowing workout, or if you've even spent some time rowing on the water, this machine serves as an on-land alternative. The superior range of motion might make you feel as if you're actually rowing a boat, and you can fold the arms for compact storage.
Our favorite review: "This machine is great! Easy to assemble and easy to use. Great workout overall. The machine itself is very quiet. It has several resistance levels which are great for working your way up. It is a workout that also soothes the soul. Just listen to music, close your eyes, and row your heart out." –SenoritaBeefeatah
Get the Stamina Body Trac Glider 1050 Rowing Machine on Amazon for $123.53
13. A pair of bars so you can improve your push-ups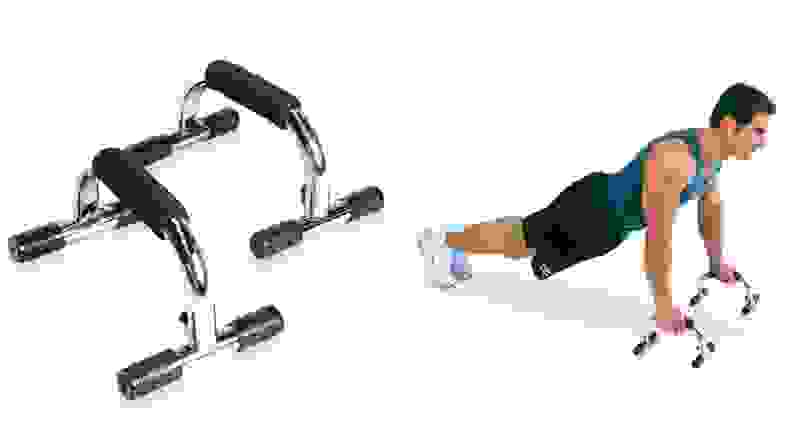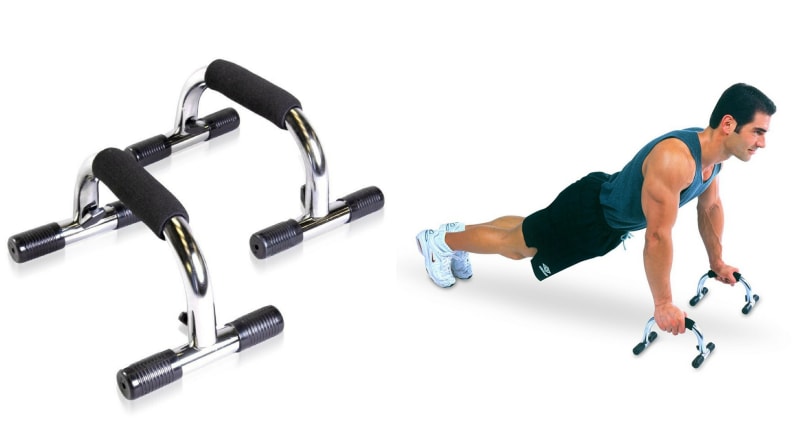 Reviews: 1,378
Rating: 4.4
Push-ups can be painful for your wrists, which in turn can compromise your form. These push-up bars with slip-resistant foam allow you to improve your positioning, meaning better, stronger push-ups.
Our favorite review: "I am a cardio girl through and through. Since I added weight training to my regimen, I have found these to be extremely helpful; not only in building strength, but also for keeping good for when I do push-ups (which can get sloppy on carpet or wood floors). These bars are definitely worth it, despite what level you're at! Easy to store, too." – M. Afzal
Get the CAP Barbell Pair of Push-Up Bars on Amazon for $15.49
14. A workout bar that fits in any door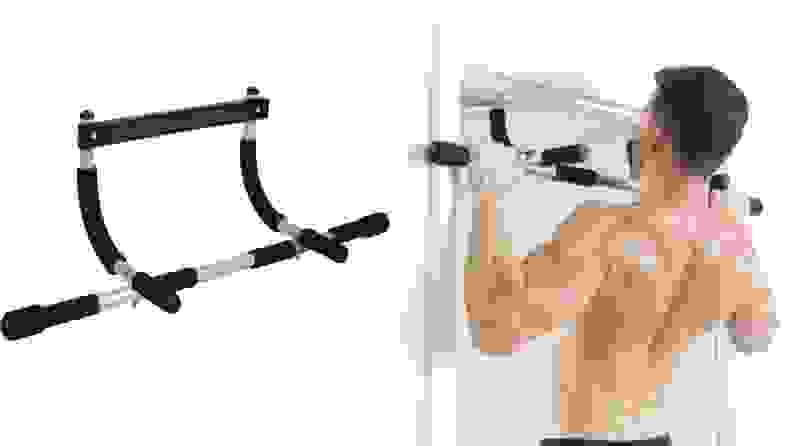 Reviews: 4,153
Rating: 4.1
There are those workout moves that can be the holy grail for some of us—more than likely, that includes a pull-up. To practice your technique at home, install this bar in a doorway. There are no screws, so it won't damage the doorframe and there are three grip positions so you can perform pull-ups, chin-ups, and more.
Our favorite review: "Out of the box, took just a few minutes to put together. Takes only a couple of seconds to install in a doorframe. Feels sturdy and solid, with comfortable hand grips (wide-grip, narrow-grip/chin-up grip, and neutral grip). I prefer this type of pull-up bar to a larger metal frame sort of design, as it fits easily in your closet for storage. This bar would be perfect to take in your car trunk, so you can always work on your pull-ups!" – Dave
Get the Iron Gym Total Upper Body Workout Bar on Amazon for $19.99
15. A set of resistance bands for a total toning workout
Reviews: 2,414
Rating: 4.8
Resistance bands are a surprisingly amazing way to stay in shape, and bonus: it can be done at home. This set of highly-rated, anti-snap bands offers varying levels of resistance, creating a one-of-a-kind workout every time.
Our favorite review: "Hands down the best workout system on the freakin' PLANET. I have purchased several sets simply because I'm stocking up on them and just simply LOVE these bands. Bought them for family and friends as well. These bands are the best bands on the market, without ANY doubt. I completely gave up weights and workout machines in favor of these bands and Liveexercise (their online LIVE workouts) and I have never gained this much muscle with weights. These bands just simply ROCK!" – Mr Smith
Get the Bodylastics Stackable Tension Resistance Band Set (12 pieces) on Amazon for $29.95
Prices are accurate at the time of publication, but may change over time.