Home & Garden
15 home décor products with a cult following—and why they're worth it
Redecorate your living room with these highly rated products.
Credit: WE Furniture / Heart to Heart
Decorating a home can be a tricky business—even for the savviest of interior connoisseurs—and the living room just might be the most challenging space of all. There are all of those pieces you have to have—a TV stand, couches and chairs that provide enough seating for everyone, storage and drawers that hold remotes, magazines, books, and toys for the kids. Plus, you want it to be comfortable without looking disheveled.
After you've thought about what you want and need, you then have to go out and actually find the items that fit both your needs and your taste. Thankfully, we live in a day and age when we have Amazon available at the touch of a button, a seemingly endless wonderland of home decorating possibilities. But this can be a double-edged sword that takes a fun project like redecorating and makes it an overwhelming challenge.
To help you start narrowing down your options, we combed through Amazon's selection to bring you the 15 most popular and highest rated décor items on the site. These items were selected with living rooms in mind, but they could honestly work in any room.
1. A rustic TV stand that's both stylish and practical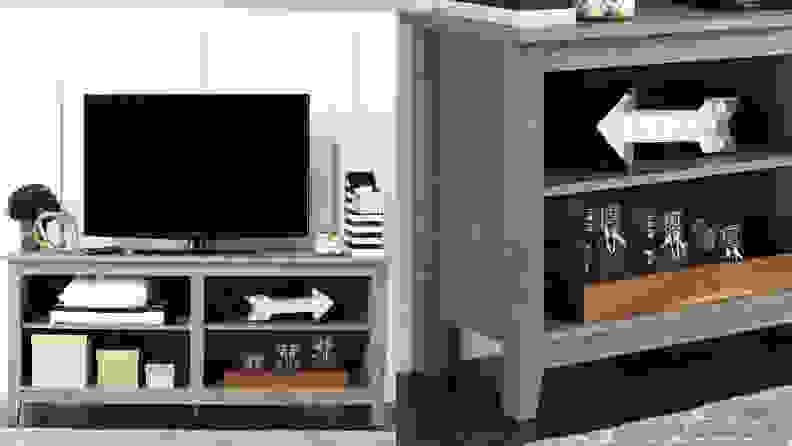 TV stands tend to have a tendency to be overly industrial with sharp edges, black metal, and glass. If you're going for a softer look in your home, this one is a lovely option—driftwood hue that mimics the appearance of reclaimed wood, plenty of shelving, and a neutral palette that goes with almost any décor style.
Our favorite review: "Good TV stand. Supports my 55" TV perfectly, not to mention plenty of space for a kitty to nap in. Didn't spend a full day putting it together, so YAY." – JaniceC
Reviews: 2,786
Rating: 4.2
Get the WE Furniture 58" Wood TV Stand Storage Console on Amazon for $96.74
2. Two basic black picture frames to start your gallery wall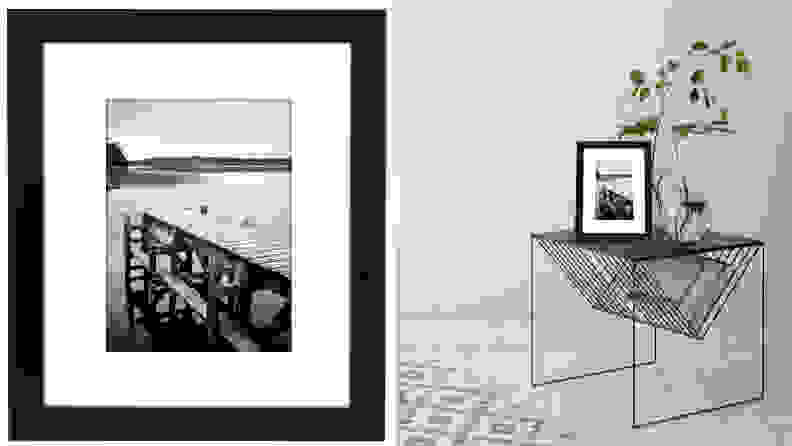 It can be difficult to choose what artwork to display in a home. Does it match your personality? Does it go with the décor? Will you even like it in a year? For a gallery-style wall you're sure to love, start with this two-pack of picture frames and hang up sweet family photos, children's artwork, and anything else that tugs at your heartstrings.
Our favorite review: "These frames are my go-to frame selection for my wall gallery at home. I enjoy the crisp black frame, white matting, and simple packaging. I've never had a problem with them and photo displays are immediate since there's no real effort needed to assemble the hanging wire and clasps on the back of the frame. Price is great for the quality received." – Jason
Reviews: 1,134
Rating: 4.4
Get the Americanflat 8x10 Black Picture Frames on Amazon for $26.95
3. A set of sheer curtains to add a traditional touch to your living room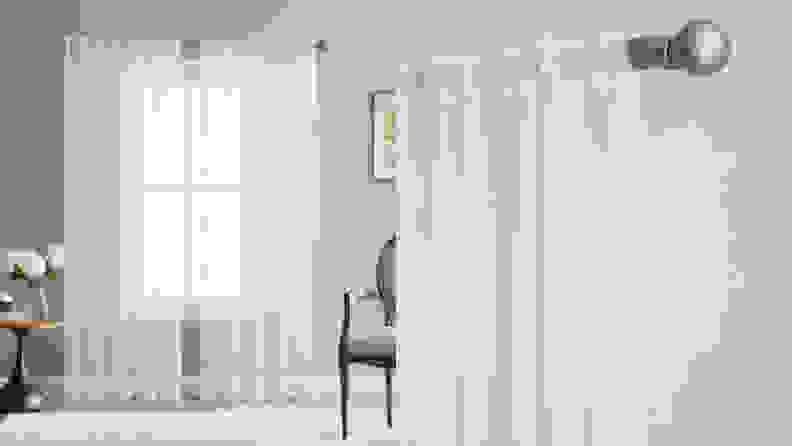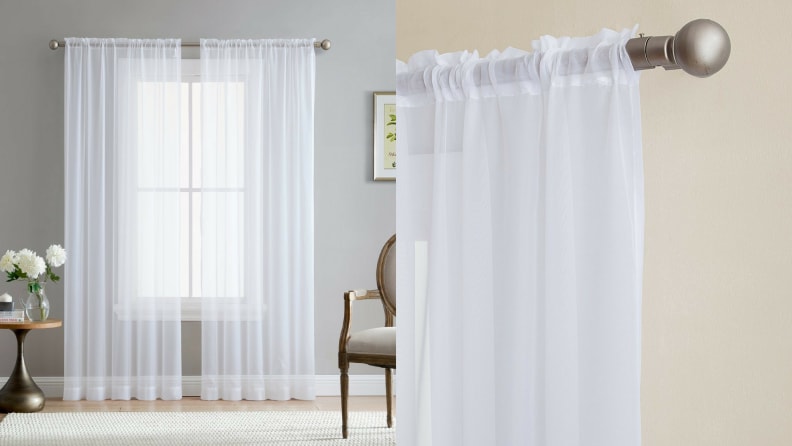 Curtains can either be too heavy and block light, or they're too light and offer no privacy at all. According to the reviews, these sheer curtains have found the happy medium. They allow light to come in, and yet, they offer just the right amount of privacy.
Our favorite review: "These curtains are exactly what I needed! I bought them to help brighten up my living room, which has very wide windows. They are very sheer but don't look cheaply-made. In comparison to my normal curtains, they let through a substantial amount of light, which is exactly what I was looking for. Overall, I am very happy for the price and the quality of these curtains! I am even thinking about purchasing more for my bedroom." – Shelby
Reviews: 1,930
Rating: 4.2
Get the HLC.ME White Sheer Curtains on Amazon for $12.99
4. A classic wall clock with atomic time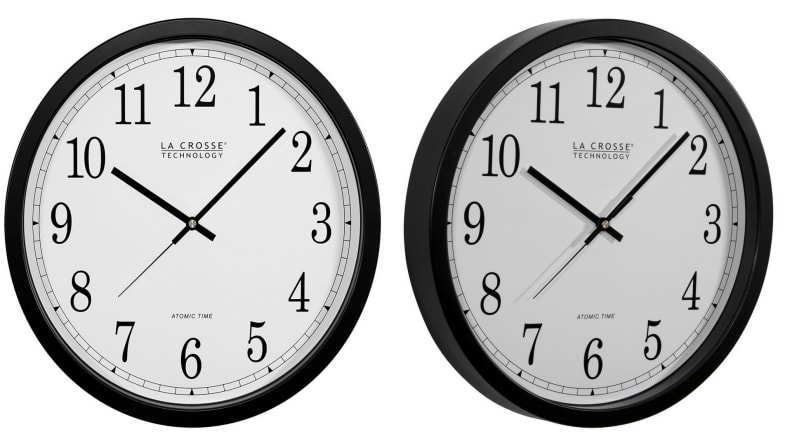 We constantly check our cell phones for the time, but there's something classic about a traditional wall clock. Look no further than this basic, yet stylish wall clock (with atomic time!) made by a trusted brand.
Our favorite review: "This clock has been performing flawlessly for several months. The fact that it sets itself to the atomic clock (including daylight savings changes if set) and that it has an extra battery compartment so you do not even have to mess with changing batteries for about three years, makes this clock perfect for commercial use and/or hard to reach places." – Shellamae & Carl
Reviews: 1,035
Rating: 4.1
Get the La Crosse Technology 14-Inch Atomic Wall Clock on Amazon for $29.03
5. A gorgeous coffee table with industrial details
A coffee table has the power to anchor an entire room by tying together the décor vibe of the space. But it also needs to be sturdy and damage-proof to withstand cups of morning coffee, impromptu coloring sessions, and big bowls of popcorn. This one from Emerald Home fits the bill, made up of durable, distressed wood and solid-steel legs.
Our favorite review: "Absolutely love this table!!!! Came packaged nicely and was very easy to put together. I am very impressed with the quality and just how sturdy it is for the price. We just moved into a new house and am going with the farmhouse look, and it's just perfect. I highly recommend this table and couldn't be happier!" – Jennifer Martin
Reviews: 1,134
Rating: 4.7
Get the Emerald Home Chandler Rustic Industrial Coffee Table on Amazon for $169.99
6. Faux lavender flowers that your guests will think are real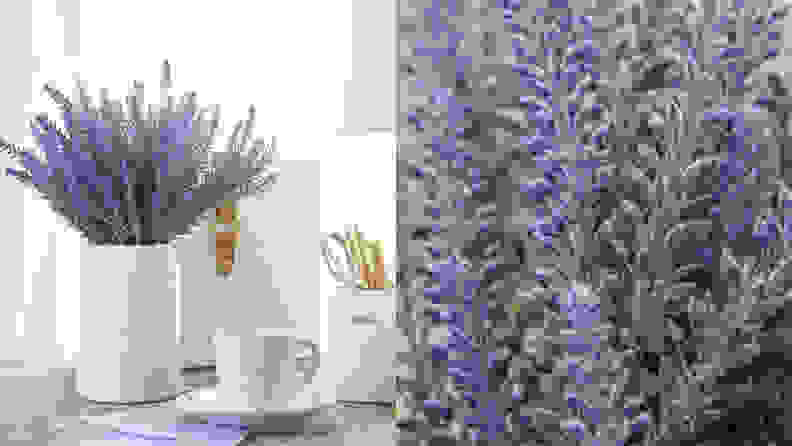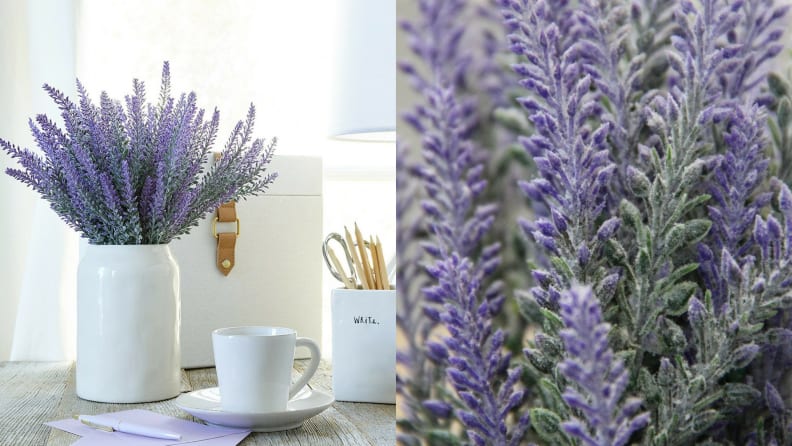 Fresh flowers are a cheerful touch in any room, but unfortunately, there's the part where they die, with petals dropping and leaves falling after only a few days. Instead, why not place a jar of faux lavender flowers in your living room? Many of the reviewers shared photos of these purple blossoms in their home, showing how lifelike they really look.
Our favorite review: "I'm amazed at how realistic these lavender stems look in my home. I love lavender, but it doesn't grow well in our area, so this is the next best thing. I separated my stems and cut them apart (about 5 nice stems per pick) to arrange in Mason jars. Would definitely recommend these picks. Fast shipping, too. A little 'plastic' smell that dissipates after they're out in the air—I also added a few drops of lavender essential oil." – J. Otto
Reviews: 1,021
Rating: 4.7
Get the Heart to Heart Artificial Lavender Flowers on Amazon for $12.99
7. A two-pack of ottomans that also act as storage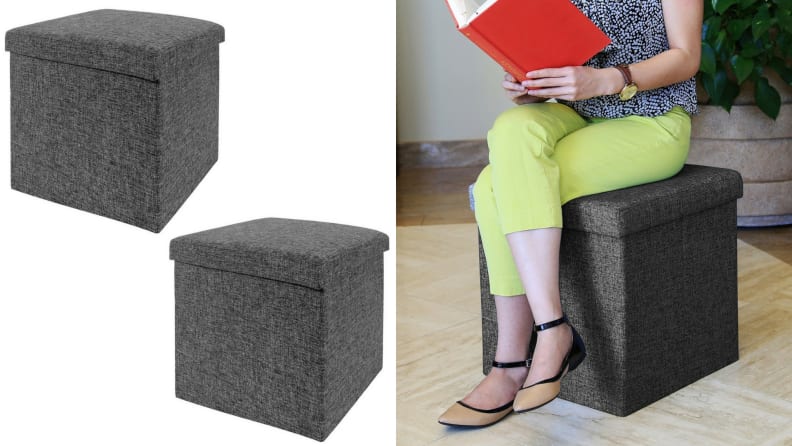 Storage is something that we all constantly scour for as homeowners. Extra closet space or room for a few storage cubes can be the holy grail. That's why this set of two ottomans is brilliant—they're stylish in gray tweed (or the other color options available) and they have lids with space inside for hiding clutter.
Our favorite review: "I love this simple ottoman! I was looking for something inexpensive, large enough for me to rest both legs on, yet small enough to fit in my tiny apartment. It's also lightweight and the navy color fits in with my neutral-themed decor in my living room. That I can store random stuff in it is a bonus. And when I'm not using it, one of my cats can be found lounging on it." – Cecelia F.
Reviews: 1,404
Rating: 4.8
Get the Seville Classics Foldable Storage Ottoman on Amazon for $34.99
8. A new twist on standard Himalayan salt lamps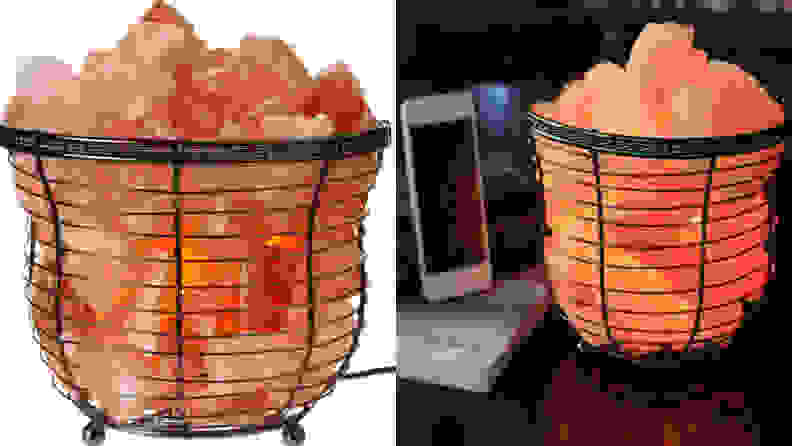 Himalayan salt lamps are usually the standard single-rock shape, but now they've started to take on more unique forms—like this metal basket filled with small pieces of pink salt. With its bulb nestled among the rocks, it provides a soothing glow that's perfect for a living room.
Our favorite review: "I just love this salt lamp. I already own three in different styles, and this is by far my favorite. It was hard to tell exactly what color the basket was when I first opened it, so I took it outside to look at it in the sun. It is a very lovely antique blackish silver, but is subtle enough that it would match any décor, and looks great on my light cherry sofa table. The salt rocks vary in color from almost white to light peach to dark peach and are of good quality, with an assortment of sizes and more than enough to fill the basket. The bulb and cord with dimmer switch are included. It came very well-packed, so that there was no damage to the rocks, bulb, or basket. This is a great find at a great price!" – Kay Long
Reviews: 3,484
Rating: 4.2
Get the Himalayan Glow Natural Salt Lamp on Amazon for $17.85
9. A goes-with-everything white end table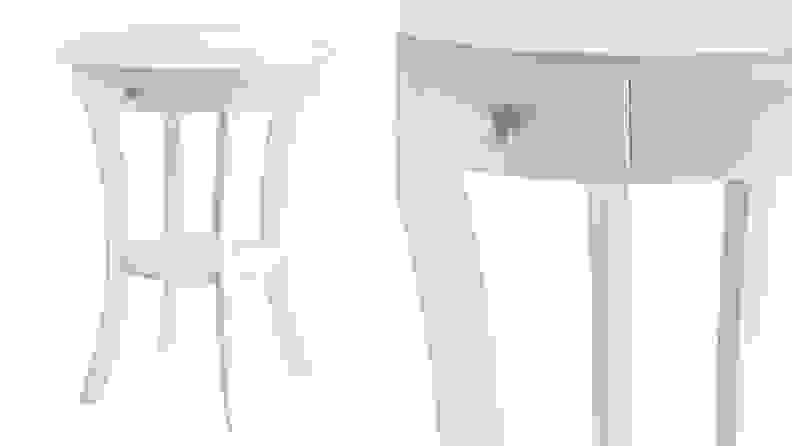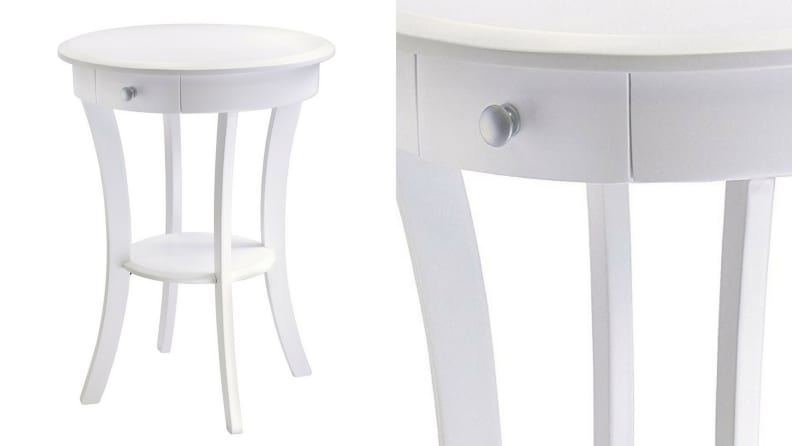 End tables are pretty much a necessity in a living room. Where else are you going to put your soda, bag of chips, remote control, and cell phone? This little white end table will match with a wide variety of décor styles, and its curved legs give a unique flair.
Our favorite review: "Love these things! I bought two for our living room and just love how perfectly white they are. They are big enough for a lamp, candle, plant, and cute little coasters, plus more room! My favorite thing about them is how tall they are. They sit above the armrest of our couches (which are tall as well). It is so nice not having to reach down to get our drinks. Plus, the little drawers are perfect for remotes." – Amazon Customer
Reviews: 1,127
Rating: 4.4
Get the Winsome Wood Sasha Accent Table on Amazon for $47.94
10. A shag area rug to bring plushness to your space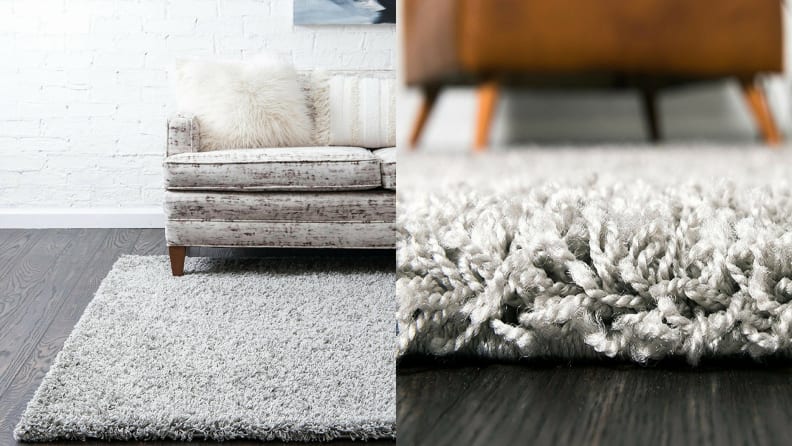 Even if you already have carpet in your living room, an area rug can bring even more warmth to a space. Bonus points if that area rug feels soft under your feet and comes in plenty of colors to go with your style. This rug does all that with soft shag and available in several sizes.
Our favorite review: "I am beyond happy with this rug. I shop around a lot, and always read reviews, and even still I was skeptical that this rug could be this affordable and still be a quality product. The color, pile, size, and plushness are exactly what I was hoping for. I am in love with the way it ties our living room together. My kids keep saying how soft it is. Also, I did not experience any smell upon unrolling it." – Amazon Customer
Reviews: 1,041
Rating: 4.3
Get the Unique Loom Solid Shag Area Rug on Amazon for $39.81
11. A throw blanket that's quite possibly the softest one in history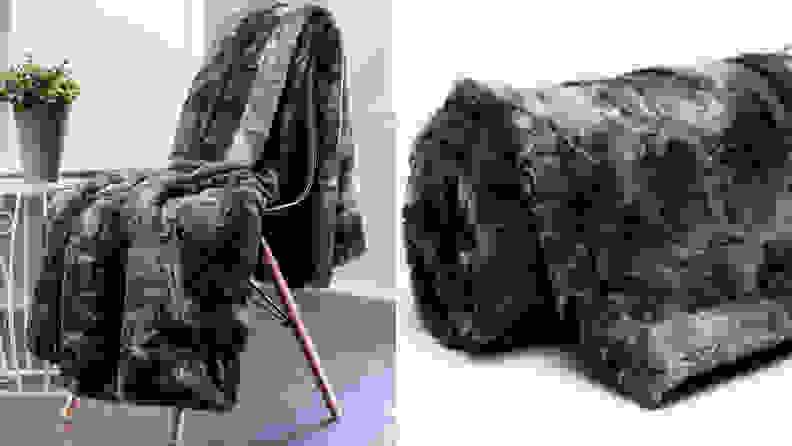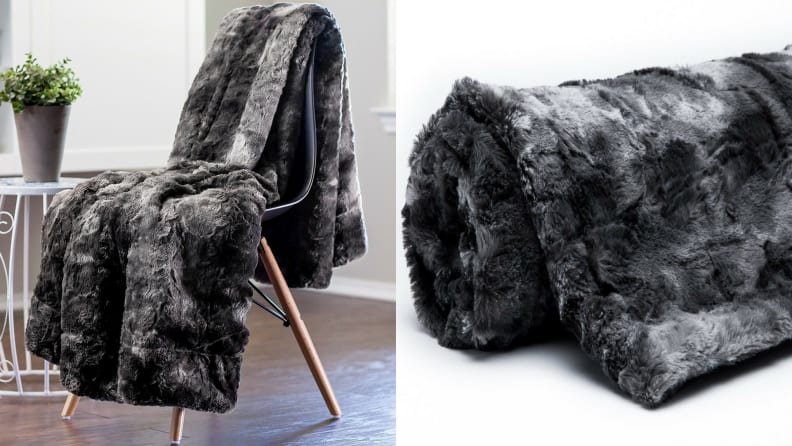 You'll also need an equally-cozy throw blanket to go along with that area rug. Reviewers rave about this one in particular because it's large enough to cover a bed and snuggly enough for an evening spent on the couch. In super-plush sherpa, you can't go wrong.
Our favorite review: "I wanted a good size throw to cuddle on the couch when it gets cold. I purchased this because it was advertised as being very soft and cozy. And I was not disappointed! This throw is unbelievably soft and warm and so nice to cuddle in. My husband loved it so much, he kept stealing it from me, so I had to buy him his own. Highly recommend!" – Cathee
Reviews: 3,021
Rating: 4.6
Get the Chanasya Faux Fur Throw Blanket on Amazon for $26.95
12. A set of collapsible crates that keep small items out of sight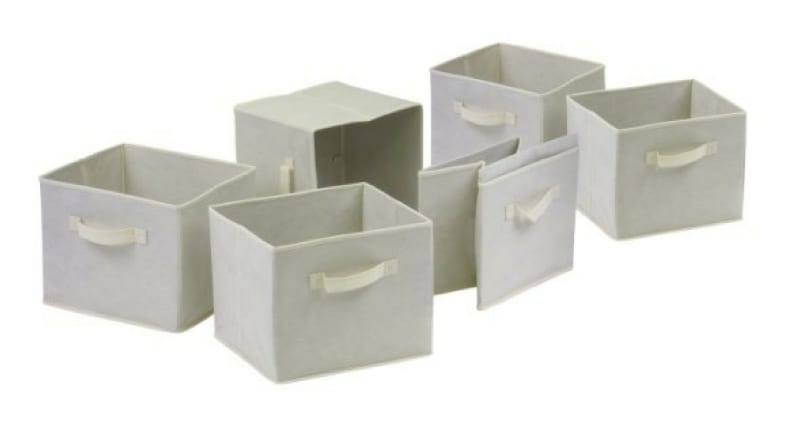 A disorganized living room can be stressful, which is the opposite of what a room where you're supposed to kick back and relax should be. Instead of looking out upon a sea of clutter, try including these six storage cubes in your space, either tucked under a coffee table or placed on a shelf.
Our favorite review: "These are great little cubes for getting stuff out of the way. Super lightweight with a firm bottom, they'll hold four to five pounds worth of 'clutter.' I have them underneath a large, square coffee table in the living room and above the kitchen cabinets." – Sheila V. Barr
Reviews: 1,197
Rating: 4.6
Get the Winsome Capri Foldable Fabric Baskets for $21.69
13. A lamp that doubles as a charging station
It's nice when a decorative item can do a lot more than simply act as décor. This handy lamp gets to work, providing light to a space and a power outlet in its base so you can easily charge your cell phone and other devices.
Our favorite review: "This lamp is just so darn cute. It is minimalistic to be sure, but don't let that fool you into thinking it is a poor-quality lamp. It is quite sturdy and actually very pretty. I have it next to a new chair I bought, and it looks fantastic. In my opinion—great lamp!!" – A of the M's
Reviews: 1,077
Rating: 4.4
Get the Limelights Brushed Steel Lamp with Charging Outlet on Amazon for $19.99
14. A highly-rated diffuser to create scented surroundings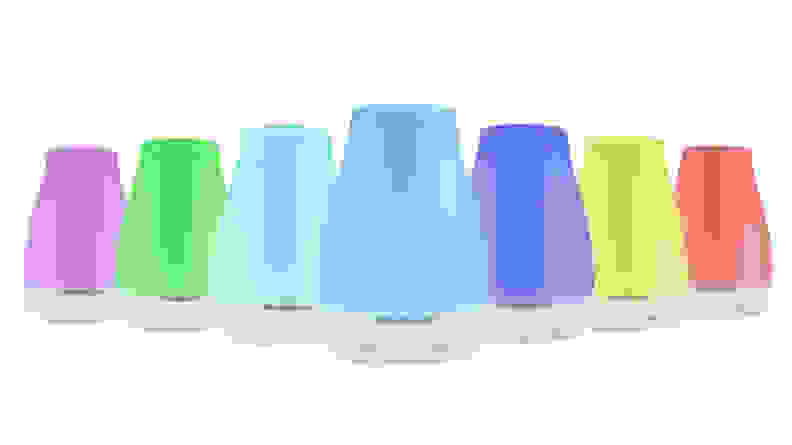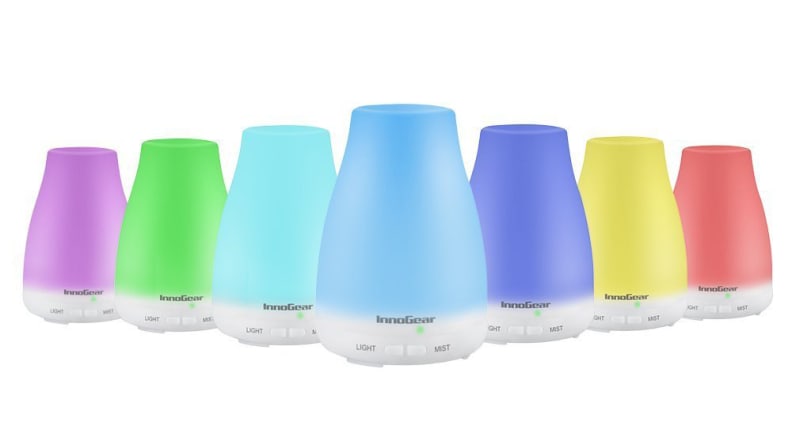 Reviewed recently tested the best diffusers out there and this one made the top of the list. Circulating through seven comforting colors while releasing a cool, aromatic mist (make sure to add a few drops of your favorite essential oils), it's a peaceful addition to any living room.
Our favorite review: "Great little diffuser. I was looking for something not too big to put in the living room, and this fit the bill perfectly. I've got four dogs, and with seven or eight drops of essential oil, the place smells divine within a few minutes and stays on for hours. The colors are also really soothing—love to turn it on in the evening as we watch TV. The light isn't so strong that it bothers us, but it's still eye-catching. Considering buying another one for the office now." – KateDR
Reviews: 447
Rating: 4.3
Get the InnoGear 150ml Aromatherapy Essential Oil Diffuser on Amazon for $15.95
15. A doormat to keep dirt out of your living room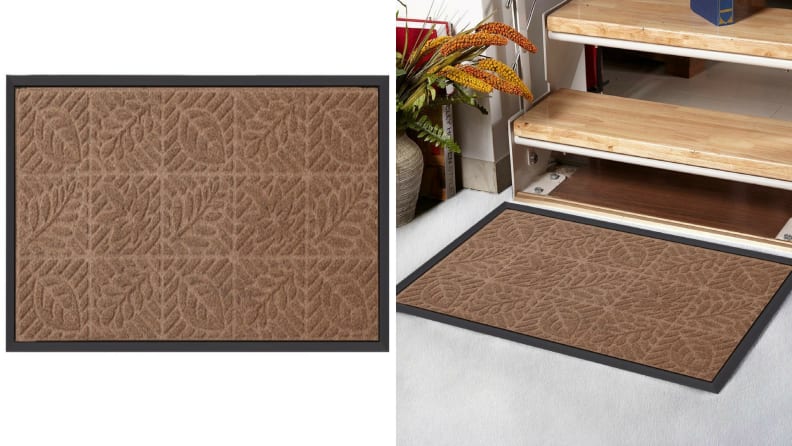 Muddy footprints on your living room carpet? Not cool. But what is cool is this thick, reliable doormat, built tough (and is still pretty) so it will soak up every piece of dirt and debris before it enters your house.
Our favorite review: "I have invested in heavy, expensive doormats for our screened-in porch because we live in the woods and debris is easily carried inside. They were heavy and difficult to clean, so I researched alternatives. Happily, I landed on the Amagabeli mats! They do the job. They are lightweight enough to pick up and clean. They are extremely attractive. Wish I had seen them earlier!" – BetsyB
Reviews: 1,155
Rating: 3.8
Get the Amagabeli Large Outdoor Door Mat on Amazon for $17.99
Prices are accurate at the time this article was published, but may change over time.