Home & Garden
15 popular pieces of minimalist home decor under $50
You'll want to add everything to your wishlist.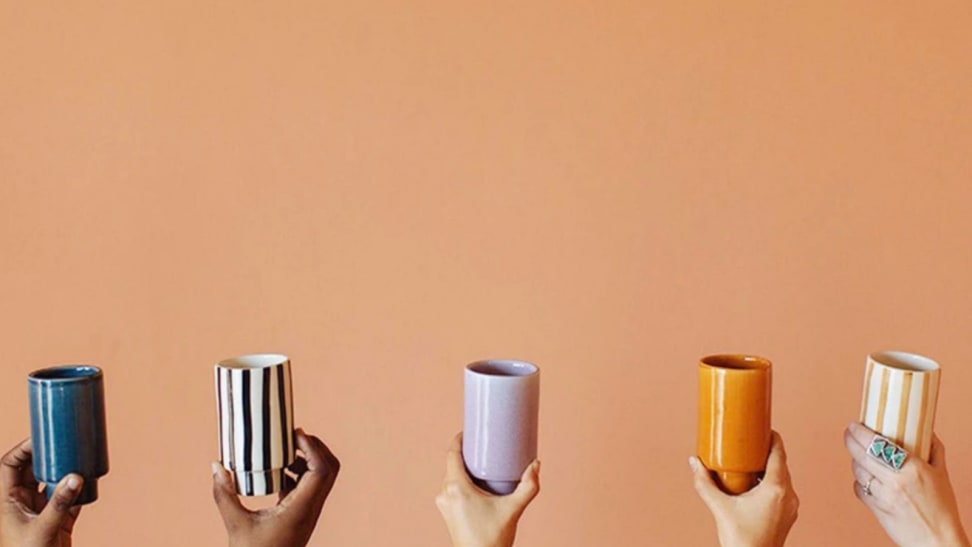 Credit: Jungalow
I don't know about you, but early fall seems to be a popular time for leases ending and new roommates moving in. I think it's partly because I live near a college campus, but everyone around me knows now is the time for picking up new furniture and finding a balance between home decor styles. Thankfully, my new roommate and I are maximalists, so our home is full of trinkets and plants and books about our INFP and ENFP personalities.
However, since we're in an old home, we also selected minimalist decor pieces that serve both form and function, making our home comfortable and useful for both of us! Minimalism doesn't have to be one color scheme or one accent color—it's more about buying and decorating intentionally, whether that means thinking through impulse buys or knowing what purpose an item will serve even before you buy it. These are some of our favorite minimalist decor items that are budget-friendly and highly useful.
1. These square floor cushions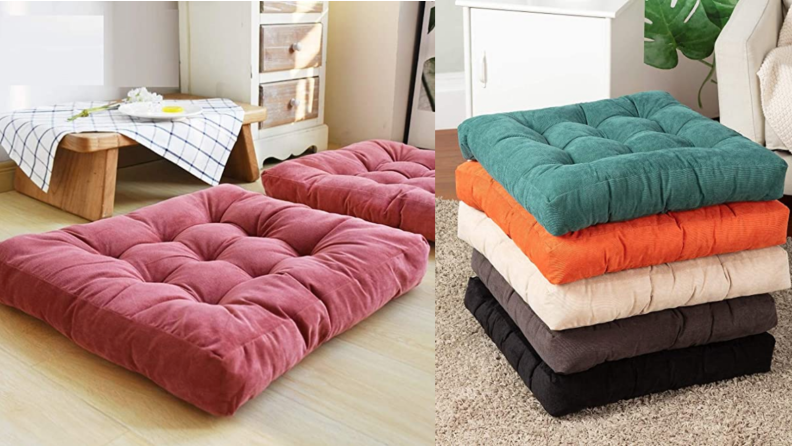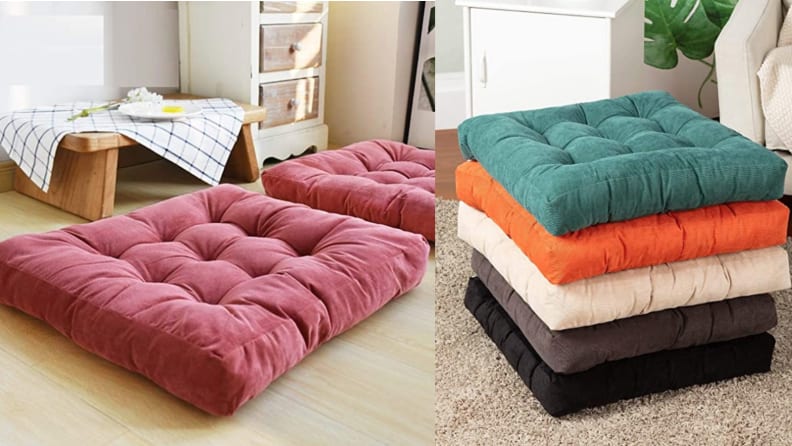 One of my favorite decor ideas for a room is floor seating. It's perfect to make a room feel more zen, and it comes in handy when you have people over (especially when being careful to socially distance). These square floor pillows from HIGOGOGO are 22-inch squares that are four inches thick, making them great for meditation, working from home, extra seating for movie nights, dog beds, and more. The cushion comes in fifteen (yeah, FIFTEEN) color options so you can keep your color scheme intact, whether you want neutrals like beige, grey, and coffee, or colorful accents like watermelon red, sky blue, or a jewel-toned turquoise. They'll also look great stacked together in a corner, which makes storage easy.
Get the Solid Square Seat Cushion from Amazon for $36.99
2. An industrial lamp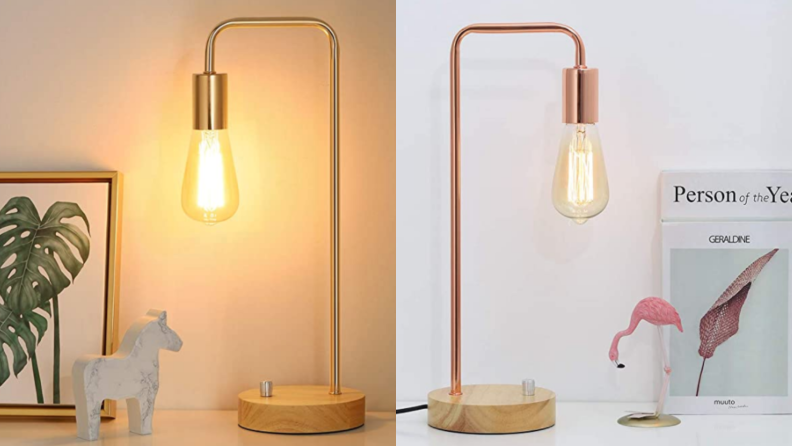 Lighting is one of my non-negotiables when it comes to apartment hunting and decorating. Natural light is best, especially since most of my shelves are covered in plants. However, I work from home—as many of us do now—and having good lighting around my workspaces is imperative to staying focused and not feeling headachy in the evenings! This industrial lamp has clean lines and isn't bulky. It'd fit on a side table next to the couch or on a desk with several monitors (or in my case, more plants). You could also place it on shelves or hallway tables since it's lightweight and the base is small.
You can get creative with shapes by choosing different styles of E26 bulbs. Since there's no shade, I'd go with a dim option that balances the blue light if you're going to have it near your computer. The lamp is under $30 and comes in black, gold, and rose gold.
Get the Industrial Table Lamp from Amazon for $27.98
3. These ceramic multipurpose vessels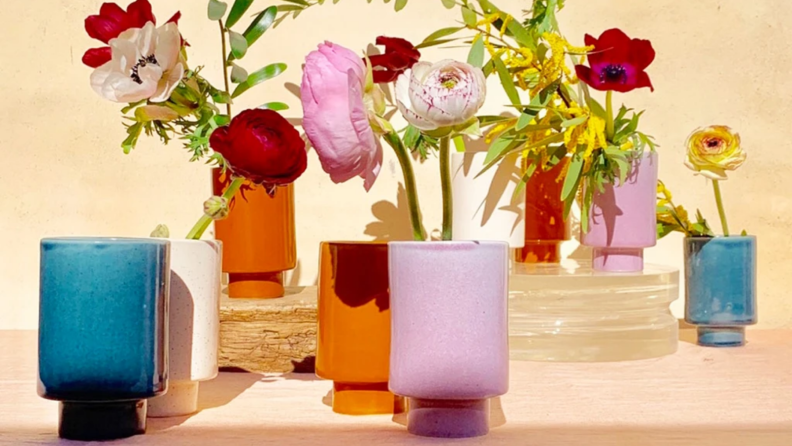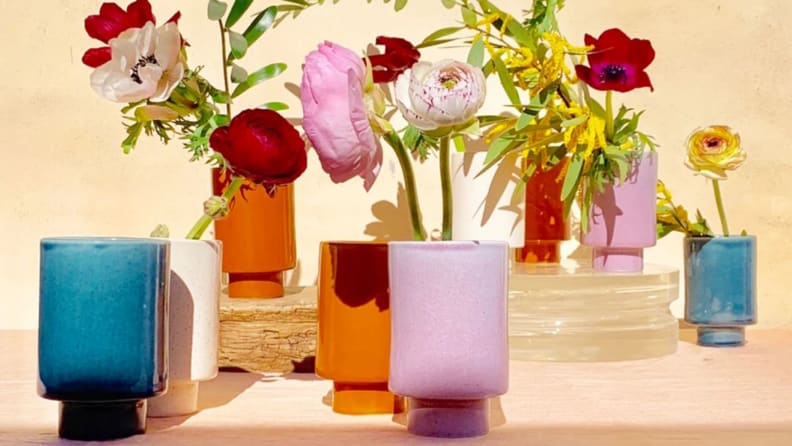 A huge component of minimalism is having objects serve multiple purposes. These ceramic vessels do just that. You can use them to showcase wildflowers, gather your pens on your desk, drink water or matcha, gather jewelry, create a candle within, or just use them as decor. The abstract shape is eye-catching but the colors are grounding and solid. Earth tones are my favorite, and the burnt orange shade is already on my holiday wishlist.
The ceramic cups would make a great set in your kitchen (especially if you have open shelving—hint hint!). They'd also make a gorgeous and simple gift. And you'd also be supporting Jungalow, a Black woman-owned business.
Get the Ceramic Cups from Jungalowfor $20
4. These Earth-friendly candles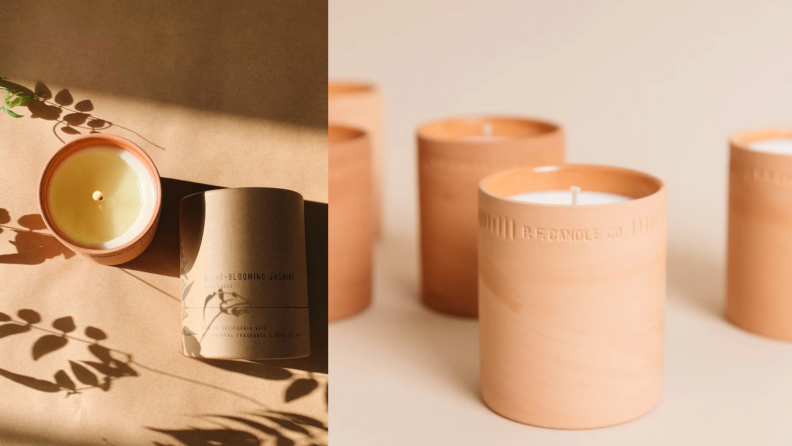 Just because something is minimalist doesn't mean it can't be cozy. And something you'll never get from a perfect room layout and Instagram picture of someone's space is the wonderful smell of the oils and candles they've got going. These candles from P.F. Candle Co. are incredible. As someone who buys as Earth-friendly as possible, these make it easy. Their Terra candles are "all-natural candles made with plant-derived fragrance oils, soy wax, and cotton-core wicks... housed in a custom terra-cotta jar." That makes them almost zero waste!
Plus, they come in luxurious scents like Night-Blooming Jasmine and Lavender. I'd bet they're the perfect addition to a face mask and self care Sunday evening.
Get the Night-Blooming Jasmine Terra Candle from Nordstrom for $30
5. This functional lamp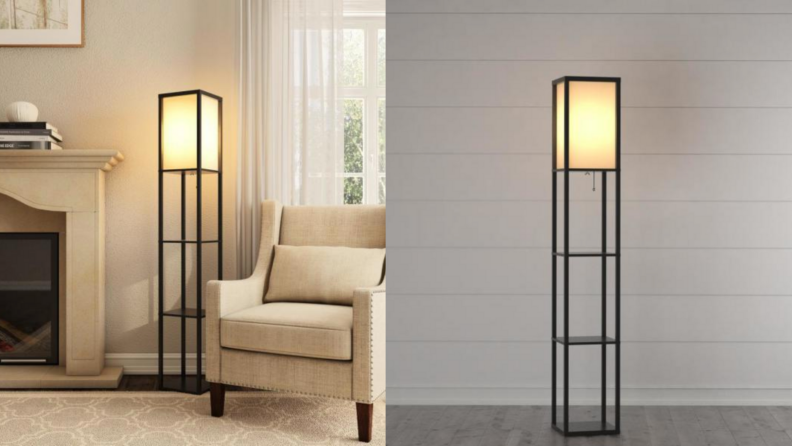 My roommate has this exact lamp in her bedroom and it ties everything together. I know that's a lot to say for a lamp, but I mean it! It's over 5 feet tall and has three shelves within its tower. Right now she has it next to her bed as a lamp and uses the shelves for her phone and laptop, photos and trinkets of loved ones, and a basket on the bottom one to keep random things from spilling onto the floor.
The light itself is muted, but you could select a brighter bulb if you wanted. This lamp would look great on both sides of a sofa since it's tall, with the shelves doubling as side tables. It'd also work as an entryway lamp, giving you a light as soon as you walk in the door and enough shelving to drop your keys, purse, and shoes without creating a heap on the floor. Its design is both practical and modern, which reviewers love. They also say it's easy to put together.
Get the Black Floor Lamp Organizer Storage Shelf from Home Depot for $44.99
6. This timeless mirror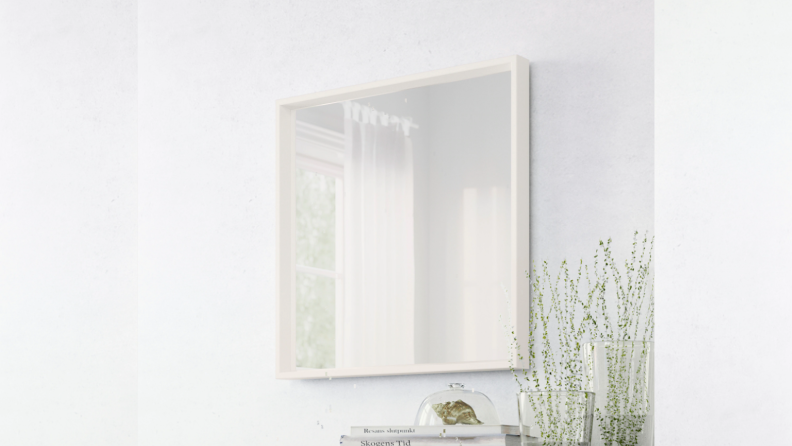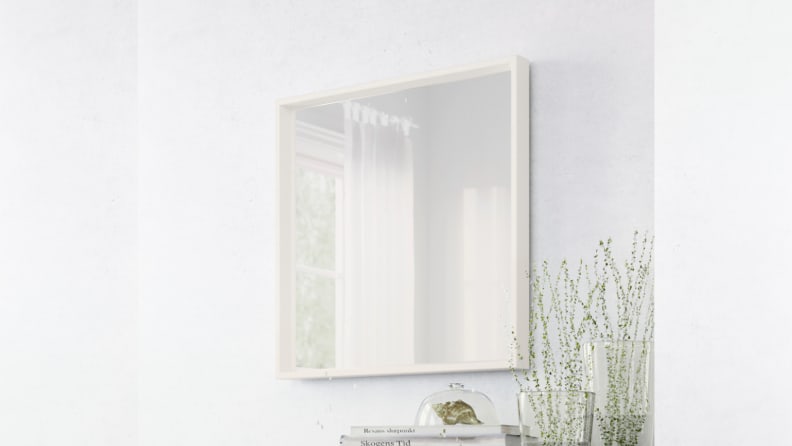 Mirrors do so much for a space. They make small rooms feel larger. The reflect sunlight to make rooms brighter. They add dimension, decor, and can double as vanity mirrors if hung at the right height. This 25-inch square mirror from Ikea can do all of those things. It's big enough to stand alone on a wall as a centerpiece but can also work beside a door or above a desk as a more functional piece.
This is a gem in Ikea's Malm collection. Mirrors can be super expensive and heavy, but this one is only $20, comes in black or white, and is easy for anyone to hang. I can't tell you how many reviewers say it's "Perfect!!" in their homes. They also mention that the mirror was shipped and delivered without damage, saving you a mess and a return headache.
Get the NISSEDAL mirror from Ikea for $19.99
7. This three-tier hanging basket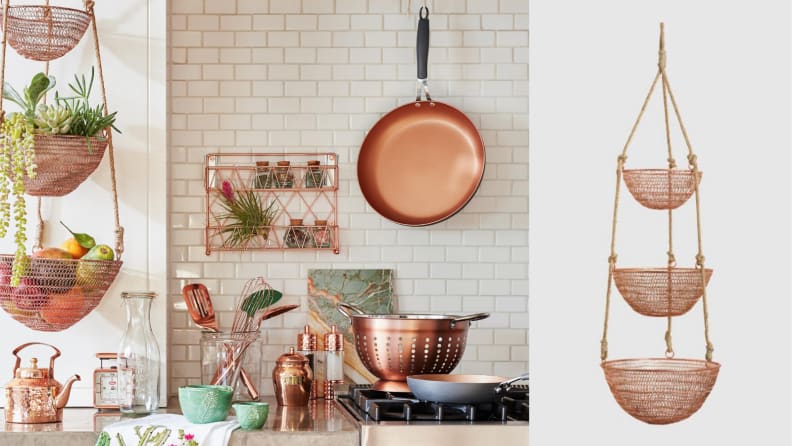 I have this basket in my kitchen and it's a game-changer, lifesaver, and cute little addition to a dreary kitchen. I remember being at World Market trying to decide if I should buy it. What would I use it for? Would it hang too low and be a nuisance? How much weight would it hold?
I'm so glad I bought it. I hung it from the ceiling by anchoring it and using s-hooks to make sure it was low enough for me to reach each basket level, but not so much that I'd run into it as I moved around the room. It's perfect for all my produce. I use the top basket for garlic, the middle level for bananas, apples, and avocados. The bottom basket is pretty large, so I keep onions and potatoes there. I've loaded it fully many times and it's still holding up well; just be sure to hang it securely!
Get the Copper And Jute Rope 3 Tier Hanging Basket from World Market for $34.99
8. This frosted and crackled-glass lamp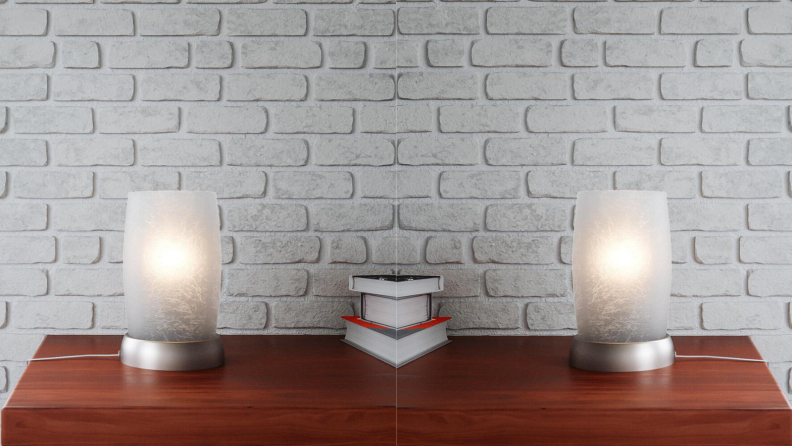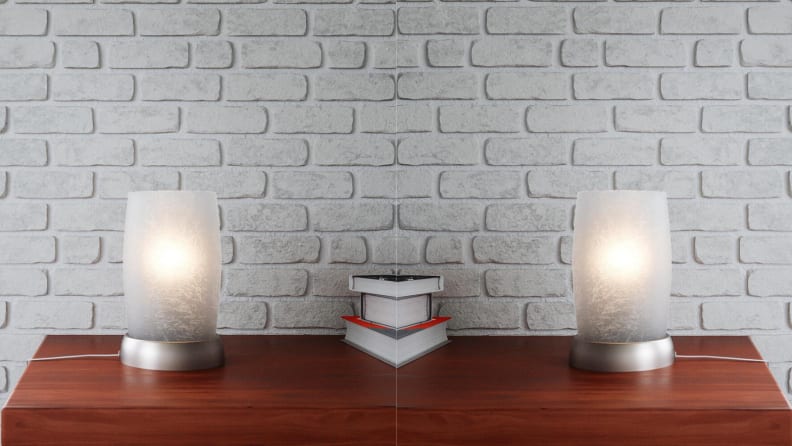 Lighting is so important to me, I'm including another lamp. This one reminds me of a salt lamp because the frosted glass has a bit of texture to it. It's also about the same size as the pink salt lamps, but it's more versatile. You could pair a bright light with it in the living room, or a warmer tone for a zen nook. It's a good option to keep near your favorite reading chair or tea-sipping spot. The best part about this lamp is its built-in dimmer that allows you to select from three levels of brightness, no matter which lightbulb you choose!
Get the Brushed Nickel Accent Lamp from Home Depot for $21.97
9. Removable wallpaper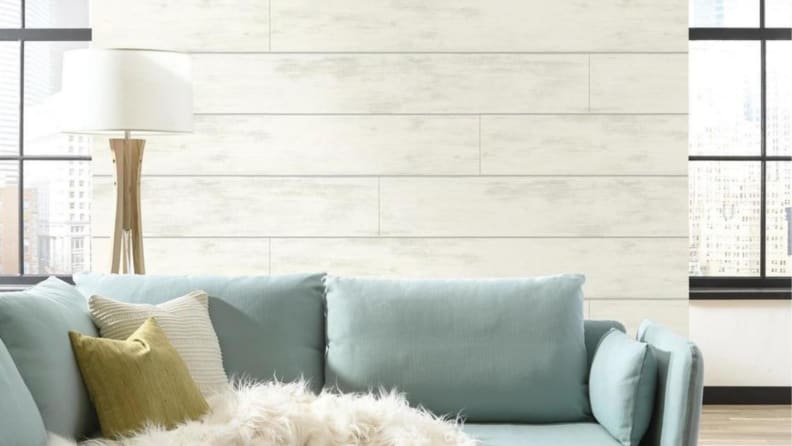 Minimalist homes can still have texture, even if they're rentals! These removable wallpaper options are great for adding an accent wall or updating an older home. They're part of a collection by Joanna Gaines, so of course I included a shiplap option. Reviewers noted that, "everyone who sees it thinks it is actual shiplap!!" It's a great alternative to filling your wall with all the holes and screws that come along with a gallery wall. An added bonus of using remoaveble wallpaper is that it's often easier to apply and install than actual wallpaper and it's temporary! So if you have rooms that are changing purpose or aren't able to paint your walls, it makes a good alternative.
Get the Shiplap removable Wallpaper from Home Depot for $1.54 per square foot
10. These statement coasters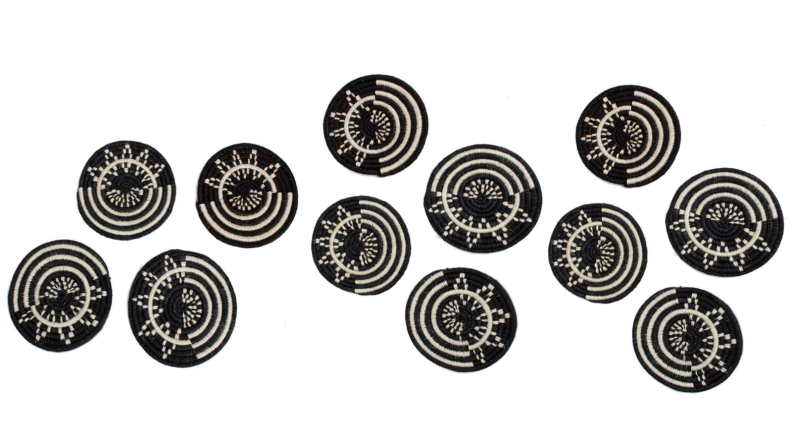 I've seen these types of coasters trending on Instagram pages lately. Who doesn't love a little accent to add to every surface? Coasters can be such a fun way to tie a room's color scheme together. I have friends who love collaged coasters and friends who love coasters covered with Beatles lyrics. I prefer patterned coasters like these from Jungalow. They're a simple black and white pattern that matches my floor pillows and also loosely reminds me of the sun and of the yin and yang symbol. The coasters are made from fiber and sweetgrass, so they'll secretly absorb the condensation dripping down your glass this summer and protect your surfaces from hot coffee mugs this winter.
Get the Black Mara Coasters from Jungalow for $35
11. These funky floating shelves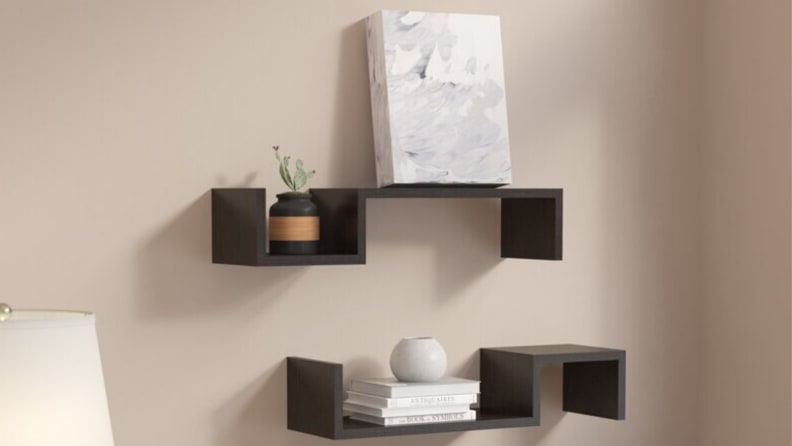 Another attribute of minimalist decor is clean lines, but no one said they have to be straight. I love these shelves because they're funky and they're different from each other. I love how they create two different shapes instead of fitting together like puzzle pieces. You can hang them side by side to make a long shelf for displaying art and photos or hang them vertically like in the photo and play with their opposite silhouettes.
Get the Taylorsville 2 Piece Floating Shelf Set from All Modern for $34
12. This plush pink rug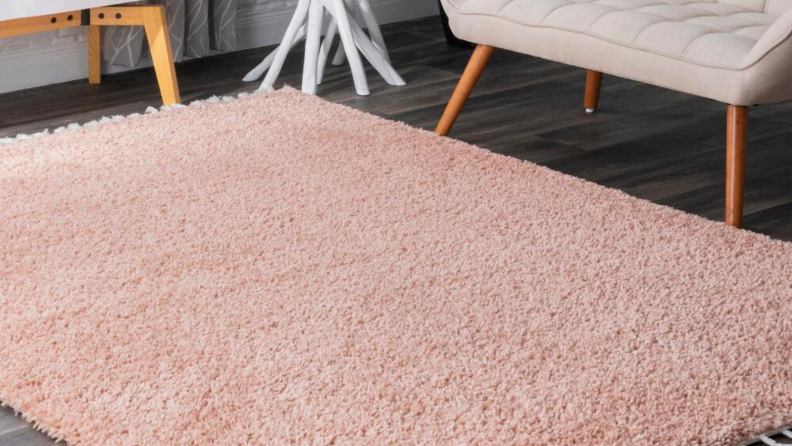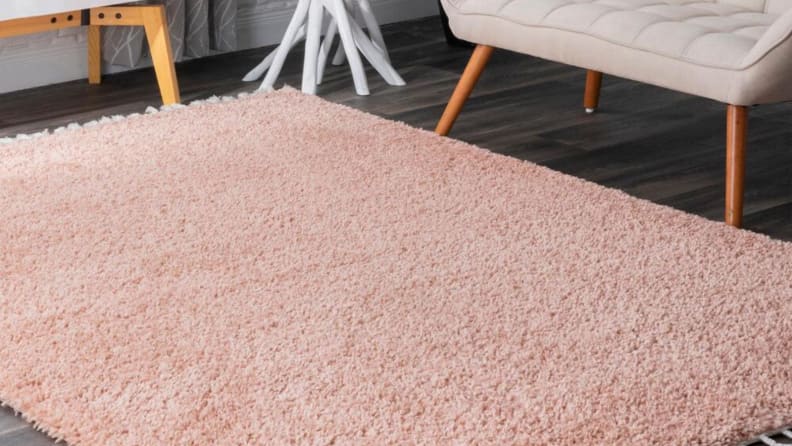 Of course, a room isn't fully finished without a rug. I love rug shopping for each room because there are so many variables: size, pattern, plushness, tassels or no tassels, colors, and price. This pink tassel rug looks like a cloud. I want to set it next to my bed so it's the first thing I step on when I get out of bed. It looks warm and fuzzy but not too shaggy to vacuum. In addition to brightening the room, reviewers say it's "luxurious and cozy." Who doesn't want a room to feel like that?!
Get the Shag Neva Area Rug from Home Depot for $30.60
13. These PERFECT jars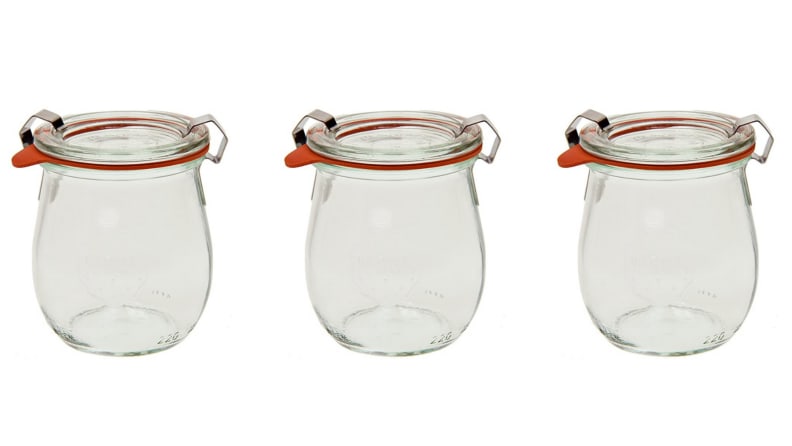 I stan Weck jars. They're perfect for all your pantry needs. Seriously. Chia seeds, homemade jam, spices, yogurt, overnight oats, leftovers, salad dressing, smoothies, herbs...need I go on? I love how versatile Weck jars are, and they come in plenty of shapes and sizes (making them a better kitchen staple than mason jars in my opinion). You can easily buy them in sets or singles from Amazon.
They're also cute as heck. They have multiple tops that you can purchase too. They come with the red rubber seal, a glass top lid, and metal clips to keep the seal tight. I've also purchased wooden and cork lids to make them a bit easier to stack (and also because I kept losing the metal clips). If you like to cook—or you like things to match—these are the way to go.
Get the Weck 762 Jelly Jar - 1/5 Liter, Set of 6 from Amazon for $28.34
14. This geometric pillow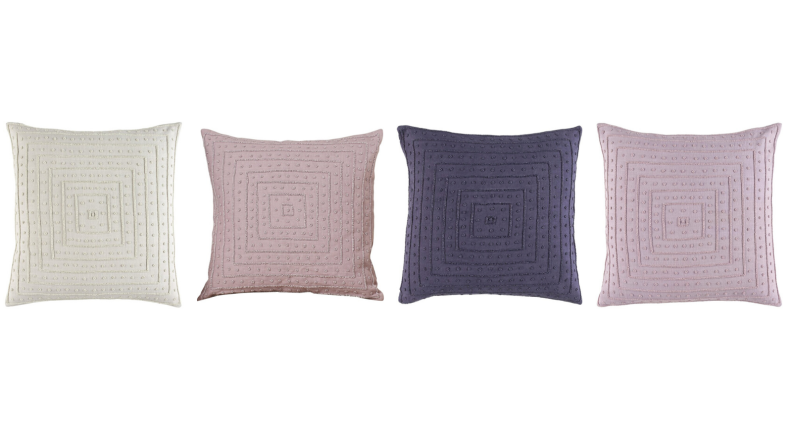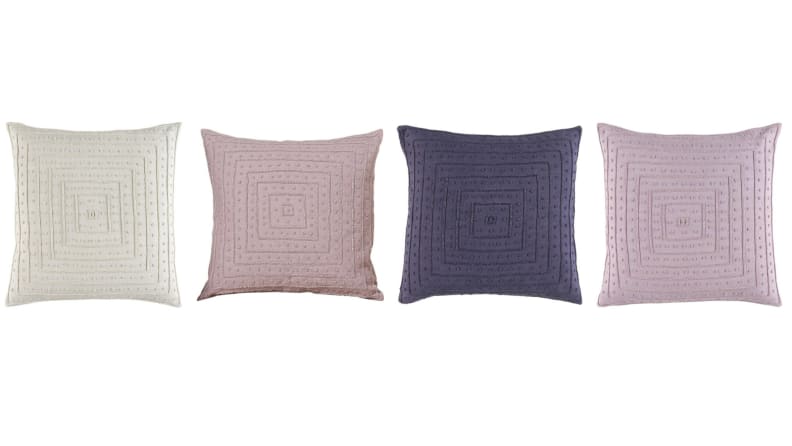 Searching for the right throw pillows can feel like falling down a rabbit hole. But I'm making your work easy by including these textured ones. They're made with a 100% cotton cover (so they're easy to wash). I love all six of the muted floral tones, especially the lavender and mauve.
Each pillow features a series of rectangles within rectangles with beaded embellishments between each shape. Overall they're geometric, soft, and add a whole lot of dimension for a single item on your couch. If you love patterns, they'd be great with a funky rug or colorful blanket on your sofa. If you're more classic, a pair of these would go well with a plush rug and a symmetrical placement.
Get the Gemetric Throw Pillow from All Modern for $38
15. These fun vases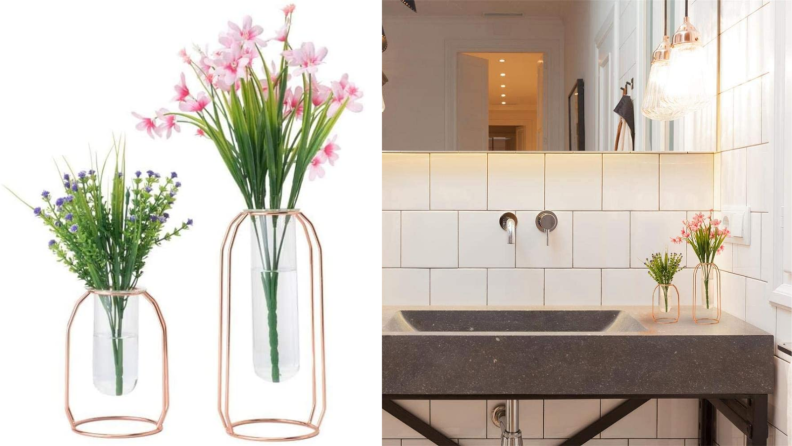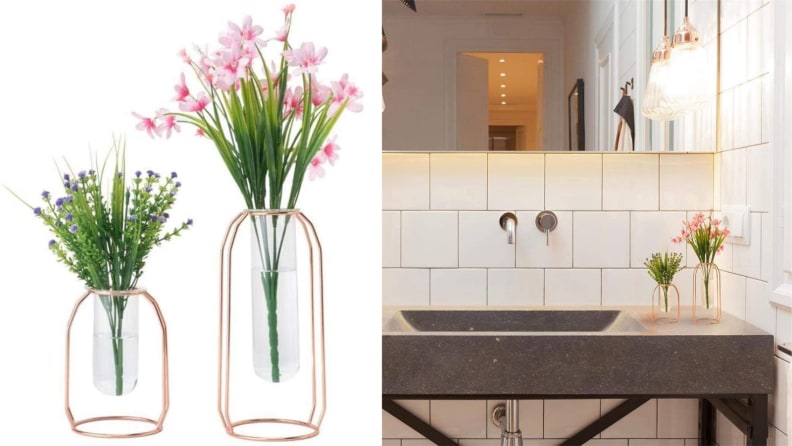 I always include plants and pots in some way, and this cute lil set is no exception. They're funky shapes and provide clean lines for any side table or shelf. I love the rose gold/copper finish of the metal. I think the vase portion looks like test tubes from science class, which adds a fun element to any little bouquet of flowers or propagation. I'd suggest putting a phildendron in one of these and letting it grow roots and trail down. These two are perfect for side tables, thin windowsills, or kitchen countertops.
Get the Set of 2 Metal Flower Terrariums from Amazon for $24.59
The product experts at Reviewed have all your shopping needs covered. Follow Reviewed on Facebook, Twitter, and Instagram for the latest deals, product reviews, and more.
Prices were accurate at the time this article was published but may change over time.