Home & Garden
15 stylish home furnishings you can buy at Home Depot
Your friends will never guess where you got these amazing pieces.
Credit: Home Depot
The Home Depot is one of the world's largest home improvement retailers. It has always been a place to go for maintenance needs, to pick up some lumber, a pipe, or a can of paint. Now, you can rely on the company to do more for your home—they're ready to help you furnish it.
In the past year, the company has vastly expanded its selection of furnishings and décor offerings. It's a natural step since Home Depot already owns two home design retailers: The Company Store, which specializes in soft goods for the home, and Home Decorators Collection, which is now part of Home Depot. Orders can be delivered to your home or local store, and anything over $45 ships free.
We spotted the collection at a recent home design show in New York, where design industry movers and shakers were making themselves comfortable all around us, seemingly having no idea that Home Depot had supplied the décor. If we didn't already know, we wouldn't have suspected either.
"It's attainable for people who may have a limited income but don't want to forego style," says Sarah Fishburne, Home Depot's director of trend and design.
Offering a wide breadth of style and looks, the furnishings and décor on the site are likely comforting and familiar. You're not coming to Home Depot for something edgy, right? However, the variety of styles will surprise you, and most of them will look great in several kinds of rooms.
Here are some of our favorite pieces from the new collection:
1. A gold-and-glass coffee table
Hand-painted with a gold finish, this coffee table wants to be the focal point of your living room. It brightens up your black furniture with its aged metal sophistication and two levels of tempered glass. At the design show, this table was the highlight of the lounge area.
Get the Home Decorators Collection Bella Aged Gold Square Glass Coffee Table for $134.25
2. This luxurious dark gray sofa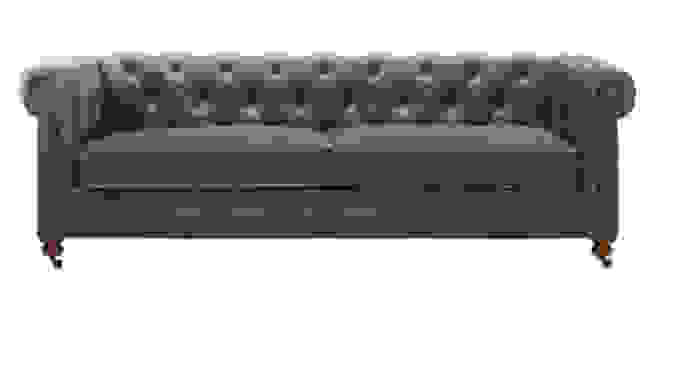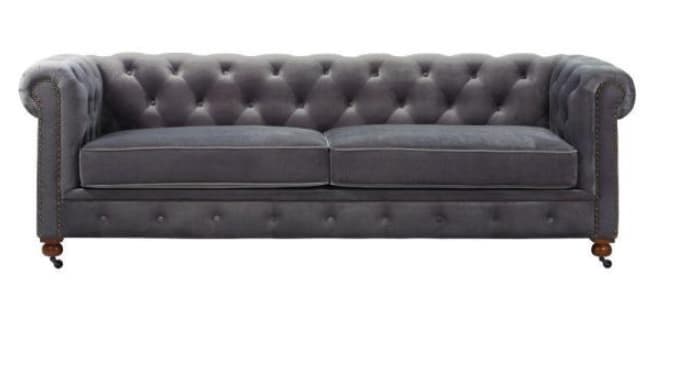 The tufted back and scrolled arms of this couch are nothing short of elegant. Brass nailhead trim on the front adds the finishing touch. Your design geek friends will wonder how you could possibly afford a Chesterfield sofa on your budget. By the way, the couch also comes in bonded leather.
Get the Gordon Grey Velvet Sofa for $1,149
3. A runner for the hall
Don't neglect the hallways when you decorate your home. A well-made neutral rug can pull together a narrow space. A perfect match for your gray or white walls, this runner's medallion design is textured and on trend. Jute backing can add to a rug's longevity, so this design will probably stay with you for a while.
Get the Spiral Medallion Grey Runner for $43.85
4. Colorful geometric throw pillows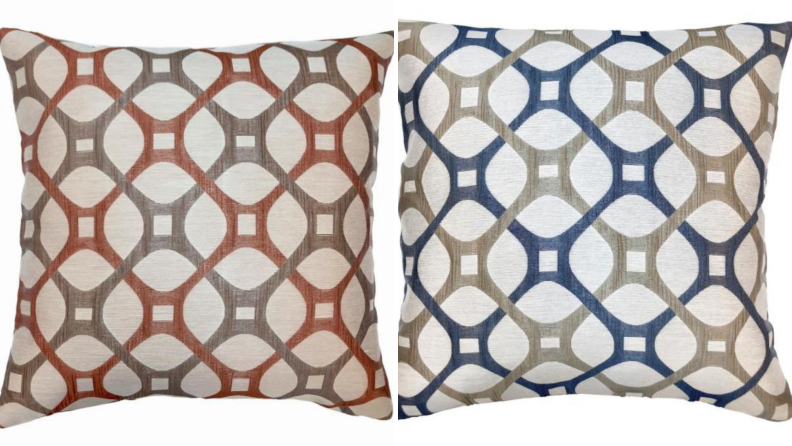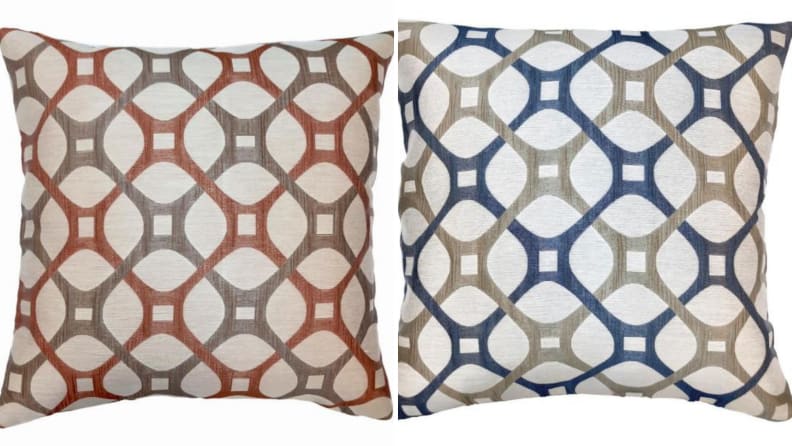 Throw pillows add softness and dimension to your couch. Warm coral contrasts well with gray on this cushy pillow, but you can choose a pillow in cobalt if you prefer. With a silky feel and stylish Moroccan tile-shaped graphics, these pillows look much pricier than they actually are.
5. Storage that looks built-in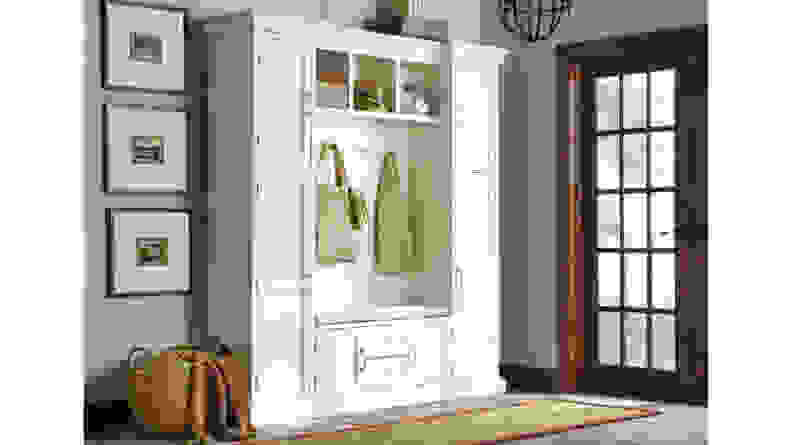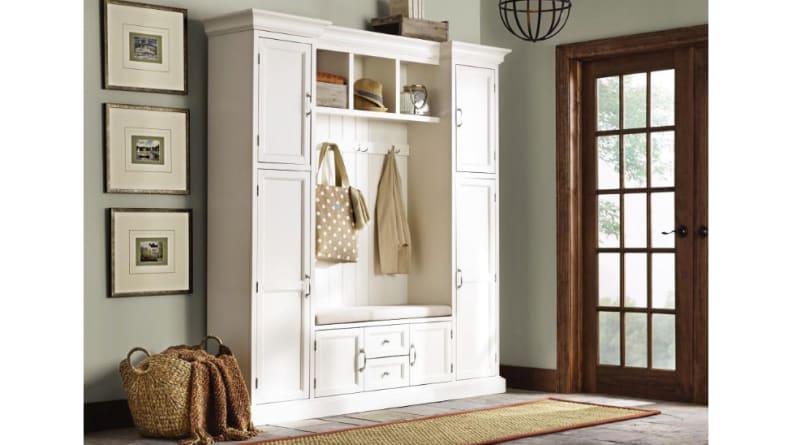 Need extra storage space in your foyer? This hall tree looks like a built-in. It creates a mudroom in your place to stash your family's shoes and outdoor gear. The double hooks have room for everyone's coats and scarves, and the cabinets will quickly fill up with bike helmets, backpacks, and skateboards. This piece also rocks a comfortable storage bench where kids can perch while tying up their kicks.
Get the Royce Polar White 79.25" Hall Tree for $1,099
6. A table with farmhouse style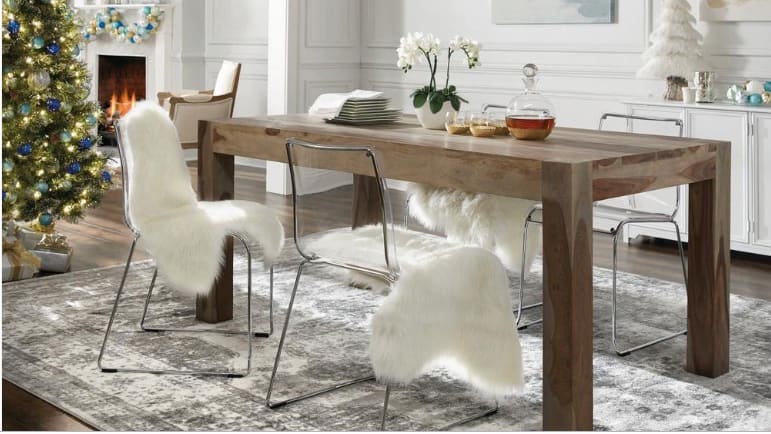 Your dining room could be crying out for a table like this. The smoky gray woodgrain adds farmhouse flavor and the walnut finish looks traditional. Either style could work just as well in a more contemporary room. You could complement this table with rustic benches or leather chairs—either would look at home beside it. There's space for six people around this solid table, so it's good for weeknight dinners or entertaining guests. Although it requires some assembly, owners say it's easy to put together.
Get the Edmund Smoke Grey Dining Table for $503.20
7. An area rug with a tribal look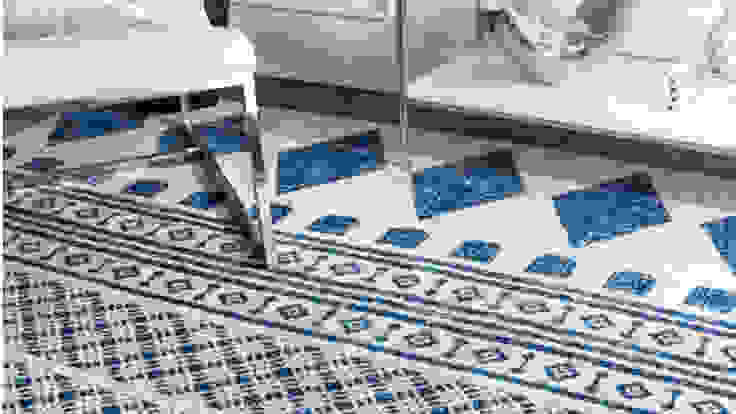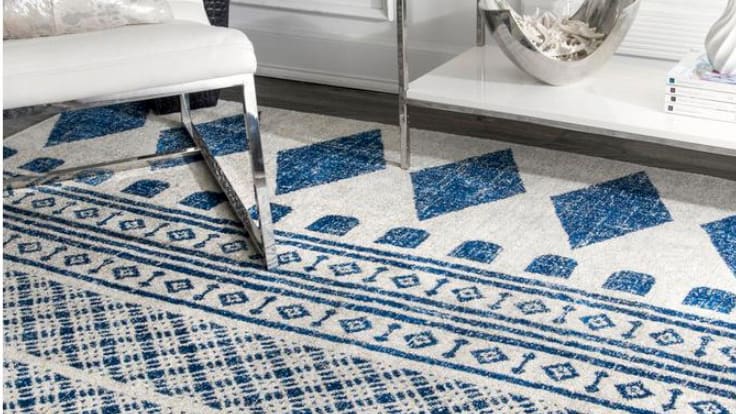 The size of this rug means it will be the highlight of your living room, or any other spot in your home. The rug's low pile makes it ideal for high-traffic areas, so don't hesitate to use it in the family room. The steel blue and ivory geometric design ensures that it will play nicely with whatever décor surrounds it.
Get the Shaina Tribal Blue Area Rug for $226.91
8. A handwoven Belgium linen throw blanket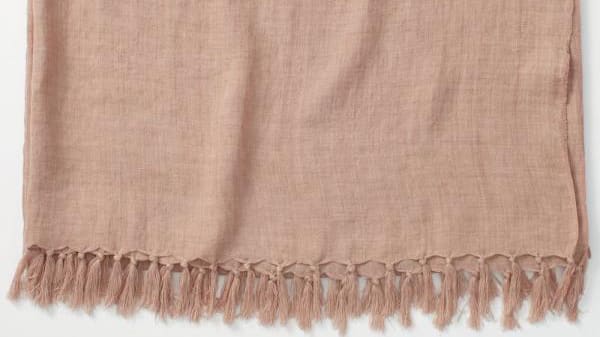 Home Depot's Fishburne says that femininity has returned to home décor. Why not enjoy the moment with a linen throw in blush? Made by artisans, it has the look and feel of a vintage shawl, but you can toss it in the washing machine when it gets dirty. The texture is very appealing and, by the way, if you don't see yourself wrapped in blush, the throw comes in nine other pretty colors.
Get The Company Store Belgian Linen Fringed Throw for $89
9. A bookcase with retro glam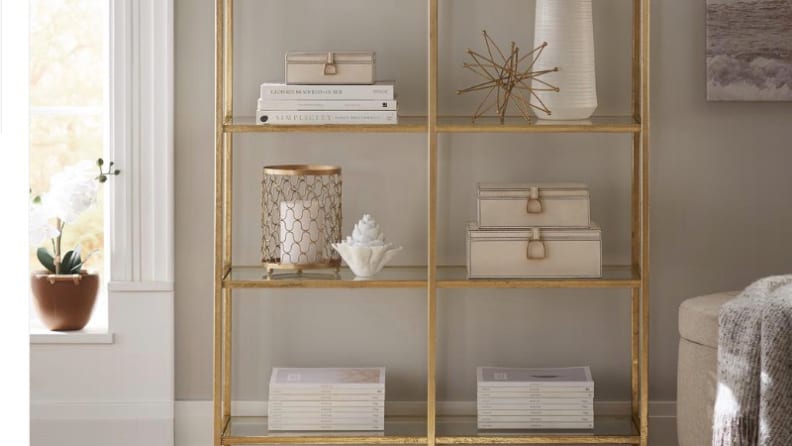 When friends stop by, you'll make a great impression when they notice your brilliant bookcase. The finish on this case is dark matte gold, giving it an antique look. You don't need to fill it with actual books—it can look even better with a few accessories. It's the perfect piece to accent any room.
Get the Bella Aged bookcase for $314.25
10. Candles that add a dreamy glow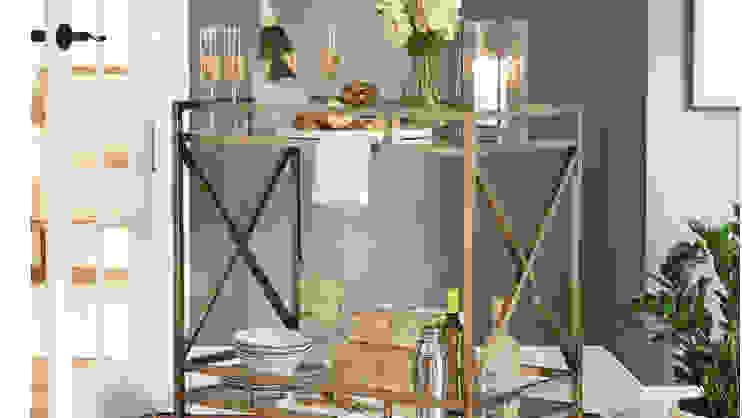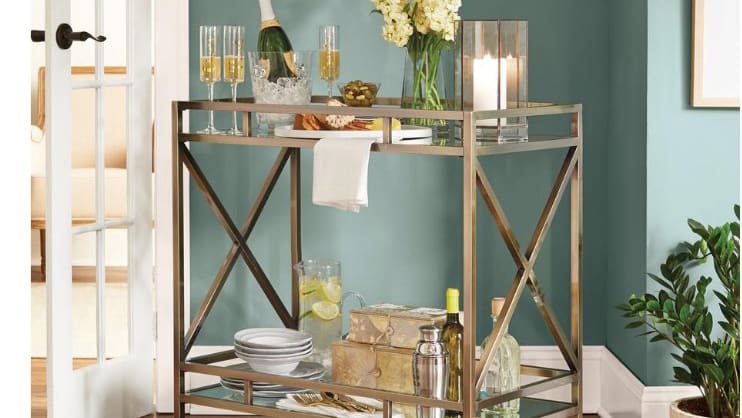 Accessories make the room and you're not finished decorating the space until you add a few. Pillar candles look more beautiful when attired in a handmade candle holder like this glass-and-metal hurricane lamp. There's something romantic about the look of this item, so don't restrict it to the living room. Imagine lighting one on the counter while you take a leisurely bath.
Get the Titan Oriel Hurricane Candle Holder for $114.62
11. Lofty bar stools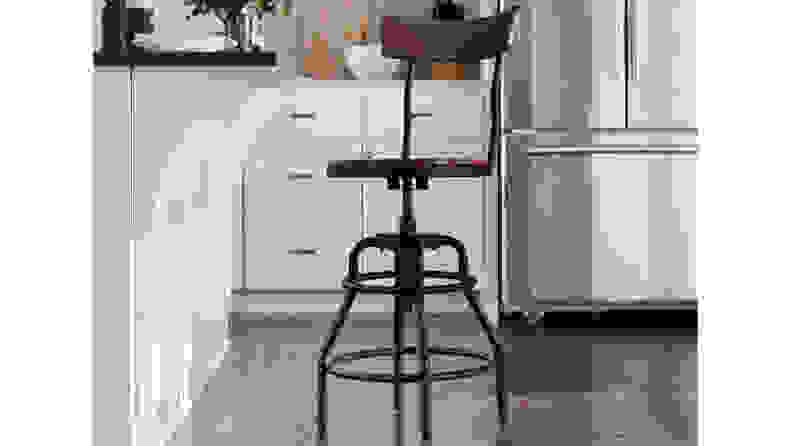 These adjustable black iron-and-wood barstools would look at home at the breakfast counter in a farmhouse kitchen or at the bar in an urban loft. The backrests add comfort and support, and the slim structure makes them sleek enough for almost any small space. Don't be afraid to experiment with these stools. If you have an empty corner in the living room, set up a game table with a couple of these tall chairs around it. That's a little entertaining space you didn't know you have room for.
Get The Home Decorators Collection Industrial Mansard Barstools with Backrest for $159
12. A nightstand you might discover while traveling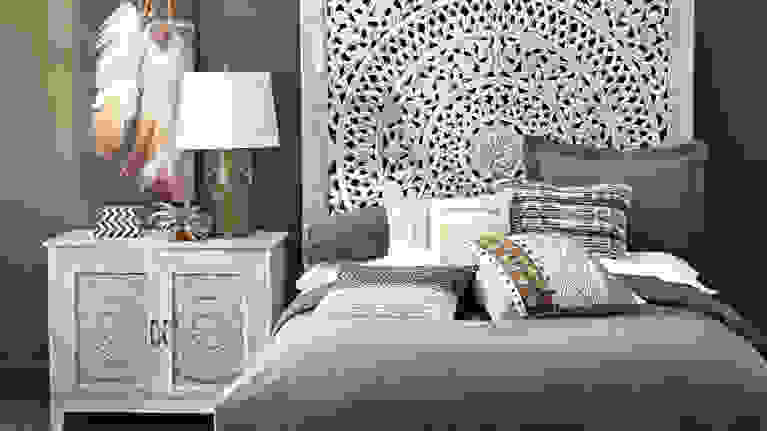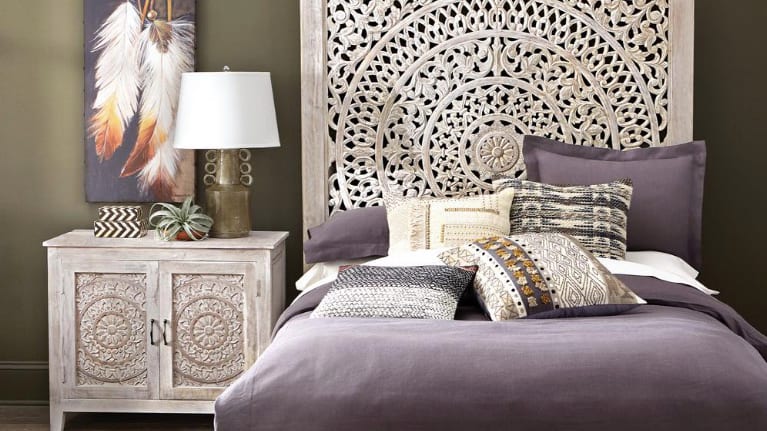 Delicately carved with a whitewashed finish and brass hardware, this nightstand might appeal equally to people with boho sensibilities and fans of global design. It will also complement a pastel summer cottage. You can use one of these nightstands on each side of your bed to add lots of room for storage. Your phone, computer, and bath robe will fit nicely on the shelves. Or remove the shelves, and take advantage of the taller space for extra blankets.
Get the Home Decorators Collection Chennai Night Stand for $299
13. A comfortable, durable pouf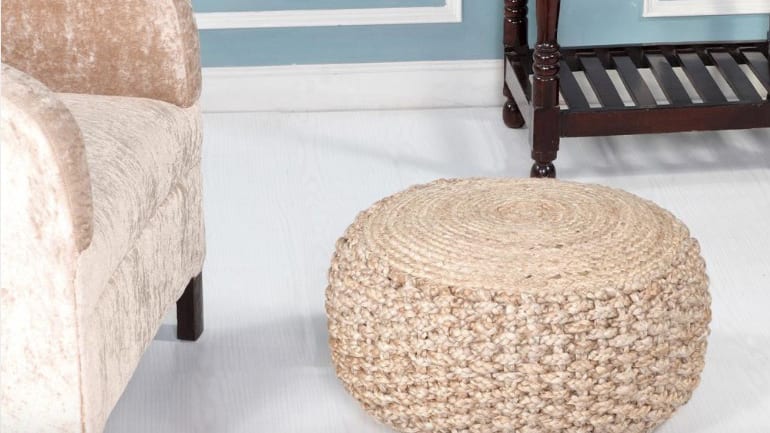 Probably the most versatile décor item in your whole home, a pouf can act as a footrest, drink table, or extra seating. A boring room will perk up instantly if you add a pouf into the décor. Neutral in color and pleasingly round in shape, this pouf is loaded with texture. There's room for it anywhere.
Get the LRResources Criss Knit Pouf for $94.14
14. Sturdy, stylish patio furniture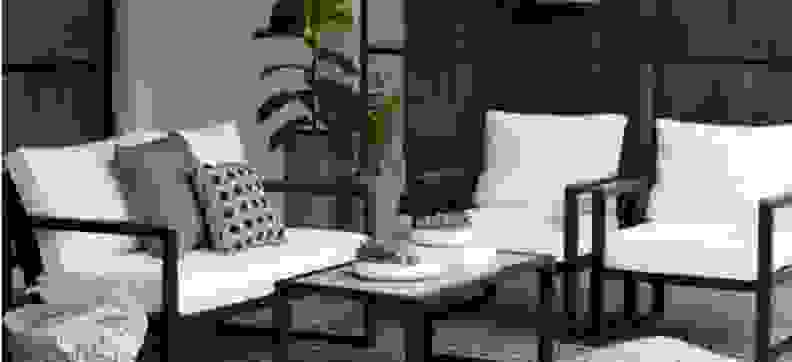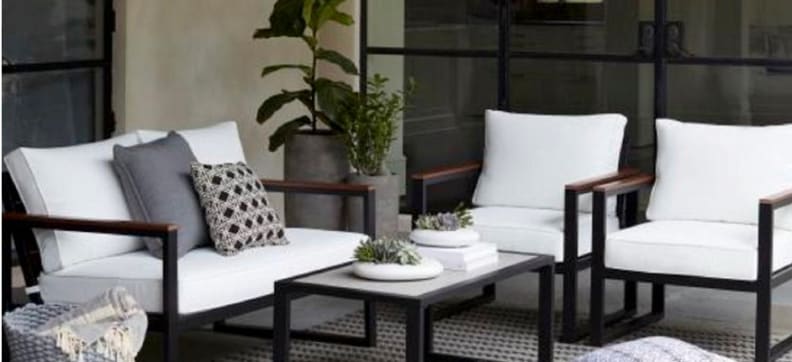 Once the inside of the house is in good shape, it's time to start on the patio. Home Depot has been selling outdoor furniture for a while, so they know how to make it work. The top of this coffee table looks like concrete. It isn't—it's ceramic—but the style is clean and modern. A pair of chairs with thick UV-resistant cushions complete the look and provides comfort on every sunny day.
15. An amazing wall color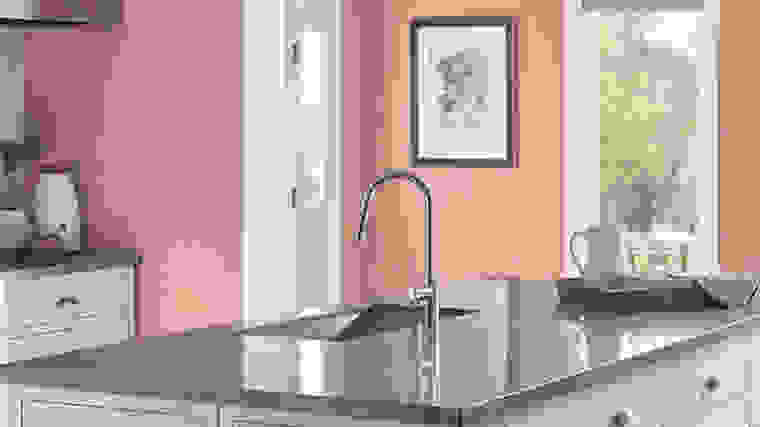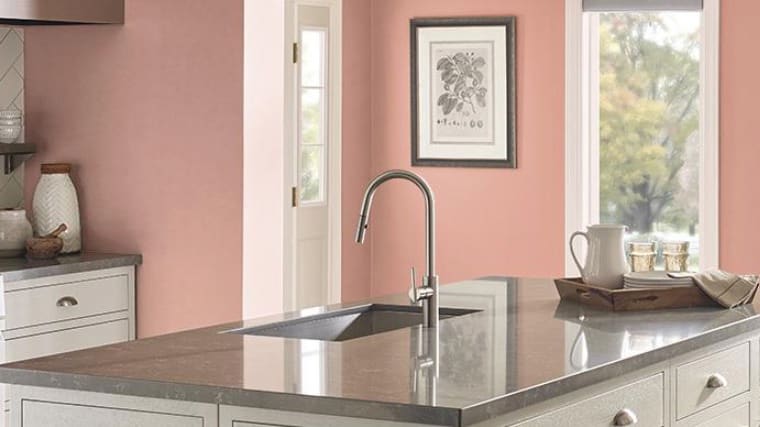 Your walls are the most visible part of your home décor. There are literally thousands of colors you can use and it can be nerve-wracking to select one. After all, you'll have to live with your color choice for years. At the design show, Home Depot had the walls of its lounge painted in a warm shade by Behr called Vintage Coral. Of course, you're probably used to buying paint from Home Depot, but this shade is so attractive, it complements everything in the room. Color is back!
Get 5 gallons of Behr #MQ4-32 Vintage Coral Satin Enamel Interior Paint and Primer in One for $156
The product experts at Reviewed have all your shopping needs covered. Follow Reviewed on Facebook, Twitter, and Instagram for the latest, deals, product reviews, and more.
Prices are accurate at the time this article was published, but may change over time.