Home & Garden
7 easy, affordable ideas to spruce up your kitchen—no remodel required
Gussy up your basic-looking kitchen with these clever ideas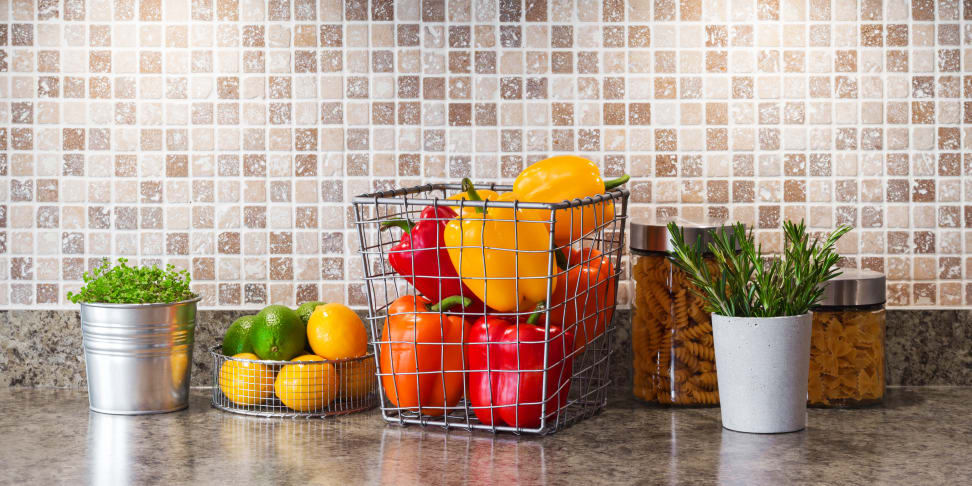 Credit: Getty Images / AnikaSalsera
One of my favorite feelings in the world is waking up on a Saturday or Sunday morning, stumbling into the kitchen to put on a pot of coffee, and enjoying breakfast while gazing out the window (bonus points if the weather's nice and there's an afternoon baseball game to look forward to).
I realized not so long ago that these quaint, picture-perfect moments don't happen if you're not comfortable in your own kitchen; when your cooking quarters are cluttered, your coziness suffers. Think of it this way—you wouldn't completely abandon aesthetics when it comes to your living room, so why should your kitchen be any different?
With spring cleaning on the horizon, now's the perfect time to ditch the anodyne kitchen aesthetic in favor of something more charming. Here are some creative ideas that will de-clutter your kitchen and turn it into the perfect Sunday morning nook.
Store your vegetables in style.
For a while, I was storing my veggies all over the place: on the pantry shelf, on the countertop, in plastic produce bags on my table. It was a mess. The disorganization was chaotic and my kitchen looked sloppy. The list of foods that shouldn't be refrigerated is a long one, so don't let your non-refrigerated veggies be forgotten on a sad pantry shelf.
This medium-sized wicker storage basket will make a great home for potatoes, tomatoes, or whatever fruit or veggie you'd rather not refrigerate. The charming cotton liner is removable and washable, and the basket itself is available in a number of sizes.
For onion and garlic storage, air circulation is key, which makes this 3-piece poly-wicker basket set the perfect addition to your kitchen or pantry. Sure, it's not real wicker, but it looks exactly the same. Plus, because they're not actually made of wicker, you can send them through the dishwasher if they ever get gross.
Note: Potatoes and onions should never be stored in the same basket—spuds emit moisture that could rot your onions.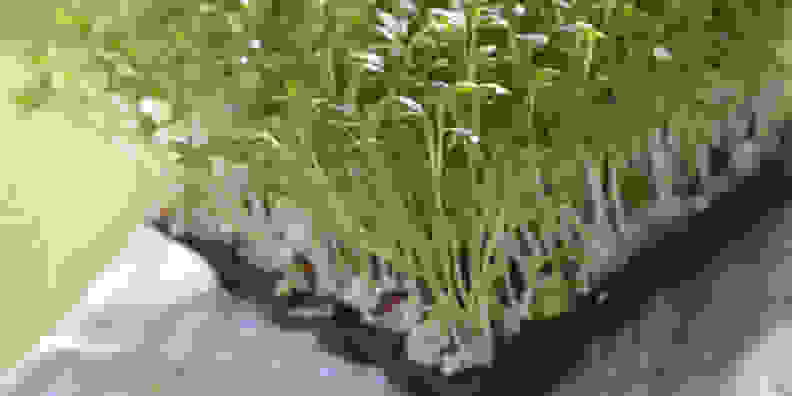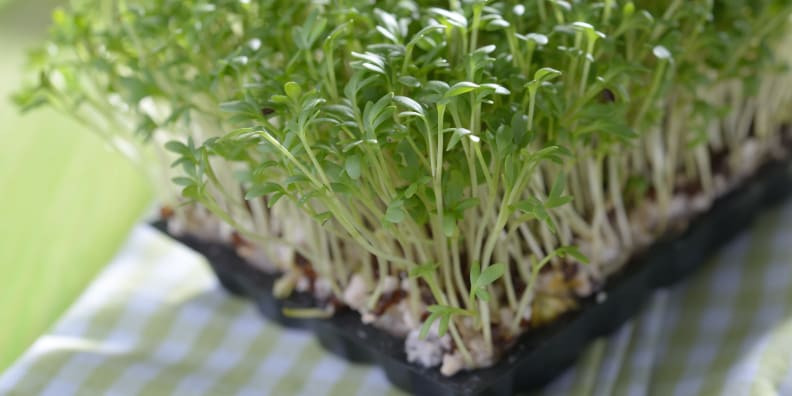 Add some color to both your room and your meals by growing microgreens and herbs.
There's nothing nicer than beautiful, colorful foods growing right there in the kitchen, and few things accentuate a dish better than microgreens. These versatile, tasty greens are packed with an absurd amount of nutrients and will liven up both your kitchen and your next omelette.
My favorite thing about microgreens (other than how good they look in Instagrams of food) is how easy they are to grow and harvest.
This starter kit from Home Greens, which comes with seeds for pea shoot, wheatgrass, radish, and sunflower microgreens, is one of the fastest and easiest ways to start growing microgreens in your kitchen, since it comes with everything you need to start your own indoor microgreen garden and won't set you back that much.
---
Raising and harvesting your own herbs is another spiritually rewarding culinary endeavor that will make your kitchen look a little more alive.
Our guide to indoor herb gardens is a great primer on herb gardens, but if you're looking for an easy, affordable entry-point, this wooden planter box and herb-growing kit will supply you with pretty much everything you need to jump in and won't break the bank.
The kit comes with seeds for several common herbs including basil, thyme, and cilantro. It's probably won't provide you with top-shelf soil and optimal planting conditions, but it's an affordable way to test the waters, so to speak, without committing too much time and money right out of the gate.
Transplant your cooking oils to attractive, cooking-friendly bottles.
We've covered cooking oils a lot over the years, and our biggest takeaway is that every kitchen should have a wide array of oils for every occasion. Unfortunately, not every cooking oil is sold in cooking-friendly bottles. Whenever I buy safflower oil, for example, I'm acutely aware of the basic, wide-mouth opening at the top of the bottle, which will ultimately cause oil to dribble down the side of the bottle and make measuring a nightmare.
For my money, nothing beats these 16-ounce glass oil and vinegar cruets, which can be purchased individually or in sets of two. The spout is the key feature here, since it allows you to dole out the appropriate amount of oil without making a huge mess. Being glass, the bottles will also elevate the visual appeal of whatever shelf or countertop space they happen to be occupying.
---
A more utilitarian approach might be this set of four squeezable plastic oil bottles from Tovla.
These plastic bottles (which would be right at home inside a professional kitchen) aren't quite as classy as the glass bottles, but they are easier to clean and a little more affordable. They also have measurement lines printed on the side, which'll help you keep track of how much oil you're using.
For an in-depth look at the subject of cooking oils, check out our guide on how to store cooking oils at home.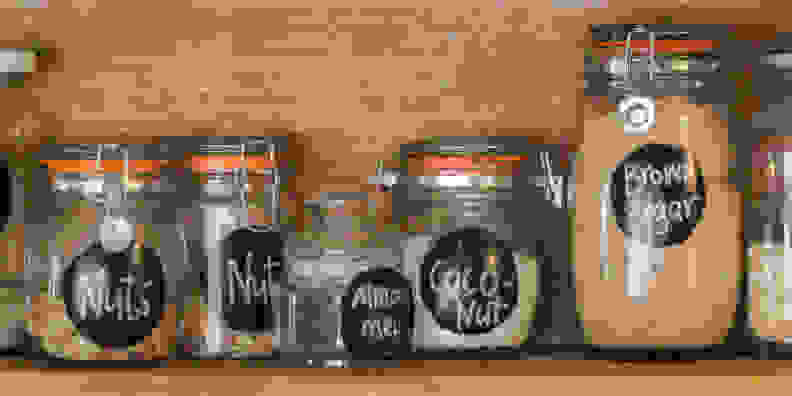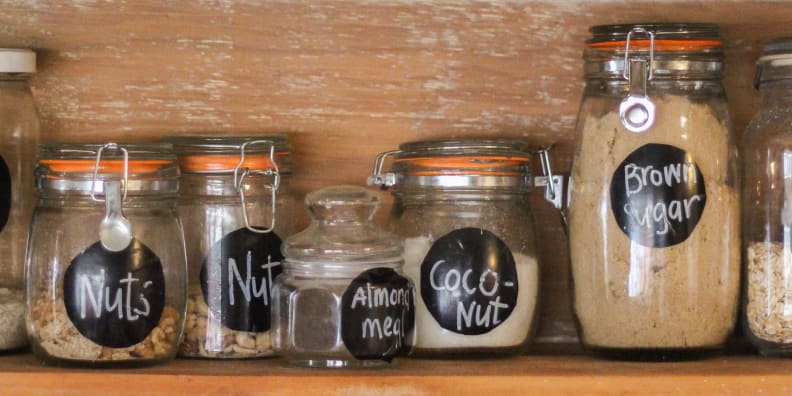 Stop keeping your sugars and grains in the bags they come in and invest in some jars.
You know what sucks? When your guest asks for sugar in their coffee and all you can do is hand them an old, wrinkled bag and a spoon. Have fun reaching your whole arm into that paper bag, Person-Who-Just-Slept-On-My-Couch!
You know what else sucks? Finding out that you're out of flour in the middle of a batch of bread because there was no way to tell how much was left in—yep, you guessed it—an old, wrinkled bag.
Using jars to store oatmeal, sugar, flour, coffee, or anything small and granular is a solution to several problems you may not even realize you have—it keeps ingredients fresh, it helps you plan your grocery shopping, and frankly, it just looks nicer.
This set of four airtight acrylic jars from Bellemain is a fantastic option for storing your loose ingredients affordably, but if you don't mind spending a little more to class up the place, consider this set of three glass jars from The Container Store, which come with nifty chalkboard labels.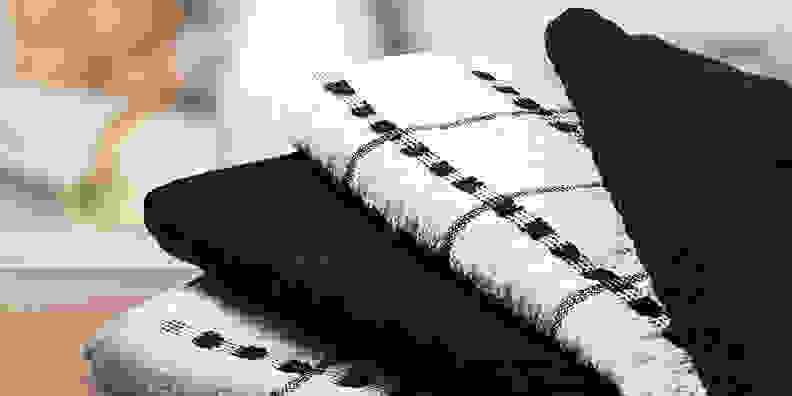 For cryin' out loud, buy some new hand towels!
This past holiday season I decided enough was enough—no longer would I waste paper towels on routine wipe-ups simply because my hand towels were old and disgusting. I bit the bullet and bought a bunch of cheap hand towels.
I ultimately settled on this 12-pack of black-and-white cotton towels from Utopia Towels. They're not the most colorful, but they're fit into pretty much any kitchen with ease, and you get a whole heck of a lot of 'em for about twenty bucks. They're also big, soft, and easy to wash.
These days, I typically use one freshly-washed towel per meal, and at the end of the day, I toss it into the laundry bin for another wash. It may seem like overkill, but I'm saving money on paper towels and keeping the fabric free of stains. There's also a lot to be said for how good it feels to start my cooking prep with a towel I can trust is clean.
Related Video