Home & Garden
9 essential items for life on the open road
Be prepared, or prepare for disaster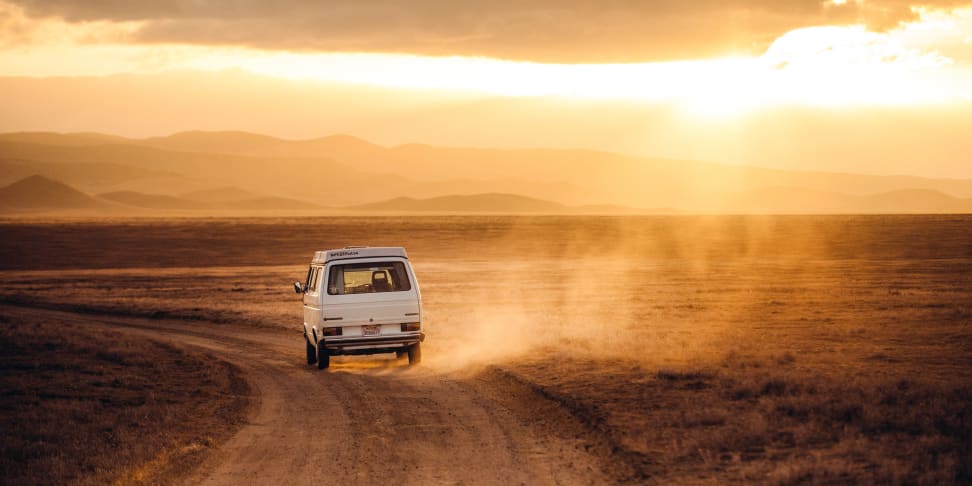 Credit: Pexels.com
The freedom of the open road attracts everyone from romantics to adventurers, but for those unprepared, every path offers resistance. So whether you're camping or going on a long road trip, get these nine items to make your journey safer and more comfortable.
Military Energy Gum
When you're traveling in the middle of nowhere, it can be hard to find your morning cup of joe. Military Energy Gum (MEG) will help give that jolt you need, without the need to eat freeze-dried coffee grounds or take caffeine pills. Each piece of gum contains as much caffeine as a cup of coffee, but it'll never spill, and it'll take years to go stale. MEG freshens your breath, wakes you up, and won't stain your teeth.
Gerber E-Tool Folding Spade
On a long journey, even a straw is heavy, so it's important to pack items that serve multiple purposes. That's why we like the Gerber E-Tool. It weighs less than three pounds, with an aluminum shaft and a carbon steel head.
The tough design allows the E-Tool to serve multiple functions. It's shaped like a shovel, but the locking head turns so the blunted edge becomes a makeshift hammer, ideal for tent stakes. The E-tool, with its serrated edge, can also cut through light vegetation and grass–great for gathering kindling.
ShadeSox Car Side Window Sun Shade
Out on the road, you need to catch shuteye whenever possible. Sometimes necessity requires that you sleep when the sun is still lighting up the sky.
We like ShadeSox sun shades because you can still roll down the window while they block the sun. The breathable mesh lets cool breezes get in without too much fuss. And since they come in packs of two, both sides of your body will be covered if you take a snooze in the backseat.
BESTEK 300W Power Inverter
Just because you're on the road doesn't mean you have to live like it's 1971. Keep your phone and laptop charged with a power inverter that plugs right into your cigarette lighter.
We like BESTEK because it's, well, the best. Also, while other inverters are more powerful, the BESTEK has two USB ports for your phone and laptop accessories. If you're traveling with a companion, having two USB ports makes it just so much easier to top everyone off.
Bivvy (OD Green)
A Bivvy is basically a space blanket, but more durable. It's important to have a blanket of some sort because if you're caught outside in a snow storm, it's not possible to simply turn on the heat.
Bivvy has an exterior coating that is water and puncture resistant. If you've ever used a space blanket, you'll know that they often tear after a night of rough sleep. With a zipper up the side, the Bivvy doubles as a sleeping bag, but less bulky.
Ohuhu Neck Traction Device
Long hours in the car can do a number on your neck and back. A neck traction device, like the one Ohuhu makes, is another example of a two-for-one deal.
Using air pressure to gently stretch your neck and upper back helps ease away pain. And when you deflate it a little, you can use it as a regular neck pillow. When not in use, this pillow can deflate and be rolled away.
Luxon Life Hammer
As we've stated before, life on the road requires an economy of space. The Luxon Life Hammer is a pure example of that, seven tools in one device. In the event of an accident, the life hammer houses a razor to cut your seatbelt and a hammer to break the window. Beyond that, the Luxon has flashlight to light your way and a red SOS light to alert first responders where you are. A magnet on the side lets you adhere the life hammer to the hood of your car.
But here's the kicker: the Luxon also has a USB charger so you can charge your phone if it runs out–because it always runs out in an emergency. All the devices on the Luxon can be powered by a hand-crank generator, so you don't need to worry about charging.
Gas Can
If you ever run out of gas in between gas stations, be ready with a gas can. It's a lot cheaper and less embarrassing to lug a gas can than to call for a tow. Hard to go wrong with a classic design.
The Midwest Can is made from HDPE (high density polyethylene), meaning it'll resist puncturing and leaking. Always remember to fill a gas can away from your vehicle and people.
Garbage Bags
A good philosophy while traveling is to leave no trace. Bring garbage bags with you so you can leave areas where you hunker down for the night in as good or better shape than you found them. Keeping mother nature in mind, we decided to recommend Seventh Generation garbage bags because they're made from 55% recycled plastic while maintaining the strength of regular bags. Plus, these bags have the flap ties in case you have to transport something gross for a while before you can dispose of it properly.