Home & Garden
Be the best party guest: Bring these cheese-related gifts
Don't regift a boring bottle of wine. Bring the gift of cheese.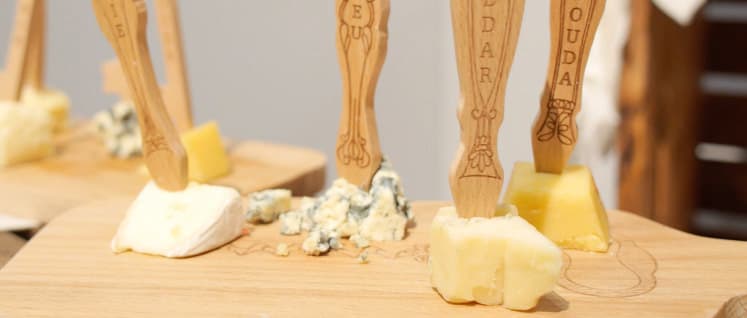 Credit: Reviewed.com / Jeremy Stamas
So, you got invited to a holiday party. You're an adult, which means you have to bring a gift. But don't settle for something boring and predictable, like wine.
Cheese is the gift to bring. Not only does it make a great appetizer, it also brings people together. The best part? If you bring a great cheese and add cheese serving tools, your host can enjoy your gift well after the party is over.
Whether you're sticking with a good cheddar or trying something more avant garde, here are some great cheese-related gifts.
What's a Girolle?
Our favorite host gift is something you've probably never heard of unless you grew up in Switzerland. It's called a girolle, and it's used to scrape cheese into little florettes—delicate, thin slices that add just a hint of creaminess, texture, and flavor
I'm a big fan of this girolle from Boska, a family-owned accessories manufacturer from Holland. Just stick it into the center of a wheel of cheese, turn the handle, and let the blade do the work.
While a girolle may work with any harder cheese, it was designed specifically for serving Tête de Moine—which comes in wheels that weigh about two pounds.
It's a semi-hard cow's milk cheese from Switzerland, and it does have a cheese-like smell—but don't let that scare you. I tend to dislike stronger and more pungent-smelling cheeses, but find the taste of Tête de Moine to be delicious and rather mild.
Clean Slate
I love buying cheese at Trader Joe's—but I also know you can't show up to a party with cheese that's wrapped in grocery store packaging.
Instead, I like to bring a reusable slate serving tray and some chalk. It even gives you an excuse to help the host by setting it up and writing the names of the cheeses. This set from VonShef has six slates for just $18.99—so you can give trays as gifts for multiple parties.
Bonus: Buy a few unfamiliar cheeses, learn some facts about them, put their names in chalk on the slate serving board, and be a good guest by starting some cheesy conversation.
It's Called Mostarda
I first tried mostarda alongside some taleggio cheese in the specialty food section of La Rinascente—a famed department store in Milan. (Tough life, eh?)
I'll admit my fondness for the Northern Italian condiment might be clouded by my memories of the city itself, but I still think it tastes delicious no matter where I am.
And how could it not be? It blends the spiciness of mustard with the sweetness of fruit, and blends perfectly with a pecorino romano. I'm particularly a fan of this pear mostarda: Put a tiny bit on top of a cracker, add some hard Italian cheese, and drizzle honey on the top—and you've got yourself some appetizers.
Knife Moves
I hope you aren't the sort of person who would judge your friends for putting out the wrong knife with the wrong kind of cheese. But you don't have to be the second coming of Nan Kempner to realize that some knives are just easier to use for certain consistencies of cheese.
We like this stainless steel cheese knife set from Prodyne. So do a bunch of Amazon reviewers. So do the experts at KnifeLover and other knife review sites.
I think these knives make a great gift because they're a simple pair of versatile knives that can cut nearly every kind of cheese—as opposed to a large set of specialty knives, many of which will get lost in the back of a junk drawer.
Owners like these knives because their open surface keeps cheese from sticking and makes easy slicing. They can also easily cube cheese, and a comfy handle will keep accidents from happening.
Slicer
If you're looking for something a bit more unusual, I suggest this slicer from Boska. Simply slide it across a block of hard cheese and get a perfect, thin slice.
This Boska slicer is the sort of tool you'd find in any European kitchen, but it's still a bit rare in the U.S. I think that makes it a good choice for a gift, since you can add a bit of conversation as well. Plus, it's flat enough that it won't be hard to store.
It's also practical: From a grocery store Jarlsberg to something more exotic, the slicers ability to cut evenly helps you get down to the last bit before the rind.
On the Wire
Another cool specialty cutting tool is a slicer with cheese wire. That's because it only requires one hand to operate—so if guests already have a plate in one hand and a drink in the other, they can get cheese without upsetting a balancing act.
It's also great at slicing soft cheese, which doesn't stick like it does to a knife. I first used a cheese wire on a soft cheese called Soeur Angele from Fritz Kaiser in Noyan, Quebec—my favorite fromagerie. It's a cheese that's extremely hard to find in the U.S., so I appreciated how little I had to waste.
I like this popular model from Fox Run for two reasons. First, it has a marble base, which is easy to clean and heavy enough to keep it from sliding all over a serving table. Second, it comes with two replacement wires—so the party doesn't have to stop if someone snaps a wire.