Home & Garden
10 tech gadgets you should never travel without
Don't forget these things at home.
Credit: Getty Images/cyano66
As an editor, I travel tens of thousands of miles a year to help Reviewed.com find the best new products for your home. That means I spend a lot of time working far from my home—in hotels, in the air, on trains, and in rental cars. For that, I rely on a bevy of tech to keep me sane and connected.
I'd like to think I have a pretty good setup, so I decided to share it with folks who are traveling for the holidays. Whether you're headed to visit your inlaws who have slow internet, or packing up the family to go on a faraway vacation, this tech guide can help frequent and infrequent travelers alike save time and money—and maybe even make home feel like it isn't so far away.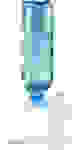 Air-O-Swiss Travel Humidifier
My first recommendation came from a coworker after a particularly disastrous trip to Las Vegas. I'd never been to the desert before, and after a week there I ended up with a dry throat and nasty cough. My coworker, on the other hand, remained as well-hydrated as ever.
His secret? The Air-O-Swiss portable humidifier. Just buy a bottle of water, attach it to the base, and watch your arid hotel room suddenly spring to life with Florida-level humidity. Pretty much everyone in our company owns one of these now.
Though I've never tried it, a slightly cheaper version—albeit from an unknown brand—gets good reviews on Amazon.
Most people use a phone as an alarm clock, but some hotel rooms still don't have plugs near the bedside table. That can make for a rough morning.
Enter the extra-long charging cord, which extends your reach while giving your phone some much-needed juice. I chose a ZeroLemon model in a bright fluorescent color—which reduces my chances of leaving it in the room. Indeed, I've forgotten chargers, cufflinks, and even shoes—but I've been on the same cord for over two years.
If you have a phone that charges off Micro USB, this one from Anker gets great reviews and also comes in attractive colors.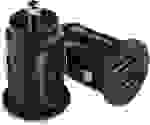 Cable Matters Dual USB Charger
It's great to keep your phone charged while using it for turn-by-turn directions. Amazingly, in 2016, some rental cars don't include USB chargers (I'm looking at you, Nissan Altima)—a nightmare if you've just landed with 6 percent battery life and you were planning to rely on Google Maps to find some industrial park hidden off the New Jersey Turnpike.
Instead of buying an overpriced 12v adapter at the rental counter, always bring one with you. I bought a 2-pack of Cable Matters USB to 12v chargers because they're cheap and slim.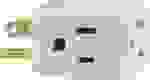 GE Grounded 3-Outlet Tap
My next recommendation came from an anonymous traveler, whose portable power strip topped off a boatload of batteries at LAX where we waited at a gate with only one functioning plug. "Bring a power strip," she said, "And you'll make friends everywhere you go."
Indeed, instead of hogging an outlet for a single plug, a portable power strip lets multiple folks plug in at once. I like this simple model from GE—it takes up very little space, but adds a great deal of utility. If you want a fancier version that includes plugs for USB cables, Belkin has an affordable 5-outlet model that won't weight down your luggage. It's the next-best thing to getting airline lounge access.
Eagle Creek Pack-It Compression Sac Set
Packing a carry-on isn't just about avoiding an airline's checked luggage fees. If you've scheduled a meeting for shortly after you land, a long wait for your luggage may determine whether you can arrive on time and make a good first impression.
That's why I use these compression bags. They fit underwear and socks in a bag that rolls up to remove any excess air, and can fit a lot of clothes into a little space. Unlike other compression bags I've tried, Eagle Creek's bags are sturdy enough not to tear under pressure. I'm not a huge fan of their plastic zipper, which is too easy to accidentally detach and misplace. But they're still the best you can buy.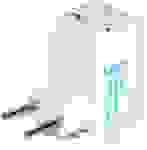 Ceptics 3-Outlet Adapter Plug
If you travel internationally, you'll need a good adapter plug. I've found the bulky, multi-prong "jack of all outlets" commonly sold at airport kiosks are truly wastes of money—they've hung listlessly from outlets in Italy, shorted out entire hotel rooms in Berlin, and not fit into tight spaces the world over.
I've found that it's best to buy specific outlets for wherever you're headed. This one, from Ceptics, works throughout nearly all of Europe. It's small, and even has three additional outlets so you can plug in multiple items at once. If you're traveling elsewhere, Ceptics has converters for other countries—and nearly every one gets great user reviews.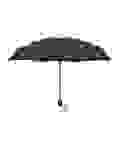 Davek Traveler Umbrella
Rain happens, but umbrellas are heavy and easy to lose. After blowing through about $50 of drugstore and sidewalk vendor umbrellas over the course of a year, I decided to follow the lead of my most well-traveled coworkers and buy a Davek Traveler.
Although the full-size Davek Solo is great for commuting in a city, it's just too heavy to lug around in a briefcase. The Traveler is smaller and lighter than the Solo, but it's also larger and more robust than the too-small Mini—a pro if you're traveling in a group.
Plus, if you leave your Davek in the only good pizza place near Penn Station (as I did)—or lose it anywhere else—the company will give you a 50% discount on your first replacement.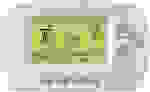 Honeywell Wi-Fi 7-Day Thermostat
If you live alone, as I do, there's no reason to keep the climate controlled at home when you're not there. Since my schedule always changes, I don't want a Nest thermostat that tries to learn my routine. I don't even know my own routine! Instead, I just want an inexpensive thermostat that I can control remotely.
This entry-level model from Honeywell fits the bill—and it's what I've installed in my own home. A similar model from Emerson, called the Sensi, also gets good reviews—especially from those whose heating systems don't have a c-wire.
Cold spell? I can log in to make sure it's warm enough that the pipes don't freeze. Headed home in the summer heat? I can turn on the AC at home when the plane lands, and arrive at a cool and comfortable living room.