Home & Garden
6 safety products you can't live without—literally
Perfect case of better safe than sorry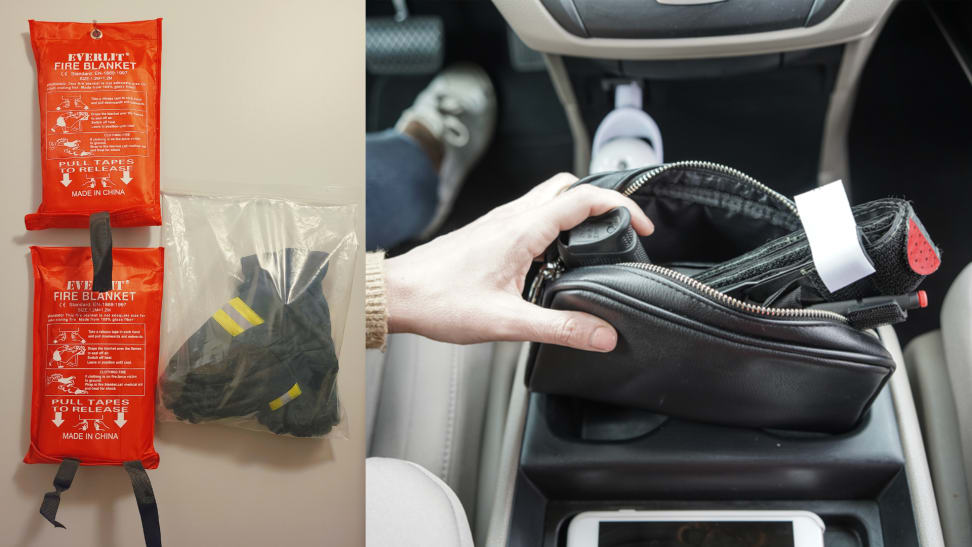 Credit: Reviewed / Eden Strong / Recon Medical
I have a confession to make, I am afraid of almost everything.
I'm worried my house will start on fire, or my kids will be injured in a car accident, so I change the batteries on my smoke detectors and buckle them safely into their car seats.
But even so, I worry about all the other things that may go wrong in our day-to-day life together, and if I'm being honest, it keeps me up at night.
Recently, though, I've begun to conquer my fears by realizing how much control I can have in protecting my family. Having the necessary items on hand should something potentially dangerous occur, may mean the difference in preventing a tragic ending.
In my quest to find the best safety products available to my family, I spoke with Jim Schlicher, a recently retired law enforcement officer from the Western suburbs of Chicago with 30 years on the force and 10 years as a firefighter/EMT.
Schlicher explains some of my options, and the following six products are the ones that I confidently bought. Although I hope to never have to use them, they offer an extra layer of protection that every family should have.
1. Fire escape ladder
I remember the moment when I first realized that in the event of a fire above a ground floor, anyone with children—me—would have to either jump down to the ground with their kids in their arms or throw them down first.
I couldn't wrap my head around making that kind of decision in a crisis, and it was then that I purchased the First Alert fire escape ladder, which hooks over a window frame and unfolds down to the ground, allowing trapped occupants to climb down to safety.
Constructed from steel and DuPont Cordura nylon strapping, the First Alert fire escape ladder can hold up to 1,125 pounds and complies to ASTM standards.
"Practice is key," explains Schlicher. "In an emergency fear and stress will take over if you don't know what you're doing, so practice with it every six months. It's the perfect addition to any family's fire safety plan."

Get the First Alert 2-story Fire Escape Ladder at Amazon for $40.48
2. Vehicle emergency escape rescue tool
If your vehicle suddenly becomes submerged in water or engulfed in flames, but the power safety locks no longer work and the seatbelts are jammed, would you be able to escape?
Canadian vehicle-submersion researcher Gordon Giesbrecht said it best when he stated that "you are responsible to save yourself in that scenario. You are not going to wait for help."
This is where the Lifehammer steps in to be your lifeline. Designed with a double-sided steel hammer head that easily shatters car windows with just one blow and a safely concealed razor blade that cuts through safety belts like butter, the Lifehammer overcomes the most common reasons for car entrapment.
You can mount the hammer to the inside of your car so it stays within reach, even if your car has rolled over or tipped onto its side. It even has a fluorescent pin that glows in the dark so you can see it no matter what the situation.
GS certified, the Lifehammer is made of tough ABS plastic and may be the difference between escaping your car in a crisis, or not; a situation Schlicher admits is, sadly, common.

Get the Lifehammer Emergency Escape Rescue Tool at Amazon for $14.95
3. Airway clearing device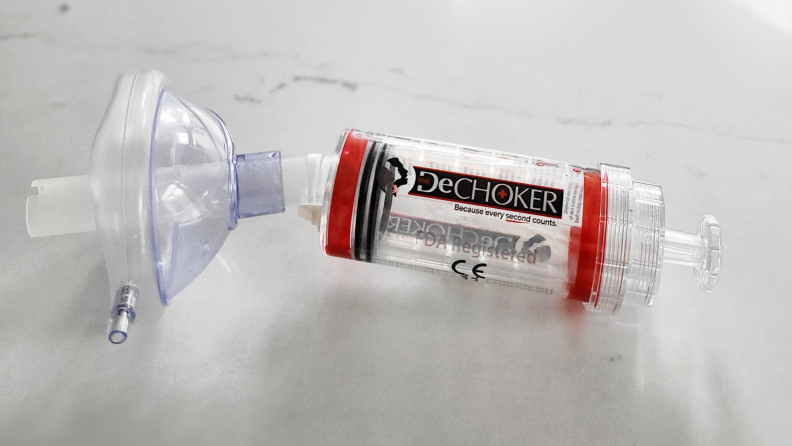 Thousands of people choke to death each year, making it the fourth leading cause of unintentional injury death; a very scary fact when you consider how many times a day most people eat.
This has been a huge fear of my own since last summer when my toddler choked on a cookie to the point of losing consciousness. So, when I learned of the genius Dechoker product, I wasted no time in purchasing one for my home, my vehicle, and my son's daycare.
Created to remove food and foreign material from the throat of someone who is choking in scenarios where the Heimlich maneuver may not be appropriate or is unable to be of assistance, the Dechoker device is placed over the airway of the victim. You then pull the handle which draws the material out of the choking person's throat.
Completed with an attached tongue depressor to prevent airway collapse and a one-way valve that prevents material from being pushed back in or further down the throat, the Dechoker is straightforward in design and use.
Schlicher explains, "I think this is a great option for when the traditional Heimlich maneuver methods don't work. It mimics the suction tube that paramedics have, but is designed with the safety of personal home use."

Get the Dechoker at Amazon for $49.95
4. Fire blanket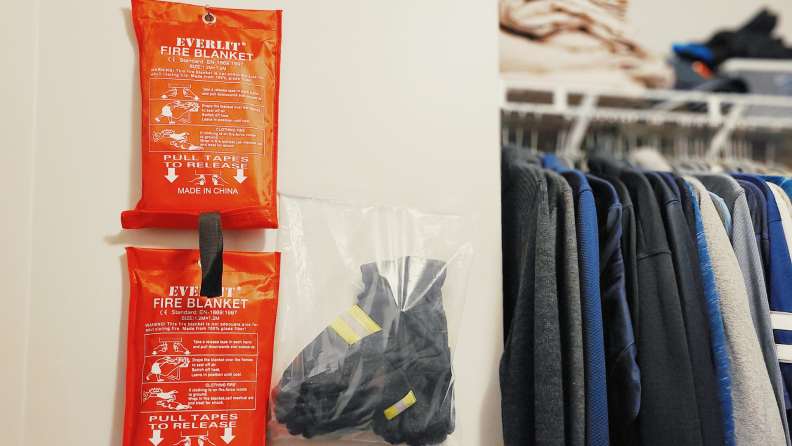 The thought of realizing that your house is on fire and not being able to get to an exit is a nightmare, but it's also a terrifying reality when you consider that 77% of all fire related deaths occur in a residential setting.
Knowing these scary statistics is what caused me to buy not one, but two, Everlit fire blankets and place them on the wall near my bedroom door. Hanging from two heavy duty grommets in a convenient storage pouch, the Everlit Fire Blanket is immediately deployed for use with a simple tug of a tab.
Made of fiberglass, these blankets can be used to smother flames in an area or on a person, while protecting individuals from heat up to 1022°F. They even come included with heat resistant gloves.
I feel better knowing that should a fire occur in my home, I have one extra option in either putting it out or escaping unharmed.

Get a 2-pack XL Everlit Fire Blanket at Amazon for $25.95
5. Medical tourniquet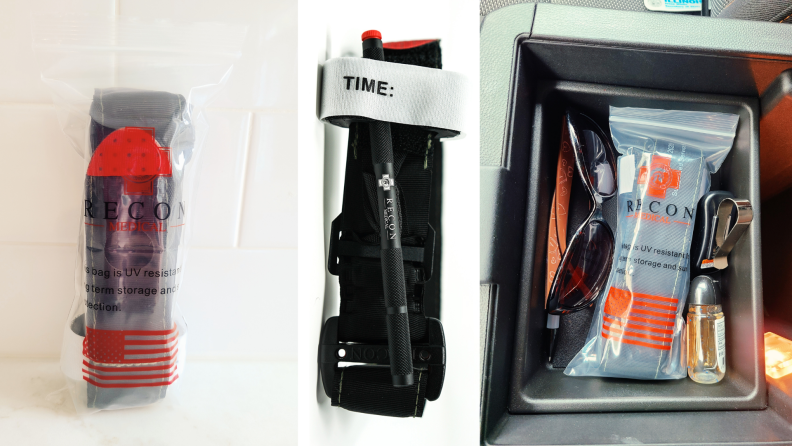 Although it's horrifying to think about, nearly 1.5 million people worldwide lose their lives each year due to blood loss associated with a traumatic injury, whether it be a child running into a glass window or the slip of a table saw.
Although my husband immediately called me dramatic when I purchased three Recon medical tourniquets—one for our house and one for each of our two cars—Schlicher assured me that a tourniquet is the No. 1 safety product that he and all the officers he knows carry, not just in their cars but also on them at all times.
Designed to quickly and easily slip over an injured limb and then aggressively tightened using just one hand, these tourniquets have the ability to slow life-threatening blood loss until help arrives.
And as is Schlicher's motto, "Practice, practice, practice." In the event of an emergency, you will be ready to save a life.

Get the Recon Medical Tourniquet at Amazon for $15.97
6. Weather radio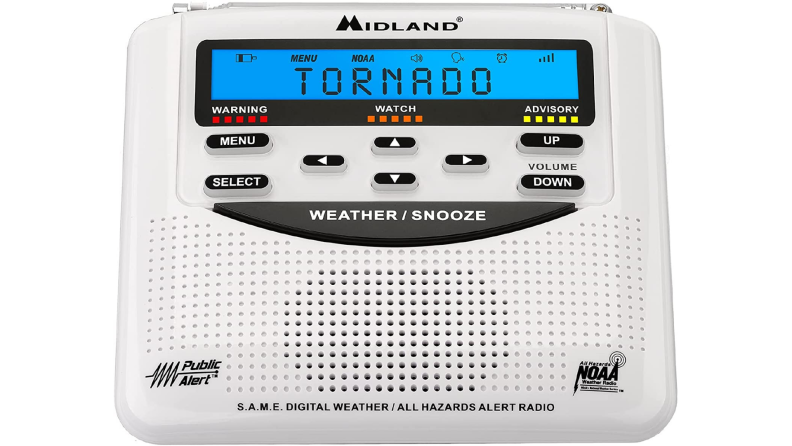 Recently, a tornado hit the town where I live and demolished quite a few homes, injuring many and taking one life. In fact, the damage could have been much worse since many people never even heard the tornado sirens because they were sleeping.
Much to my surprise, what I learned in the days after is that emergency alert sirens are actually designed only to alert people who are outside, meaning that once you are in your home, it's up to you to know what's going on outside.
The Midland Company's Midland Weather Radio can be programmed to alert you to emergent situations in your area or in the areas surrounding you. With more than 80 selectable alert options from thunderstorm watches to avalanche warnings, and even Homeland Security situations, the Midland weather radio warns you of encroaching danger so that you and your family can be prepared.
Fully programmable in three different languages, the radio runs on electricity with battery backup, is public-alert certified, and even functions as an alarm clock, AM/FM radio, and provides weather updates at the push of a button.

Get the Midland Weather Radio at Amazon for $29.99
The product experts at Reviewed have all your shopping needs covered. Follow Reviewed on Facebook, Twitter, and Instagram for the latest deals, product reviews, and more.

Prices were accurate at the time this article was published but may change over time.