Home & Garden
Smart thermostats are 2017's hottest home gadget—here's how to pick the right one for you
We demystify the confusing world of smart thermostats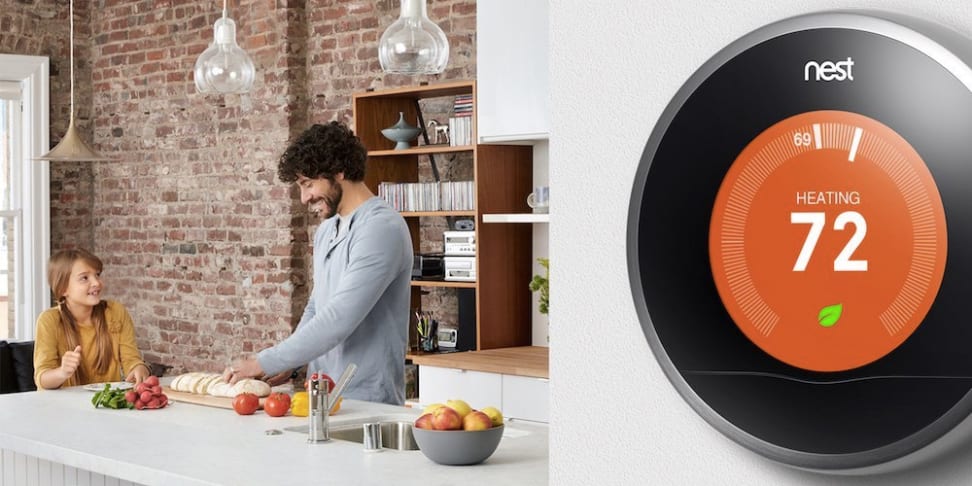 Credit:
For better or worse, our homes are getting smarter. Even if some smart tech seems truly preposterous (A smart crock pot? Really!?) we think a smart thermostat is something just about every homeowner can appreciate. The best ones can keep your place warmer in the winter and cooler in the summer—all while saving energy, lowering utility bills, and giving you remote access from your smartphone.
But the simplified, labor-saving features of a good smart thermostat don't start until the thing's purchased and plugged in. That's the tough part. Actually choosing the right smart thermostat is still a little complicated.
Even if you don't know a C-wire from a heat pump, we're here to demystify all that. Here are the best and most popular smart thermostats on the market today, and why each one may or may not be right for your home.
Nest Learning Thermostat
The Nest Learning Thermostat is the right choice for most people. It was the original smart thermostat and, in some ways, the original smart home device. The third-generation Nest is still round, but it has a slimmer profile that won't protrude as far from the wall, and a brighter screen that's easier to read.
It's called a learning thermostat because, without any programming by the user, the Nest uses motion sensors to determine when you're likely to be at home and when you're likely to be out. It'll use that data to automatically heat or cool your home in an efficient yet convenient way, but of course you can always manually program a Nest like any other thermostat if you so choose. If you don't need the learning functionality, other smart thermostats may cost less.
Unlike most smart thermostats, the latest Nest is fully functional even if your HVAC system lacks a C-wire, which normally acts as a power supply for the thermostat. It's always better to have a C-wire for a reliable supply of electricity to your thermostat, but—thanks to batteries—the Nest will work fine without one.
Homeowners with heat pumps can rest assured the Nest is not only compatible, but equipped with adaptive functionality called Heat Pump Balance. This software monitors how well your heat pump is working—which changes based on the temperature outside—and mixes in traditional heat as necessary and according to your preferences. Nest is also equipped with remote access on iOS and Android devices, as well as desktop computers.
Ecobee3
The Ecobee smart thermostat is most like the Nest in all but physical appearance. This larger, more square device offers similar handling of two-stage heat pump systems, and has similar motion-sensing capabilities to the Nest. In fact, it goes one step further: Extra motion sensors are sold separately, which will extend the functionality to different rooms, without the need to purchase additional thermostats.
The Ecobee3 also functions without a C-wire preinstalled at home, but it'll require an extra step: An adapter kit included with the Ecobee3 must be installed for operation without a C-wire.
Honeywell Lyric / Lyric T5 / Lyric T6 Pro

If you ever purchased or used a thermostat before the dawn of the smart home, then surely you recognize the name Honeywell. That's the company responsible for just about every regular, non-smart thermostat you've probably ever seen in your real life.
Nowadays, Honeywell's top smart thermostats are part of the Lyric series, which includes the original Lyric, Lyric T5, and Lyric T6. The original Lyric's design is reminiscent of the circular Nest, but this thermostat is glossy white with a smaller screen. The Lyric T5 and T6 are square, like the Ecobee3.
But all Lyrics have have earned middling customer reviews due mostly to the software's preoccupation with "geofencing." Geofencing lets the thermostat track your location with GPS, and pre-heat or pre-cool your home once it detects you're on your way home—and the reverse when you leave for work in the morning.
The problem? According to current owners, Honeywell's geofencing doesn't work very well yet—a claim that we are planning to put to the test in our own smart thermostat evaluations. Plus, the T5 and T6 models require a C-wire to work, and the original Lyric's WiFi won't work without one.
Honeywell Smart Thermostat

Honeywell's other smart thermostat is more traditional than the Lyric. It's WiFi-connected, with a large LCD touchscreen, but it lacks the learning, motion-sensing capabilities of the Nest and others. This is a good thermostat for homeowners who simply want the benefit of manual remote control without any additional learning functionality or geofencing.
Note that the Honeywell Smart Thermostat will not function at all without a C-wire.
Emerson Sensi

Emerson's Sensi smart thermostat looks most closely related to the one you grew up with. It's a familiar white rectangle with a digital display. In fact, there's nothing new here except built-in WiFi connectivity. Like the basic Honeywell Smart Thermostat, the Sensi lacks motion sensing features entirely. It's just like the thermostats of old, except you can program it on the go. The Sensi is also able to be controlled using Amazon Echo and Alexa.
The C-wire situation is the same as the Honeywell Lyric: It's not required to power the thermostat, but WiFi connectivity will be intermittent to preserve battery power.
iDevices Thermostat

The plainly named iDevices Thermostat stands out for its rock-bottom price: just $129.95 MSRP and less than $85 on Amazon at the time of writing. Those are amazing numbers for a smart thermostat that supports both Alexa and Apple's HomeKit standard. But this model does require a C-wire, and it doesn't support motion sensor habit learning or geofencing like some of its competitors do.
User reviews are generally positive after months of use, but many cite an annoying setup process, and an interface that isn't as clean as competitors that entered the category earlier.
Other Options
If you're an adopter of the Z-Wave standard for home automation, consider the Go Control Smart Thermostat. This model doesn't have motion detection or remote control with an app, but it does support Alexa and heat pump systems. Just be aware user reviews claim heat pump setup is a pain, and you'll want a C-wire for the best functionality.
One last option is the Vine Smart Wi-Fi Thermostat, a simple and affordable option. No Alexa or motion sensors here, but it supports heat pump configurations and remote access via apps or a desktop computer. A C-Wire is required.