Home & Garden
Fernish furniture rental—Is this service woeful or worth it?
A practical choice for short-term furniture needs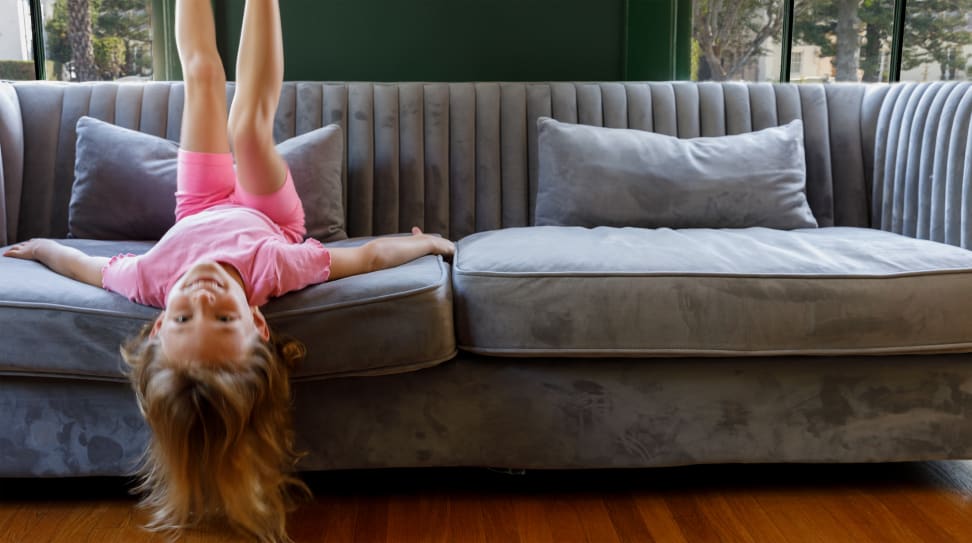 Credit: Reviewed / Lisa Lawrence
When I was a kid growing up in the old days—back before we could fast forward through commercials—one of the TV ads I distinctly remember was for Cort furniture rental. It wasn't the catchy jingle that left an impression on me, but rather how hideously ugly the furniture in the commercials happened to be. Granted, the early '90s wasn't exactly a time of outstanding interior design aesthetics, but even by those low standards the stuff was bad.
With that as my point of reference, I've naturally been wary of furniture rental companies. However, when I recently moved into a larger house and didn't have anything to sit on, and Fernish offered to let me test out their furniture rental service, I figured it was worth keeping an open mind.
Anything is better than sitting on a blanket on the floor to watch Only Murders in the Building, right?
What is Fernish?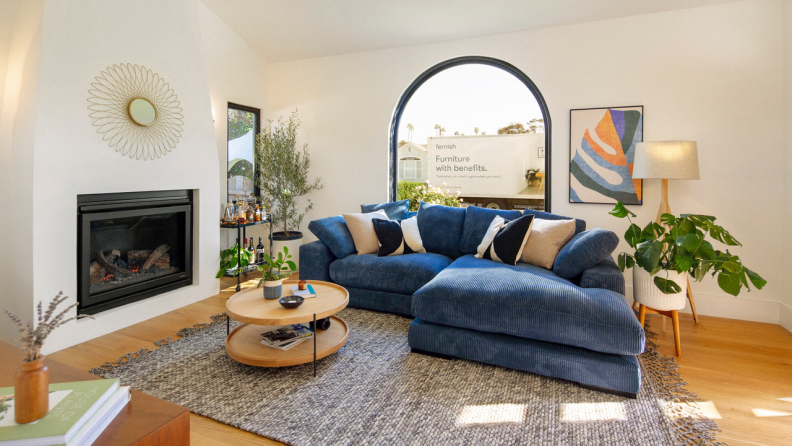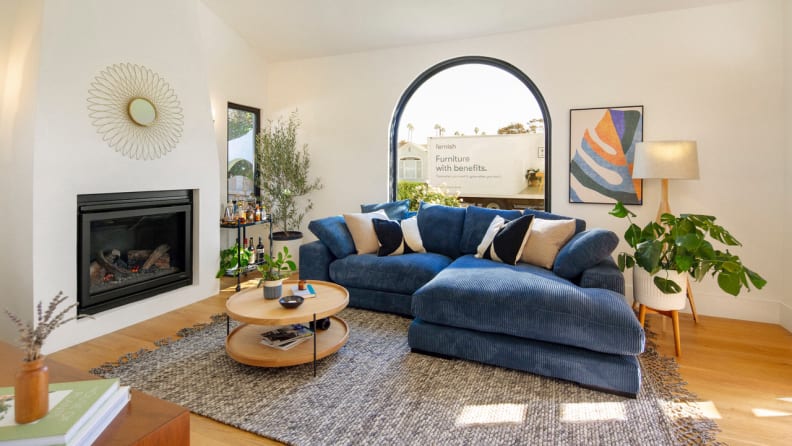 Fernish is, essentially, the modern, hip way to rent furniture. Customers can choose to just rent, rent-to-own, or outright buy any of the pieces offered on the company's website. All of the furniture is delivered in new or like-new condition—it's thoroughly cleaned and refurbished between renters—so you don't have to worry that the piece you select will look used. Plus reusing furniture keeps it out of landfills, a win for anyone concerned about the environment.
You can rent for as short as two months or as long as 12 months, and customers who choose to purchase their furniture after the rental period will simply pay the difference between the total value and what they've paid to date. Fernish offers furniture pieces for every room, and even has a selection of accessories, if you're in need of the finishing touches.
The company currently serves Southern California, Austin, Dallas-Fort Worth, and Seattle, though it has plans to expand to other cities soon.
How much does Fernish cost?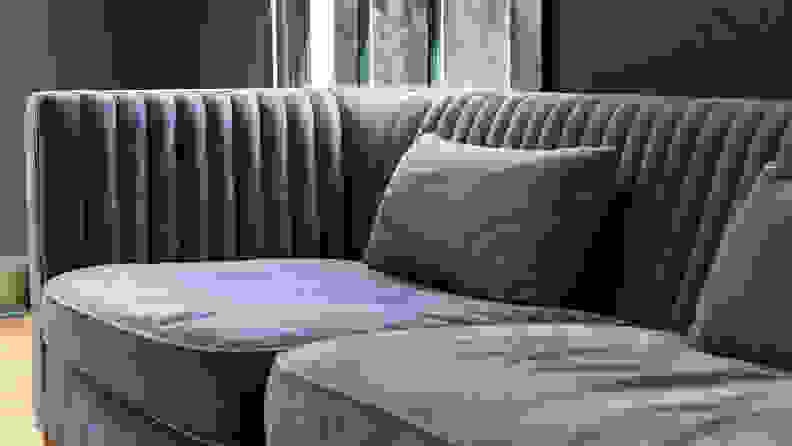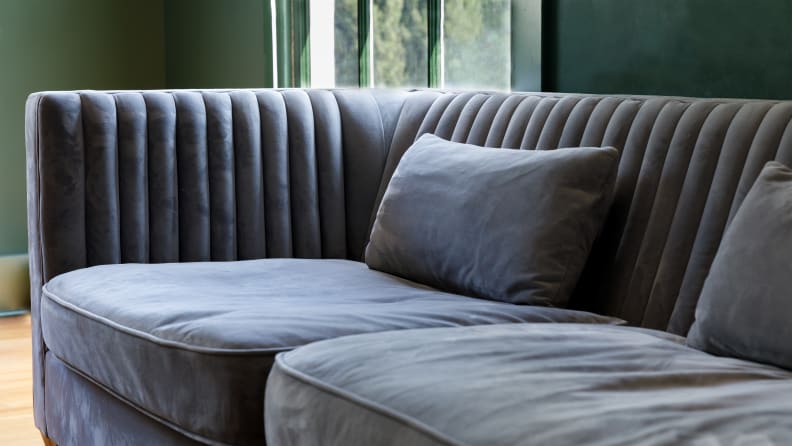 The monthly cost depends on which furniture pieces you choose, and the length of time of the rental. The longer your rental agreement, the less you'll pay per month. More significant pieces—like couches and sectionals—are more pricey than desks or throw pillows.
I tested the furniture for a period of two months, and chose the Blake sofa ($319/month), the Jasmine desk ($248/month), and the Nixon office chair ($89/month).
How does Fernish work?
Once you set up an account and select your desired furniture pieces, you'll provide Fernish with a credit card to use for your recurring billing cycles. You'll also have to Docusign a lot of official paperwork that basically states that you're not going to run off into the night with your Fernish rental furniture.
After all of that stuff is done and you've placed your order, Fernish will contact you to schedule a delivery date—usually within the next seven days.
Fernish will also text you the day before your delivery to remind you that you need to be home to accept the furniture, and to confirm that you haven't been exposed to Covid, thereby making it unsafe for the drivers to deliver the furniture.
What we liked about Fernish
It's full service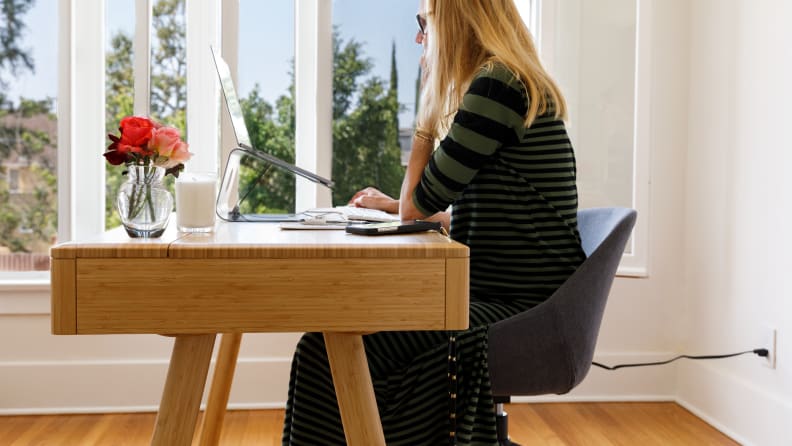 As a person who usually purchases furniture from the flea market, I'm not used to having someone else bring my pieces inside. Fernish provides full service delivery, meaning its staff will take your rental furniture to the room in your house where you want it and put it together for you.
In my case, the delivery folks had to take the desk and chair all the way upstairs to my office. They were so nice, and when they arrived to drop off the furniture they gave me a custom Fernish scented candle, which I thought was a lovely touch.
It's fast and on time
There are few things more annoying than having to wait a long time between placing an order and actually receiving it, which is why I loved that Fernish delivers so quickly. I was sitting on our rental couch in less than a week!
Another thing I appreciated is that the drivers were on time for both my delivery and my pick up, so I wasn't stuck sitting around my house wondering when—or if—they were going to show up.
It's thoughtful
I just spent a lot of money refinishing the floors of my house, so I'm constantly running around putting chair pads on all of my furniture. Fernish already thought of that, and all of the pieces that I rented had felt pads on the bottoms.
I'm sure the company does this out of necessity—i.e. not wanting to be sued for screwing up some customer's expensive floor—but, I really liked that I didn't have to worry about wrecking up my own floors.
It's tech forward
I'm not used to having modern furniture (see above, re: flea markets), so maybe this is a totally normal thing these days, but the desk that I selected had an electrical cord so that I could plug the desk into an outlet and then plug my computer into its hidden compartment! It was so cool and I loved, loved, loved that I didn't have to deal with a giant wad of spaghetti cords taking up space—and being an eyesore—in my office.
What we didn't like about Fernish
Limited selection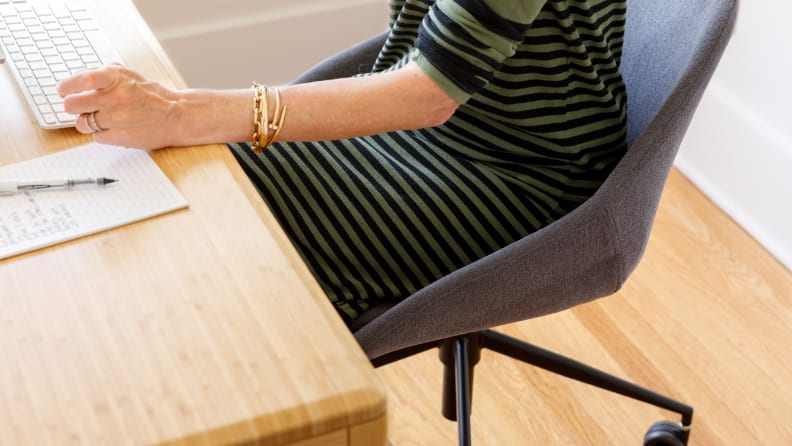 Fernish does not provide a lot of different furniture styles to choose from, so if you have a more traditional décor aesthetic, you're not going to be pleased with the selection.
For instance, there are only eight office chairs to chose from, and none of them are all that exciting. I wish that they had more colorful options, too—much of the furniture is gray, black, or neutral—so if you're looking to use Fernish to try out a pop of color in your abode, you'll likely be disappointed.
I also wish there could be a bigger choice of pieces that are more feminine (softer fabrics, lighter colors), but if you're into clean lines and simple design there are some nice choices.
New furniture smell
On the positive side, every piece of furniture that we rented from Fernish was in pristine condition. I don't think that the desk had ever been used before, which is great … except that it smelled strongly of wood glue or varnish. The smell never quite went away, and I burned the scented candle to try to cover it, but it's not ideal to spend an eight-hour work day huffing glue fumes (unless that's your vice).
Website issues
When I had an issue signing into my account at checkout, and requested that Fernish send me instructions for how to unlock it. I tried multiple times (and yes, I checked my junk mail), but I never received an email from the company that enabled me to unlock my account.
As a result, I ended up having to create an entirely new account with my personal email address and then re-select the items I wanted to rent. Not only was it frustrating, but I'm not sure what someone without different email accounts would've done when faced with the same issue.
Should you rent furniture from Fernish?
Fernish is a great option for someone who wants to have more high-end furniture, but can't afford the initial outlay of, say, $3,000 for a couch.
I can also see it working well for someone who is on location and living in a short term rental, or if you just need a few pieces to hold you over until you can find your "forever" furniture.
While none of the furniture Fernish carries is cutting-edge, it's an affordable way to fill your home with neutral pieces that can easily work with all kinds of décor styles.
The product experts at Reviewed have all your shopping needs covered. Follow Reviewed on Facebook, Twitter, Instagram, TikTok, or Flipboard for the latest deals, product reviews, and more.
Prices were accurate at the time this article was published but may change over time.