Home & Garden
Give your kitchen an affordable facelift—paint your cabinets!
The cost? Paint, elbow grease, and a couple weeks of take-out
Credit: Getty Images / Biserka Stojanovic
For many of us, the kitchen is the center of the home. It's a place where we gather, cook, eat, drink, laugh, and catch up. Everyone wants their kitchen to match their personal tastes and style so that it's comfortable and inviting.
But, renovating your kitchen every time your tastes or contemporary styles change is far too costly, disruptive, and time consuming for most people. Instead, consider painting your cabinets to give them a new look without the cost of buying new—two-tone cabinets are right in style.
With some spare time, the right equipment, and patience, this is a project most people can do themselves over a few weekends.
Materials and tools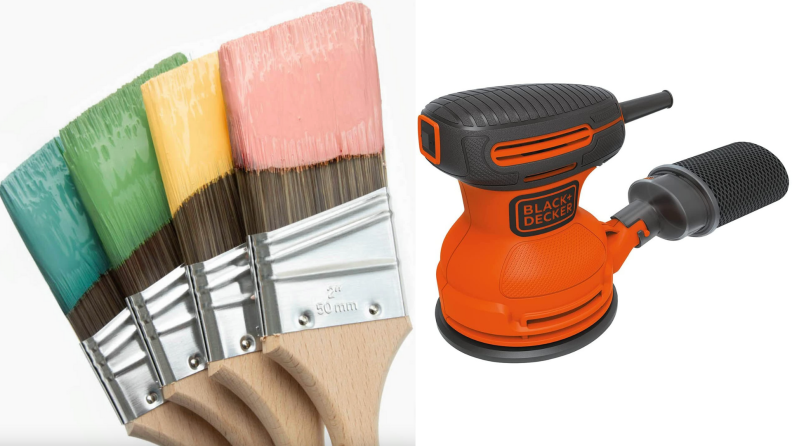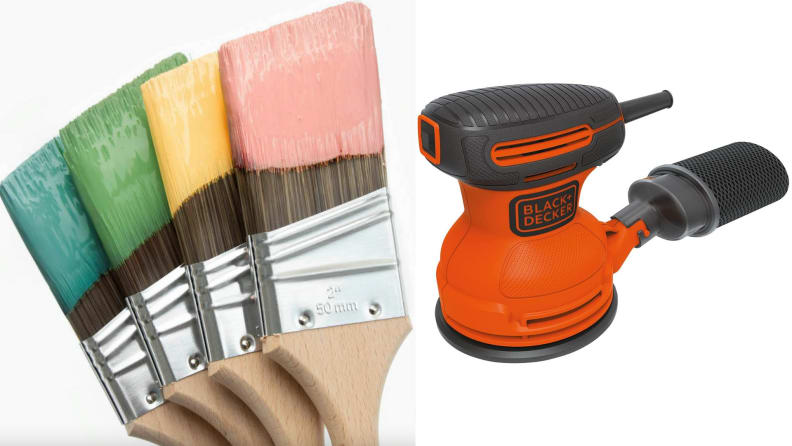 To spray or not to spray? The vast majority of professionals use a sprayer to paint cabinets. It's faster and leaves behind a smooth finish with no brush marks. However, sprayers are expensive, can be difficult to master, and make a big mess when used properly, and an even bigger mess when used improperly. If you're interested in spraying, then you can rent one at most tool rental facilities.
Most people, however, will likely use the tried-and-true paint brush. This technique is simpler, though it does require more work. Regardless of whether you use a sprayer of a brush, you're still going to need the same additional materials.
Before you paint
Before taking apart any cabinets or opening a single can of paint, there are a few things to think about.
First off, are your cabinets worth painting? Paint is purely for looks. It won't fix any defects or damage in the cabinets beyond the superficial. Examine each and every door, box, and shelf, and make sure that they are all still structurally sound and in good working order. If the wood is falling apart, then don't waste time and money painting.
Next, you've got to select your color and paint finish.The whole purpose of painting is to create a pleasing aesthetic. Choose a color, of course, but also consider if you want gloss, semi-gloss, or flat finish, and just how durable a product you need. If you have 15 more years of kids slamming cabinet doors with grimy fingers like I do, you'll probably want an oil-based glossy finish. If you're a retiree looking forward to the golden years, then maybe a latex flat paint will be fine.
Paint selection also depends on what kind of material and finish the cabinets are made of, so talk to a local paint supplier about the project. They'll be able to recommend the right products.
Lastly, can you get by without a kitchen for a short time? Chances are that painting the cabinets will take days or even a couple of weeks. The kitchen will be largely out of commission for that time. In order to make this work, you've got to have a plan for where to put the items from inside your cabinets and a place to make your morning coffee.
Get to work painting those cabinets
Once you have a plan established and your tools and materials in hand, it's time to get started.
Step 1: Empty everything out of your cabinets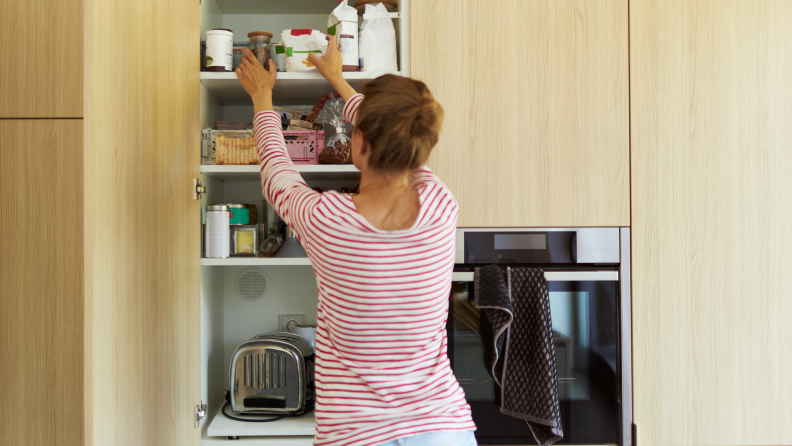 And, I do mean everything. If the shelves are removable, take them out as well. No matter how careful you think you can be, paint splatters. Take everything removable out of the room.
Step 2: Cover everything that's left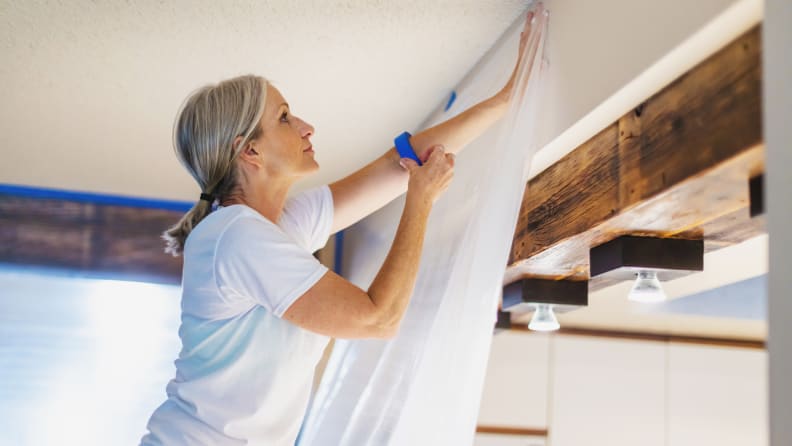 Cover the appliances, countertops, island, and the floor with drop clothes, making sure that they overlap with no space between. Tape them in place using painters tape.
Also tape along the ceiling and any walls that your cabinets touch. This prep work will save hours of scraping paint off of the stove—believe me, I've done it.
Step 3: Remove the cabinet doors and drawers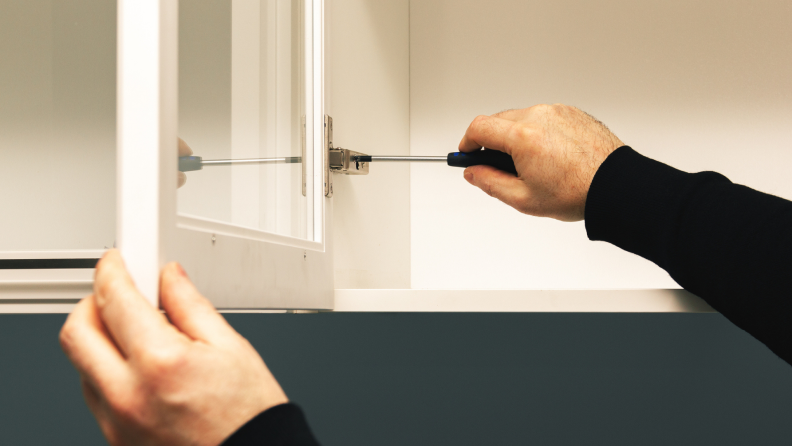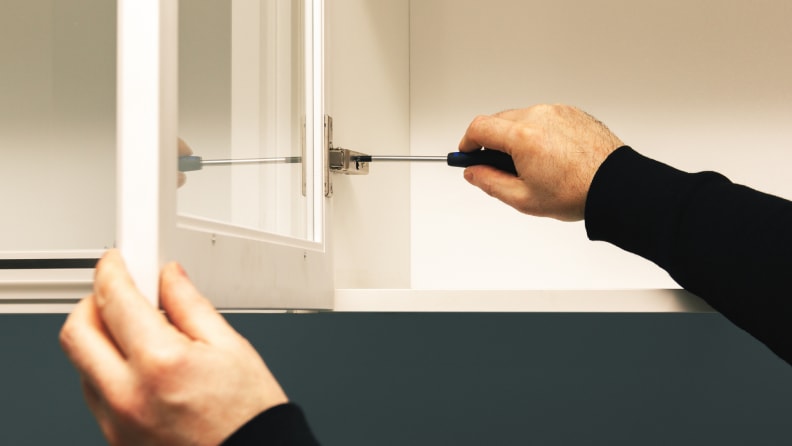 Slide out all of the drawers and take down all of the doors. This process differs from hinge to hinge and slide to slide. Some you can take down without unscrewing, others you may have to fully dismantle.
Once the doors and drawers are taken out, remove all of the pulls, knobs, and hinges. This is a great time to replace broken or malfunctioning hardware.
Pro Tip: Label everything you remove. Guessing where each piece goes when you're done just leads to frustration and lost time. An extra second or two now can save hours at the end.
Step 4: Clean and sand all paintable surfaces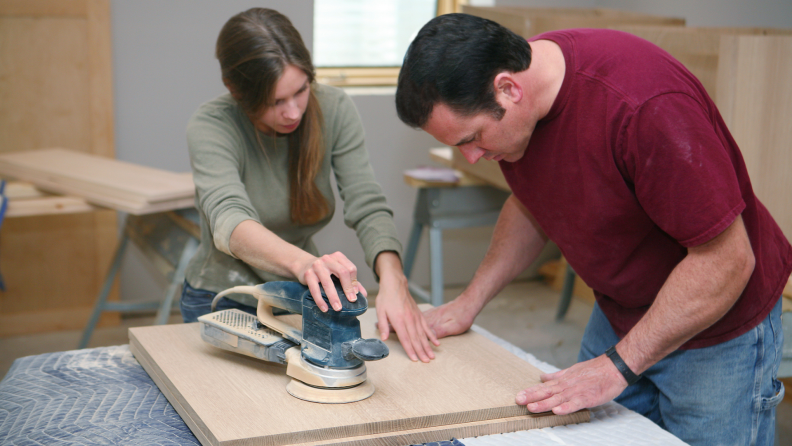 Thoroughly clean every inch of your cabinets. You need to remove all of the dirt, grime, and grease so that the paint will adhere.
Once everything is clean, sand down every bit of it. Use an orbital sander as much as possible to save your hands. A sanding sponge or contoured sandpaper grips can help you get into the tricky corners and grooves of the cabinet detail.
Your primer and paint should have instructions for what grit sandpaper to use. If they don't, ask your supplier, but 120-grit is usually a good starting place.
Step 5: Prime and sand again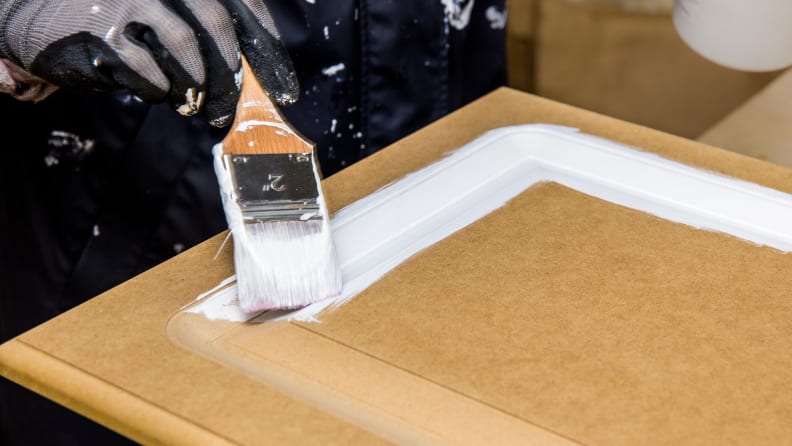 Apply your primer, following the application instructions of your specific brand. This will usually require one or two coats, particularly if you're making a significant change in color.
Sand again in between primer coats, and before your paint coat. Always wipe the sanding dust away before applying another coat.
The boxes and drawers are relatively easy to paint, because you don't have to paint every inch of them. The doors, however, need to be painted front, back, top and bottom, so it's difficult to find a way to put them down without ruining your paint job.
The simplest and least time consuming way to do this is using plastic paint pyramids. Lay four of these on a flat surface, paint the backside of the door, then lay that painted side down on top of the pyramids. They will support the door while you carefully paint the top and sides, with minimal noticeable marks.
Don't rest the front of the door on the pyramids, because while your guests will never see the small indent in the paint they leave, you most certainly will.
Follow your product's cleaning instructions to clean your brushes or sprayer.
Step 6: Paint and sand some more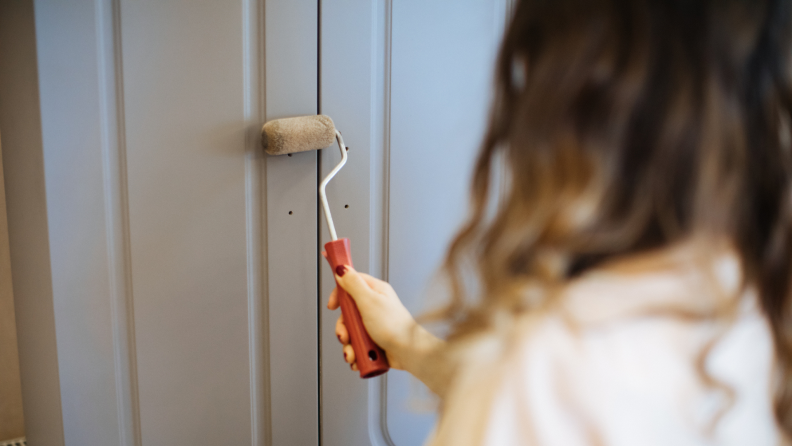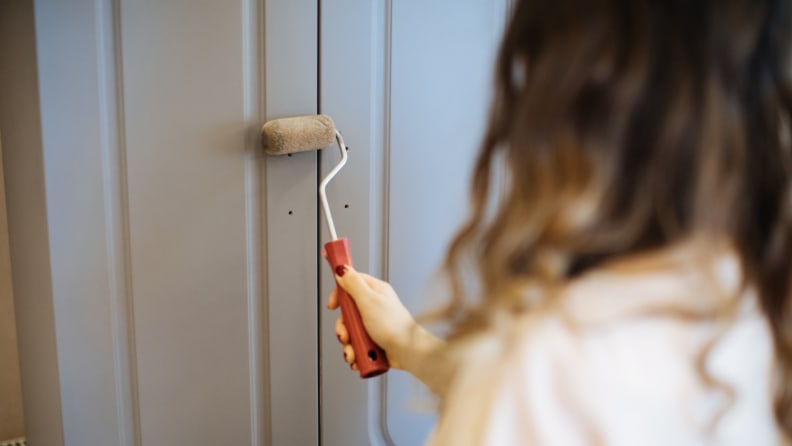 Again following the specific instructions from your paint, paint all of your surfaces. Many paints will require at least two coats for a beautiful finish, with sanding in between. Again, make sure that you wipe away all of the sanding dust.
This is the phase where brush strokes are really noticeable, so take care. Using high quality brushes can minimize these lines.
Don't load the brush with too much paint, and use smooth, even strokes with the wood grain. You can also use a foam brush to eliminate streaks, though those are only good for one use.
Step 7: Put your kitchen back together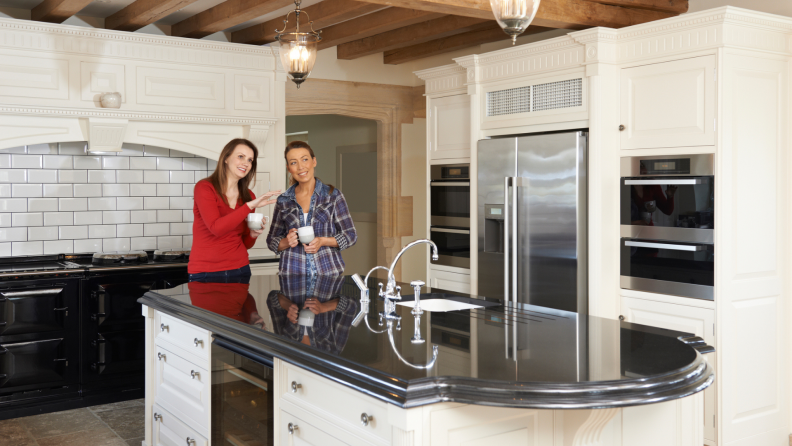 Once all the pieces are dry, smooth, and beautiful, it's time to reassemble your kitchen, and enjoy the new atmosphere that you created. You're done!
The product experts at Reviewed have all your shopping needs covered. Follow Reviewed on Facebook, Twitter, and Instagram for the latest deals, product reviews, and more.
Prices were accurate at the time this article was published but may change over time.