I've been cooking a lot ever since I went on a Paleo/Ketogenic diet. With all this cooking comes a lot of trash, and my tall garbage bin can fill up fast—sometimes within 2 days! All that garbage and all those bags struck me as quite wasteful, so I decided to give composting a try.
You might be under the assumption that composting involves a lot time, work, or space. However, even if you live in a small apartment, you can still learn to compost. Here's how to get started.
What You Need:
• Compost Bin (indoor)
• Scraps (fruit and vegetable scraps, eggshells, plant clippings, coffee grounds)
• Composter (outdoor)
Prep Time Needed: none
Total Time Needed: As needed
Difficulty: Easy
Step-by-Step
Set up your indoor Compost bin. An indoor compost bin can be as simple as a big stainless steel mixing bowl, but if you are concerned about odor or have pets that can get into an open container, there are specific indoor compost bins which look nice on the counter. Stainless steel versions won't rust, and they'll blend in even if you have an upscale kitchen.
Collect scraps from your kitchen (such as fruit and vegetable scraps, eggshells) instead of disposing them in the trash.
Once the indoor bin becomes full, bring to outdoor compost bin, which should be rodent-proof with a tight fitting and secure lid. For most outdoor bins, start your pile by layering 50% brown material (dead leaves paper, cardboard, wood and straw) over 50% green material (kitchen scraps and fresh grass clippings).
Sprinkle the pile with a small amount of water. Continue adding compostable waste from your kitchen compost bin in this layering fashion.
If you don't have an outdoor space, you can try an indoor solution. I like the SCD Probiotics K100 All Seasons Indoor Composter Kit. It's perfect for a balcony or closet.
Depending on your geographical location, the finished compost will be usable within 6-12 months.
The finished compost looks like rich, clean soil and is ready for use!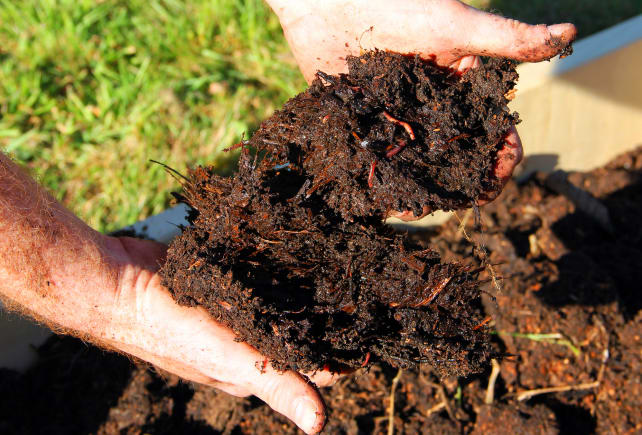 What is composting?

Composting is a chemical process whereby a mixture of different decaying organic materials becomes nutrients for fertilizing soil. While there are very complicated processes and techniques involved in composting, you don't need to learn them in order to get started.
Why should I compost?
There are many benefits to composting since food and yard waste make up roughly 25 to 50% of what people throw away. Composting can significantly reduce the amount of your overall trash. By applying compost to your soil, you are in fact recycling the waste you threw out, which benefits the environment.
So, even if you are a novice, composting is easy and manageable. It is environmentally conscious and improves the vitality of your garden and plants.
Buying your compost bins: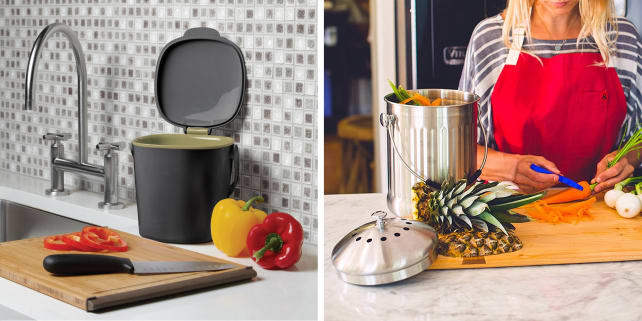 Indoor bins are meant to be small enough to fit on your countertop and emptied routinely. Since it's always out for guests to see, looks can matter as much as functionality. Consider the industrial-style Stainless Steel bin from Earth Cycle or the modern looking OXO Good Grips. Each cost around $20.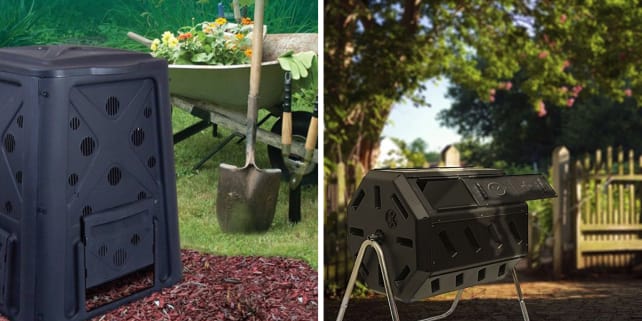 Outdoor bins are considerably larger and are designed to withstand outdoor weather year-round. They come in a variety of form factors and capacities. The Yimby Tumbler Composter (usually around $90) has two chambers and is designed to tumble so you don't have to churn it manually. The Redmon Green Culture compost bin (around $50) has a hefty 65-gallon capacity with an easy lift-off lid that has garnered positive user reviews.
Things you can compost:
Fruit scraps and Vegetable scraps
Eggshells
Plant clippings and houseplants
Coffee grounds
Shredded newspaper
Teabags
Nut shells
Hay and straw
Leaves
Wood chips
Things you should NOT compost:
Meat, oil, fat, or grease
Dairy products
Diseased plants
Dog or cat feces, no litter
Coal or charcoal
Any yard trimmings treated with chemicals or pesticides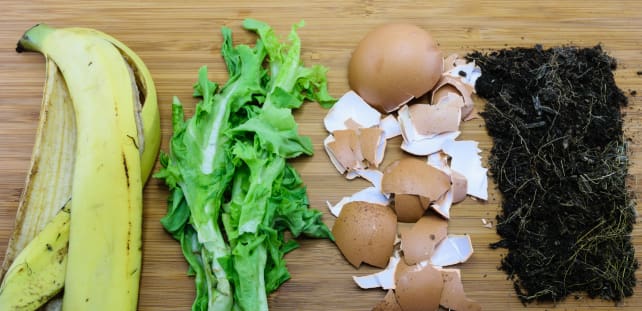 Our editors review and recommend products to help you buy the stuff you need. If you make a purchase by clicking one of our links, we may earn a small share of the revenue. Our picks and opinions are independent from any business incentives.