Home & Garden
I hosted Thanksgiving for the first time - and this is what happened
Cocktails—and some store-bought meat—make all the difference.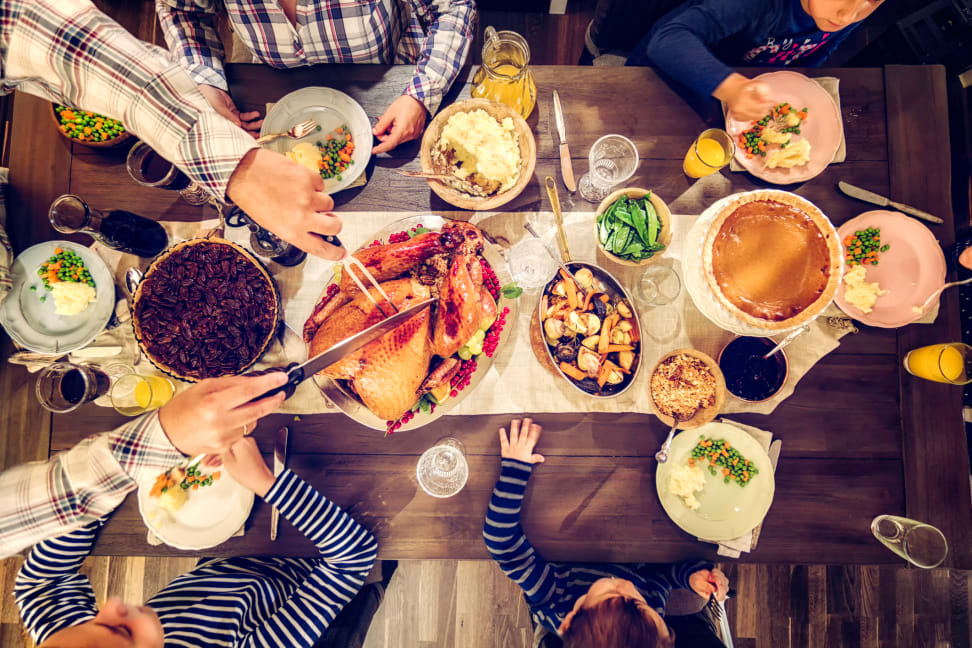 Credit: Getty Images / GMVozd
A few years ago, I decided to start having two Thanksgivings—one with my mother in New Jersey, and one with friends back home in New York. I did this because most of my friends had no family to join.
They'd either moved inconveniently far away from their parents or they were in another country. So I decided to start doing Thanksgiving at my house—mainly so I could gather my friends and have fun (but less so because of my cooking skills, which aren't very good at all).
So, here's the brutally honest account of how my first ever Thanksgiving—or Friendsgiving—went.
1. I underestimated just how hard everything would be.
When I went into this, I thought: I'll just make stuffing, turkey, some veggies and some pie. I've got to shout-out my own mother here, because she makes it look easy and it's not. First of all, I'd never cooked a bird before—ever. Sure, I'd fried some chicken up on the stove, but that was about it. I'd never made stuffing, and frankly, it was a mystery to me: what is even in stuffing, I thought?
I turned to video tutorials, cookbooks and social media for advice—and it worked! I even had a Facebook thread going; friends gave me real-time advice on how to check the turkey's temperature and how to make sure I'd seasoned the stuffing properly. It may sound crazy, but it helped.
2. Festive cocktails and drinks make everything better.
Cocktails were my friend! Offering someone a delicious drink—or having one yourself!—offsetsThanksgiving jitters.
People aren't awkwardly waiting around for your big presentation and you're not obsessing on the details, like should I have bought the lumpy cranberry sauce instead? I offered a few drinks—all from this amazing drink recipe book.
I pre-made a bunch of spiced apple cider, cranberry smash, and egg-nog before my guests got there and let them make their own drinks, which turned out to be a project people could really get into while buying me more time in the kitchen.
3. I forgot the importance of vegetables.
In my grand quest to make edible turkey and stuffing "just like mom's" (trust me, it wasn't), I skimped on the veggies. I could have made my Brussels sprouts way more delicious and I definitely could have gone more creative on the mashed potatoes.
I thought butter, salt and pepper was enough. And on any normal day, it would have been. I made squash, but it just didn't cut it — I should have done a dry-run of these foods before the big-day, allowing me to perfect my creations! I definitely will this year.
One thing I was very proud to say is that my mashed potatoes were the creamiest, dreamiest ones out there, thanks to Kapok's Stainless Steel Potato Masher. This was a gift from family, and I will literally treasure it forever.
4. I made a small turkey—but I bought store-bought meat, too.
So sue me! I decided to kick it up a few notches by having a selection of meats — my turkey, but also two store-bought roasted chickens. This created the illusion of grandeur, might I add — while, in reality, I'd only worked on one of those things. I didn't tell anyone, and they didn't ask. I'd really suggest augmenting your menu with store-bought food, especially if it's your first time. Sure, you may feel a little Thanksgiving guilt—but no one will be the wiser!
There's nothing like cooking a huge meal for friends or family.
There's nothing like cooking a huge meal for friends or family. You put all your energy, attention and time into something so that it can extra-extra special and often it can feel really daunting. The reality is that while good food is amazing, the personal aspect of the holiday is what makes it so incredible.
That and all the pumpkin spice lattes you let yourself have to "stay awake" in the kitchen. No one is counting calories on this day!
Related Video