She shifted. Squirmed. Opened her eyes. Is time up yet? Squeezed her eyes shut. Itched her nose. Twirled her hair. Sighed.
This is exactly how I would describe myself if I were a meditation teacher observing my student. I would also probably add distracted, unfocused, and uncooperative to the list, too.
At least, this is how it used to be before I tried Insight Timer, which calls itself the "top free meditation app on the Android and iOS stores." It has a nearly five-star rating on both platforms, so it's an accurate claim.
The search for the meditation enlightmentment
I've tried my fair share of meditation methods over the years. Almost a decade ago, I actually studied with a private meditation teacher to combat my stress—incredibly effective, but also incredibly expensive. I tried repeating affirmations from a book for a while, too, but reaching the "sacred number" of 108 affirmations in one session left my tongue tired.
I tried other meditation apps—Headspace and Calm—but found them a bit limiting. My thoughts always wandered in spite of my best efforts. These apps opt for simplicity, so if that's your goal, these are your apps. But in order for me to finally succeed at meditating, I needed something a bit more multifaceted, with plenty of options to fit my every mood.
So, I started a personal challenge of using the Insight Timer app every day for 30 days. And the timing couldn't have been better. I started meditating in mid-March, a gray, lackluster time here in Wisconsin, and I was still deep in the throes of my seasonal affective disorder. I needed a boost, a jolt—something to pull me out of my less-than-sunny mood.
And you know what? It worked. Today, as I write this, I'm feeling calmer and more centered than I did at the start of my challenge. Through this process, I learned that to be a triumphant meditator, you need to discover "the thing" that works for you. Insight Timer works for me, and I learned some other important things about myself and meditation along the way.
1. Meditating at the right time of day is key
When I set out to complete this challenge, I knew that I wanted to find my "ideal" time of day for meditating. So, I tried out lots of different times—after waking up, lunchtime, in the middle of my workday, right before bed. After tracking the exact times I meditated, I realized that my perfect meditating time is 8:30 a.m., a couple hours after my alarm goes off.
I usually spend the first two hours of my day reading and having breakfast, so after that was wrapped up, I often meditated. It felt like a nice bridge between my morning activities and the rest of my workday, and this is the time that I felt my focus was the best.
And I'm not alone in this. When you first open the Insight Timer app, it tells you how many other users are meditating right at that moment. The morning was when I noticed the highest numbers—at times, I would be meditating in the morning alongside more than 5,000 people.
2. Having flexibility and choices make meditating easier
I'm very much a "mood-based" person, meaning I like to go with the flow of my moods and respect those times when I'm tired, stressed, or burnt out. Let's be honest—the sounds of happy birds or a teacher saying, "Look on the bright side!" might be just a little too much positivity for a low mood.
Luckily, Insight Timer currently offers 8,940 free meditations guided by professional teachers worldwide, which appeal to nearly every mood and whim. I found some favorites during my 30-day challenge, like the Good Morning Meditation which included thought-provoking, mood-lifting questions that eased me out of a headache. I also enjoyed Rainforest Creek, a visualization meditation that switched on all my senses. But my favorite has to be Tropical Vacation, which whisked me away to a beachy paradise for nine minutes of bliss.
There are many ways to search the meditations available on Insight Timer: you can head to the categories to browse popular meditations, search keywords, or create a custom meditation with your preferred sounds and music.
3. Finding my 'sweet spot' session length helped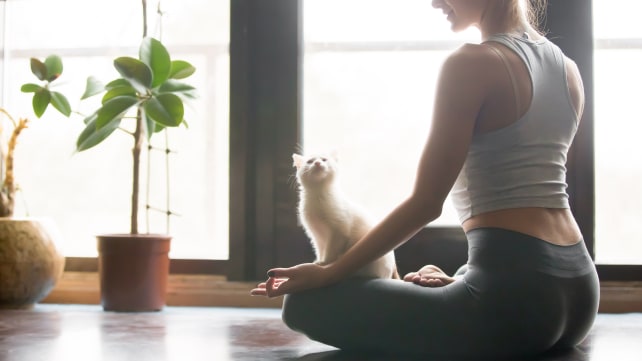 The longest meditation I did during the 30-day challenge lasted 19 minutes. And that was a stretch. I've always heard that people who are new to meditating regularly should increase their session times slowly—in other words, don't go from 2 minutes to 20 in only a couple days. Experienced practitioners can comfortably meditate for an hour or two, but for me, just starting out, 7-10 minutes felt spot-on for me.
Insight Timer allows you to search by session length, so if you have less than 5 minutes to meditate, you can head to that category. I liked that I could fit meditation into my day in a way that worked with my schedule.
4. My mood improved and stayed that way
During the meditation, I tracked my moods before, during, and after meditating. Even if I was experiencing a low mood beforehand, my outlook often improved while meditating, and it tended to stay that way afterwards. There are many studies that prove that meditation can boost moods and overall health, and from personal experience, I can see why those studies got the results they did.
5. The weather had a noticeable impact
I tracked the weather for each day of the 30-day challenge, and no surprise here—my mood was significantly better and I had improved focus on days that were sunny. But since one of the tentpoles of meditation is rising above your circumstances to find inner peace, this is something I'll need to work on. I'll reserve those tropical, beachy guided meditations for those cloudy days!
6. External factors enhanced my sessions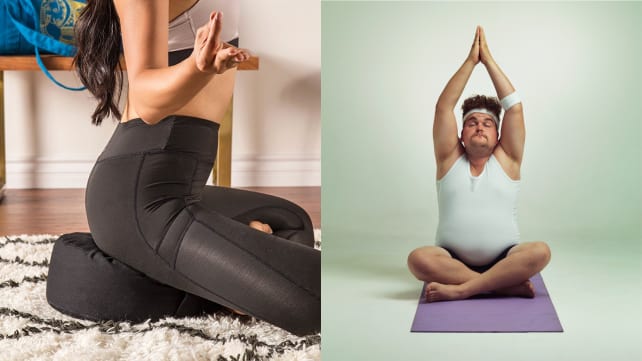 I'm a girl who loves products that work and have the power to provide life improvement in any way, so I naturally gravitated toward products during my 30-day challenge that enhanced my sessions. I've always been a fan of Aveda chakra sprays, usually spritzing one on before I start my day. But I found that the aromatherapy also really centered my mind while meditating. They come in seven scents, one for each chakra.
And to truly feel like a Zen master, I'd recommend burning incense, which may magically transport you to a Buddhist temple. I especially love these incense sticks by Juniper Ridge.
I prefer to sit on my living room couch or a bench in front of my bed while I meditate, but for those of you who need extra support, you can actually buy a cushion made specifically for this purpose. The Peace Yoga Meditation Cushion is a great option. It comes in six colors with gorgeous, inspirational embroidery and has an impressive 4.8 out of 5 stars on Amazon.
Lastly, I can't stand being cold in any circumstance, so if I'm supposed to be focusing on meditating, I don't want my mind to drift to how cold I am. Before meditating, I always make sure to put on a warm, comfy wrap.
7. Meditation is within reach—with the right tools
I've thought of myself as a person who simply "can't" meditate, even though I subscribe to aromatherapy practices, motivational quotes, yoga-inspired workouts, and other popular wellness techniques. But, here's the plot twist—I just needed to find my "thing," the method that could make me actually sit down and meditate, and do it well.
Insight Timer happens to be that thing for me. Now that my 30 days are up, I plan to continue my daily meditations. Although this app was a success for me, my advice is for you to find your "thing" as well. Meditation is powerful stuff, and if you struggle with peace of mind, try different methods until you land on something that feels good. Then you can start your very own 30-day meditation challenge. You just might wind up a changed person.
Prices are accurate at the time of publication, but may change over time.
Our editors review and recommend products to help you buy the stuff you need. If you make a purchase by clicking one of our links, we may earn a small share of the revenue. Our picks and opinions are independent from any business incentives.