Home & Garden
10 items that make going through any security line less stressful
Sorry, still can't guarantee the lines will be short though
Credit: Getty Images/Scott Olsen
One day, I'll tell my grandchildren, "I remember when you could stroll into a concert without having to go through a metal detector and I brought any sized bag I wanted to with me." Sadly, those days are over. Now, whether it be at the airport, concert, sporting event, or even school, the public is subject to going through lengthy security lines.
Institutions have cracked down on what types of bags you are able to bring inside events, with clear plastic bags and backpacks gaining popularity the past few years. Here are some helpful items to get you through security with ease so you won't miss a minute of the concert, big game, or your flight.
For airport security
1. TSA approved bag for all of your necessities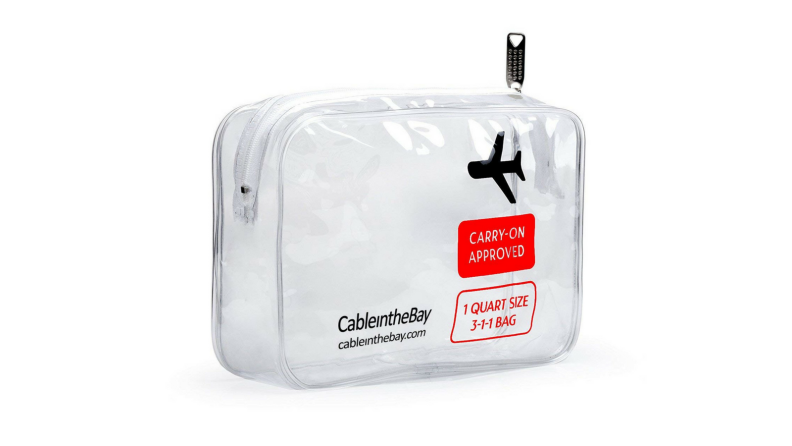 While we can't guarantee that you won't have to deal with long lines at the airport, we do know that this TSA approved toiletry bag will allow you to pass through security without any hassle. With over 500 reviews on Amazon, people who've purchased this love the size, convenience factor, and the fact that strangers don't have to rifle through their bag in order to see what's inside.
Get this TSA Approved Clear Travel Toiletry Bag at Amazon for $9.99
2. A lock to keep your items safe
These small locks are perfect for checked luggage, which isn't screened in front of you. If you put a personal lock on your suitcase and TSA needs to get inside of it—bad news. They either have to hunt you down inside the airport (which could result in a missed flight) or just cut the lock off entirely, leaving your suitcase unprotected. With these locks, TSA agents have special keys so they can easily get inside, look at whatever they have to look at, and then lock your stuff back up. A few extra dollars for less headaches? Sign me up.
Get a 2-Pack of TSA Luggage Locks at Amazon for $14.95
3. Shoelaces that won't take forever to tie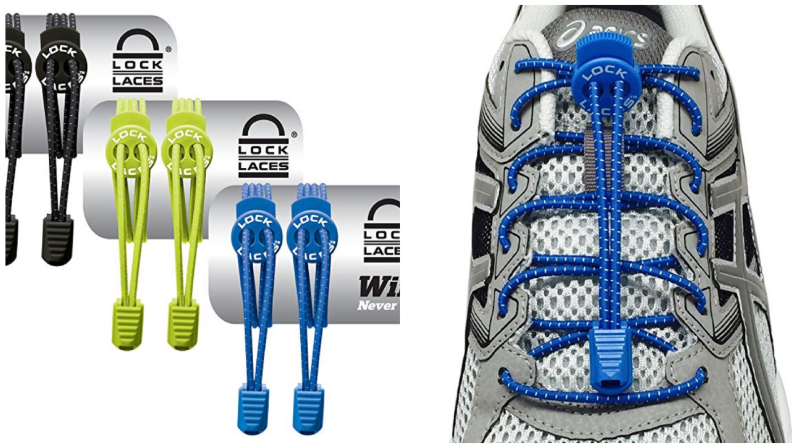 Can we just walk about how taking your shoes off at security and then putting them back on is one of the most time consuming activities at the airport, especially if you're traveling with children? Don't stress about untangling knots and double tying shoes anymore with these simple, no tie shoelaces. They're made to fit both children and adult shoes, so no matter your age, embrace the no knots life and take pride in wearing these bad boys around.
Get a Pack of 3 Lock Laces at Amazon for $12.59
4. TSA friendly laptop case
This TSA approved case means you can simply leave your laptop in your bag, slide it through security and grab it out the other side. No need for the hassle of taking your electronics out and putting them in one of those flimsy plastic bins. An Amazon reviewer who's a pilot agrees that this case works well when going through security several times a day, so they definitely know what's up.
Get the Case Logic Security Friendly Laptop Case at Amazon for $44.99
For sporting events and concerts
5. NFL stadium approved tote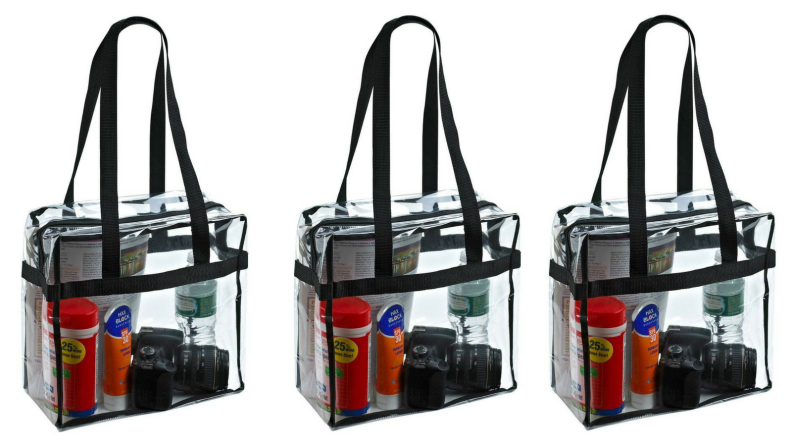 If you've been to an NFL game the past few years, you know that they've cracked down on what you can bring inside of stadiums. You're basically limited to bringing in a rule abiding clear plastic bag or sticking all of your stuff in a gallon sized sandwich bag. So stylish. More professional and college sports teams are now enforcing this rule, so if you want to bring in your own snacks and not pay $15 for a bag of popcorn, embrace the plastic purse.
Get the NFL Stadium Approved Tote at Amazon for $6.10
6. A smaller bag to store the essentials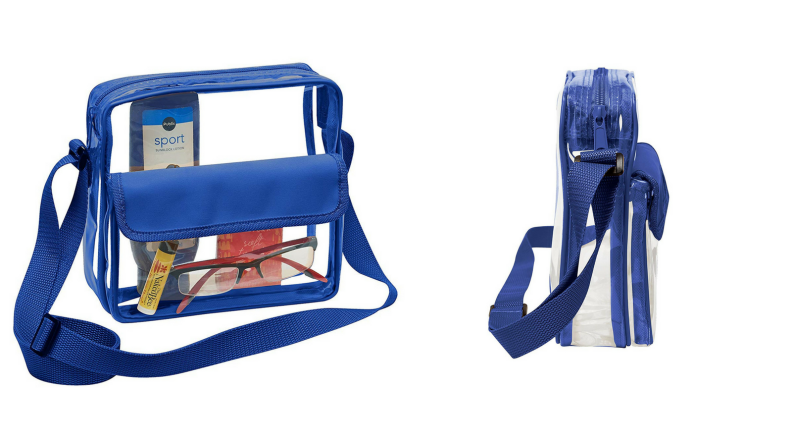 If you're going to a sporting event or concert but don't want to drag a gigantic clear tote bag, opt for this smaller cross body bag instead. While it isn't the most glamorous look, multiple color options allow you to match to your favorite team and embrace this throwback 90s trend.
Get the Clear Crossbody Messenger Bag for $13.99
7. A hands free way to get through security quickly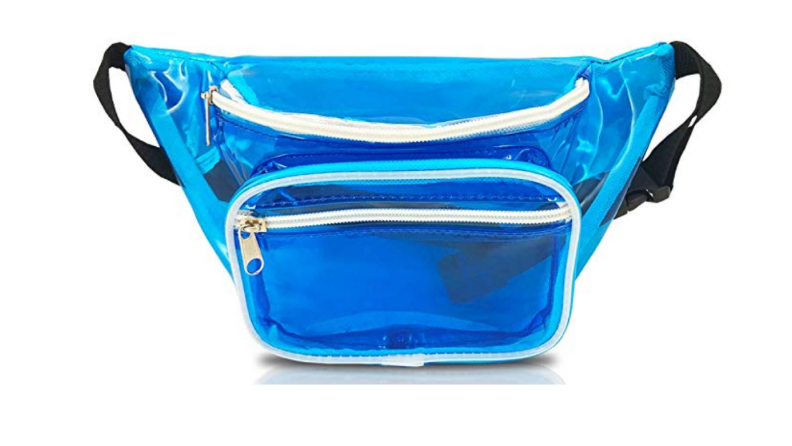 This fanny pack is perfect for an outdoor venue or festival that doesn't allow large bags, but still gives you plenty of room to hold all of the essentials. The tinted plastic makes it easy for security to see into your bag without having to rummage through it, but doesn't blatantly show others how much cash you're carrying. Honestly, I'm all for the fanny pack trend. Being able to dance with abandon without knocking someone out with a giant purse is a huge win. Plus, they're what all the popular kids are wearing on Instagram so that means I'm pretty much required to buy one, right?
Get the nineteen80something Neon Fanny Pack at Amazon for $12.99
8. Truly one of the greatest innovations of this century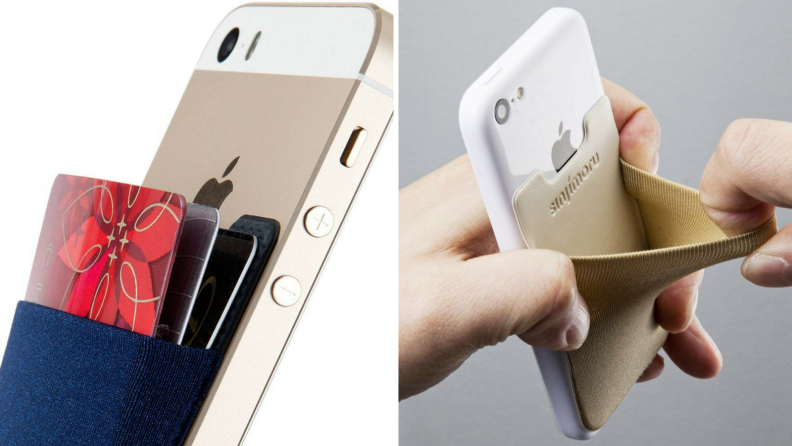 If you don't want to go through the trouble of finding a clear bag or making sure your purse is the perfect size to get through security, these card holders are game changers. All you have to do is stick it to the back of your phone and voila—instant wallet. I've been using one of these for a few months now (shout out to all the ladies who also hate carrying purses) and it's truly been a lifesaver. Phone, credit card, ID, and cash all in the same place? I'm ordering these in bulk.
Get the Sinjimoru Card Holder at Amazon for $9.99
For school
9. A sturdy bag for heavy textbooks
It's tough to find a clear backpack for students that won't immediately break under the weight of biology and algebra textbooks. With over 500 reviews on Amazon though, this bag takes the cake as a durable way to carry all of your binders and books to school. "After trying at least a dozen different clear backpacks, I came across this one, and it is by far the highest quality one I've found to date. It's really nice and sturdy, and has so far done a great job holding the 20 pounds of books and binders my poor kiddo has to lug around every day," said one Amazon reviewer.
Buy the K-Cliffs Heavy Duty Clear Backpack at Amazon for $24.99
10. A trendy tote for plenty of uses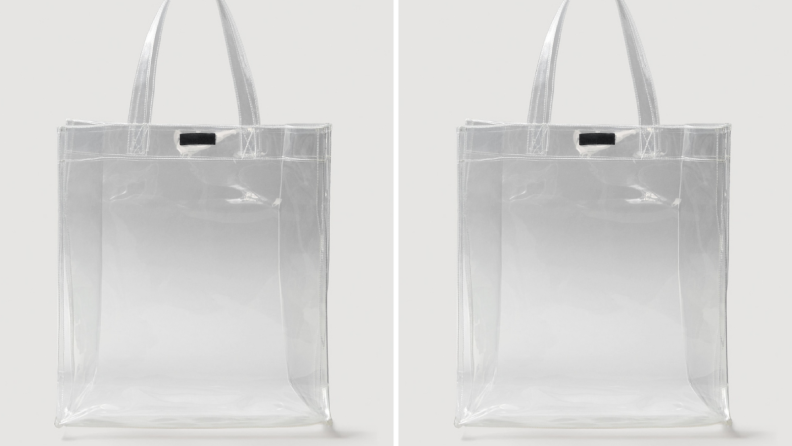 If your student has fewer books or needs another bag to transport gym clothes or after school materials, this is the perfect fit. Completely transparent, you won't have to go digging through to get what you need and the velcro at the top will make sure you don't accidentally spill the contents of the entire bag on the bus or in the hallway.
Buy the Vinyl Shopper Bag at Mango for $39.99
Prices are accurate at the time this article was published, but may change over time.